Bonjour! We all know that Paris is a city that's on the bucket lists of most people – after all, it is the city of love, isn't it? Ugh, beach please!
If not Paris, what can you do in France, then? Well, mon amie, if you're heading there between July to September, it's the perfect time to go to a beach! Southern France is especially renowned for their beach holidays due to the warmer temperatures there. Just between you and me, I'm going to let you in on some places where you can find the most picture-worthy beaches. Happy hunting!
Also read: Travel by Style: 8 Europe Itineraries for 8 Types of Travellers
1. Theoule-sur-Mer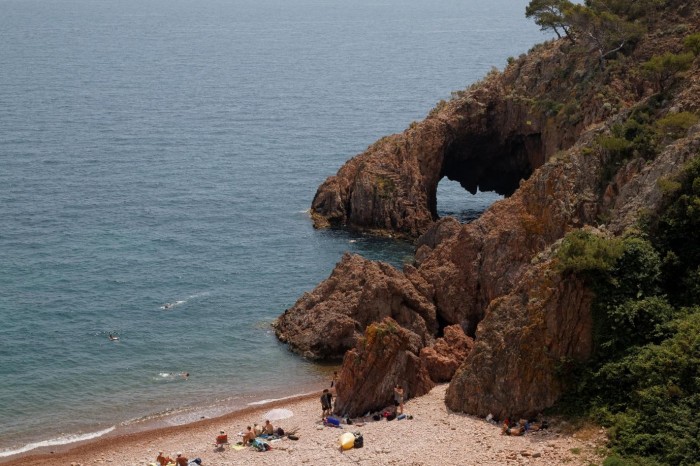 Image credit: Markus L
Home to some of the most beautiful beaches in the French Riviera, Theoule-sur-mer is a cosy little town situated in between Cannes and St Tropez. Your eyes will be greeted by the rocky crags of the Pointe gently sloping into the sea and the enchanting view of the Island of Lerins in the distance. This is absolutely perfect if you're looking to spend some quiet time just chilling by yourself or with your loved ones.
2. Les Issambres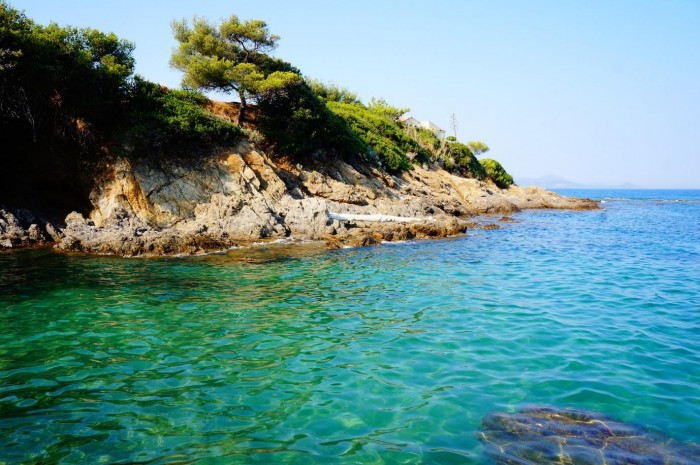 Image credit: Dave Hygarth
I know, I know. The water here is incredible. Don't just sit there and let those jaws hang open, get those fingers working and book yourself a place here at Les Issambres! This seaside resort is perfect for a beach holiday with its lengths of white sands and things to do. So if you're ever tired from trying to get that lovely tan, you can easily drop by any of the nearby restaurants and shops for a good meal.
3. Cap Ferrat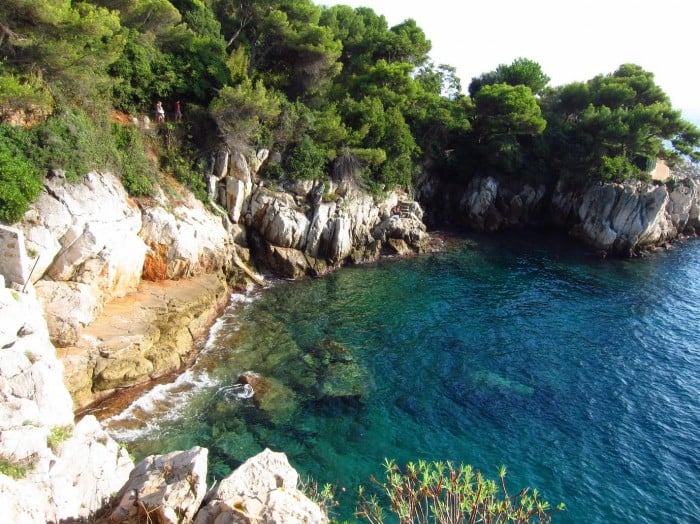 Image credit: VinceTraveller
Journey to the south-east of France to one of the richest areas in Europe – yes, it is Cap Ferrat! Numerous millionaires call this place home, but I think you can tell that it also houses some of the most incredible beaches in the Cote d'Azur area. Clear waters and sandy beach are so easily found all over this place, so if you're looking for a place to live like a celebrity, this is the place for you.
4. Cassis / Marseille Calanques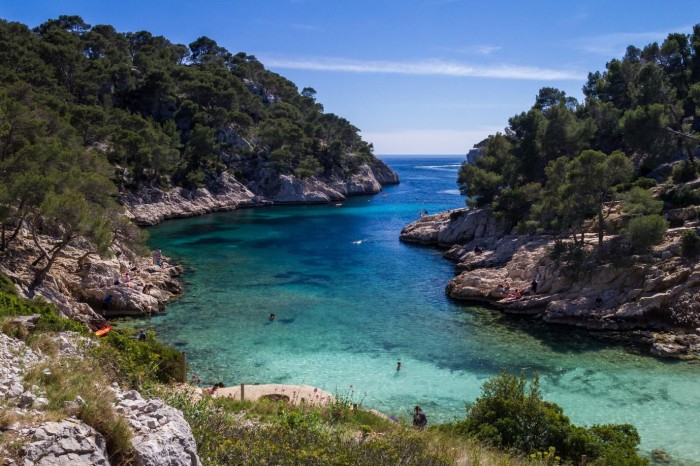 Image credit: Design_Ex
Tell me you don't want to take a dip in that water. Just dare to say it. And it's not just the water that's gorgeous – the rocks and hills around it make it a great place to take a hike as well. You'll find beaches like these on the ten-mile stretch between Marseille and a little fishing village called Cassis, so make sure you mark this route down on your map.
Also read: How to Travel Around France on a Budget
5. Villefranche-sur-mer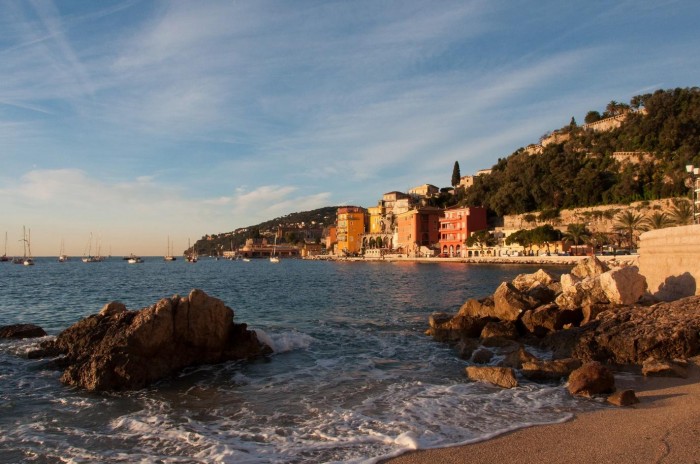 Image credit: Mark Fischer
If you're game to meet new people and enjoy the beach in the midst of laughter and conversations, Villefranche-sur-mer is the place for you. Popular with both tourists and locals, it's hard to wonder why once you find yourself looking out at the mass of white, glittering sand ahead of you. As a bonus – the sand here is really easy on your feet, so it practically melts away from your foot as you raise it. Pretty much a far cry from the beaches in Singapore, wouldn't you agree?
6. Cavalaire-sur-mer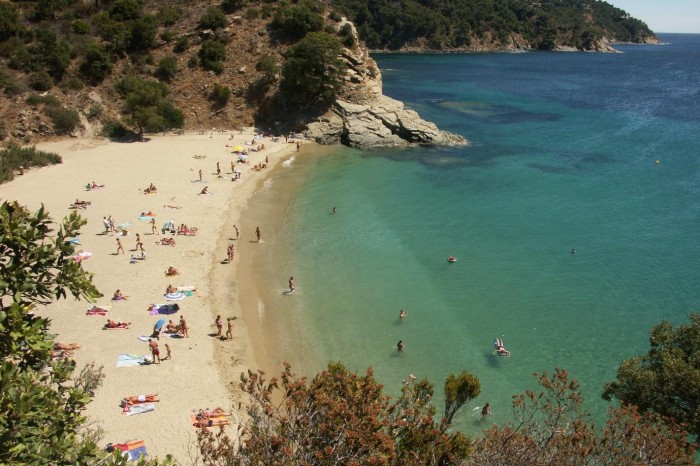 Image credit: f. ermert
If you want to mingle together with the locals, take note! Cavelaire-sur-mer was made just for you. This tiny town is so unheard of that there are practically no tourists around. Chilling is apparently this town's motto, because the pace of life here is so perfectly slow that it's going to leave you relaxed and refreshed after a mere few nights' stay. Book a villa for the ULTIMATE R&R away from home.
7. Cap d'Ail
Image credit: Cesar Acebal
You're in for a real naturist treat in Cap d'Ail. Its coastline is indented into the mainland, so the moment you find yourself there, your eyes will be treated to curves of white sand and views of dramatic cliffs spanning to the skies on both sides. And that's still not counting the beautifully-clear water. You have to make sure to tote your camera along or you're probably going to spend the remainder of your life regretting it.
I'm just kidding.
(Not really. Please do bring your camera along.)
8. Eze-sur-mer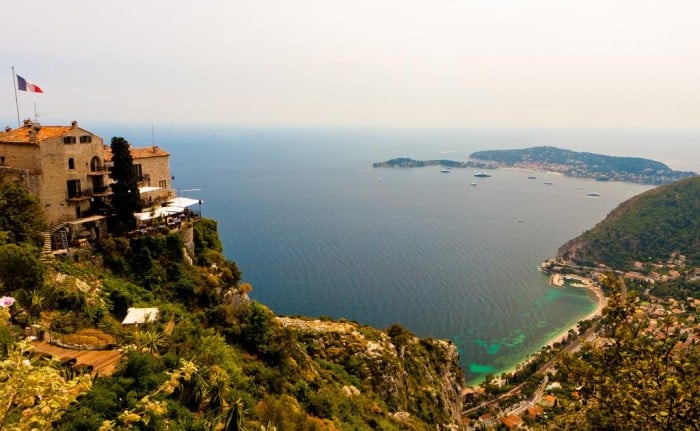 Image credit: Peter M Graham
This one's pretty special, because this place only has one beach. That probably won't matter in the end though, because that one beach is just as stunning as the rest of the beaches on this list. Ahead of you – a stretch of gorgeous water. Behind you – the medieval Eze village looming 1400 feet above you. To the west: majestic views of the St-Jean-Cap-Ferrat. There's literally nothing more you could ask for.
Also read: 13 Days Itinerary to Italy, Switzerland and France for a Good Mix of Europe
Of course, this isn't an exhaustive list and I'm sure that there are beaches in Southern France that have flown under the radar. But now you do know that there are so many beachy gems out there just waiting for you to step foot on, and in France no less! So get out there and be ready to have a whale of a time!