"…wherever you go for the rest of your life, it stays with you, for Paris is a moveable feast…" – Ernest Hemingway
Paris. You are magnifique. A grand old dame who has lived life to the fullest. Elegant and enchanting, withered but gilded, ostentatious yet simple, self-absorbed yet gracious. There's a reason why 'Visit Paris' is everyone's (well almost, mostly females) dream. It's beautiful. The city of lights reels you in and leaves you wanting even more.
Go beyond sophisticated Paris and relive France's Roman history as you walk through medieval towns and explore fairytale palaces while sipping on wine and brandy regions of Bordeaux, Cognac and Normandy. Don't miss the highlights of France for less than $S2.7k with Trafalgar!
Also read: My First Impressions of Paris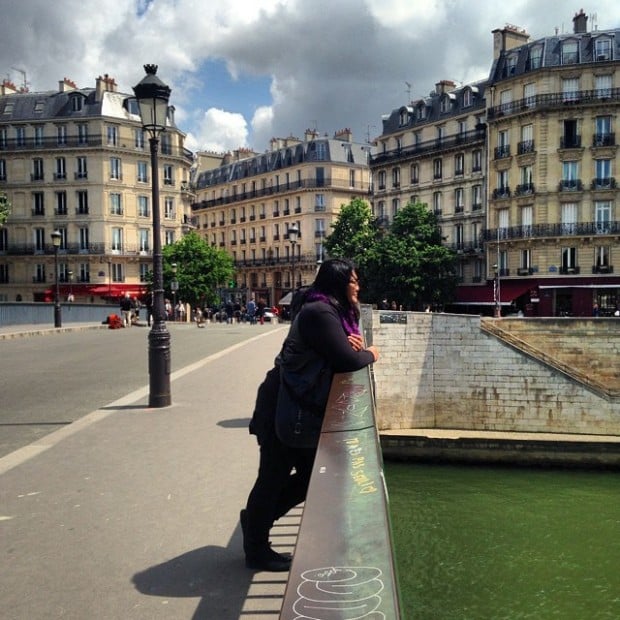 Mandatory dramatic bridge pose at Île Saint-Louis
I arrived in Paris aboard the high-speed Thalys train that took me from Antwerpen-Centraal to Gare du Nord, the busiest railway station in Europe and the busiest in the world outside Japan. I had to stop and regroup. The station was massive. The tourist desk had a sign "No metro inquiries". Okaaay, looks like I had to wing it.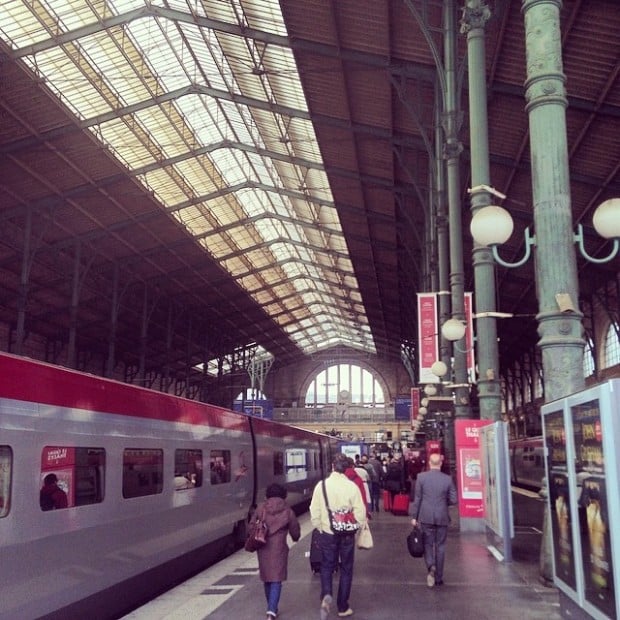 Solo train station adventures
I made my way underground to look for Metro signs and yeahyuh, there it was. Bought a single ticket for less than EUR2 (PHP100). If you're a group, it's cheaper to buy a carnet of 10 tickets. So I took the No.5 Orange Line to Republique to catch up with the rest of Team Europe. My friends, Bernie, Mary and Anya were already waiting for me at Hotel de Nevers in Rue de Malte. Travelling with friends? Epic.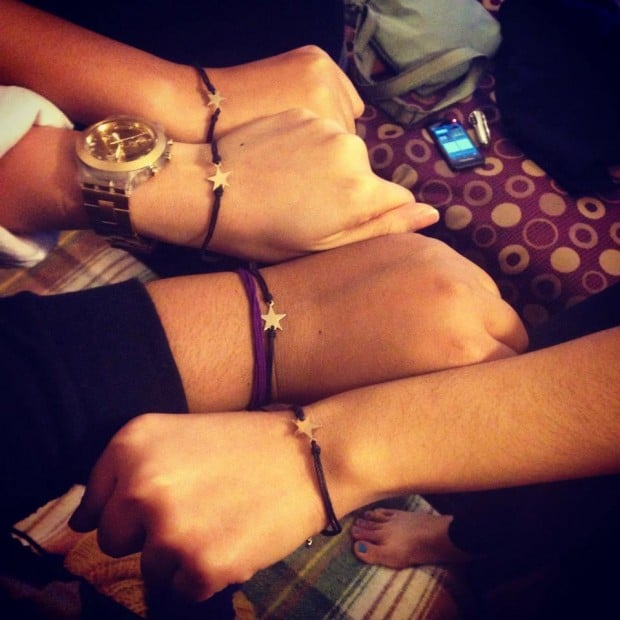 Finally arrived at the hotel in one piece. Excited to be with the rest of Team Europe
I could totally make a really long post about everything I did in Paris but that wouldn't do justice to the actual experience. You just have to be there. The city alone needs its own bucket list. So instead of words upon words, here's my Paris experience in pictures.
1. Get lost in alleyways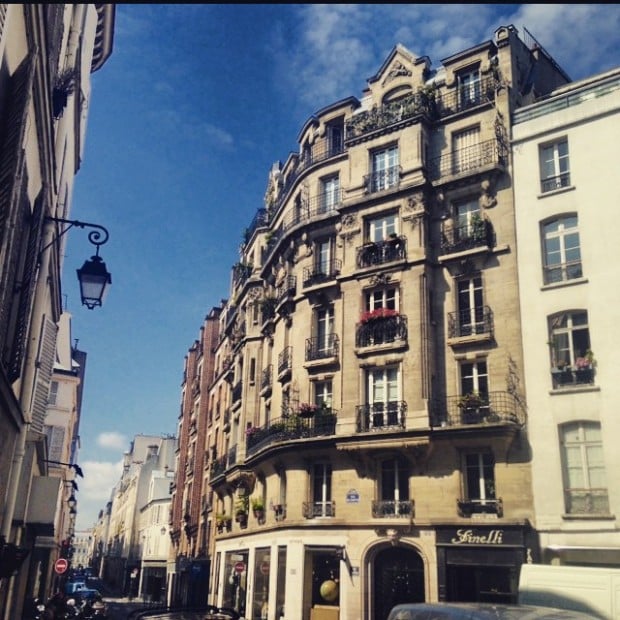 Loving these old buildings
The alleys and side streets of Paris are probably one of the main reasons why you should explore the city on foot. There are so many interesting sights, street art, houses, old doors, buildings. Every corner has a story to tell.
2. Explore the streets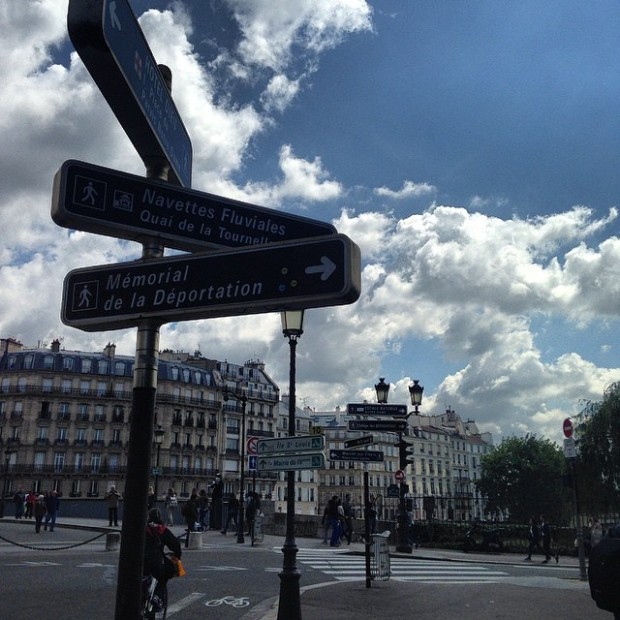 Streets signs on  Île de la Cité
The beautiful sights of Paris just keep on coming. Wherever you look, there's something to take a photo of. From bursts of red flowers to interesting door designs. You don't want to blink for fear of missing something.
3. Walk along the Champs Elysees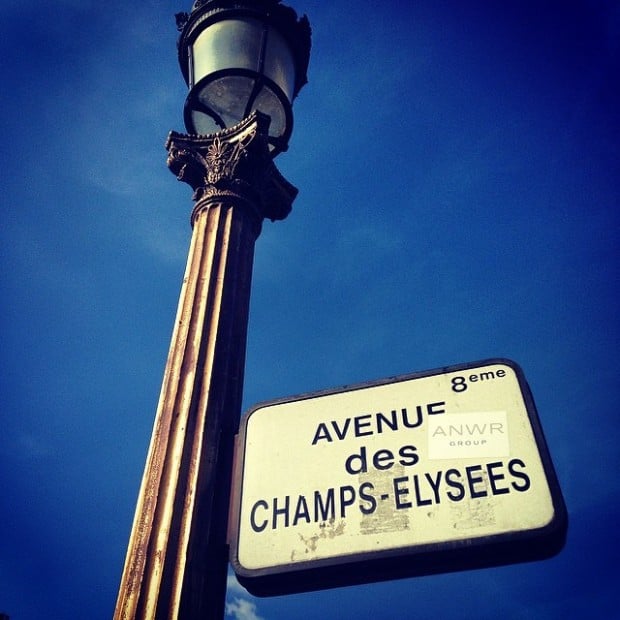 Rolling down the street…laid back
The Avenue des Champs-Élysées is probably the most famous stretch of road in Europe. It's only less than 2 kilometres long but its reputation precedes its size. Starting from one end, the Place de Concorde,  walk along the avenue to pass by famous theatres, cafés and luxury shops including the flagship store of Louis Vuitton (obviously I didn't bother going in there, they may not look upon riffraff lightly) and the legendary Ladurée. At the other end is the Place Charles de Gaulle where the Arc de Triomphe awaits. Built in the 1800's, the Arc de Triomphe de l'Étoile is one of the most famous monuments in Paris. With my extraordinary luck, the place was under renovation/restoration. Still looked fantastic though (from across the street.)
4. Have ice cream by the Seine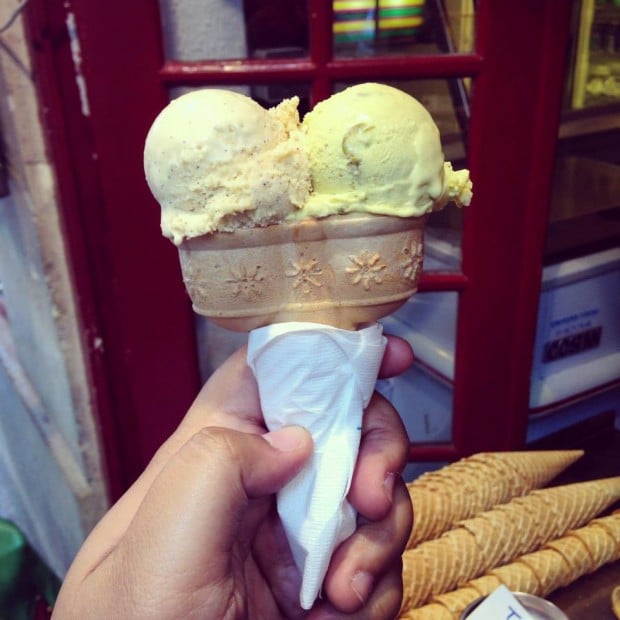 But still hella good. You lived up to your name Berthie
We crossed over to Île Saint-Louis for some Berthillon ice cream. According to one blog (parisbymouth.com), it is "the long-standing grande dame of glaces" and as per Lonely Planet, "Berthillon is to ice cream what Château Lafite Rothschild is to wine and Valrhona is to chocolate." I have no idea what they meant but I think it was something along the lines of 'Gurl, you have gotta try this ice cream'. So off we traipsed to try the must-have treat.
After surrendering my precious euros and laughing over the funny cone, I realised too late that having ice cream in 12º weather wasn't the smartest of ideas. But yes, the Vanille (French Vanilla) and Pistache was delicious but expensive. Cheers!
5. Eat a baguette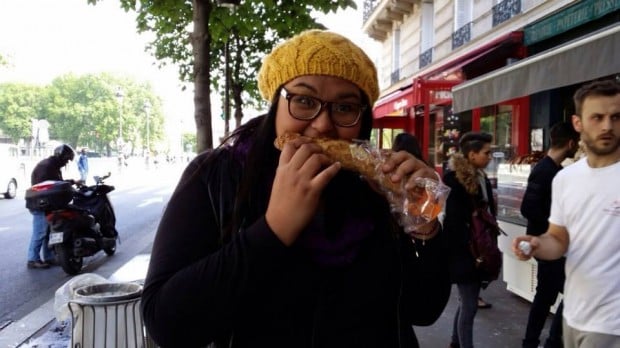 Now that's a big…baguette!
I think one of the expectations of being in Paris is to have at least one baguette per meal. If you are on a budget, expect to eat different variations of the baguette. In fairness, the baguettes are pretty huge and come with a whole lot of savoury combinations.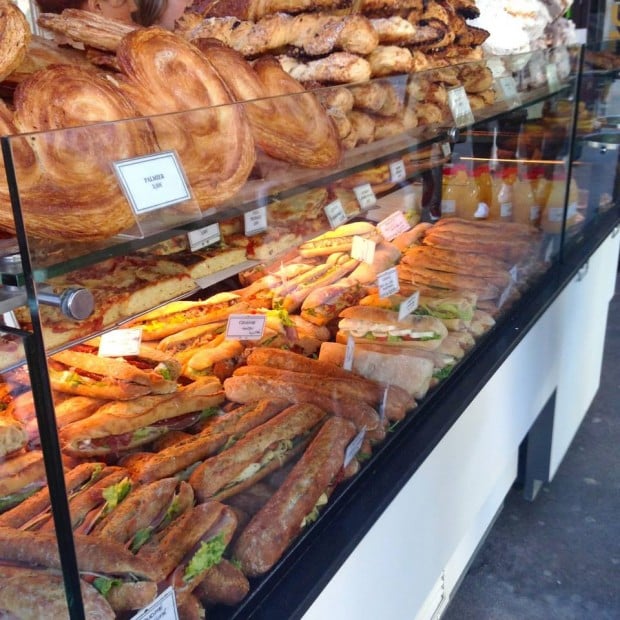 So many to choose from!
6. Order a croissant for breakfast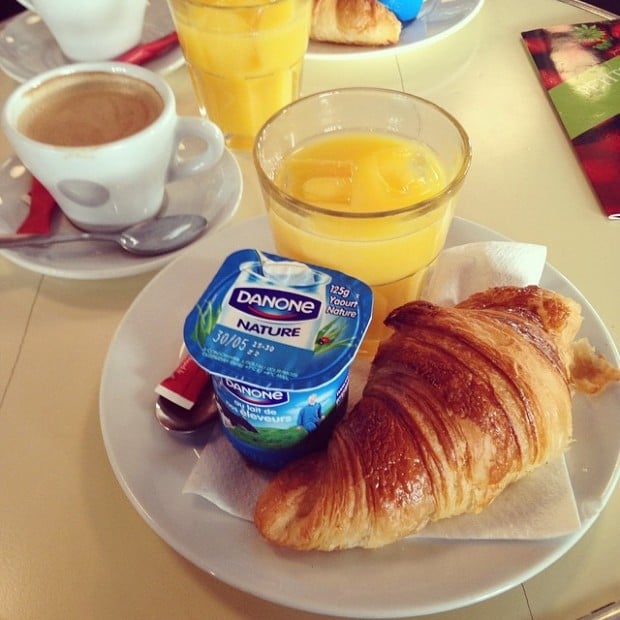 Apparently, this is a hearty French breakfast. Give me my Filipino breakfast please. Or bacon.
Nothing is more French than the croissant, or as the French say "Kwa-sohn", the delicious, heavenly, flaky piece of buttery goodness. Interestingly though, the croissant originated in Vienna, Austria. I guess, Marie Antoinette probably brought it over, with her being an Austrian princess and all. Anyway, go ahead and order a petit dejeuner (or breakfast in English) and enjoy a freshly-baked croissant with espresso and yogurt. J'aime beaucoup!
7. Stare at the Notre Dame in awe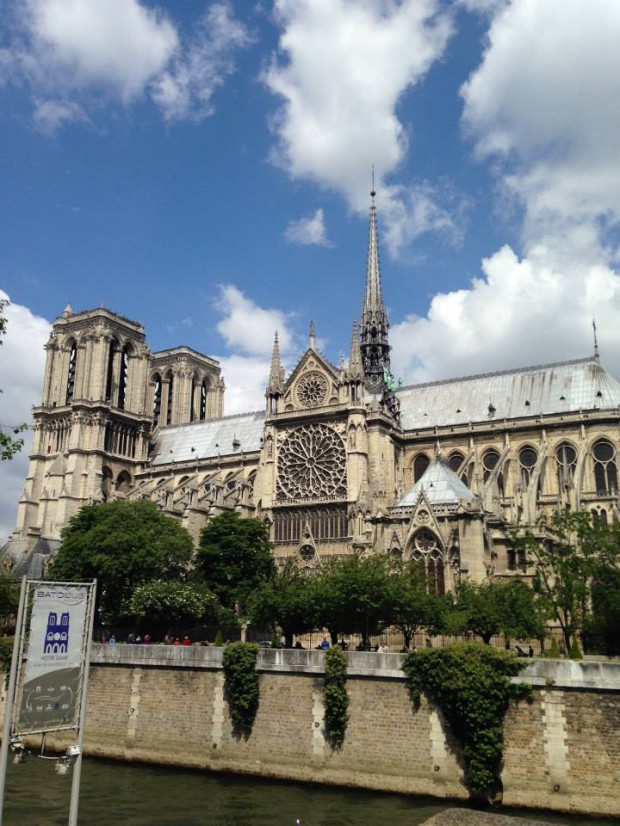 If you have seen the Disney Classic, Hunchback of Notre Dame, try not to scream 'Sanctuary!' or launch into song once you look upon this iconic cathedral. Built in 1163 and one of the most widely known churches in the world, Notre Dame de Paris is one of the must-see structures in this city.
8. Cross a bridge and check out the locks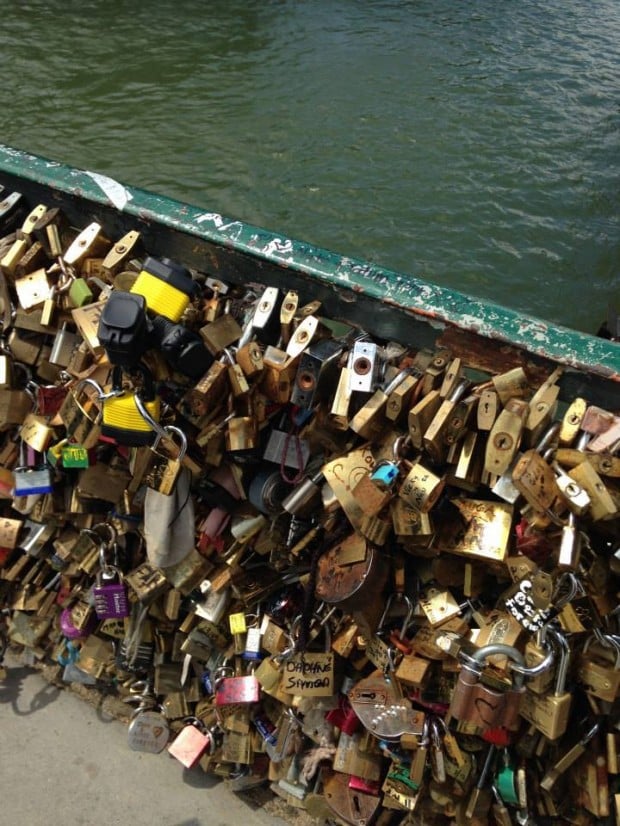 Ah Paris, the city of love…and locks. I think everybody has heard of the Pon des Arts or the 'love lock bridge' where lovers sign their name on a lock, attach it to the railings and throw away the key. Since I had no lock, or more importantly, no lover, I just passed by.
Also read: "Locks of Love" Partially Collapse Famous Paris Bridge
Ironically, the railings recently collapsed under the weight of the world's love. So the city went on lockdown and installed glass panels to stop tourists from locking their love. Pardon the puns.
9. Visit a bookstore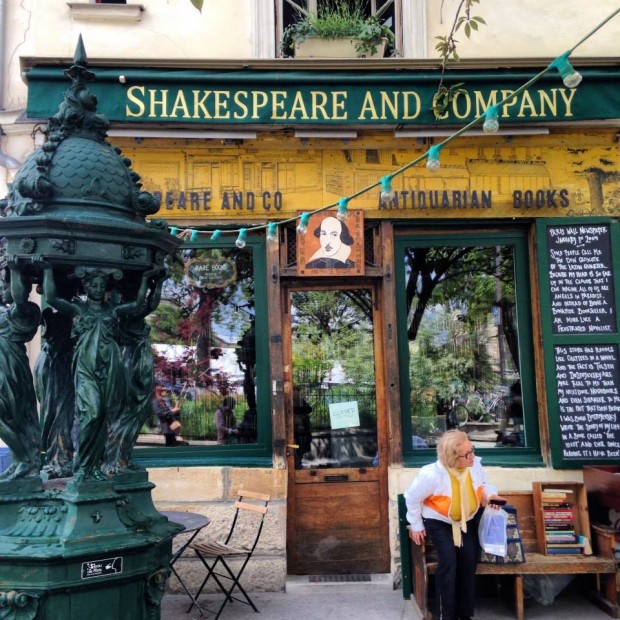 Even before I set foot in the city, one of my must-do's was to visit an independent antiquarian bookstore. Paris has dozens of them all over. Since I was in the Left Bank neighbourhood, I made sure to drop by Shakespeare and Company, one of the most famous of them all. This store is actually a tribute to the original Shakespeare and Co, which was owned by Sylvia Beach and existed in the early 1900s. It was a gathering place in the '20's for writers like Ernest Hemingway, James Joyce, F. Scott Fitzgerald and other greats. It closed during the German occupation in WWII and never reopened. The existing Shakespeare and Co. opened in 1964 and was featured in the movie Before Sunset.
10. Take a Seine river cruise
Unless you have all the time in the world and are amped on Redbull like the Energizer Bunny, then it is fairly impossible to see the sights along both the Left and Right bank. A River Cruise is a great idea. Just hop on any of the boats that you see along the Seine. It's one of the best ways to sightsee. Plus, you get to pass by all the main bridges and museums and of course the Eiffel Tower.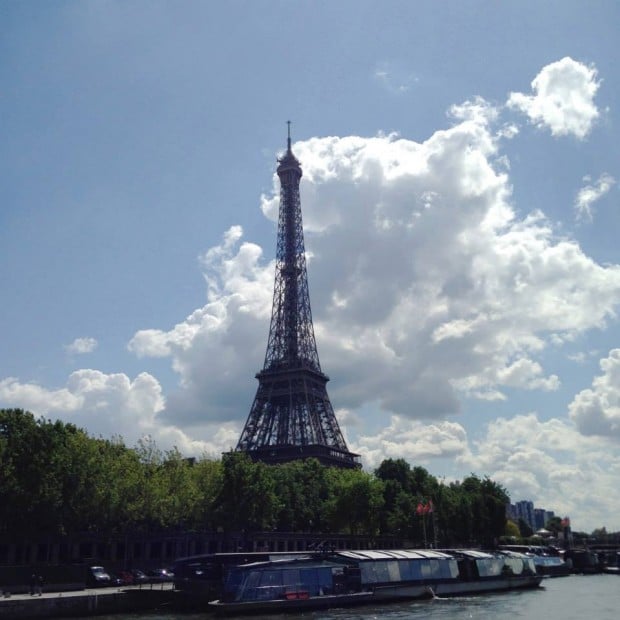 11. Snap a million Eiffel Tower photos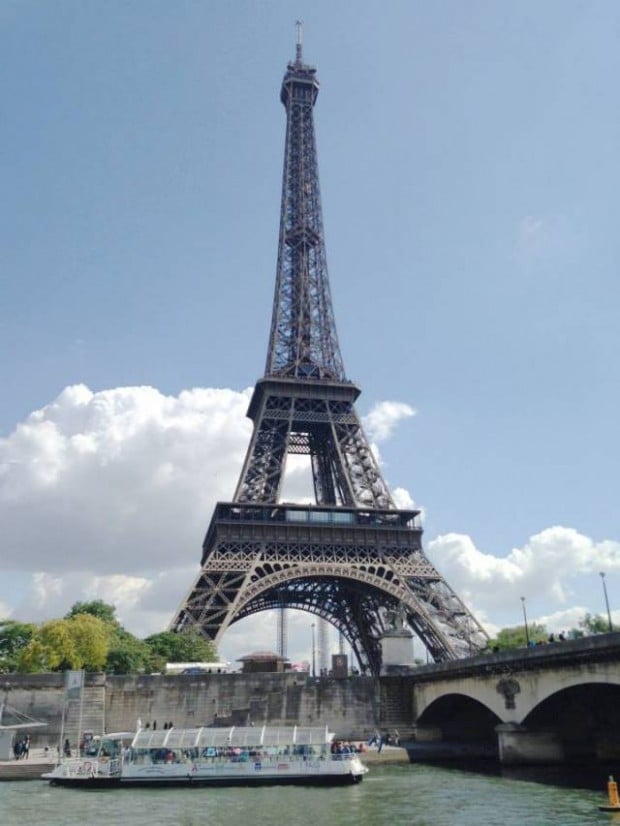 Like all famous landmarks, you can't not take a million pictures of the Eiffel Tower. Selfies, panoramas, close ups, cropped, sunset shots, night shots, you name it. It's the symbol of Paris. It's unreal. You can hardly believe it when you're right there.
Also read: 3 Things To Do at the Iconic Eiffel Tower in Paris
12. Bask in the sunset and watch the city turn to gold
There's just something about the light in Paris. Once the sun sets everything turns to gold. It really is a gilded city.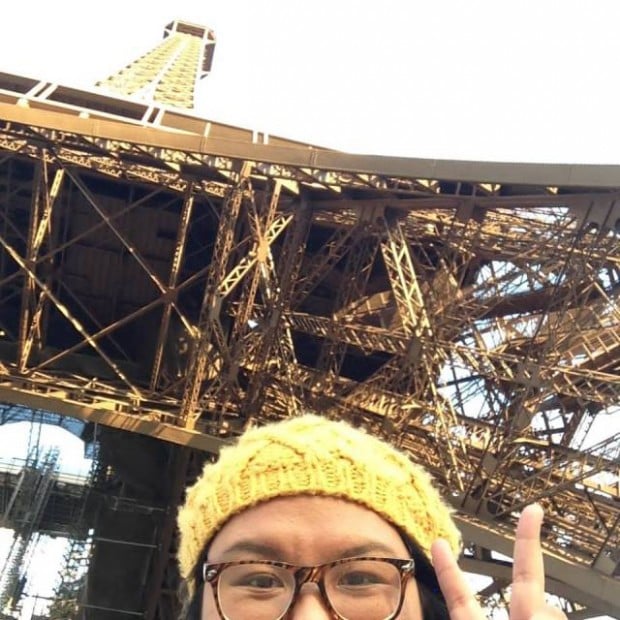 13. Tour the Louvre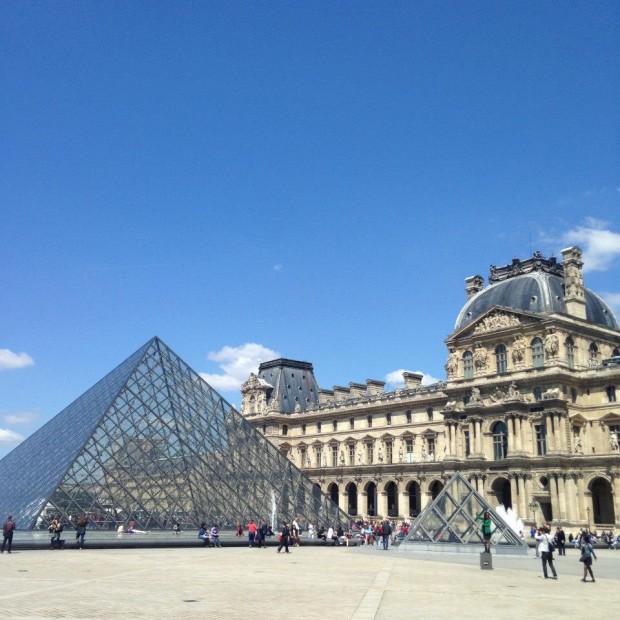 The world's biggest and most popular art museum. Home to the most well-known works by the masters: Michelangelo's Venus de Milo, the Winged Victory of Samothrace and of course, the most viewed and most talked about painting ever – Leonardo da Vinci's Mona Lisa.  The Louvre is massive. You can't possibly see it in one day or can you? If you look at each of the 35,000 artworks on display in the Louvre for only 3 seconds (like seriously straight-up marathon-viewing of all pieces with no breaks), you will finish seeing all of them in 3 months. It's virtually impossible. You'll end up in a coma.
14. Go to Musée d' Orsay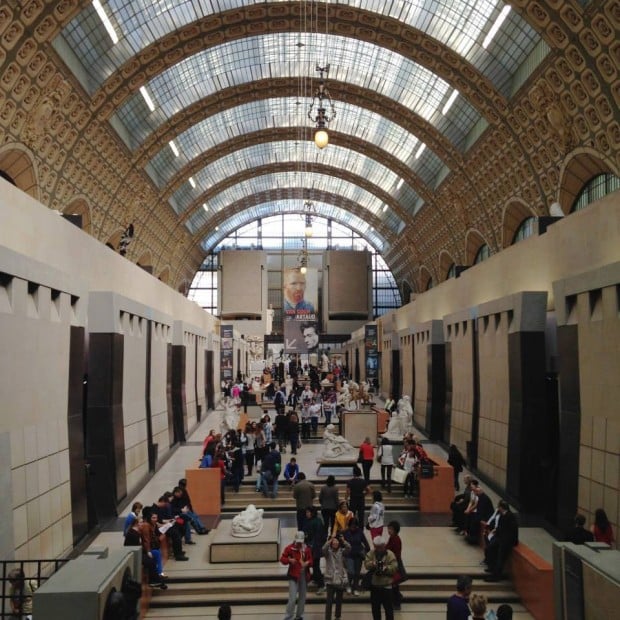 My favourite museum in Paris. This beautiful building used to be an old railway station. Situated on the left bank, Orsay houses the largest collection of impressionist and post-impressionist masterpieces in the world. The museum's galleries feature works by Monet, Degas, Renoir and Van Gogh. When I visited, they had a special exhibit on Van Gogh, my favourite painter in the world. But the highlight of my visit was seeing Whistler's Mother in the flesh. If you have seen Mr. Bean, then you know this artwork is a big deal. Artwork aside, Musée d' Orsay is just lovely. The giant clock is the icing on this magnificent architectural cake.
15. Hop on a train to Versailles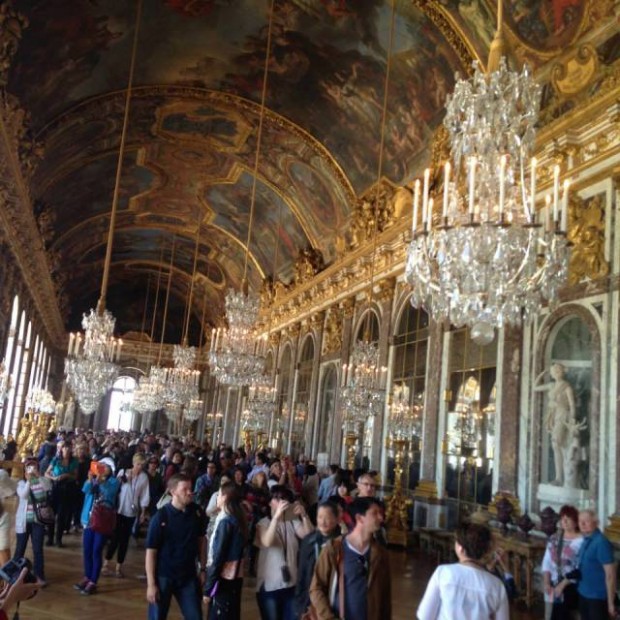 If you are well-versed in French history then it's impossible that you don't know about Marie Antoinette, King Louis XVI and the Palace Versailles. Versailles is incomparable. It's massive. It became THE royal residence. Suddenly all the palaces in Europe wanted to be Versailles when they grew up. Of course, we went. So we took Metro Line 5 from Republique to  Gare d'Austerlitz and transferred to the RER C to Versailles.
16. Drink with the locals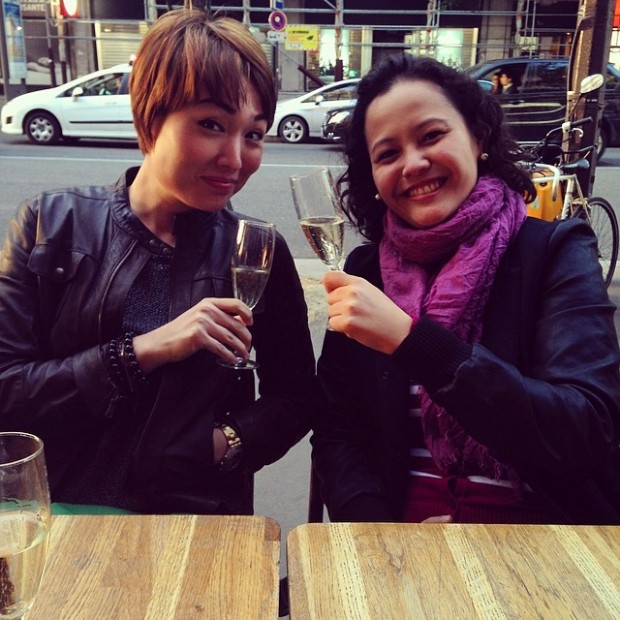 As long as there is happy hour then you know you will survive in any country. We discovered this delightful watering hole around the block from our hotel called 'Little Cafe Bar'. We then proceeded to get drunk and spend about EUR80 (PHP4,000) in this bar to the amazement of the owner, bartender and the locals. It was either A. They've never seen girls drink so much, B. They've never seen Asians spend so much on beer or C. They've never seen anything like us. Whatever the answer, we were definitely interesting because the owner came up to us to ask "Where are you coming from?". All in all, Little Cafe Bar was a great place. Felt right at home.
17. French kiss
Oh you know exactly what I mean. No need for pictures.
18. Pose across the Arc de Triomphe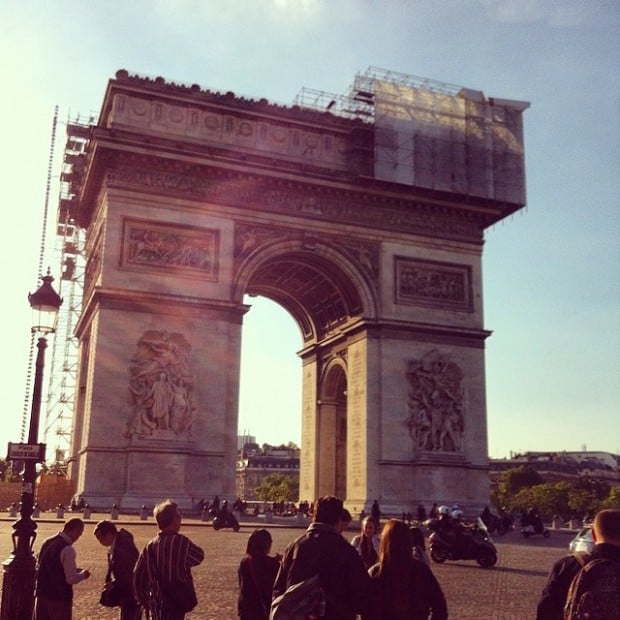 Probably one of the most famous monuments of Paris after the Eiffel Tower. This structure stands at the end of Champs-Élysées and honours those who fought and died for France in the French Revolutionary and the Napoleonic Wars. With my luck, it was under restoration but still stunning in the fading light.
19. Experience the local market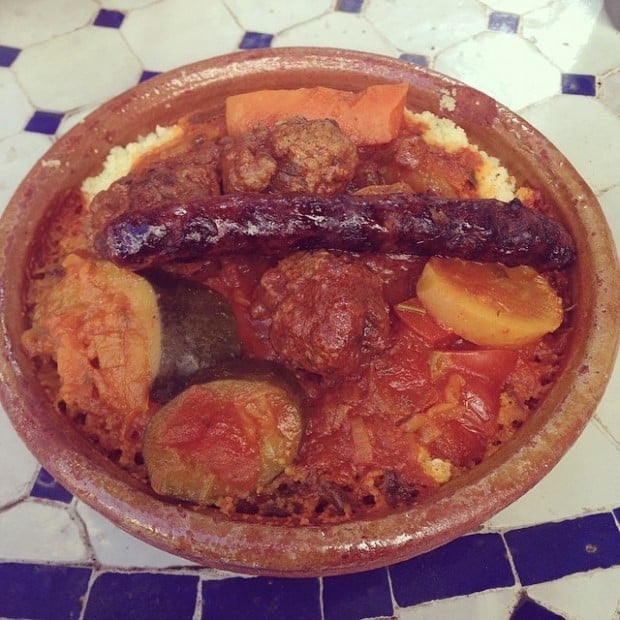 So yummy!!!! Baked couscous, vegetables, sauce and sausage. 
One of the highlights of this trip was making our way to Le Marché des Enfants Rouges, the oldest covered market in Paris. The market, 39 Rue de Bretagne in the Marais (3rd) arrondissement was just a couple of blocks from our hotel. The name translates to "Market of the Red Children" and refers to the children from the nearby orphanage who were clothed in red (the colour of charity). The entrance is a small iron gate. Once you step inside, you find numerous stalls selling produce, meats, dairy plus restaurants with different cuisines. We tried some couscous at the Moroccan stall followed by cafe au lait from the quaint Cafe créme at l'estaminet cantine.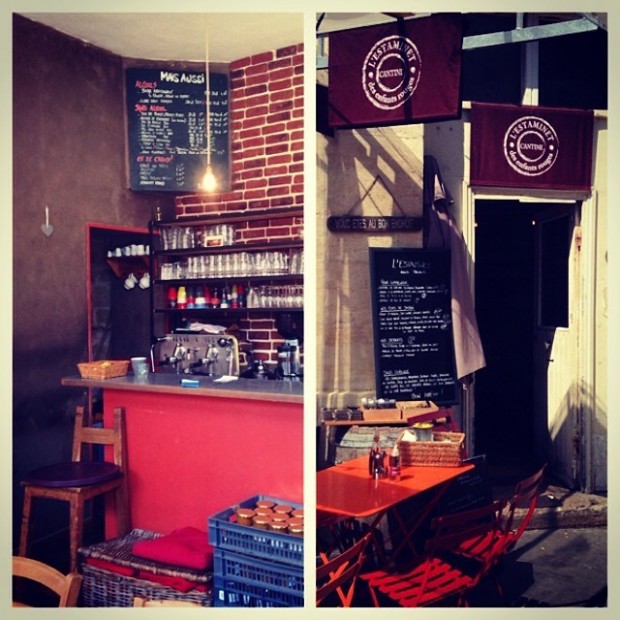 Small cafés are my favourite!
20. Listen to street musicians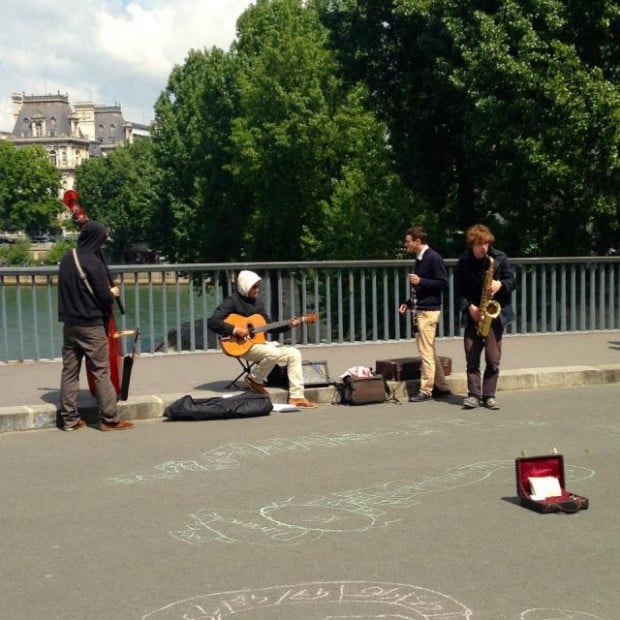 The streets of Paris are filled with talented musicians. It makes for a great experience to rest your legs on a bench and listen to them play. Show some love and throw them a few cents.
21. Indulge in French macaroons and eclairs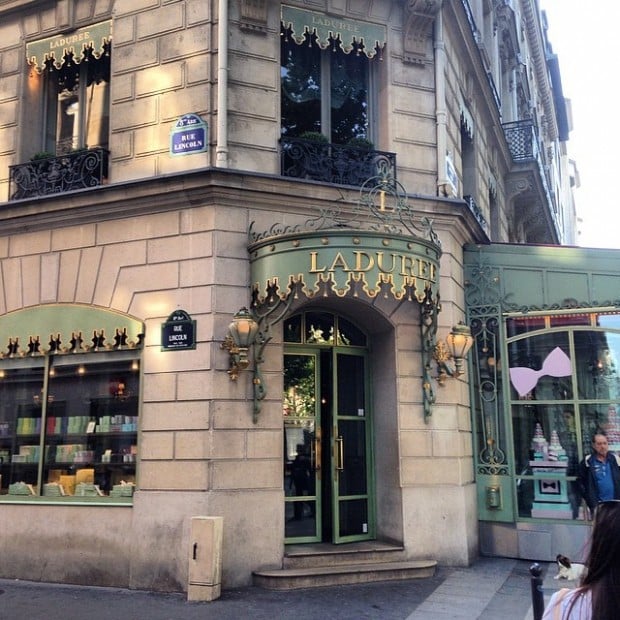 We passed by the famous Laduree along Champs Elysees and thought 'What the hell', since we were there, might as well taste their wares. This French luxury sweet shop sells macaroons (15 thousand daily, imagine!) so of course we had to try. The line was crazy long so we sat down at the café and had some coffee, macaroons, eclairs and a cannelle. Well, I won't be going back there. EUR60 (PHP3,000) for coffee and dessert was not worth it for a cheapskate like me. At least I could say I went right?
22. Have fun with your friends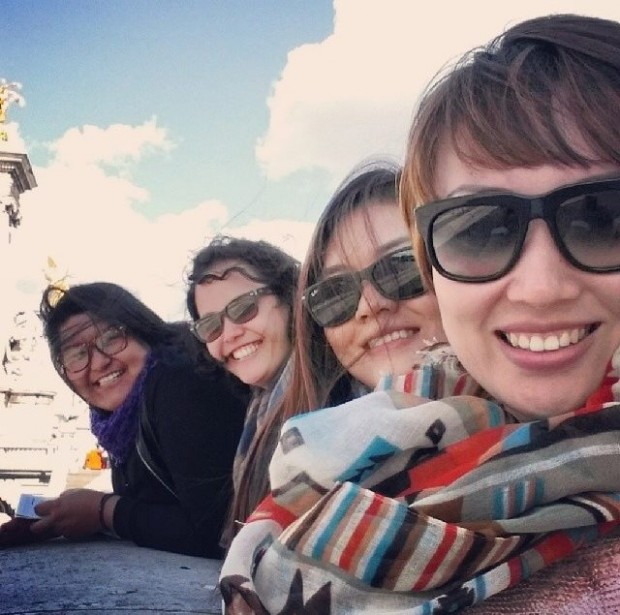 The best part about travelling with friends is the crazy photos and memories that you make with each other that will definitely last a lifetime. Cheers to friendship!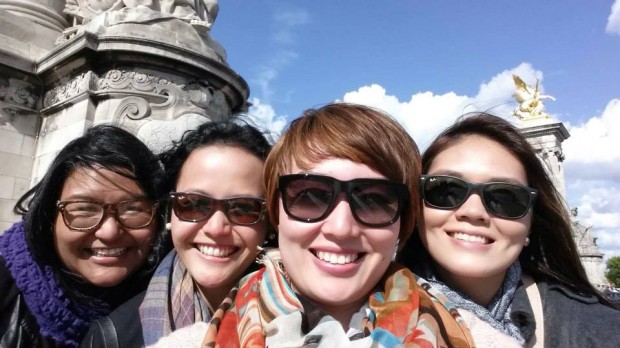 23. Get lost
I can't count how many wrong turns we took and side streets we passed by accidentally but it was all part of the fun. The sights, sounds and scenes that you encounter are epic.
24. Fall in love with the city
Paris is not called the city of love for nothing. There are so many reasons to fall truly, madly and deeply. Someday I wall definitely come back.
Also read: J'Adore Paris: My Parisian Love Affair
25. Live and never want to leave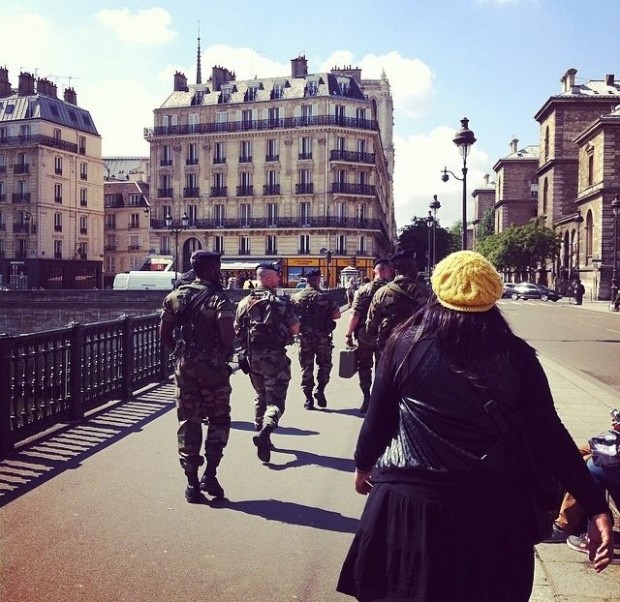 A memory that I will take with me forever.
Bottom line is, Paris is amazing. It's probably the only city where you can wax poetic or rant and rave with disenchantment.
Merci Mary, Anya and Bernie. We'll always have Paris.
Contributed by Jeepney Stop Chillin'.