I've never thought that I'd be a cruise sort of person, preferring the liberty of being able to explore a new place rather than being confined in one, but I was proven wrong when I embarked on my virgin cruise experience last year with Royal Caribbean's Ovation of the Seas. Obviously, its gargantuan size helped, but it was the never-ending array of activities and meals onboard that kept the 4D3N itinerary fresh.
I jumped at the chance again to experience another 4D3N cruise with Royal Caribbean, this time on a smaller ship, the Voyager of the Seas. My memory must have been foggy, but I didn't remember the long queue at the Marina Bay Cruise Centre to collect the Sea Pass card, a nifty thing that is stateroom key, payment system, and identification rolled into one. That alone took almost an hour – far longer than the time it took for us to breeze through immigration!
With our room located near the stern, we were awarded an unusually large balcony – large enough for us to perform a few cartwheels in. Since space is a prized asset on a ship, the same couldn't be said about the size of the room, but we're not complaining since we're not about to spend too much time in it anyway.
The Food: Windjammer Cafe (and a bonus cameo by a rude grand dame)
A cruise holiday is basically every greedy person's dream come true, with all meals provided, and a steady flow of snacks 24/7. On top of the never-ending array of food that's included in the cruise ticket, there are also five specialty restaurants that you can dine at for a fee.
On the first day of the cruise, we headed to Windjammer, a cavernous buffet restaurant with spectacular sea views. Since we were rather late for boarding, we weren't surprised to see a small queue at the restaurant. While standing in line, we spotted a few passengers trying to game the system – as some of its tables were located outside the restaurant, some people cheekily pretended to be re-entering the restaurant when it was obvious they had just arrived. Unfortunately, despite staff trying their best to contain the situation, it wasn't possible to police everyone.
While we were inching closer towards the restaurant, I felt something soft press against my back. I turned around to see an elderly lady leaning lasciviously close, her generous bosom resting on me. Before I could move away, she lunged forward clumsily, with her hands now also on my back, muttering "faster, faster" under her breath. It turned out that it was our turn to enter Windjammer, and Mrs. Grandmother was apparently so hungry that she had to push her way in. Now, I'm generally respectful of older folks, but I am not going to let some self-entitled geriatric bully me. I stopped moving and was about to wag a stern finger at her, but she shuffled her way around my stationary body while pulling her multi-generational boorish brood along.
That dramatic episode over, a very hungry me was impressed by the variety of dishes available, which ranged from western cuisine to even a section dedicated to Indian vegetarian food. We made the mistake of not exploring the place and had to queue up (again) to fill our plates, only to discover that there were more buffet lines and tables within. After this initial bad experience at Windjammer, I'm glad to report that we managed to make our subsequent meals there more efficient by 1. Being either very early or late for meals, 2. Surveying all the food available before selecting them as some of the sections featured different dishes and 3. Bringing the food back to our room to enjoy a leisurely and quiet meal at the balcony. Just ask the waiters for a dish cover!
P/S: Go straight for the roasted chicken if it's available, it's one of the best renditions I've had, and this is coming from someone who has had many roast chickens!
The Food: Main Dining Room
The Main Dining Room brings to mind the Titanic, with its opulent interiors (chandeliers!) and spiffily-dressed service staff. The menu changes daily, and it usually features "friendly" dishes such as steak or pasta and Asian options like rice. While the food I had was generally good, it was unmemorable. Although, that could also be partly due to the hearty volumes of wine I've imbibed – which were not complimentary and expensive at about USD30-40 for an unremarkable but serviceable vino. The service though was impeccable.
The Food: Chops Grille
I'll be upfront about it – since this was a media trip, we had the opportunity to dine in a restaurant, which I would not have done so if I had to pay for it, with the plethora of dining options available! Chops Grille is a Chicago-inspired steakhouse, and its plush décor with dim lighting makes for a romantic evening, away from the madding crowd. I had the ribeye, but being a petite eater, I requested for a halved portion and it turned out to be perfect. My partner had lamb, which was great as well. But what really stood out were the starters – the goat cheese salad was outstanding, with the cheese encased in a crisp shell. The lobster bisque was also a winner, and they sure were generous with the crustacean chunks!
The Food: Promenade Café
The Promenade Café is like a best friend – always there for you when you need it most, especially during the bad times such as losing half your pocket money at the casino. Don't expect fancy bites here, but the sometimes cold and stodgy snacks like pizza (the staff will happily heat them up upon request) are a godsend when you're feeling peckish at night, and there isn't a Deliveroo service or a convenience shop around. Coffee and tea are available too!
Activities onboard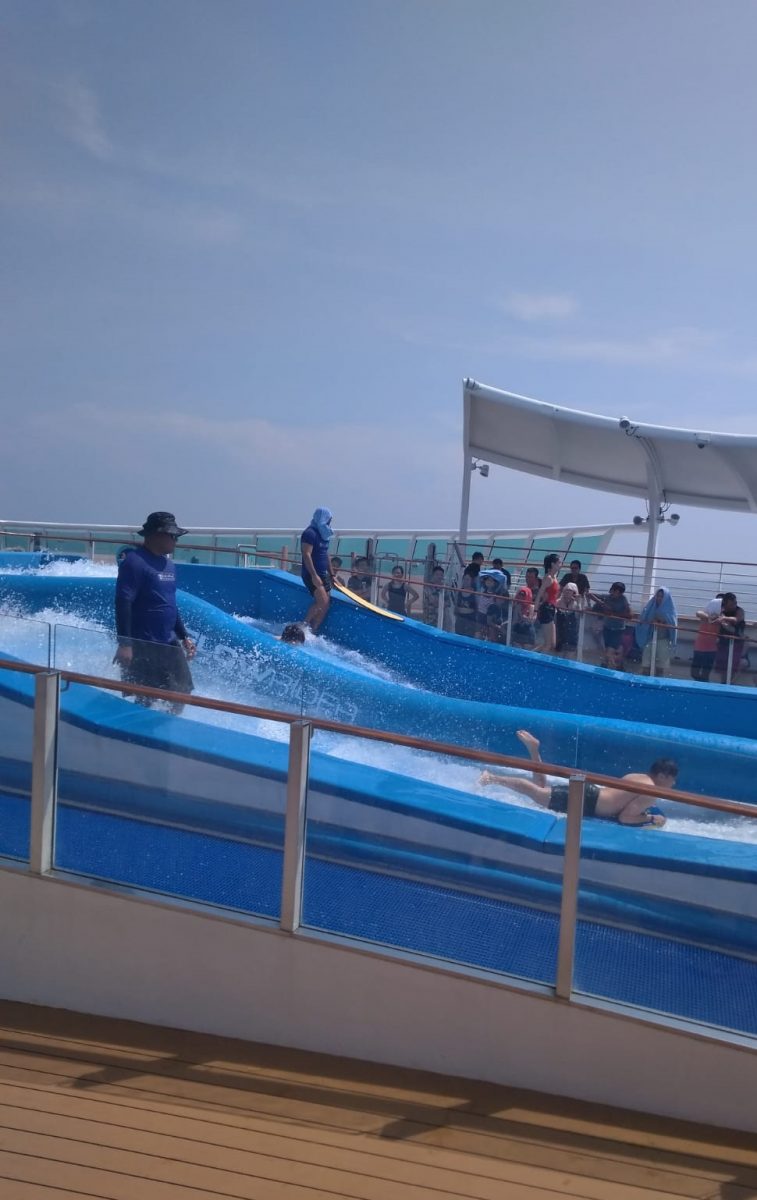 To be honest, I didn't really spend too much time trying out the onboard activities, as I was busy catching up on relaxing on my balcony, enjoying the sea breeze and observing the hilarious seagulls hovering around. However, as with the complimentary restaurants, be prepared to queue before getting your turn on, say, the wave rider.
If you're there with your family, you will certainly have no lack of entertainment. While I must admit that, being a sceptic, I wasn't too impressed by John Taylor's magic show. However, it was still fun to watch, and some magic tricks did manage to boggle me. The kids, however, will definitely be none-the-wiser and judging by the young audience's reactions, they certainly had a hoot!
Now, on to more adult fun –  the casino! I am not a risk taker by nature, but I do get a kick from small wins. The casino in Voyager of the Seas is small, and it can get rather crowded from the large number of spectators. For the first time in a casino, I tried my hand at Blackjack, having honed my skills from over two decades of Chinese New Year gambling with my cousins. It was more exciting than 10-cent bets with kids and a very different game style; sadly, I lost about USD30. But it was fun!
Shore Excursion
We almost signed up for the shore excursion when we docked for half a day in Penang, but decided to explore the Malaysian town on our own. Unfortunately, the heavens did not agree and rained on our plans to indulge in sinful Penang fried kway teow. We stayed onboard instead and had a great time exploring the quiet ship.
Back to reality
After three days of eating and just kind of doing nothing, I was ready to hit the ground running. Alas, when you're with more than 3,000 people, all waiting to exit through the same doors, queues ensue. However, despite the snaking crowds (the one I was caught in started on deck 4 and ended on deck 3), it looked far worse than it really was, and it was only 30 minutes before I breezed through immigration.
So, would I be sailing off on a cruise holiday anytime soon again? You bet I will, and this time, I'll be looking forward to Royal Caribbean's newest addition, the Spectrum of the Seas, when it calls in Singapore next year.
Big thanks to Royal Caribbean International for the invitation.