LOVE is definitely in the air!
It's the season again for chocolates, roses and of course, romantic dates! But instead of preparing a typical Valentine's dinner date in the city, why not treat your special someone to a special weekend getaway in the Philippines? No idea where to go? Here, take your pick from these beautiful destinations perfect for a sweet Valentine's escape.
For the Outdoorsy Lovers
Mountains, volcanoes, lakes, rivers, waterfalls – you name it! The Philippines will not disappoint couples who love the great outdoors. Thrill-seekers and nature lovers alike, head over to these awe-inspiring spots in the country.
Also read: 15 Incredible Outdoor Adventures to Conquer in the Philippines
1. Mount Pico de Loro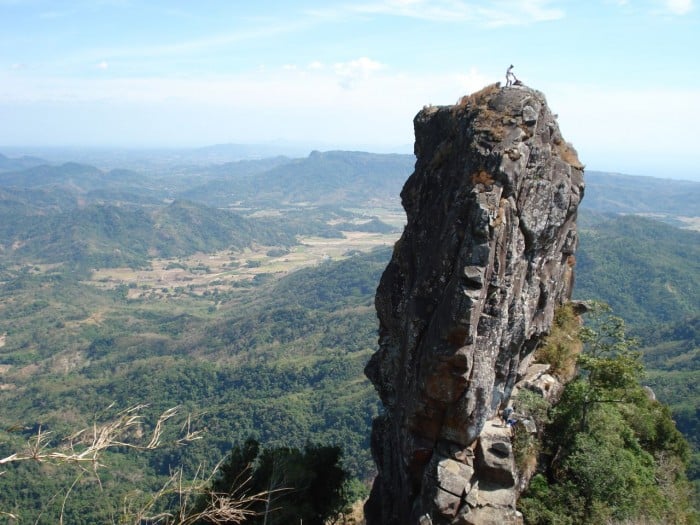 Image credit: jojo nicdao
Standing between the provinces of Cavite and Batangas, Mount Pico de Loro is one of the top scenic mountains in the Philippines you absolutely have to conquer. With views so picturesque, you cannot help but express feelings of great admiration to nature and yes, to your lover.
Ladies, take note, gone are the days when we wait for our guys to propose to us. We can do it too! In fact, a lady mountaineer just recently proposed to her torpe (shy) boyfriend on top of Pico de Loro. Read their inspiring love story from Pinoy Mountaineer's Facebook post. Awwww… Don't you just wish you can do the same?
2. Taal Volcano
Image credit: Deck Chua
Taal Volcano can be easily seen from Tagaytay, but I suggest you make your way to its magnificent crater lake. For non-hikers, the trek to the top could be a little bit of a challenge, but I guarantee you that it's all worth it! Just look at the view that awaits you on top.
3. Seven Lakes, San Pablo, Laguna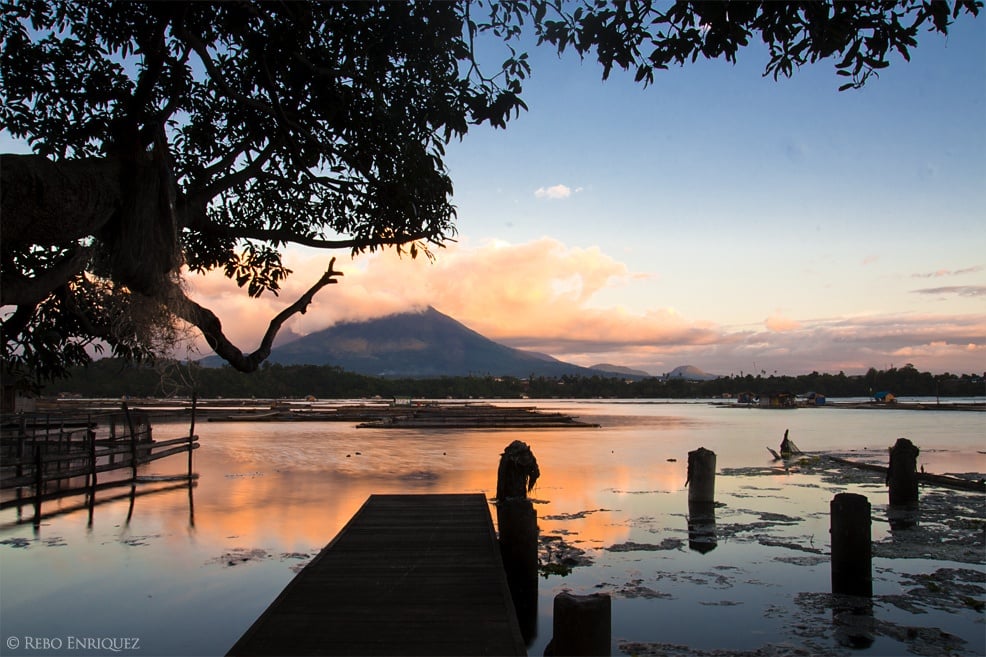 Image credit: Rebo Enriquez
Why visit just one crater lake when you can visit seven crater lakes in one go? Yes, that's right! San Pablo City in Laguna is home to seven amazing crater lakes which can all be visited in one day. There's an established hiking trail that connects all the seven lakes. Awesome, right? Plan this one-of-a-kind adventure with your sweetheart now!
4. Paoay, Ilocos Norte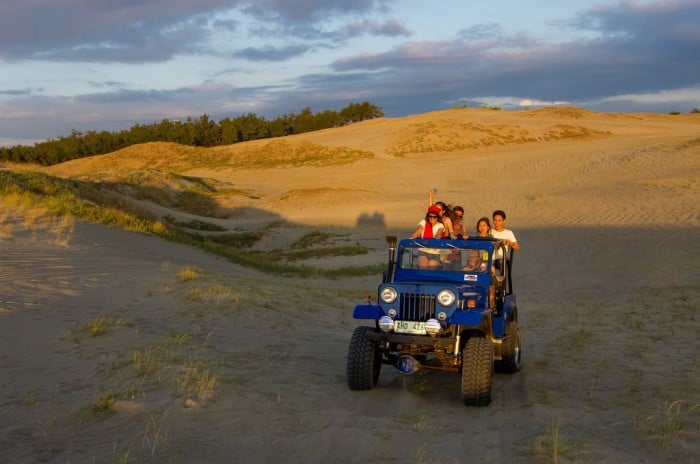 Image credit: Ilocos Norte
Woah, there's a desert in the Philippines? Yes! The sand dunes of Paoay, Ilocos Norte will make you feel that you're somewhere in the Middle East. Go sandboarding and hop into a 4×4 off-road truck to complete your desert adventure. Hold on tight and don't lose sight of your partner as you vroom your way through the barren landscape.
5. Alegria – Badian, Cebu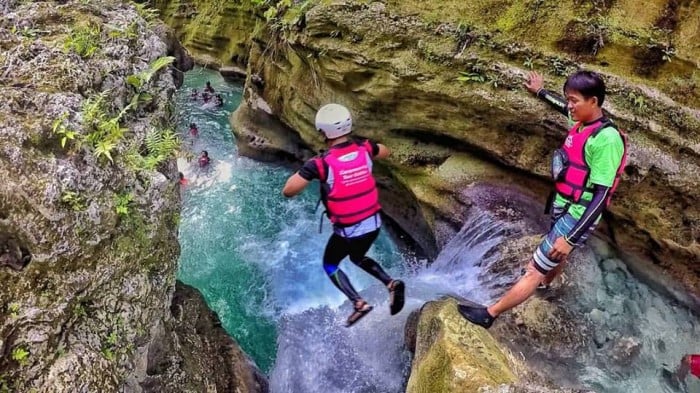 Image credit: Jon-erik Pascua | Canyoneering Tour Guides
Hold your breath and JUMP! Sounds easy, right? But I tell you, it's NOT! Canyoning or canyoneering entails traversing canyons and jumping into natural pools and mini-waterfalls. The exhilarating journey starts in Kanlaob River in Alegria and ends in Kawasan Falls in Badian. This is definitely an adventure to add to your #relationshipgoals, and what better time to do it than this Valentine's Day?
Also read: 15 Thrilling Outdoor Adventures to Conquer in Cebu
For the Beach-y Sweethearts
If you love the sun, sand and sea, you're in for a treat in the Philippines. These top beach destinations are sure to give you some beach-y good time.
6. Boracay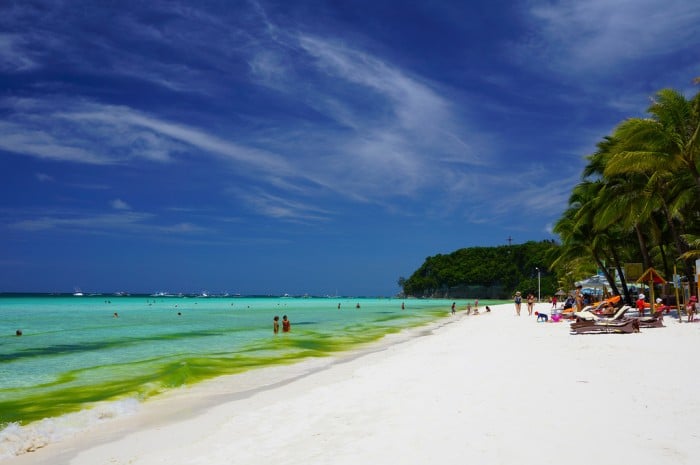 Image credit: Dianne Rosete
Boracay is overrated, I know! Why recommend? Simply because it's BORACAY – one of the world's best beach destinations. With its long white sand, oh-so romantic sunrise and sunset, soothing beachside massage, luxurious accommodations, exciting water sports and all-night party scene, you and your special someone will surely have the best time of your life! And if you're feeling a little adventurous, head to Ariel's Point for cliff diving, kayaking and more exclusive water activities.
7. El Nido, Palawan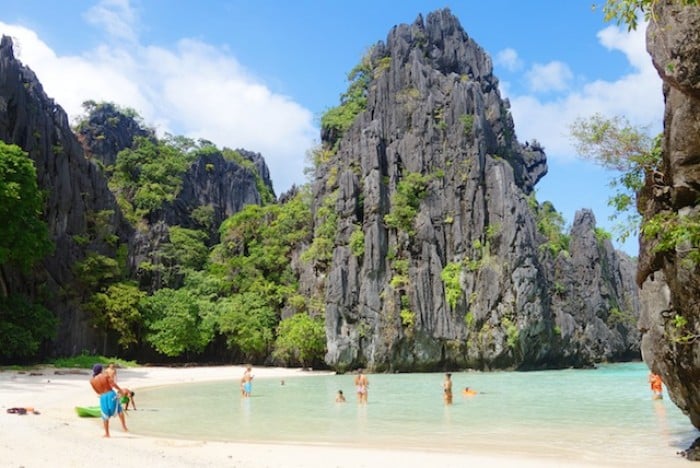 Image credit: currystrumpet
There's only one word to describe El Nido: PARADISE! The pictures are not even close to its real pristine beauty. You have to be there to see for yourself. Imagine spotless white sand beaches, crystal-clear waters, impressive cliffs and unspoilt natural landscapes all in one lovely setting. Don't be discouraged by its reputation as an expensive destination because you can still travel around this paradise even on a tight budget. Take it from a group of friends who pulled off a 5-day El Nido trip with a budget of only PHP 6,700.
8. Dumaluan Beach Resort, Panglao Island, Bohol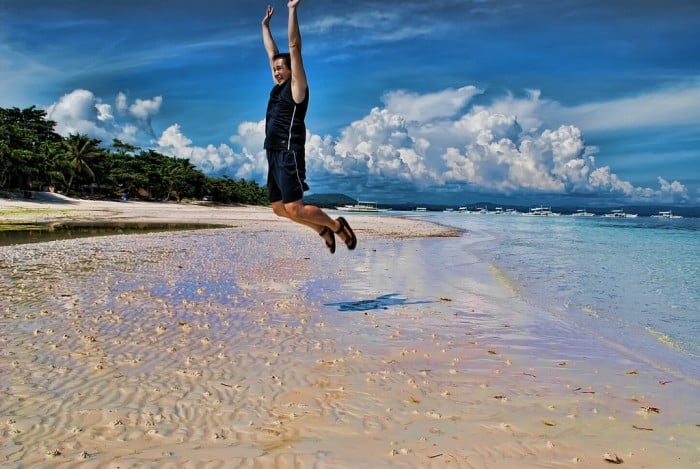 Image credit: dmcbohol
Dumaluan Beach Resort is your perfect alternative to the crowded Alona Beach in Panglao Island, Bohol. From standard rooms to exclusive suites, there's a variety of accommodations to choose from. Aside from the exclusive long white sand beach to frolic around all day long, the resort also has its own swimming pool and amenities for aqua sports like wakeboarding, parasailing, jet skiing and more!
9. Bantayan Island, Cebu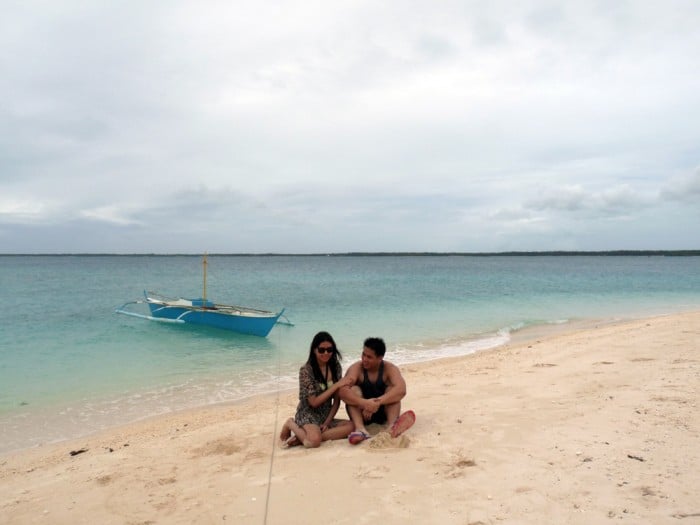 Image credit: Allan Ascaño
Bantayan Island is my all-time favourite beach destination in the Philippines. It really won my heart not only because of its gorgeous white sand beach, but also because of its simple, laid-back vibe. You can just bring your own tent and camp on the beach for free. Plus, you can rent a bike and cycle around the area for a more romantic moment with the love of your life.
10. White Island, Camiguin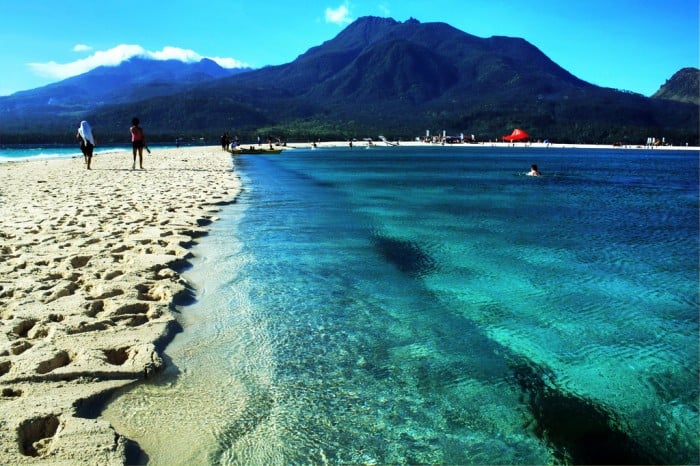 Image credit: Allan Donque
You've never been to Camiguin if you've never set foot on it's amazing White Island. No resorts, no fixed structures, just a long white sand bar! Do whatever you like – sunbathing, swimming, and snorkelling. With the towering Mount Hibok-Hibok as your natural backdrop, White Island also makes for a good photo shoot location.
Also read: 15 Secret Beaches in the Philippines You Probably Didn't Know About
For the Hopeless Romantic Couples
Don't want to get exhausted or sunburnt? Here are quaint and peaceful places in the Philippines for you!
11. Batanes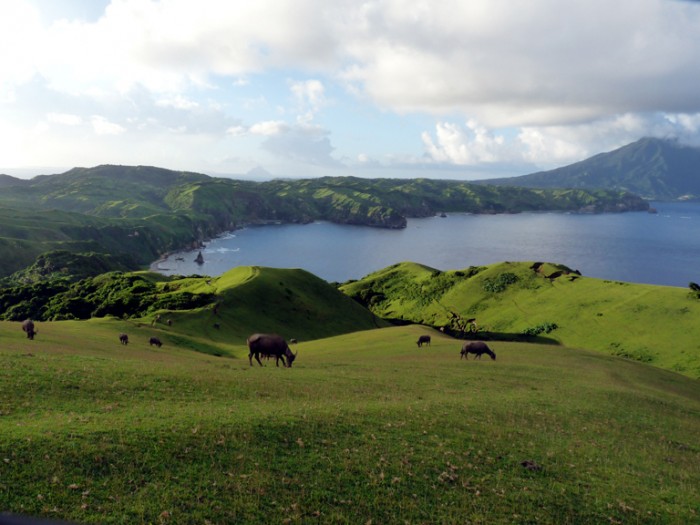 Image credit: Allan Ascaño
The photos are never enough to give justice to the true beauty of Batanes. With its well-preserved attractions, incredible landscapes and warm, honest locals, it's no wonder why many people fall in love with it. What could be more romantic than spending quality time with your other half to a place so breathtaking like Batanes?
Also read: 8 Reasons Why I Fell in Love With Batanes
12. Vigan City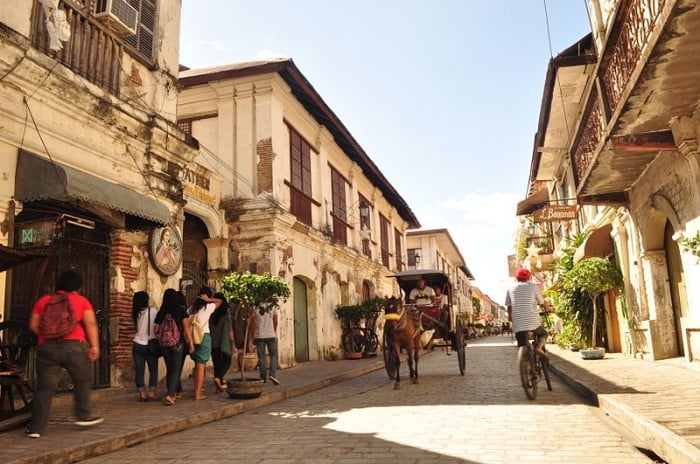 Image credit: Joelaldor
Be catapulted back in the Spanish colonial period in Vigan, a UNESCO-listed heritage city and one of the New7Wonders Cities. Ahhh, the cobblestone streets, the old-fashioned houses, the kalesa ride, the people's way of living — everything about Vigan will truly bring out the hopeless romantic in you!
13. Las Casas Filipinas de Acuzar, Bataan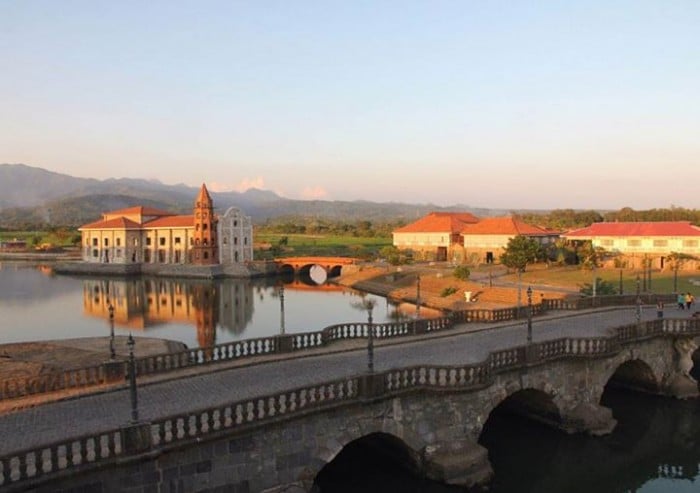 Image credit: Las Casas Filipinas de Acuzar
Vigan too far for you? Visit Las Casas Filipinas de Acuzar in Bataan instead. This 400-hectare resort and heritage park features a large collection of Spanish colonial buildings and bahay na bato (stone houses), making you feel like you're living in a totally different era. When you're there, join the heritage tour or witness the cultural shows to complete your experience.
14. Rizal Park and Shrine, Dapitan City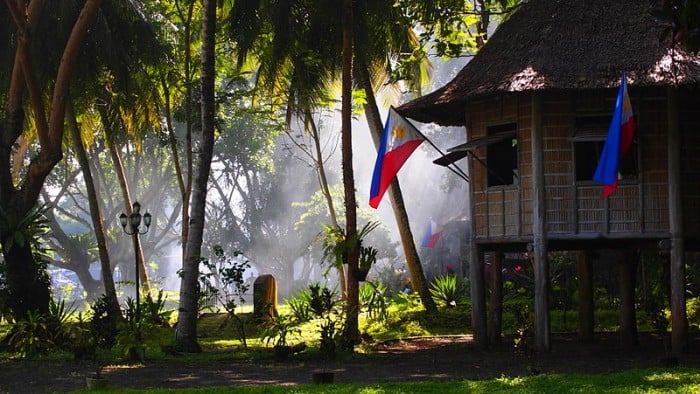 Casa Redondo, Jose Rizal Shrine, Dapitan | Image credit: Ric Canizares
Jose Rizal, the Philippines' national hero, had his fair share of relationship turmoils too. Learn more about his life and his sacrifices for the Filipinos by visiting the Rizal Park and Shrine in Dapitan City. The protected area still preserves the bamboo houses and other structures built by Jose Rizal. Then, cap off your getaway in Dapitan by spending a night at the luxurious Dakak Park Beach Resort, just a few minutes away from the shrine.
Also read: 10 Blissfully Romantic Valentine's Day Getaways in Southeast Asia
There you have it! 14 destinations for your romantic escapades this Valentine's weekend. Got more to share? Please drop your suggestions in the comments section below.