Mention San Francisco and the first things that come to mind are probably the Golden Gate Bridge and Alcatraz Island. But aside from these two iconic attractions, San Francisco is home to a bevy of unique and exciting experiences that'll leave you clamouring for more. Find out what makes this city so charming as you explore the best spots around!
Enjoy twice the convenience when you
fly to San Francisco with United Airlines
! With
TWICE DAILY NONSTOP flights
from Singapore to San Francisco, you have the option to choose the best departure and arrival times to suit your needs.
Flying with United Airlines also means that you'll be able to access over 280 destinations across the Americas! Whether you're flying to New York, Las Vegas or Boston, United Airlines has you covered with twice the options and convenience.
Discover attractive fares from United Airlines today and add twice the fun to your San Francisco trip!
1. Marvel at the Golden Gate Bridge
One of the most recognised symbols of the world, the Golden Gate Bridge is one of San Francisco's biggest icons and tourist attractions. Whether you decide to take a ferry or simply walk along this incredible suspension bridge, it's impossible not to gape in admiration at this architectural work of art. If this amazing bridge inspires the photographer in you, then head to the Golden Gate Bridge Vista Point which will grant you the perfect vantage point to snap that iconic shot.
Address:
Golden Gate Bridge: Golden Gate Bridge, San Francisco, CA, USA
Golden Gate Bridge Vista Point: Highway 101 Northbound near Alexander Ave. off-ramp, Sausalito CA 94965 (the north end of the bridge)
Admission Fee: Adult: US$45, Child: US$25 (average rates vary depending on the tour agency)
2. Delve into Alcatraz Island's infamous past
Alcatraz Island harbours a dark past as "The Rock", which once housed a military prison that was practically impossible to escape from. Dig into the rich history of the island through the museum exhibits where you can find an array of artifacts from days gone by. To immerse yourself in the island's fascinating past as a prison, take a tour of the cells and learn about the lives of the inmates.
Those who are of slightly stronger constitution may want to opt for the night tour or behind-the-scenes tour which takes you deeper into the recesses of Alcatraz, both literally and metaphorically. Unlock hidden sections of the building and participate in talks that will give you deeper insights into life on Alcatraz.
It's not all grave and sombre though! Take a stroll through the lovely historical gardens or look out for special artist exhibitions that happen throughout the year.
Address: Take a boat with Alcatraz Cruises from Pier 33 Alcatraz Landing
Admission Fee:
Day Tour: US$38 (adult), US$35.75 (senior), US$23.25 (child)
Night Tour: US$45 (adult), US$44 (junior), US$41.75 (senior), US$26.75 (child)
Behind-the-scenes tour (inclusive of night tour and not for children or the unfit): US$90 (adult), US$86 (junior), US$83.75 (senior)
3. Calm your soul at the Muir Woods
These tall imposing trees look like the set of a famous film, whether it's for a romantic rendezvous or a thrilling chase scene. Feel free to re-enact either in Muir Woods, a United States National Monument managed by the National Park Service. These trees can grow up to 380 feet tall and are about 500 to 800 years old (the oldest tree is 1200 years old)! Soothe your mind as you walk through this peaceful redwood forest and take in its lush greenery and peaceful surrounds. You can even go for a run if you feel up to it!
Address: 1 Muir Woods Rd, Mill Valley, CA 94941, USA
Admission Fee: US$10 (16 and over), free for children
4. Stroll through the Japanese Tea Gardens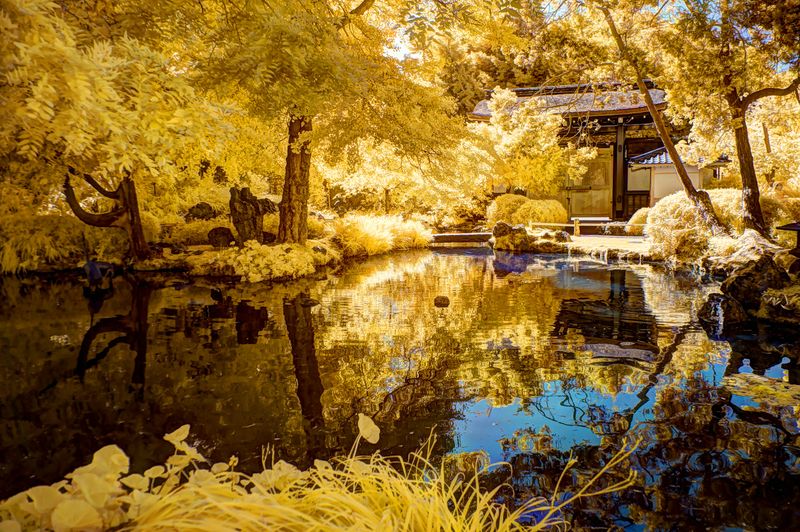 Located right in the heart of the Golden Gate Park, the Japanese Tea Garden is a popular attraction in San Francisco that boasts classic Japanese elements such as pagodas, arched bridges, native Japanese plants and serene koi ponds. Created by architect Makoto Hagiwara, this tranquil and harmonic garden thrums with a surreal energy and its vibrant landscape feels like a photograph come to life. A definite hit on Instagram!
Address: 75 Hagiwara Tea Garden Drive, San Francisco CA 94118
Admission: Adult: US$9.00; Senior (65+) and Youth (12-17): US$6.00; Child (5-11): US$3.00 (Non-Residents); Child (4 and under): Free
5. Hike around Yosemite National Park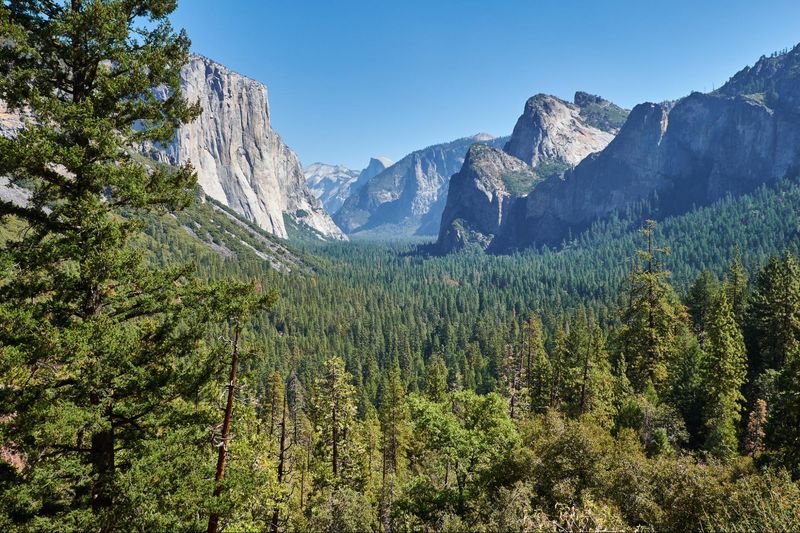 Yes, the photo from your Macbook software update is an actual place. Known for its plunging waterfalls and jaw-dropping granite cliffs, Yosemite National Park is a mighty valley that is truly a gift from Mother Earth. Indulge in a variety of activities such as camping, biking, hiking, water sports and even horse riding to get the most out of your park experience. You might even have the opportunity to get up close and personal with adorable chipmunks during your hike!
We suggest you set aside at least one full day for this stunning natural wonderland. Definitely a must for nature lovers!
Address: Yosemite National Park, CA 95389 (Visitor Center is at 9035 Village Drive)
Admission: US$30 per vehicle (pass valid for 7 days)
6. Get lost in Magowan's Infinite Mirror Maze
Let loose and go wild at Magowan's Infinite Mirror Maze, locally rated as one of the most psychedelic places in the city! Created by Charles Magowan, this genius trickster has you questioning your reality and existence with this labyrinth set-up of glowing mirrors. It's best to enjoy this as a group, so get your squad to tag along! Getting lost in this maze isn't half as bad too, especially when its surroundings light up like something out of a magical fairytale.
Address: Building O-11,  Pier 39, San Francisco, California, 94111, United States
Admission: US$5 per entry
7. Spook yourself out at Musee Mecanique
Boasting over 300 mechanical antiques, ranging from orchestrions to coin-operated pianos and arcade games, Musee Mecanique is an absolute treat for anyone looking to take a peek into a magical emporium of antiquated toys and knick-knacks.
Every item inside holds a piece of San Francisco's history and culture and a visit to this museum promises an incredibly insightful and fun experience like no other. Remember to snap a black and white photo in one of their old school photo booths for memories sake!
Address: Pier 45, Shed A, Taylor Street, Fisherman's Wharf, San Francisco, California, 94105, United States
Admission: Free admission but bring as many coins as possible!
8. Be awed by Vaillancourt Fountain's fascinating architecture
Vaillancourt Fountain is a 12m high precast concrete structure that is an architectural marvel and truly a sight to behold. Though this rough beauty has faced its fair share of opposition (one reason being the USD$250,000 in annual operating costs), locals have grown to love and accept it as an iconic fixture of San Francisco.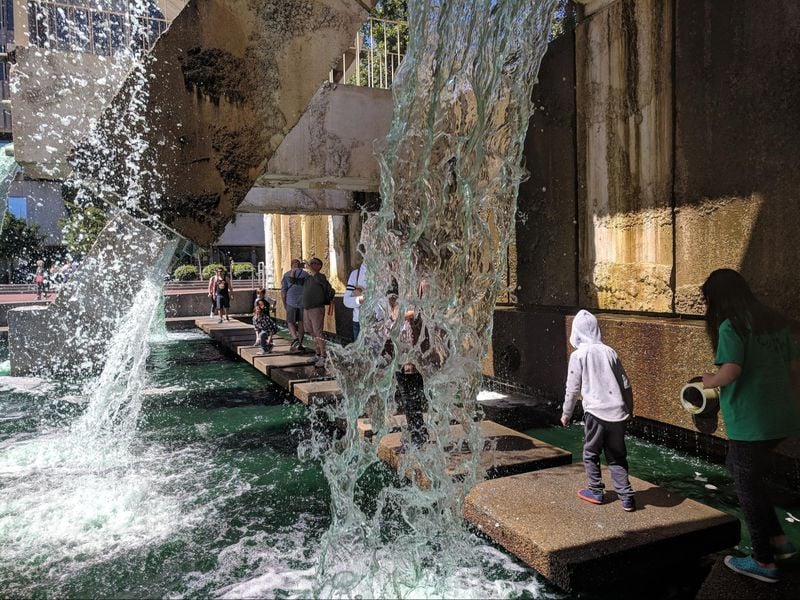 Image credit: mliu92
Fun fact: The fountain is best known for U2's 1987 performance where lead singer, Bono, spontaneously spray-painted graffiti on the sculpture that read, "Rock N Roll Stops The Traffic". He was arrested and fined, of course!
Address: Justin Herman Plaza, San Francisco, California, 94111, United States
Admission: Free admission
9. Let loose at The Great Northern Club
The Great Northern Club offers an unbeatable clubbing experience with hypnotising visuals and an 80,000-watt custom Void sound system. Apart from the spellbinding aesthetics and Art Deco-inspired interiors, the club sets itself apart by not only supplying electronic beats but also hosting live bands, singers and guest DJs for some solid, fresh music.
Address: 119 Utah Street, San Francisco, CA 94103
Admission Fee: US$15-20 (ranges from event to event)
10. Tour the city on a cable car
Hear the bells clanging and the cables screeching as you ride the city's trademark cable car up and down the hills of San Francisco.
There are many cable car lines in the city but some notable ones are the Powell-Hyde lines and the California Line. The former stops by the cable car museum and the Russian Hill, while the latter drops you off right at Union Square!
Admission Fee: 1-day visitor passport: US$14; 3-day visitor passport US$22; 7-day visitor passport US$28
San Francisco is also known for its vast variety of food options. Here are some unconventional but pretty unique ones to choose from!
11. Satisfy your sweet tooth with DOUGHP
Remember trying to steal a bit of cookie dough out of your mother's cookie batter? At DOUGHP, their signature dessert is made out of actual cookie dough, served in a flavoured waffle cone and topped with your topping of choice. Made with natural ingredients, DOUGHP easily wins the hearts of many and is a crowd-favourite amongst millennials for its Instagram-worthy aesthetic!
Besides being experts at making drool-worthy delights, DOUGHP also seeks to raise awareness for mental health and addictions, struggles that personally resonate with the owner.
Address: 2F Pier 39, next to Crab House | 5F, AT&T Park, near Sec.310
Price range: US$6 – US$20
12. Spice it up at Zante Pizza & Indian Cuisine
At Zante Pizza & Indian Cuisine, enjoy an explosion of flavours where India meets Italy! Enjoy sizzling Indian curries with creamy, hot mozzarella cheese on a fluffy, yet crisp pizza dough. If you're a big fan of fusion food, Zante Pizza & Indian Cuisine is not to be missed!
Address: 3489 Mission St, San Francisco, CA 94110, USA
Price range: US$10 – US$20
---
Brought to you by United Airlines.