Doing the California coastal road trip was something my boyfriend and I have long been talking about. Would you believe me when I say that we first talked about it back when we were just friends? (Crazy, I know — but that's a cheesy story for another time.) Fast forward to August 2022, we were finally able to cross this off our travel bucket list after months of planning. 
Anyone who has travelled from Northern to Southern California by land would know that the drive itself can get quite gruelling, especially if you're taking the faster route via freeways. And then there's the more scenic route: via the famous Pacific Coast Highway. Yes, it's clearly a lengthier drive, but believe me when I (and everyone else who has tried) say that the majestic views and stops are worth it!   
One thing I learned during my trip was how having good roaming service made everything that much easier. While the common perception is that it's more affordable to just get a local sim, some roaming services, like AIRSIM, winner of the Best Global Roaming Services category at TripZilla Excellence Awards 2022, actually offer much better deals. In particular, I like the AIRSIMe, an innovative "eSIM" that you can simply download! It provides mobile data at local rates in over 100 destinations!
And with that, let's get to my trip!
What to expect from a California road trip in the summertime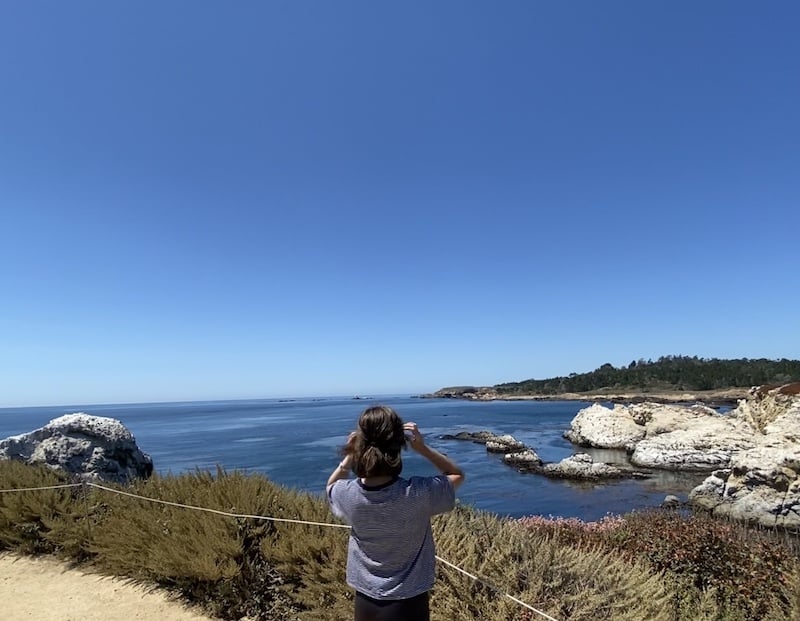 Granted, some people prefer taking the Pacific Coast Highway road trip in the spring, mainly for the colder weather. But if you're like me who has lived in the tropics all her life, going during the summer is not so bad. While it does get rather hot in some spots, they all lack one thing that most of Southeast Asia constantly has: humidity. 
Sunny weather sans the sticky, sweaty feeling — topped off with a cool ocean breeze? Sign me up! No kidding, if you're used to the tropical heat, then the Mediterranean-like climate in California is basically a walk in the park. I'd like to think of it as a consolation prize for enduring hot and humid weather for most months of the year; whereas people from this side of the globe have the luxury of varied seasons. 
Whichever category you fall under, here are my top tips if you're planning on doing a California coastal road trip during this season:
1. Never ever forget to put on sunscreen
This is perhaps the most important thing to remember. No matter how used to the sunshine you think your skin is, sunscreen is a non-negotiable. To be specific, broad-spectrum sunscreen with an SPF of 30 or higher, since you'll likely be outdoors for extended amounts of time. You also have to reapply every two to three hours for consistent protection, even more so if you'll be swimming (or sweating buckets). 
Trust me on this; the sun over here can get quite intense, what with little to zero clouds to "tone it down." In my case, I used a travel-sized sunscreen spray that I can easily use anytime, anywhere. Also, it goes without saying that you should opt for a non-sticky formula, both for your face and body!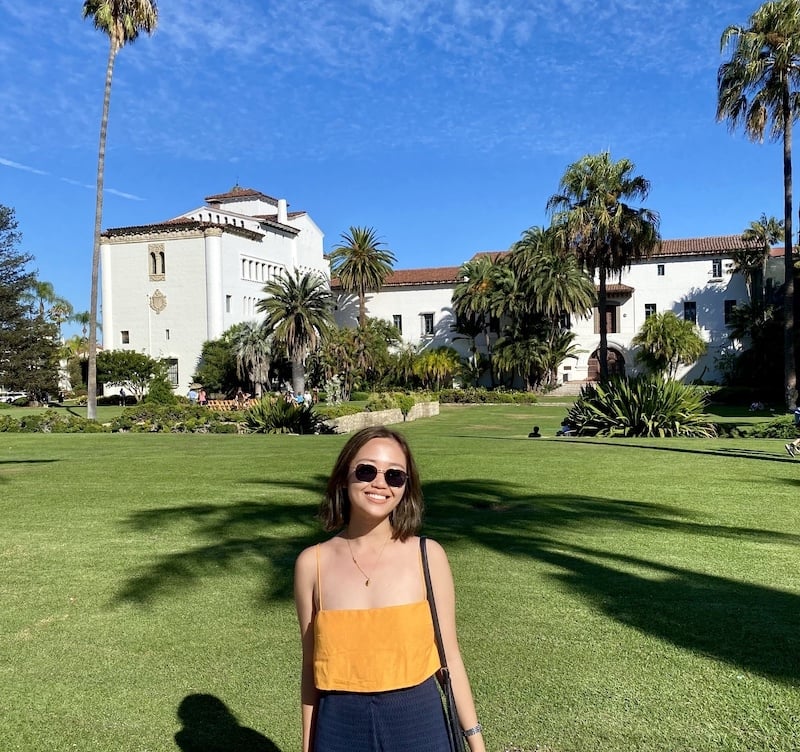 2. Pack your best summer clothes…
The (arguably) best part about travelling during summer in California for tropical natives like me? No need to do much pre-trip shopping, since you can just wear what you normally would in your own country! Another great thing about being in summer wear is that it takes up way less space in your luggage, versus packing for fall and winter trips. 
3. …And also a light jacket or two!
You read that right: Don't forget to bring a jacket or overshirt as well. It might be warm and sunny during the day, but at nighttime, it can still get pretty chilly! You're doing a California coastal road trip — i.e., most of the places you'll be visiting are literally by the shore. 
4. Remember to carry the other essentials
Aside from sunscreen and your summer travel wardrobe, never leave your hotel (or vacation rental) without these three: a water bottle, a hat, and sunglasses. Invest in an insulated water bottle that you can easily bring around… and spare you from having to spend on bottled cold water. As for the hat and sunglasses, well, they're quite self-explanatory, aren't they? 
5. Book tickets in advance
This goes especially for the more popular tourist attractions. After all, you'll be travelling during peak season. So, expect that such places would have long queues, which I assume you'd rather avoid amid the summer heat. This will also give you peace of mind that you'll be able to avoid having to take something off your itinerary! 
Which places you shouldn't miss for your first time
For our California road trip, my boyfriend and I went from San Francisco to Los Angeles. Now, we all know that when it comes to these two cities, the number of things to do are far too plenty. So, for this piece, I'll focus on the other iconic stops along the Pacific Coast Highway. Below is the flow of our trip:
Pacific Grove and Monterey → Carmel-by-the-Sea → Big Sur → San Simeon → Santa Barbara
Pacific Grove and Monterey
The cities of Pacific Grove and Monterey are adjacent to each other. We arrived in the area a few minutes before sunset, having spent the earlier part of the day in San Francisco.
We watched the sun go down at Lovers Point Park, which is an ideal spot for picnics, fishing, and other leisurely activities. (And yes, I'm well aware of how just how cheesy it is that we took a photo here…) Nothing beats the unobstructed views of Monterey Bay complemented by the surrounding Monterey cypress trees and manicured lawns, as well as an overall peaceful ambience. 
Afterwards, we visited Cannery Row, a historic waterfront street in Cannery Row brimming with shophouses, restaurants, and hotels. As the name suggests, this part of town used to be the hub of the local fish canning (specifically, sardines) industry throughout World War I and II. 
Fast forward to present day, it's your best bet for shopping and dining if you ever stop by during your California coastal road trip! Since we were here on a weeknight, the place wasn't as crowded — making for a relaxing post-dinner stroll, with the sound of the waves crashing and live jazz music coming from a pub. 
Carmel-by-the-Sea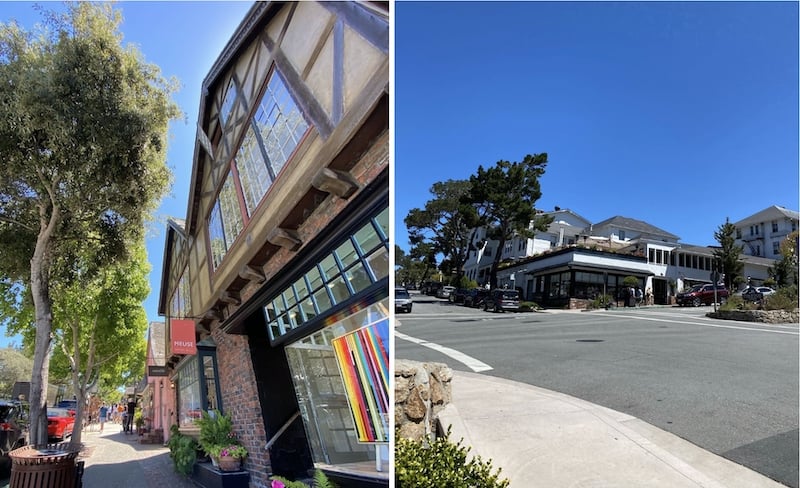 For more charming beachside towns that look straight out of a storybook, head further down to Carmel-by-the-Sea, or simply Carmel. What I especially liked about it is its rustic vibe reminiscent of a whimsical European winter village, but with breezy sunny weather! It's certainly one of those places that make you feel like you have all the time in the world.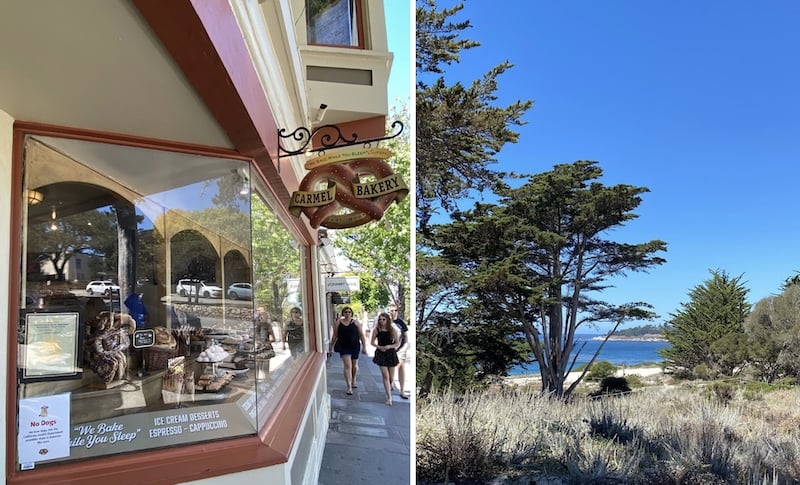 You'll find such picturesque sights along Ocean Avenue, the downtown main street. This one-mile stretch slopes from the highway all the way to Carmel Beach. In between, there are plenty of boutiques, cafes, and galleries to keep you occupied. I recommend stopping by the century-old Carmel Bakery for a quick bite! Fun fact: It's both the oldest retail business and the longest-standing building in town.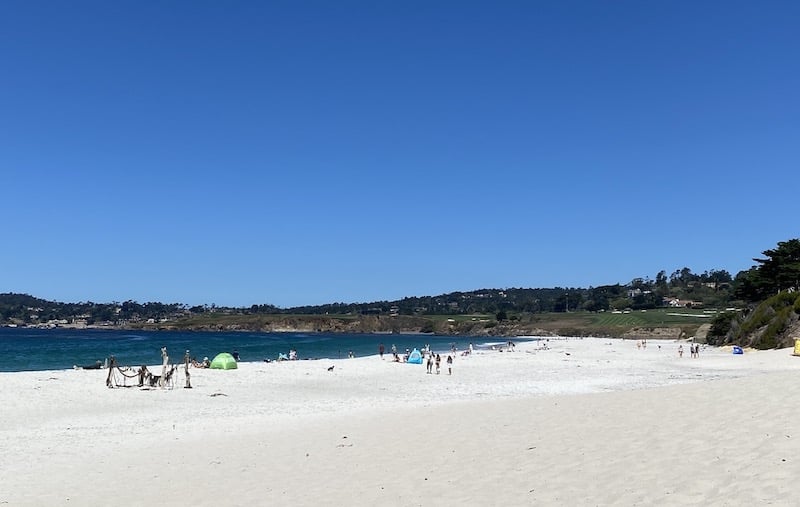 Speaking of Carmel Beach — I have to say, it's one of the most stunning shores I've seen! And this is coming from a Southeast Asian who has very high standards when it comes to beaches. With fine, powdery sands and clear, turquoise waters, topped off with the Pacific breeze and views of a nearby golf course, you'll surely want to spend a whole day here. 
Big Sur
Granted, the famous Central California Coast region that is Big Sur doesn't actually have specific boundaries. But three things are for sure: It's right off the Pacific Coast Highway; it's nestled between the Santa Lucia Mountains and the Pacific Ocean; and, it's where you can experience one of the world's most scenic drives. For those who constantly have a hard time choosing between the beach and the mountains — this right here is your best bet! 
Point Lobos State Natural Reserve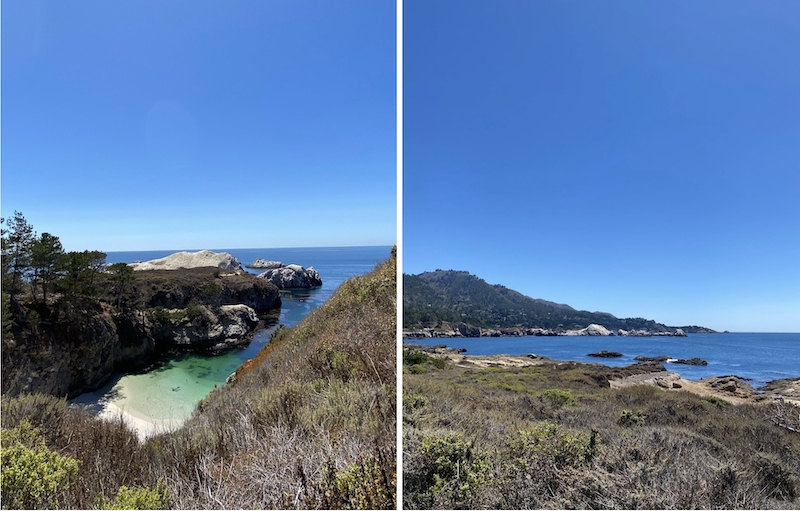 This was our first stop for the Big Sur leg of our California road trip. In a nutshell, Point Lobos State Natural Reserve is a paradise for nature lovers. I never considered myself an outdoorsy type prior to this trip. But, hey, what can I say? The late-summer weather and the number of gorgeous nature parks in this part of Cali have a way of making me think otherwise! 
Here, you'll find a network of over a dozen hiking trails, each majestic in its own way. It really depends on which sights you prefer and how much time you have. In our case, we only allotted only a few hours for this stop and — full disclosure — best believe we regretted not staying longer! We opted for the Bird Island Trail, a totally easy hike and arguably the most spectacular (at least, according to reviews we've seen). 
That said, it's best to do your research ahead on which trails you'd like to prioritise. It was a good thing we didn't have a specific trail in mind, so we just opted for what the park ranger recommended and had easy parking nearby. 
Although, a great thing about Point Lobos is that you can mix and match some of its trails; you can start on one trail, transition to another, and finish on a completely different one. Or if you end up being pressed for time like we were, you can simply explore a few parts of one trail, then drive to another one and see what it has to offer. 
If it's your first time, I highly recommend speaking with a park ranger as soon as you arrive (or after parking). They'll help you figure out the best way to navigate your chosen trail/s, so you can make the most out of your visit! Also, try to come here earlier in the day, as it might be hard to find parking at the entrance of some trails. 
Bixby Bridge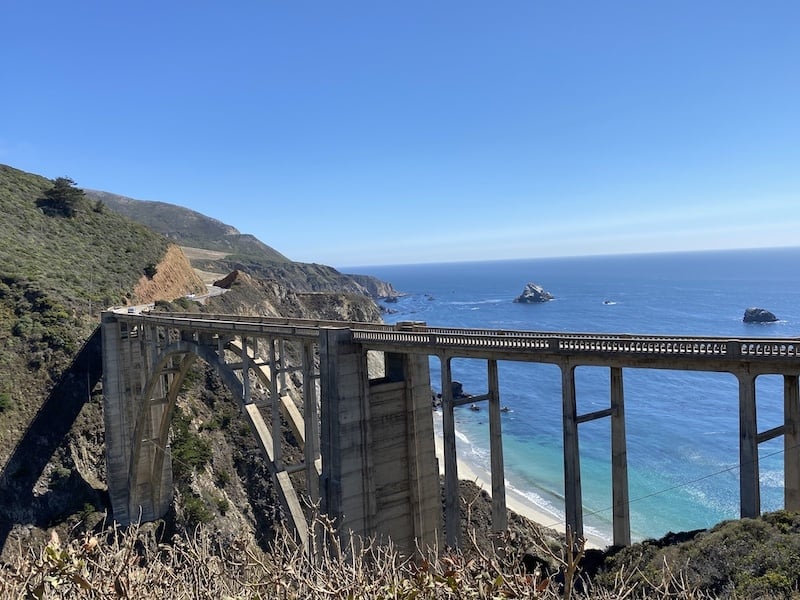 Not gonna lie, I wanted to check out Bixby Bridge mainly because of Big Little Lies. (Although, it's actually a bit far from Monterey, where the hit HBO show was primarily set.)  Many would say it's Big Sur's version of San Francisco's Golden Gate Bridge, as far as being highly photographed goes. 
Funnily enough, there are other arch bridges in Big Sur that are similarly designed — and yet, it obviously gets all the fanfare. Completed in 1932 and spanning 714ft long, this engineering marvel was the first bridge to link the Big Sur region to Southern California. It essentially paved the way for what is now California State Route 1. 
Julia Pfeiffer Burns State Park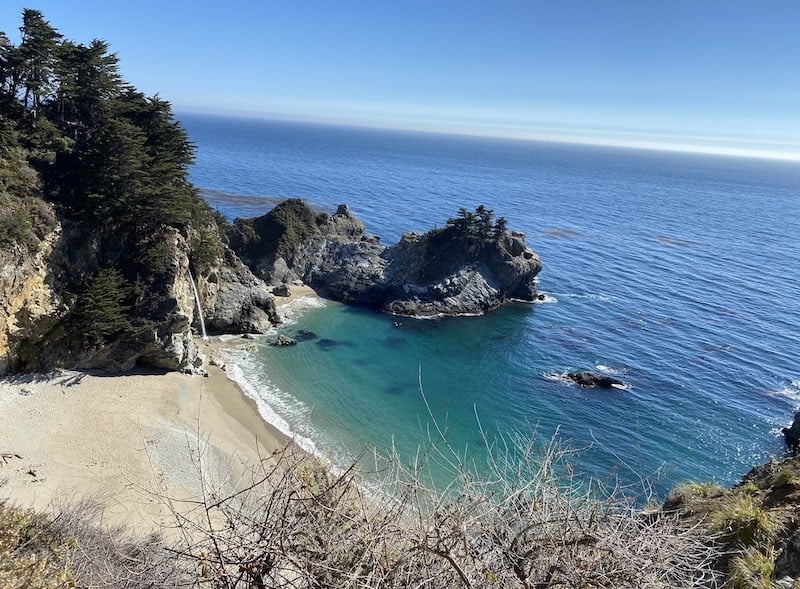 Another highlight of this part of a California coastal road trip would be Julia Pfeiffer Burns State Park. It's a great camping site for those who wish to stay in Big Sur longer. But if you only have so much time, don't miss out on the famous McWay Falls. Best believe that this 80-foot-tall tidefall (that is, a waterfall that flows directly into the sea) is even more majestic IRL! 
It's just a short walk from the parking area. After which, you'll go through a few stairs, a bridge, and a short tunnel before finally reaching the path leading to the viewing deck. Unfortunately, access to McWay Cove (the beach where the tidefall lands) is restricted, in order to preserve its natural beauty.  
San Simeon
For sheer regal opulence that you never thought you'd see on this side of the globe, look no further than Hearst Castle. This hilltop estate in San Simeon — originally owned by newspaper magnate, William Randolph Hearst — took decades to build; a fact that isn't so hard to believe once you see its slew of enormous ornate structures up close. 
From its majestic buildings reminiscent of European villas and palaces, to pools festooned with lavish details, Hearst Castle is arguably the most impressive piece of architecture on the West Coast. You'll need to book a tour in order to explore the place, as the establishment takes extra careful measures in preserving and maintaining the place. 
Santa Barbara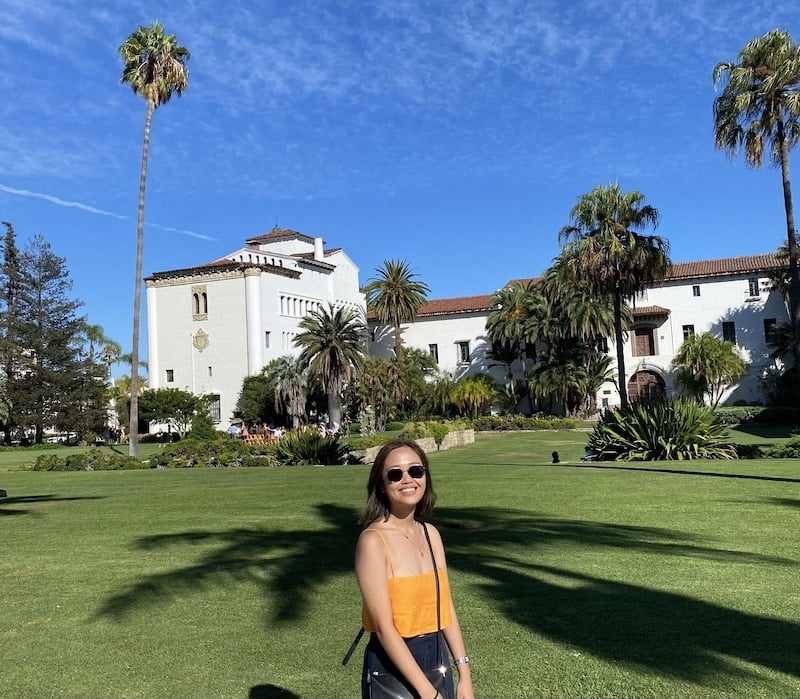 Santa Barbara should certainly be your final stop before LA for your California coastal road trip. While LA tends to be more on the vivacious side, this one exudes a sophisticated yet laid-back vibe — inviting you to take your time roaming its streets, sans the tourist crowds that you'll inevitably find in other coastal cities like this.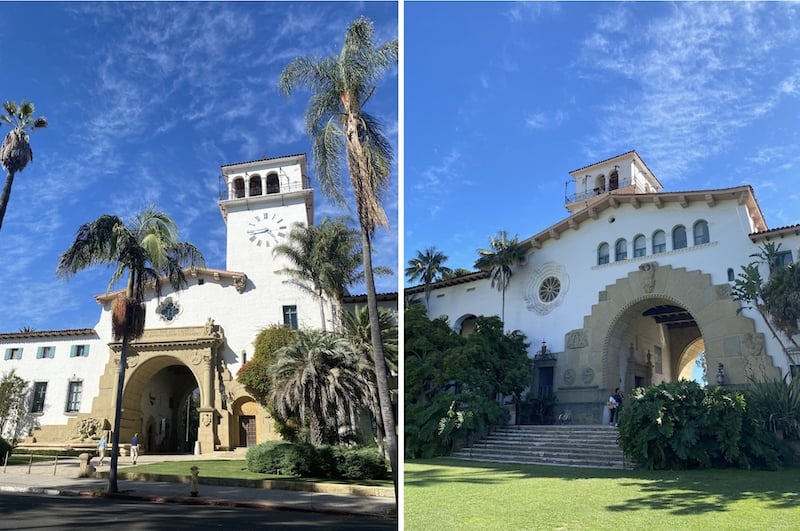 Aside from palm trees and clear skies, you'll find a lot of Mediterranean-Spanish Revival architecture, characterised by white stucco facades, terracotta roofs, and arched windows and doors. Case in point: the Santa Barbara County Courthouse. 
It's right in the charming neighbourhood of Santa Barbara Downtown and conveniently close to terrace cafes, chic restaurants, and other cultural attractions. The courtyard also doubles as a public park, where you can laze around and bask in the glorious California sun.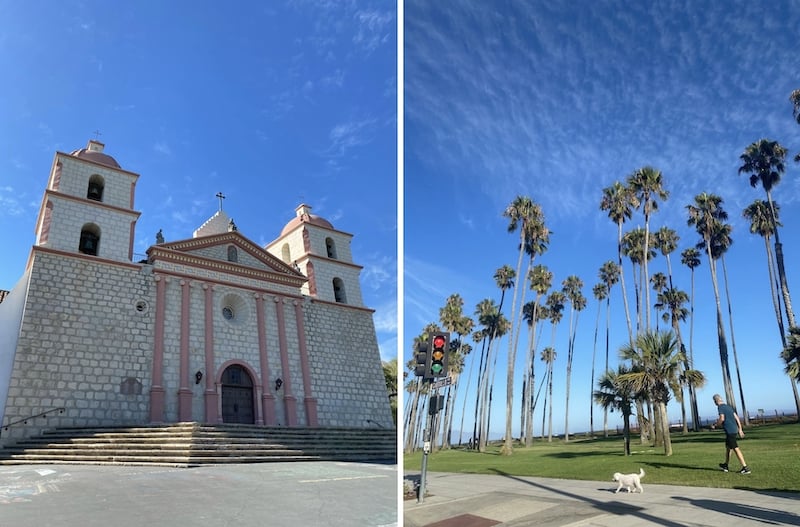 Another must-visit spot would be Old Mission Santa Barbara, an 18th-century church with grand double bell towers, gardens, and an on-site museum featuring artefacts and artworks. Not to mention, it boasts the San Ynez Mountains in the background, securing its spot as a true Santa Barbara landmark. 
Of course, a walk along the beach is also a great idea! Fortunately, Santa Barbara has a lot for you to choose from. Pictured above is East Beach, where we spotted several adorable doggos. Similar to our other stops, we were here for just a short amount of time. But if you can stay longer for a day or two, then you might as well what other beaches it has to offer. 
Top three tips for your California coastal road trip
Allow me to end this piece with some of my overall advice for anyone taking a Pacific Coast Highway road trip for the first time:
Pack light.

Since you'll be bringing mostly lightweight clothes, you might end up packing a lot of stuff — which I wouldn't recommend, especially since you'll be moving from one city/town to another. 

Focus on quality over quantity.

Our itinerary was initially more jam-packed than this, but we later trimmed it down when we realised that we wanted to take more time to explore some places, without feeling rushed. 

Take traffic and parking into consideration.

Apple Maps is king in the United States, from getting accurate driving estimates to finding the nearest (and hopefully, least expensive) parking spaces. 
Also read: Travelling to Europe in 2022: What It's Like and What to Expect
Got an interesting recent travel story you'd like to share? Click here to find out how. Who knows — you might just be our next Featured Traveller! 
---
Images credited to Marcy Miniano and Anthony Pascual, unless indicated otherwise.