Alaska, the largest state in the USA, is one of the world's great wildernesses and known as the Last Frontier. Now with fly-cruises, you can spend more time enjoying Alaska's natural beauty from a luxurious floating hotel. Princess Cruises is celebrating its 50th year of sailing to Alaska by deploying their largest fleet ever from March to September 2019. The destination holds timeless appeal for many travellers and many cruises sell out months in advance so now is the time to book your Fly-Cruise and start planning the trip of a lifetime.
You might have read about the magical land of Alaska in storybooks and now you can live these experiences for yourself, with the people you care about the most.
Plan an epic voyage to Alaska with Princess Cruises or take this travel personality quiz to find out where you and your loved ones should go to create your own storybook moments!
Complete the quiz and you might even stand a chance to win a FREE fly-cruise vacation to Alaska! Read on to find out more!
Princess Cruises offers a wide range of Alaska Cruises + Land Tours to suit a variety of travel styles and tastes, ranging from 10 to 17 nights and covering the state's two top attractions: the gorgeous Glacier Bay National Park and picturesque Denali National Park. You can be rest assured that you are in good hands, as Princess has been awarded Travel Weekly's Best Cruise Line in Alaska award for 11 consecutive years.
Here's what you can expect on a Princess Cruises Alaska Cruise + Land Tour − axe-throwing competitions and scenic railway rides included!
Fly
from home to Vancouver: starting your adventure in the sky
By flying straight from home to Vancouver on one of Princess Cruises Fly-Cruise package, you'll get there faster, leaving you more time to explore the region. You can arrange to arrive a week early before your cruise departs, to spend time in British Columbia.
Cruise
from Vancouver to Anchorage: the Voyage of the Glaciers
Cruising through the British Columbia and Alaska portions of the Inside Passage, you'll experience a stunning labyrinth of glacier-carved fjords and towering granite cliffs. You'll cruise over 500 miles north across the Gulf of Alaska and into Prince William Sound.
The onboard experience is equally impressive with world-class amenities and luxurious facilities. Imagine enjoying the spectacular scenery of snow-capped mountains and incredible glaciers, and perhaps catch a glimpse of the diverse wildlife like eagles, seabirds, and orcas – all from the comfort and privacy of your balcony.

As your voyage begins, you'll be immersed in the Alaskan culture through the onboard North to Alaska program, which has won multiple accolades including Travel Weekly's Gold Magellan award.
The programme includes real Alaskans coming onboard to share stories from their travels and crafts, whether it's storyteller Steve Hites with his performance depicting Klondike folklore and poetry, or the renowned musher Libby Riddles answering questions on how she became the first woman to win the gruelling 1,100-mile Iditarod sled dog race.
An Alaskan lumberjack will uncover the life and adventures of a loggerhead before a thrilling axe-throwing competition takes place on board. Award-winning nature and landscape photographers also provide tips on how to capture the best of The Great Land on camera.
A real crowd-pleaser takes place at Skagway when some of the newest sled dogs are brought onboard to interact with guests. You get to meet the puppies and their handlers, who will be training them for a life of dog-sledding through the alpine forests.
Sampling authentic Alaskan food will be a treat on your cruise with specially-trained chefs preparing signature dishes such as crab cakes, fish tacos, and the intriguingly-named Mermaid Burger. You can even try Travis Haugen's award-winning seared Alaskan salmon with root vegetable hash and mushroom tea.
Princess Cruises' Cook My Catch programme is an exclusive culinary programme that lets you return from a fishing expedition and have the chef prepare your very own catch of the day.
In the evenings, you'll be spoilt for choice with a variety of guest experiences such as an outdoor movie in the giant poolside theatre, a Broadway-style production show, a tranquil massage with an ocean view, and a celebratory game at the casino − before you retreat to your luxurious stateroom for a good night's rest.
Princess Cruises also gives you the opportunity to experience the Alaskan wilderness and landscape up close through an array of shore excursions at the five ports of call. For example, you can immerse yourself in the local culture by watching master Native totem pole carvers at work in the Alaskan Rainforest Sanctuary or go "flightseeing" and take in the breathtaking glaciers and ice falls over the Juneau Icefield.
Look out for the Discovery™ and Animal Planet™ Exclusive Tours available at selected ports. These are special shore excursions endorsed by Discovery™ and Animal Planet™, which are available only through Princess Cruises.
For instance, the Discover Alaska's Whales excursion offers a one-of-a-kind whale watching encounter, with a well-rounded program designed to enhance your experience. You'll get the exclusive opportunity to board a permitted research vessel to go whale-watching, learn about the habits and habitats of humpback whales from a naturalist, and utilise a hydrophone on your vessel to listen to sounds and animal calls underwater.
Skagway was the gateway to the gold fields during the 1800s, and you'll have the chance to pan for gold yourself and meet costumed characters on the Yukon Gold Rush history tour. At the Hubbard Glacier stop, embarking on a wildlife search for wild brown bears, harbour seals and black-tailed deer is a must.
Train
from port to lodge: the Direct-to-the-Wilderness trail
To go deeper into the unspoilt Alaska wilderness, you can take Princess Cruises' exclusive Direct-to-the-Wilderness rail service for a spectacular 500-mile journey to Denali-area lodges. All your luggage transfers are conveniently handled, so you're worry-free as you set off for your next leg of your great adventure.
Princess Rail's glass-domed rail cars and outdoor observation platforms give you an unparalleled view of meadows and mountain ranges, and an onboard rail guide provides expert commentary on the landmarks you pass.
Stay
at the doorstep of national parks: the Princess Wilderness Lodges
The next morning, you'll wake up to an amazing view of spruce tree tops interspersed with quaking aspen and paper birch, and a refreshing breeze carrying the morning dew. You can stay in a variety of custom-built Princess Wilderness Lodges, each located just short rides from the entrances of majestic national parks.
All the cruise tour packages include a stay at the beautiful Denali Princess Wilderness Lodge located on the doorstep of Denali National Park, with six million acres of pristine hinterland and subalpine woodlands, braided glacial floodplains, and low-shrub tundra teeming with wildlife.
Guided excursions are available for all types of adventurers. You can go rafting down the Nenana River or on a jet-boating safari if you're feeling daring, or perhaps play a couple of rounds of golf. A narrated Princess tour deep into the legendary national park is absolutely unmissable to see the highest peak in North America (Mt. Denali, standing at 20,310 feet above sea level) and catch sight of some of The Big 5 wildlife (brown bear, moose, caribou, wolves and Dall sheep).
From Mt. McKinley Princess Wilderness Lodge, you'll be able to see the towering peak of Denali and enjoy panoramic views of the breathtaking Alaskan Range. Follow the Chulitna River down towards Denali National Park and you'll find the town of Talkeetna, a serenely beautiful location where the Talkeetna, Chulitna and Susitna Rivers meet. Avid mountain climbers might know the town as a base camp for climbers preparing for the challenging ascent up Denali, the coldest mountain in the world outside of Antarctica.
Some cruise tour options will also take you to the acclaimed Kenai Princess Wilderness Lodge, voted into the Top 12 resorts in Alaska and the Pacific Northwest by Condé Nast Traveler readers. It's situated in the heart of Kenai Fjords National Park, The Kenai, also known as "Alaska's playground". You could try your hand at fly-fishing on the world-famous Kenai Rivers, or go on a tour of the deep-blue glaciers tumbling through the Harding Icefield.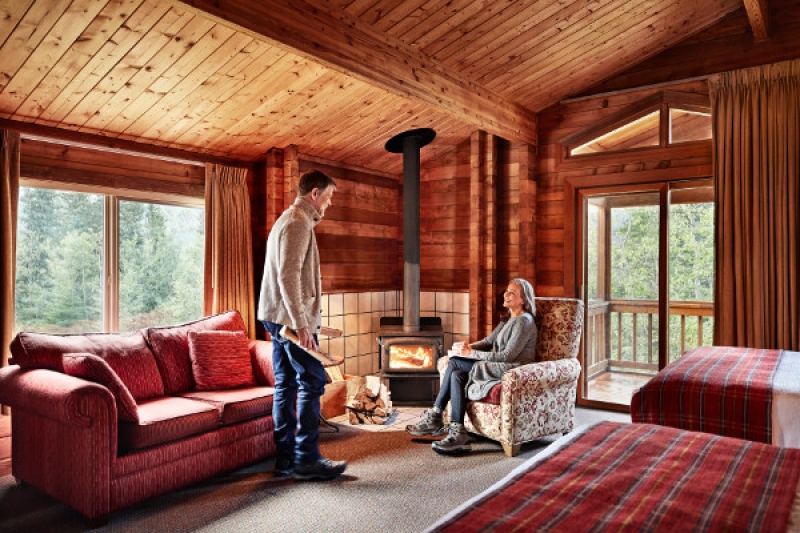 Back at the lodge, you'll be greeted by friendly reception staff and a warm ambience. Fresh local flavours of Alaskan seafood will be served for dinner or classic grills and pizza if you're craving a more familiar taste. You can relax by a warm, crackling fire after dinner and enjoying the fresh alpine scent of the mountain air.
The all-inclusive Princess Cruises' cruise tour packages immerse you in the very best The Great Land has to offer. As one of the pioneer cruise companies on this route, Princess Cruises takes more guests to the 49th state than any other cruise line, offering unique itineraries, cruise tour options and new guest experiences that bring the history, people and culture of Alaska to life both on land and at sea.
Now that you've read about the beautiful land of Alaska, you can stand a chance to win a trip to explore the Great Land for yourself!
Win a FREE 7-day fly-cruise vacation to Alaska
, inclusive of a stay in
Princess Cruises' Suite stateroom
and
roundtrip airfare to Seattle
(worth at least S$12,718) for 2 guests!
To enter the sweepstakes, simply:
Complete the travel personality quiz

here

Fill up the form and submit!
Find out where you should be travelling to this year based on your personality, and you might just find yourself on a fly-cruise to Alaska! Hurry, the contest ends 17 Mar 2019!
They say that life is about the journey, not the destination – and we'd say the same for travel. If you're after an epic vacation where the voyage is just as memorable as the location that you drop anchor, an Alaska Cruise + Land Tour with Princess Cruises is perfect for you!
---
Brought to you by Princess Cruises.