One of the things that you should know about the Philippines is that it is a basketball country. In fact, it has the oldest basketball league in the world next to the NBA. So when you put two of those together — Filipino + NBA — you get someone as awesome as Jordan Clarkson.
Clarkson is a Filipino American professional basketball player currently playing for the Utah Jazz. He's made a name for himself in the NBA as recently proven by his award for NBA Sixth Man of the Year last season. Though he's based in America, Jordan Clarkson also played for Gilas Pilipinas during the 2018 Asian Games. 
And it seems like he's been missing the experience of playing for the Philippines men's national basketball team. On his Facebook page, Clarkson flaunted his newly customised Nike Zoom Freak 2 sneakers that depicted his Filipino roots.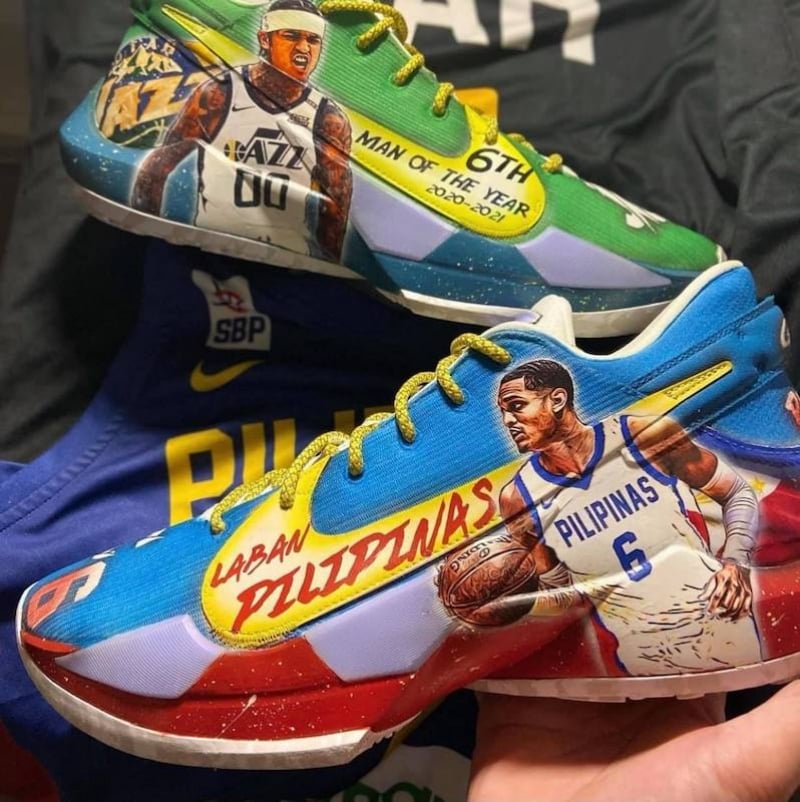 His sneakers were decorated by Filipino artist Maui Lucero. One sneaker showed Clarkson wearing the Gilas Pilipinas jersey with "Laban Pilipinas" (Fight, Philippines) written on the Nike swoosh. The other sneaker, on the other hand, reflected Clarkson's Sixth Man of the Year NBA win. Clarkson captioned his Facebook post with "#Puso!" which means "heart" in Tagalog. 
This is not the first time this year that Jordan Clarkson made headlines because of his Filipino heritage. In June, Clarkson assisted a Filipino American family whose Filipino food truck was vandalised by Asian hate propagators. Clarkson sponsored the truck's new wrap, which gave the truck a new and even better look for business. 
Also read: That Time When Josh From 'Blue's Clues & You' Made Filipino Food and Sang in Tagalog
It's always heartwarming to see Filipinos band together to wave the banner of Pinoy pride high, especially during difficult times. Salamat, Jordan Clarkson for this pocket of happiness. Your customised Nike sneakers look great!
---
All images credited to Jordan Clarkson | Official Facebook Page