Earning the sobriquet of the Aloha state, Hawaii is a tropical paradisiacal chain of islands home to some of the most breathtaking beaches, pink-hued spellbinding sunsets, intriguing culture and a dizzying array of yummy local delicacies.
Despite that, most people simply brush Hawaii off as a far-flung possibility as they have the preconceived notion that a large fortune is required to explore this island gem. However, with careful research, smart planning and retail therapy at all the right places, you can actually tackle Hawaii in the most pocket-friendly manner. By packing your itinerary with inexpensive activities, you will not deviate from your budget and might even have extras to splurge on something fancy that caught your eye.
Here, we have sussed out some of the top things to do in Honolulu (mostly FREE) as well as recommended places to stay and nosh at without breaking your bank! There is a saying, "Paradise comes with a price". But in all honesty, YOU get to decide that price after all.
It's finally time to upend the myth that Hawaii is too exorbitant for that well-deserved island holiday. Oh yes, don't forget to pick up those Aloha Visitor Guides at the luggage carousel hall upon arrival at the airport and score yourself fantastic coupons and special deals. Let's begin the bargain-hunting!
Things to Do
Hike up Diamond Head for surreal views
Hikers, rejoice! The Diamond Head trail happens to be one of Oahu's top hikes where you get the golden opportunity of witnessing an incredible ancient crater. From the bustling Waikiki hub, a short bus ride will take you right to Diamond Head State Monument bus stop where you can begin your surreal hike to the rim. Formed some astonishing 300,000 years ago, Diamond Head offers panoramic views of Honolulu's cityscapes, the billowing waves of the Pacific Ocean and beyond.
The hike is under a mile but the steep gradients make it pretty strenuous for those who may not be as physically fit. Be sure to stop at various viewpoints that lean out over the terrain and snap top-notch photos of the picturesque scenery. Diamond Head will certainly leave you feeling on top of the world as you bask in 360-degree panoramas of this gorgeous city!
Visit
 the Royal Hawaiian Center and embrace local culture
What better way to fathom Hawaii's unique cultural practices than by experiencing them for yourself? Over at this pink Spanish-Moorish building, the Royal Hawaiian Center is the perfect spot for you to partake in a myriad of complimentary cultural programmes from Monday to Saturday.
Join expert kumu (teachers) as you attempt the quintessential Hula, learn to weave a fragrant lei (flower garlands) or even master the techniques of the traditional Lomilomi Hawaiian massage. During twilight hour, sit back and unwind as you're serenaded by hour-long Hawaiian music performances featuring some of the island's top entertainers. Yes, the above-mentioned activities are all FREE! So make your trip even more meaningful but delving into the richness of Hawaii's exotic culture.
Swim and surf at the renowned stretch of Waikiki Beach
Ah, Waikiki Beach! This is essentially the heart of Honolulu and where scores of tourists (and sun-worshippers) flock to enjoy the sand, sun and sea all year round. The stunning turquoise crystalline waters against the soft, honey-coloured shores prove to be quite the idyllic contrast. Waikiki Beach constitutes a string of six to eight other beaches that dot the island's south-west coastline, with the most popular area being the Royal Hawaiian beach.
This is the best spot to laze, take a dip in the refreshing waters, surf the glorious waves, gaze at majestic Diamond Head in the distance and most importantly, relax and let loose. The best part of it all? You don't have to fork out a single cent! Note: As you tread the waters and gush over the occasional colourful school of fish that swim by, be mindful of the jellyfish!
Marvel at Hilton Hawaiian Village's Friday Night Fireworks
Who doesn't love watching a grand kaleidoscopic display of vibrant fireworks? If you land on Hawaii on a Friday, you can kick off your vacation with a bang at Hilton Hawaiian Village. Every Friday evening at 7.45pm or 8pm, witness bright neon sparks light up the sky and be absolutely enchanted by this ten-minute performance. There are several great vantage points – around the Hilton Hawaiian Village and at Fort Derussy's beach area. The concrete pier in front of Outrigger Reef is another brilliant spot. Since the fireworks cannot be observed at some parts of Waikiki, be sure to choose your viewing location wisely.
The beachfront fireworks are well worth seeing and fret not, you will not have to jostle with throngs of people. The vast Waikiki beach stretch allows you to watch the spectacular fireworks extravaganza reflect off the Pacific Ocean at complete ease. Did we mention it's free to watch too?
Explore exotic Chinatown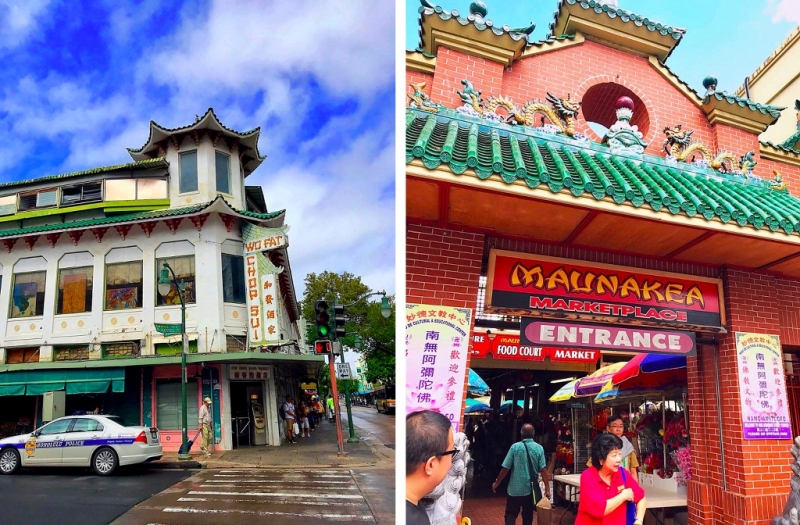 Nestled just beyond the city's bustling financial district, Honolulu's Chinatown makes for an intriguing visit. Fun fact: The Chinatown here happens to be one of the oldest in the United States and is now an urban locus of commerce and fun. The seamless blend of traditional and modern storefronts makes this particular "Chinatown" distinct and unique. The juxtaposition of old-fashioned dim sum shops and ethnic markets against fancy art galleries and chic bars across the road is something that will definitely pique your interest.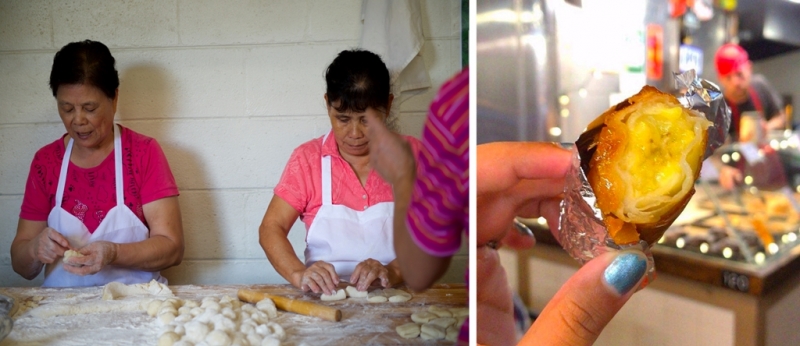 Aside from sprawling courtyards and plazas teeming with life and culture, Honolulu's Chinatown also brims with delicious food from BBQ pork buns and look funn noodles to mooncakes and banana lumpia (fritters). Prices are really affordable in wallet-friendly Chinatown so be sure to nab your souvenirs here (Lai Fong Department Store!) instead of paying double or triple the price back in the city.
Where to Stay
Hostels
Honolulu brims with affordable hostels that are just as cosy and comfortable as some of the typical four-pearl hotels. Featuring 24-hour check-in services, complimentary WiFi and other attractive facilities, these hostels serve as great budget-friendly alternatives and are perfect for solo travellers especially. Remain close to the heart of town and within walking distance to prime areas such as the Waikiki precinct and International Marketplace mall.
Dorms range from as low as US$25/night while private rooms go for about US$73/night. Some recommendations include Waikiki Backpackers Hostel, Waikiki Beachside Hostel, Polynesian Hostel Beach Club and The Beach Waikiki Boutique Hostel. You do not have to bust your bank account just to be able to enjoy the hype of Waikiki!    
Vacation Rental Sites
Airbnb is another viable option, especially if you're travelling in a group! Split the cost for an entire apartment or house and you will realise that Airbnb alternatives are really a bang for your buck. If your host is super friendly, that's a bonus too as they might even share useful information and tips that only locals would know about. Plan to stay for more than a week? Enjoy further discounts and greater savings. For rough estimates, prices for a shared room close to Waikiki go for as low as just US$35/night!
Alternatively, a great recommendation for Hawaii, in particular, is Vacation Rentals by Owner (VRBO). This is one of the most popular vacation rental sites in the US and you can choose to stay at a beachfront condo, loft apartment or even occupy an entire house instead of the usual cookie-cutter rooms. For the price that you pay, you get almost five times the space. Well worth your money?
Couchsurfing
The best way to experience a new city is none other than like a local. Couchsurfing gives you the chance to bunk in with a local and enjoy the sights and sounds from a unique insider's perspective. You simply connect with the host via Couchsurfing's online platform and confirm your stay before flying over.
The best part about Couchsurfing is being able to completely immerse yourself in the local culture and expand your social circle at the same time. At the end of the trip, know that you've made a couple of new friends that you can keep in touch with and perhaps host when they visit your hometown. In a bid to express your gratitude to the host for their hospitality, you can even bring some gifts from home or treat them to a meal.  
What to Eat
Honolulu is indeed a foodie's paradise with a mouthwatering spread of popular local dishes, some of which you can find only in Hawaii. For starters, food trucks are ubiquitous in Hawaii and offer some of the tastiest (and most affordable) grub in town! Tuck into fresh garlic shrimp and rice, juicy cheeseburgers, saimin (noodle soup dish) and even hearty bowls of ramen. The supermarkets are also home to local food that you can easily take away. Foodland, Hawaii's primary supermarket chain, offers solid discounts when you sign up for their free lifetime loyalty card. You can expect to find authentic poke, loco moco (rice with gravy, hamburger patty, eggs), musubi (spam sushi roll) and other tantalising meals ready to take home.
For those looking to stock up on cheap beers and other alcoholic beverages, Hawaii's main convenience shop, ABC Stores, is the place to go to. Other local joints to check out for cheap and affordable food include Rainbow Drive-In, Marukame Udon (you might have to queue for this one!), Ono's Hawaiian Foods and Zippy's. If you happen to be in town over the weekends, pay a visit to Ala Moana Farmers' Market where you can sample unique taro macaroni and cheese and lilikoi jam, all for a small price.
Getting Around
Honolulu is a very "walkable" city and you can easily navigate the blocks and streets with the help of a city map (or Google, of course). The neighbourhoods are pedestrian-friendly and you'll notice plenty of eateries, places of interests, cultural walking tours and other fascinating sights just by exploring on foot. At your own pace, marvel at the city's charm and stop for photos whenever you wish.
If you prefer a more straightforward mode of transport, hop on TheBus which takes you swiftly to your preferred destination. Fares are reasonable, with adult tickets priced at US$2.50 per ride including transfers. Seniors, youth and children are offered half-price rates. Visitors can also obtain a four-day unlimited ride pass called the Oahu Discover Passport for just US$20. Be sure to check the bus schedules and plan your itinerary in advance accordingly to maximise your day.
Alternatively, take the old-school Waikiki trolley and zone in on popular touristy spots. Depending on the route that you take, one-way fares go for as low as US$2/person. This is also a unique and convenient way to see the various sights and sounds of Honolulu all at one go.
Getting There
With Scoot's recent launch of flights from Singapore to Honolulu (via Osaka) four times a week, you can now fly to Honolulu in a jiffy all onboard a low-cost carrier. What's more, you wouldn't need a ton of clothes to bring. The island life is all about packing a few tops and bottoms, throwing in your swimsuit and cover-up in your duffel bag and off you go! Hawaii is indeed the perfect location for carry-on travel.
There you have it, your handy guide to a budget-friendly trip to Honolulu is finally here. Bookmark those recommended locations and be sure to plan early so that you can benefit from discounts through advanced bookings. There's no reason for you to procrastinate that trip anymore and it's time to make those dreams a reality.
---
Special thanks to Scoot and Hawaii Tourism SEA for making this trip to Honolulu possible. Scoot flew me in their new Boeing 787 Dreamliner comfortably and ensured that the flight experience was smooth throughout. Visit the beautiful islands of Hawaii with Scoot!