Japan is teeming with unique traditions and distinctive cultural facets. In some ways, we can observe that the country has a rather "uptight" reputation. Locals are always on the go yet still prim and proper, especially in public areas. At bus and train stations, a sea of busy commuters in black and grey is a usual sight. If you've been to Japan, especially in the business centres of Tokyo and Osaka, you'd have witnessed firsthand how hard work and polite etiquette are two of the core pillars of the fast-paced Japanese lifestyle.
On the other hand, there's also a side to the dynamic Japanese culture that's animated and vibrant. The country is not just all about work. Kawaii culture, banging nightlife, anime shows, and hyper-intelligent robots are a few testaments to this colourful and bizarre flip side.
If there's one thing that encapsulates the country in all its idiosyncrasies, it has to be the Japanese vending machines. These are the ultimate manifestation of their fast-tracked way of life. People can buy what they need on the fly and make it to work on time, which is why coffee and other beverages are the typical products of these mini-stores.
That said, we know that Japan is light years ahead of most countries. Other than coffee, cold energy drinks, and other quick bites, some automated stalls sell some of the most ridiculous yet ingenious products. You better hide your pouches, or you might be too tempted not to try these cool, borderline-crazy, and weird vending machines in Japan!
Also read: Here's a List of the Newly Improved Public Toilets in Tokyo, Japan So Far
Unique food-based Japanese vending machines
1. Hot meals
These Japanese vending machines sell on-the-go cooked meals. 24hr. Hot Menu is a popular stall that offers a wide variety of food, from french fries, dim sum, onigiri, spaghetti, and many more quick-bite recipes. It's the perfect vending machine for people on a quick snack break. Just click on and pay for what you like, wait for the two-minute heating time, and, voila, you just got yourself a meal that could last you through the day.
2. Cup noodles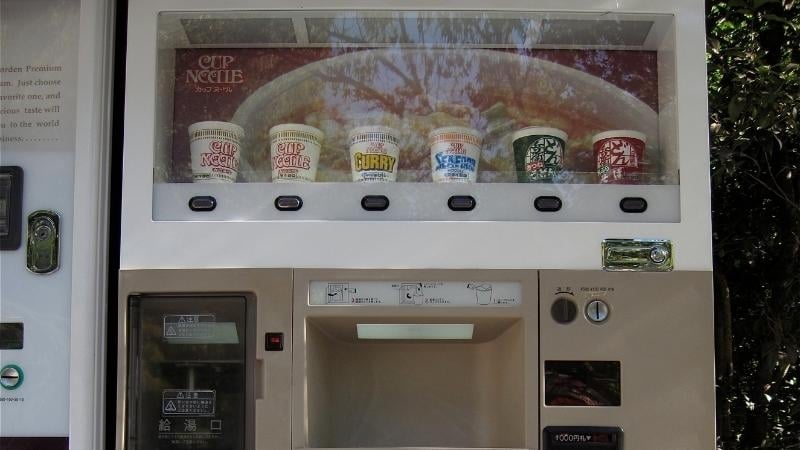 If you fancy sipping a hot cup of noodle on a cold day in Japan, you might find some vending machines suitable for you. These stalls often offer popular noodle brands, so you're in for a familiar taste.
3. Instant Ramen
Hungry for something else that has the taste of true Japanese cuisine? Try this ramen vending machine in Japan. It's included in the lineup of numerous vending machines situated in a building that's been rendered for these automated food stalls.
4. Vegetables
Here's something you don't see every day: fresh vegetables in Japanese vending machines. If you can't name vegetables based on their appearance and/or read Japanese characters, you might have a hard time buying without asking for help! Still, just to get a look at these veggie vending machines is already a treat.
5. Tomatoes
Apparently, the Japanese love their tomatoes. If you'd like to try a Japanese tomato dish, try searching for the recipe for tomato no ohitashi!
6. Bananas
Looking for a quick burst of potassium and fibre nutrition? Japanese vending machines got your back! Now, you don't have to go to the supermarket to buy a fresh banana.
7. Eggs
This egg dispenser saves people time from going to the market. Now, they'd just have to go to this corner to restock their eggs at home. I wonder what the telephone number is for? Maybe they have a separate machine for live chickens… in Japan, we just never know.
8. Fish broth
Have you ever tasted the broth of a flying fish? Japanese vending machines in Hiroshima sell Dashi Doraku: a bottled broth made from kombu seaweed, soy sauce, and flying fish. Apparently, Dashi Doraku is a popular all-around seasoning that can be used in almost any dish.
Also read: Ramen 101: How to Order and Eat Japanese Ramen Like a Pro
9. Popcorn
Who said you need to watch a movie to eat popcorn? In Japan, you can get one in a vending machine. Just avoid eating it while walking! Munching on something or drinking while walking is generally frowned upon in the country.
10. Home-made burgers
Founded by Toshiharu Hamano, Tateishi Burger in Tokyo houses a quirky self-engineered vending machine that serves their homemade burgers. It's a local favourite, and has quickly become a tourist spot for those who wanted to check out this charming shop.
11. Pizza
Ah, pizza. Perhaps one of the most undisputed favourite food of everyone. Now, we don't have to queue in Italian restaurants to get one. These cool vending machines in Japan serve the common go-to flavours, such as four-cheese and Margherita.
12. Ice
Japan must really have a vending machine for everything if they have one for ice. These packs of ice are usually sold at convenience stores, right? Well, now that they're even sold at Japanese vending machines, getting another pack is more convenient than ever.
Also read: Check Out These Japanese Vending Machines Which Blend With the Scenery
Other cool vending machines in Japan for just about anything
13. Magazines and newspapers
Food and beverages aren't the only items sold in Japanese vending machines.Some vending machines sell magazines and newspapers as well. You will often see these in busy streets and train stations. Be wary, though. Some of the magazines contain explicit content!
14. Surprise unknown items
Feeling lucky? Try out the King's Treasure Box. You can find many of these vending machines in Tokyo. For ¥1,000 (~$S10), you can try your luck and hope to get more value than what you paid! Prizes vary from dollar-store miscellaneous items to a brand new Nintendo 3DS.
Also read: This Tokyo Department Store Has the Largest Capsule Toy Machine Collection in the World
15. Umbrellas
Transparent umbrellas are popular all over Japan. If you'd like to blend in with the crowd of locals walking in the streets, get one for yourself. If you're fortunate to find an umbrella vending machine, try to buy one at least for the experience of it!
16. Flowers
Out on a date and forgot to bring a gift for your significant other? These mini-flower shops' got you covered! Although some might say that getting a gift from a vending machine isn't the most romantic way to go, maybe we can all agree that it's always the thought that matters most!
17. Neckties
Since business attire is the Japanese' usual getup, these necktie vending machines will come in handy in case of a wardrobe malfunction or they forget to bring one. Don't rely too much on it, though! Of course, you'd have to manage your expectations and the choices of style and colour might be limited.
Also read: Japanese Budget Airline Launches Vending Machines for Plane Tickets
18. Hanko seals
Hanko is a round seal with one's name on it. It's usually used as a personal stamp in lieu of signatures on official documents. Now, these customized stamps can now be bought and ordered through the Hanko Jihanki stall. In just about 10 minutes, your personalized seal will be ready! These Japanese vending machines can be found in most Don Quixote stores nationwide.
Also read: 5 Commonly Mispronounced Japanese Brands That Might Surprise You
If you've been to Japan and you've seen a unique vending machine that we've missed, let us know in the comments on our Facebook page!
---
Facebook featured image credit (L-R): Rosino | Flickr, Meg Mathews via Canva Pro