Through the years, airlines have come up with unique ways to make every passenger's flying experience more convenient with contactless initiatives. From booking flights online to printing boarding passes through kiosks, they have not disappointed most of the time.
In addition to those, an airline in Japan now boasts of vending machines for plane tickets, and it's as crazy yet innovative as what you might expect.
The vending or capsule machines are an initiative by Peach Aviation, a local budget carrier under All Nippon Airways. They call them the Tabikuji Travel Fortune, and each contains a round-trip plane ticket among a sea of capsules. You can find them in Shinsaibashi Parco in Osaka and in Shibuya Parco in Tokyo.
Also read: My Experience Staying in a ¥4,900 Luxury Capsule Hotel
The flights booked using the vending machines depart from and arrive at Haneda Airport and Kansai International Airport. According to SoraNews, their destinations allegedly include the following: Hokkaido, Fukuoka, Nagasaki, Miyazaki, Kyushu, and Okinawa.
Using the vending machines to redeem plane tickets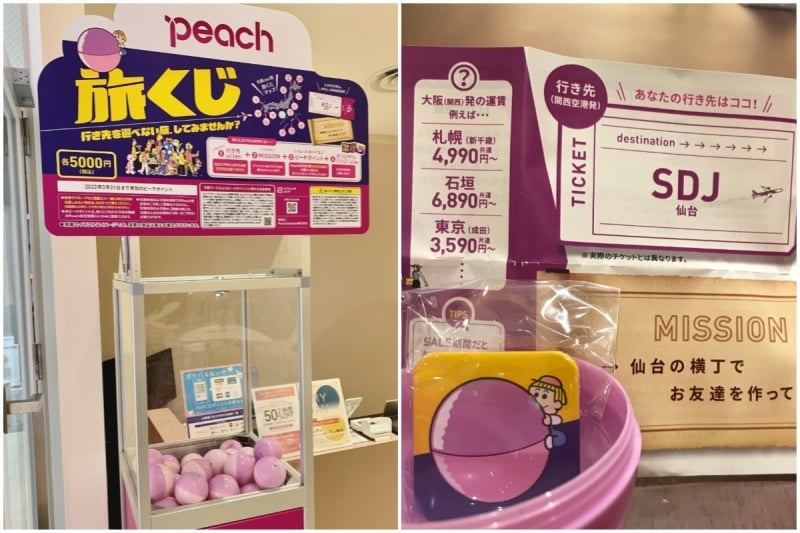 Passengers can play the vending machines for ¥5,000 per try, which is equivalent to about S$59. The prizes found in each capsule start from a value of ¥6,000 (S$71) in Peach Points. You can also use them to purchase tickets from the airline.
"It is designed to deliver real-life value through exciting experiences, such as the ability to actually travel to the designated destination with Peach at a discounted price," Peach Aviation said in a statement. "It was developed based on the concept that people should enjoy the thrill of not being able to choose where to go, and the new encounters and discoveries that coincidence brings."
Aside from tickets and destinations, some capsules also contain a tin badge and challenges for the player to accomplish. According to the airline, these challenges include activities like going to Kagoshima and walking your dog in Saigo Takamori's costume. All prizes are redeemable until March 2022.
---
All images credited to Peach Aviation | Official Instagram Page