"There is a crocodile under the surface. If you see small air bubbles in the water, then there will be crocodile there."
That's what my guide through the jungle said, as if it was the most normal thing in the world to stop the boat right next to a crocodile. As he seemed relaxed about it, I thought I should better be calm as well. He probably knows what he is doing. Luckily for me, he did.
Exploring the jungle in Brunei was such an adventure for me. Often neglected by most travellers, the nation of Brunei might not be big and fancy, but its nature and people are simply incredible and fascinating. I left with a feeling of being welcomed, appreciated, and respected. The country, its people, and nature deserve exactly that as well.
Ulu Temburong National Park
One of the most popular spots for a nature adventure is the Ulu Temburong National Park. However, popular is a very relative term, as you might be still the only person visiting. There surely won't be any tourist crowd. I can actually count the amount of travellers (like me) I have encountered on my four-day visit.
Located in the eastern part of Brunei, the national park is only accessible by a speedboat. This also means that you cannot visit the park alone, but you will need a guide or tour. However, it doesn't feel very touristy at all.
Also known as the 'green jewel of Brunei', the national park covers a very large percentage of the area and is still unspoilt. Exploring the jungle in the Ulu Temburong National Park isn't really a day trip (although that's possible too) if you want to get the most out of it.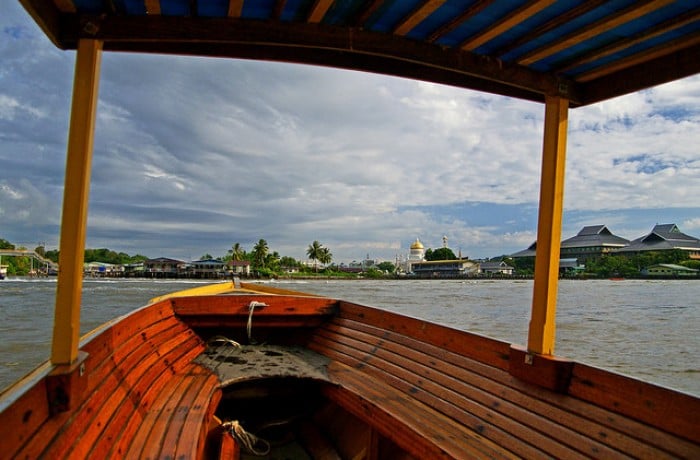 Image credit: Bernard Spragg. NZ
The only place offering accommodation in the jungle is the Ulu Ulu Resort. Located in the middle of the national park, you could theoretically reach it via a small road, but you are better off taking the speedboat from Bandar or the capital. Already the ride into the jungle is exciting, as most of the time you won't even pass any signs of civilisation – but therefore more exciting sights.
Our speedboat driver was kind enough to show us details of the jungle as we went along. Besides stopping next to air bubbles (what we suspected to be a crocodile), we got to see a lizard that was as long as I am tall, dozens of monkeys, and fascinating and wildly growing plants and trees just about everywhere.
Where to stay: Ulu Ulu Resort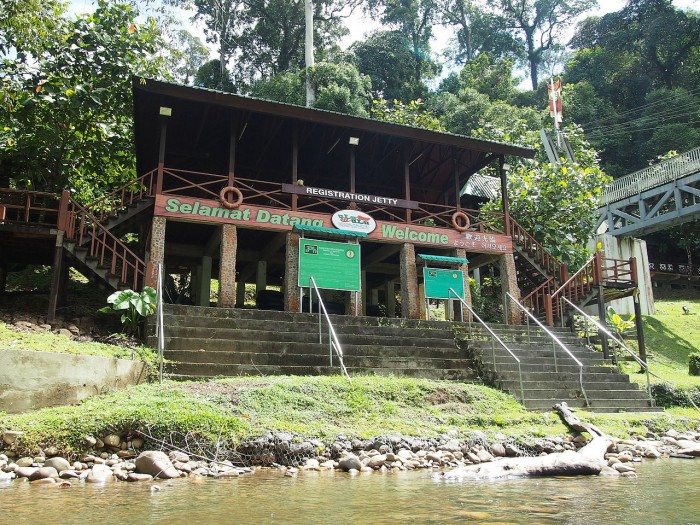 The resort isn't the luxurious kind, but simple and humble. It is also entirely eco-friendly, minimising any human impact on the surrounding nature. The Ulu Ulu Resort has several initiatives to keep the jungle the way it is, including a 'no plastic bottle policy', reusing driftwood as building materials, no electronic or digital distractions, and using eco-friendly food items.
There are several activities to keep all guests busy, whether they stay just one night or three nights. This includes kayaking, bird-watching, trekking and tubing. One of my favourite activities was climbing up a watchtower that is literally above the treetop. Getting a 360 degrees view of the untouched jungle is quite a remarkable feeling. With morning fog hanging over parts of the jungle and the sun rising on the other side, one feels immediately humbled but totally in awe.
You should also venture on the night-time jungle trek with the experienced guides. Knowing that pretty much anything could be around the next tree, you will watch every step in a rather tense manner. It's pretty exciting. Not too far from the resort is also a waterfall that can be reached by foot. As there isn't really a proper trail, you will have to go through the jungle and along the river.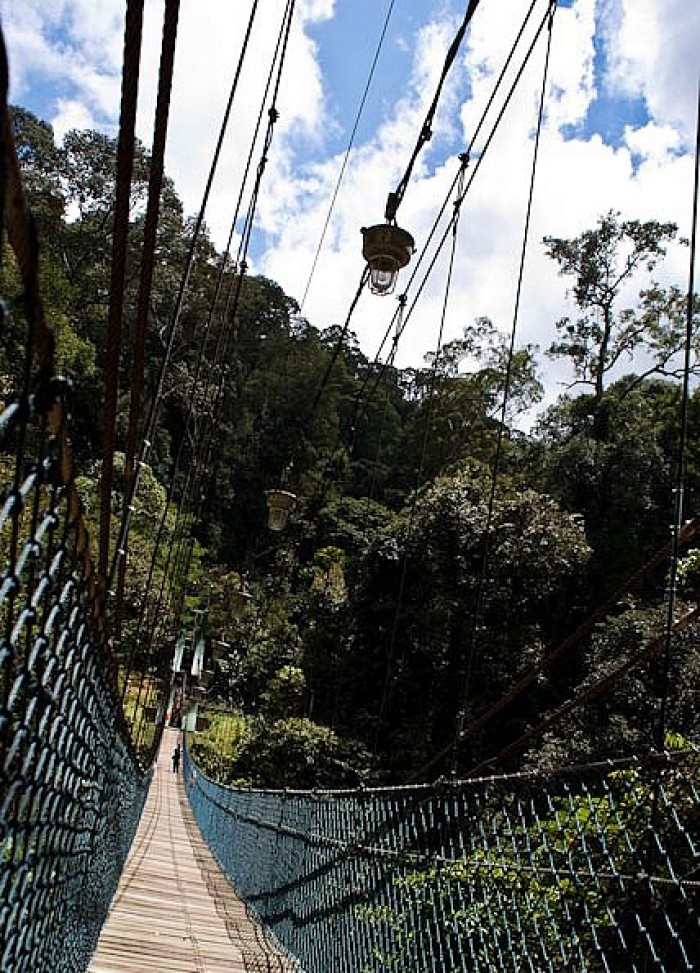 Image credit: SomeBaL
Day trip: Bukit Patoi Forest Reserve
If you don't feel like staying at the resort, you can also do a shorter excursion, hiking up 1600m on a mountain in the jungle. The walk itself shouldn't take you longer than 1–1.5 hours. However, you also need a boat to reach the beginning of the trail. The hike is fairly easy and parts of it are even well laid out. However, no matter what your fitness level is like, you should definitely take enough water with you.
Whether a day-trip or a couple of days in the jungle, venturing into Brunei's nature really seems to be a must-do. There isn't quite a place like it.
Also Read: 6 Interesting Facts About Brunei