"The sea, once it casts its spell, holds one in its net of wonder forever."
– Jacques Yves Cousteau, French Ocean Explorer and Naval Officer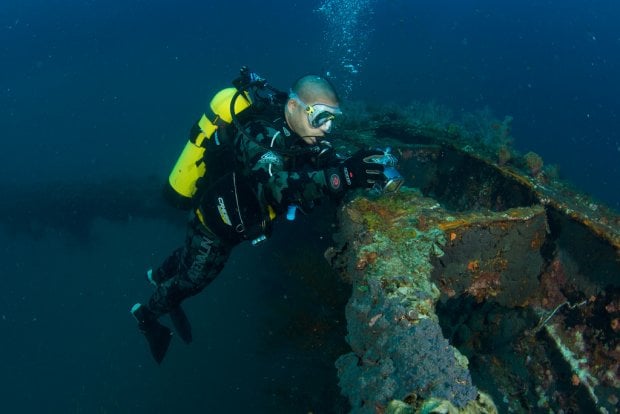 Image credits: http://bit.ly/1jC0K5H
Brunei reefs are generally shallow, with rich coral fauna including an unusual and distinctive reef-building (hard) corals, soft corals, and gorgonian sea fans. Many reefs are in pristine condition as the authorities have taken measures to prevent damage through litigation and control. The Brunei Patches (nearest to Jerudong) is rated the best dive site by local divers, and foreign reef experts have likened the reefscape to that found in the Caribbean, comprising stingrays, nurse sharks, and moray eels among other marine animals. Another site, the Porter Patch, has stunning colour and diversity, you'll see plentiful whip corals and large anemones sharing a bustling scene with schools of yellow tail, sea perch, pipefish, and squids.
Snorkellers would want to visit the Pelong Rock and Two Fathom Rock sites, which are shallow enough (2-4m) with good visibility. There are also interesting wrecks, including World War 2 relics in the waters between Brunei and Malaysia, and at the Yuho Maru Wreck, there is also the sunken Japanese wartime tanker. Divers will also be greeted by stunning views and schools of barracudas and lionfish. The Bolkiah Wreck, a former Brunei vessel, is now a cozy dwelling for a large resident lionfish and visiting groupers, moray eels, and spiny lobsters.
Diving season
The best period for diving is between March and October during the dry season.
Sea temperature
Usually about 30C, but may dip to 25C after the monsoon period.
Embarkation points
Boats set off from locations in Jerudong and Muara in the Brunei-Muara district, Kuala Tutong in the Tutong district, and Kuala Belait in the Belait district.

Dive centres
Local dive centres are required to meet safety standards and provide qualified dive guides and instructors. Some centres provide a full service from accommodation arrangements to post-dive activities. Details of their services can be obtained from their websites or enquire directly.
Check out Oceanic Quest Company for more information.
Dive clubs
Experienced divers can approach the independent local dive clubs, which are run by voluntary members to promote diving as a fun and educational activity. They help to make diving in Brunei more accessible to residents and visitors, providing a meeting point for divers of all levels to share their knowledge and experiences. Some clubs have experienced divers qualified to lead a 60m dive, and occasionally lead divers to wrecks for other qualified divers.
Check out Brunei Sub Aqua Dive Club for more information.
It is recommended that divers ensure they are medically fit before diving. Divers should purchase insurance coverage for diving related incidents and medical treatments. Your local dive operator should know the do's and don'ts when diving in this area, and the kinds of aquatic life to avoid coming in contact with. Do ask them about the necessary precautions to be taken before you dive. Divers can also call a local 24-hour dive medical service line – 2771778. In short, be sure to prepare sufficiently to enjoy exploring the underwater treasures that await in this tiny Abode of Peace!
To find out more about Brunei, visit the Brunei Tourism website. Or if you're looking for travel packages to Brunei, check out TripZilla's travel deals!