When one talks about aquatic recreational activities like diving and snorkelling in Southeast Asia, a usual host of locations come to mind: the Andaman Islands such as Ko Phi Phi and Ko Lanta in Thailand, Boracay Island in the Philippines, and of course Malaysia's many islands like Sipadan, Tioman, and the Perhentians. However, as I was about to discover, the waters of Brunei offer equally stunning coral reefs and vibrant aquatic life that has made diving and snorkelling popular among locals and tourists alike.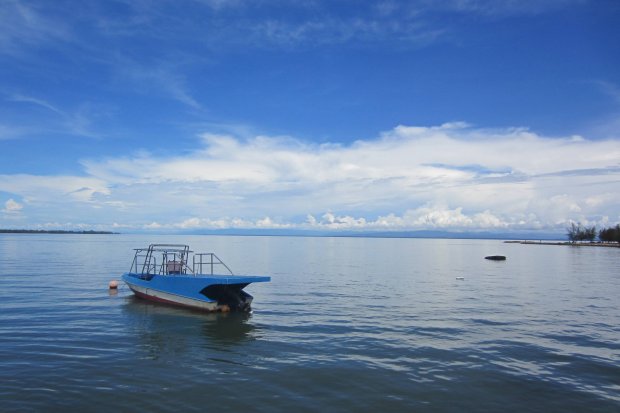 It was raining quite heavily the morning of my snorkelling trip. Much to my relief, the sky began to clear after lunch as my tour guide drove the 27km that separates the capital from Muara Beach in the northeast. I was going to snorkel at the Pelong Rocks site with Poni Divers, one of the most reputable dive centres in Brunei.

Poni Divers is also more than just a dive centre. The company also operates as a dive club where members can meet fellow diving enthusiasts and go for dives together. In addition to the weekly club dives and pool sessions, the club also organises social events and holds Sunday barbeques at the clubhouse.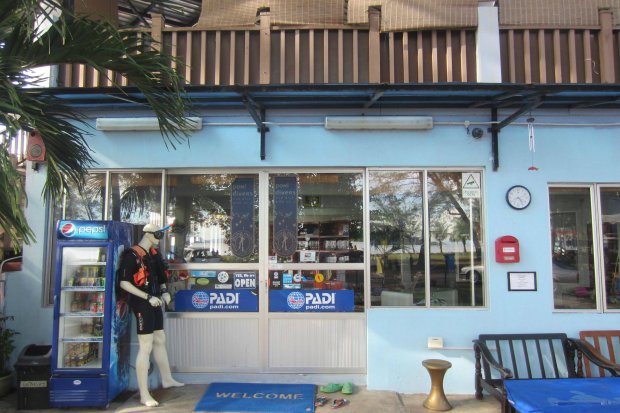 Upon arrival at their store, my instructor for the day, Afiq, gave me a hearty welcome and showed me to the gear – a wetsuit, snorkels, and a pair of flippers – that I would be using. Unfortunately, as I had to use my own pair of swimming goggles with degree for shortsightedness, I couldn't use the standard dive mask to complete my outfit. Unfazed, I quickly gave the equipment a try and without much ado, we were off!

The speedboat, specially customised to be as lightweight as possible, zoomed off to our dive site at such a speed that the wind threatened to whip me off the boat. With the sun coming out, I was snapping away with my camera while at the same time hanging on to it against the wind for dear life.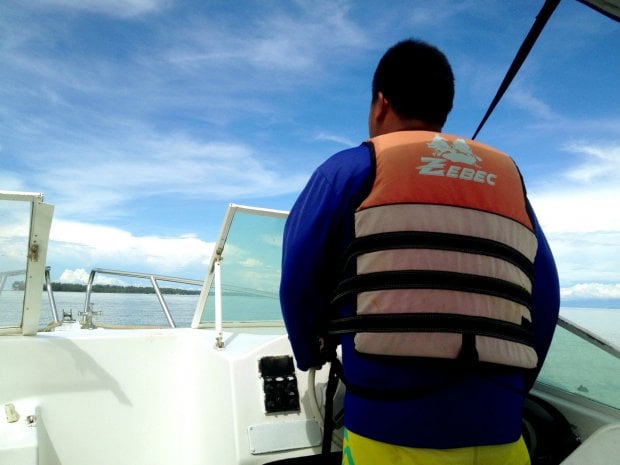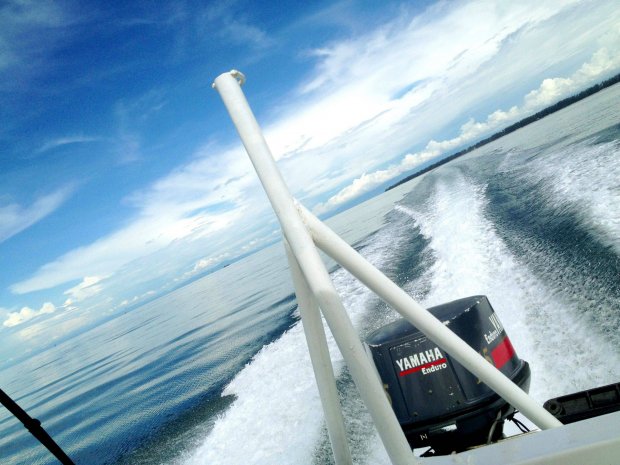 After about 15 minutes, we reached a nondescript-looking bunch of rocks that I'm not sure quite qualifies as an island. The Pelong Rocks are quite a shallow dive site, only 2-7m deep.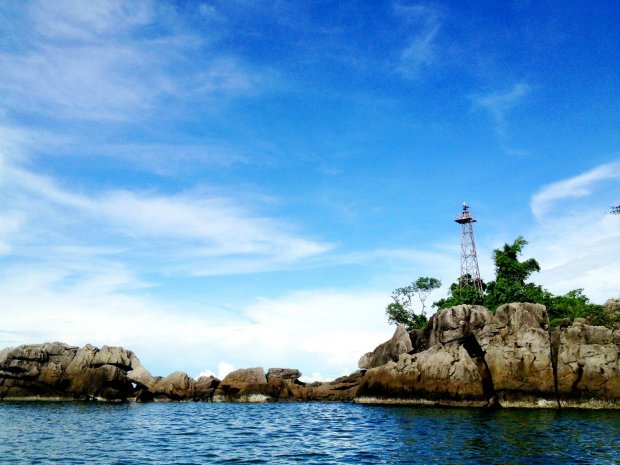 After some initial problems with the adjustment of my mask and snorkel, I began to grasp Afiq's advice and enjoyed swimming around the coral reef. Although the water didn't have good visibility due to the morning rain, I saw plenty of reef fish and sea anemone.

Seeing that I was quite comfortable with swimming, Afiq permitted me to take out my lifejacket. That's when the real fun began. After getting used to snorkelling without a flotation device, Afiq then taught me how to free dive, an undoubtedly bad-ass sport.

Essentially, free diving is a form of underwater diving that relies on a diver's ability to hold his or her breath until resurfacing rather than using breathing apparatus such as scuba gears. On his first demonstration, Afiq did a dramatic 180-degree flip into the water, kicking a ton of water into my mouth. I then tried out the manoeuvre myself, feeling triumphant after turning headfirst into the water on my first attempt and then promptly swallowing a lot of water into my lungs after mistakenly breathing through my snorkel.

I came up coughing and sputtering, much to everyone's amusement. After some experimentation, however, I found that it was much easier to free dive without my snorkel altogether. Having been a swimmer once, I am quite capable of holding my breath (I used to be able to do it for 2/3 of an Olympic-size pool). Free diving was really enjoyable, giving me a glimpse of what real scuba diving would be like as I pedalled down into the coral and came face-to-face with many surprised fishes.
I think the trick to be able to be able to free dive is simply just to keep calm. Apparently, we humans have a "mammalian diving reflex", which permits us to stay underwater longer than we would normally be able to. One's heart rate slows down and red blood cells carrying oxygen are released. The science aside, free diving is quite a liberating experience, and the shallow waters of the Pelong Rocks allowed me to dive all the way down to the coral bed.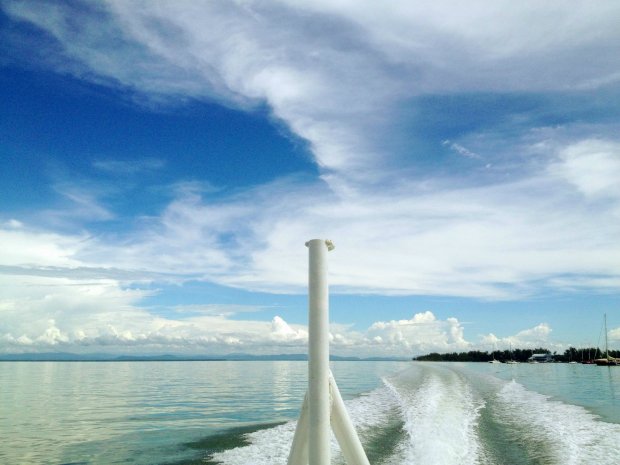 After seeing all there is to see at Pelong Rocks, we headed back to the boat where I happily lazed in the sun on the return journey back. Good weather usually makes or breaks such outdoor pursuits, and I was fortunate enough to have it on my side that day.

Back at the shop, I took a quick shower to clean up and strolled around the beach for a while. Muara beach is quaint though barely developed, with only a few locals coming over during the weekend for a picnic. Unlike the beaches in Singapore that I am used to, Muara beach is quiet, serene, has hardly any litter and has spectacular sunset views at dusk.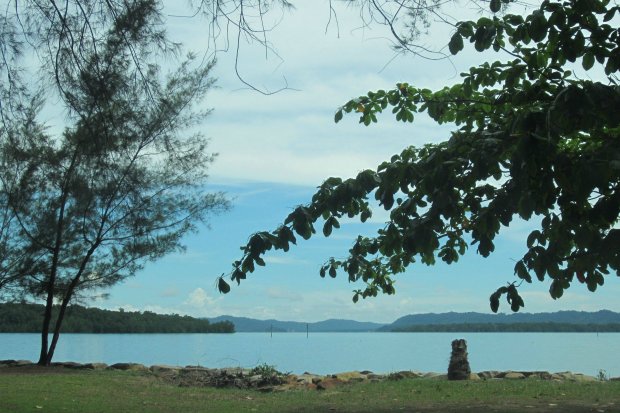 All in all, just like its forests, Brunei's aquatic activities are great because of its unspoiled and pristine waters. Licensed divers should not miss an oil rig-turned reef dive site that now teems with marine life that make their home around the submerged platform.

Other activities: Parasailing, Banana boat, Fly fishing, Wakeboarding, Water-skiing, Windsurfing, Kite
surfing, Jet Skiing, and Kayaking.

Prices: rates start from SGD 30 per pax. Pay SGD 99 for half a day of unlimited water sports activities!
Inspired? Here's how you can make your travel happen:
TripZilla Travel Packages to Brunei
Brunei Tourism