Ah, Southeast Asia: the ever-enchanting region that travellers from around the globe can't seem to get enough of — and with good reason! Not only is it (mostly)  budget-friendly; it also boasts a wide array of cultures, must-visit places, and scrumptious food. Suffice to say, it definitely has a lot to offer to different types of travellers! 

Beyond these all-too-general reasons to travel to Southeast Asia, what exactly makes each of its 11 countries impressive and worth exploring? You know, beyond the usual reasons that have more to do with backpacking convenience and long-term trips? Well, allow us to break it down for you. Whether you're a foreign tourist or a born-and-raised local from one of these countries, here are the main highlights and places to visit in Southeast Asia.
1. Singapore is where you can live the good life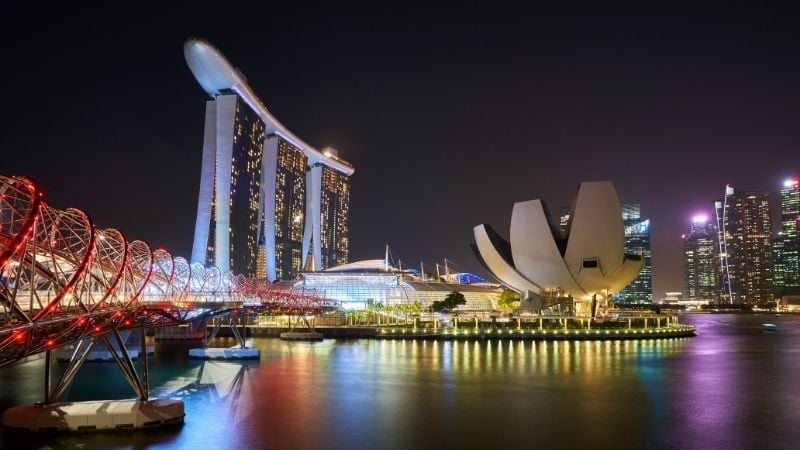 Okay, so perhaps this also applies to other places in Southeast Asia, yet Singapore is where you can bask in all things cool, exciting, and full of possibilities. (Crazy Rich Asians mostly took place here, after all!) Given that it's a prime location for many global companies, it has become comparable to the likes of New York City. The famous Big Apple-centric line, "since I made it here, I can make it anywhere," could also ring true in the Lion City. Oh, and it's been consistently ranked as one of the best cities in the world!
Beyond the world-renowned futuristic structures like Gardens by the Bay, Parkroyal Collection Pickering, and the Esplanade, this city also has quite the creative side; from the behemoth National Gallery to the more private Parkview Museum. Alternatively, there's also the street art found in the neighbourhoods of Tiong Bahru and Kampong Glam. Speaking of the latter, it also boasts hip indie boutiques for those itching to go shopping!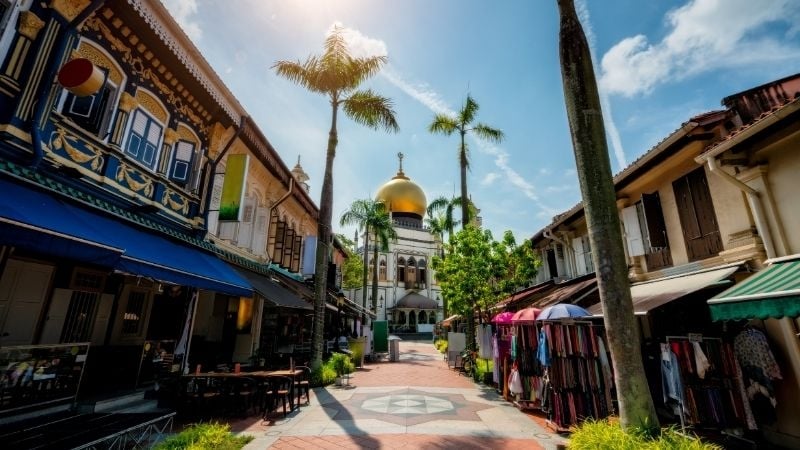 Another nearby shopping spot would be Bugis Street, which has over 800 stalls selling clothes and electronics for enticingly low costs. But the most massive of them all is Orchard Road, a 2.2-kilometre stretch of shopping complexes that you'll probably need a whole day (or two) to fully explore! Afterwards, take your pick among the city's top watering holes, some of which are mainstays in the World's 50 Best Bars list. Hey, go big or go home, right?
2. Thailand is the place to be for gastronomic adventures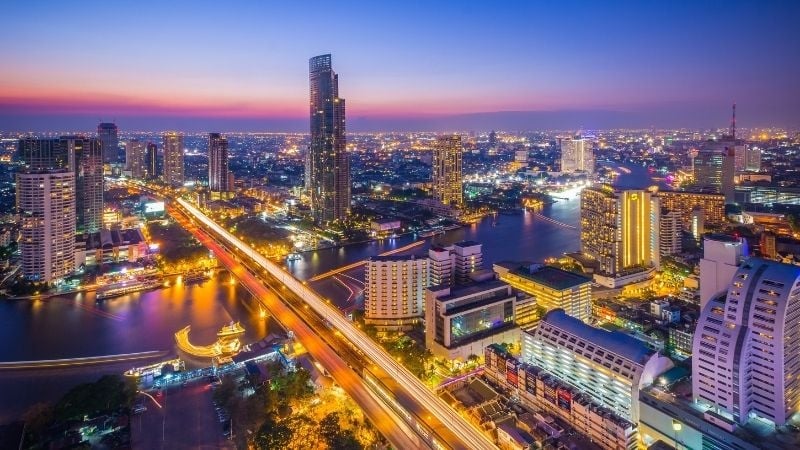 We'll tell you as early as now: it's impossible to leave with an empty stomach after a trip  to the Land of Smiles. The street food scene specifically in the capital city of Bangkok is unlike any other, as it is arguably the best in the world. Here, there's never a shortage of hawkers (or vendors) serving up a variety of offerings, from ready-to-eat meals and snacks to fresh fruits and drinks. You'll also find these in various places like open-air food halls, night markets, roving street carts, and more!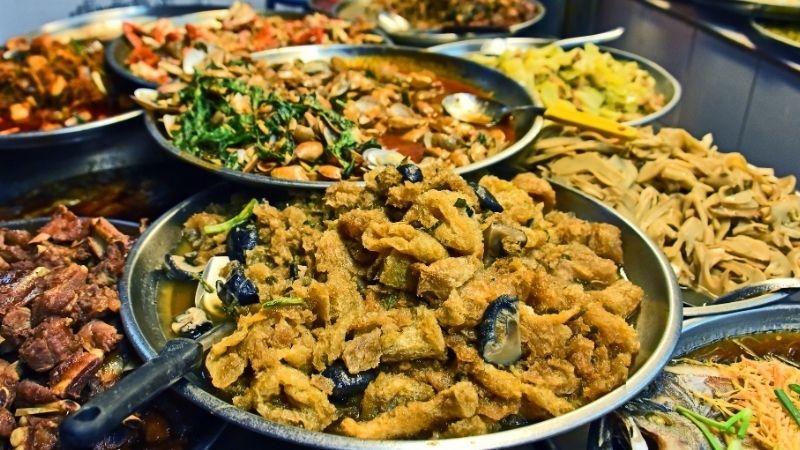 For a full experience, order several dishes to share around the table! What better way to try as many delicious stuff as possible, right? And, of course, don't be afraid to sample new dishes and snacks. Though, if you had to narrow it down to the crowd favourites (both for tourists and locals), we recommend pad thai, som tam (green papaya salad), satay (grilled meat skewers), khao pad (Thai fried rice), kai jeow (Thai omelette), Thai curries, and mango sticky rice. Don't forget to pair 'em with ice-cold cha yen (Thai iced tea)! 
Also read: 10 Delicious Foods that Everybody Should Try When in Thailand
3. Vietnam's coffee culture will keep you wide awake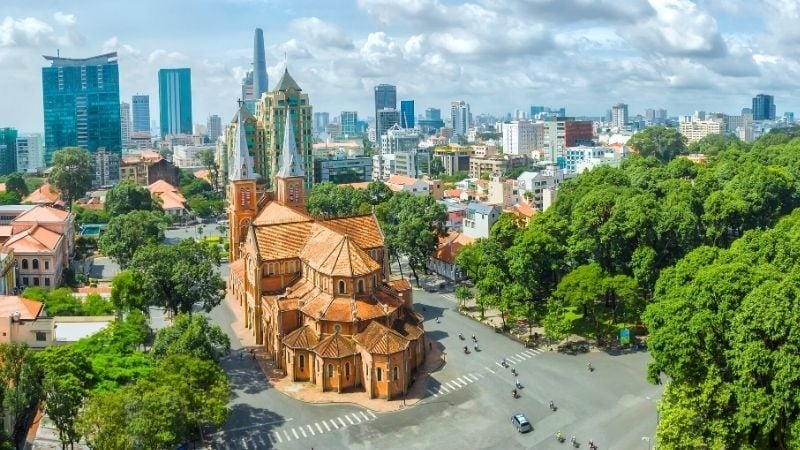 Some might argue that it's the French who introduced coffee to Vietnam; yet many would agree that the locals definitely perfected it! Expect coffee concoctions that are as imaginative as they are potent. Aside from the classic ca phe sua nong (classic Vietnamese coffee) and ca phe sua da (Vietnamese iced coffee), make sure to try the yoghurt coffee, egg coffee, and coffee with coconut milk, too. And the best part? Some of these come as cheap as below US$1 — we kid you not.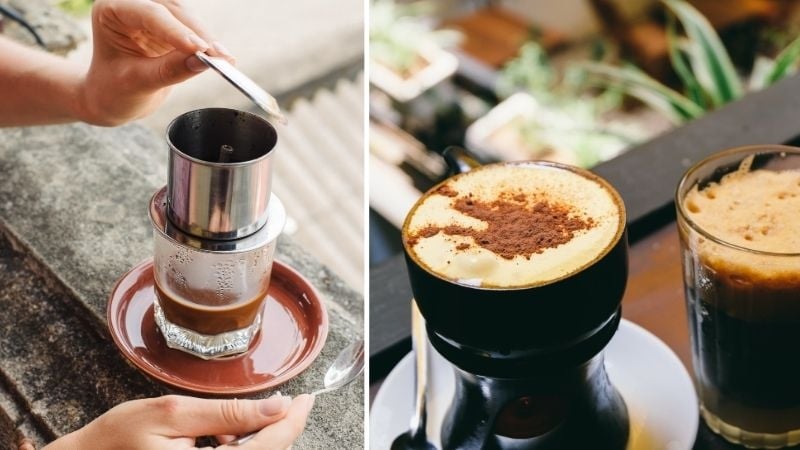 Authentic Vietnamese coffee is made with Robusta beans, so the brew is often strong and more than enough to keep you going through a whole day of exploring. For true-blue aficionados, why not spend a whole day savouring the best coffee around? Either way, you might want to drink lots of water in between; wouldn't want to be dizzy or get palpitations now, would you? 
Also read: The Beginner's Guide to Vietnamese Coffee
4. Malaysia is where you can soar to great heights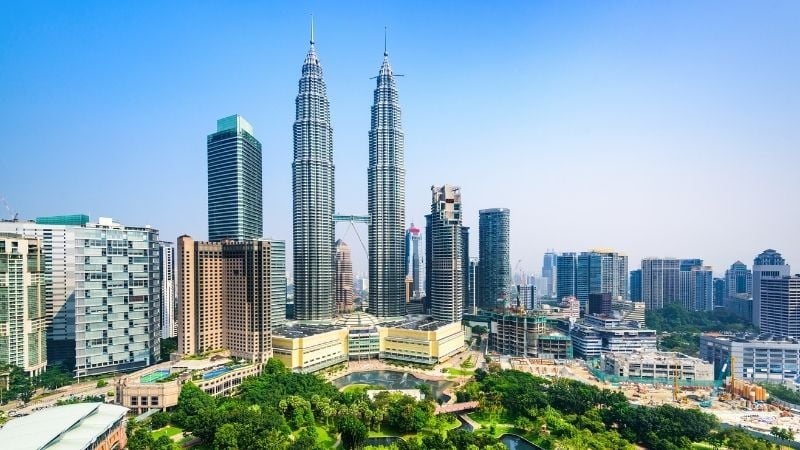 Malaysia is home to many different 'giants' whose backs you can climb; from one of the tallest skyscrapers in the world, to mountains worth hiking for spectacular views. For the former, we're clearly talking about the Petronas Towers: one of the most iconic places in Southeast Asia! As for the latter, take your pick between Mount Tahan, Mount Ledang, and of course — Mount Kinabalu, the highest in the country.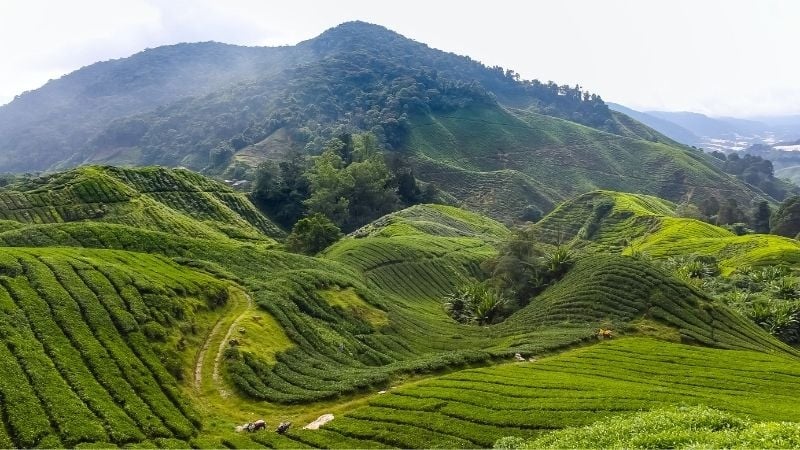 Not quite up for hiking but still want to enjoy a nature-filled scenery high up in the mountains? In Cameron Highlands, you can enjoy spring-like weather all year round, along with strawberry farms and tea plantations! There's also Genting Highlands, which offers family-friendly attractions like the indoor theme park, Skytropolis, as well as the much-awaited Genting SkyWorlds. For more high rides, don't miss the adrenaline-filled roller coaster and water slides at Sunway Lagoon in Selangor. 
Also read: Top 29 Places to Visit in Malaysia [Updated 2020]
5. The Philippines is home to countless stunning shores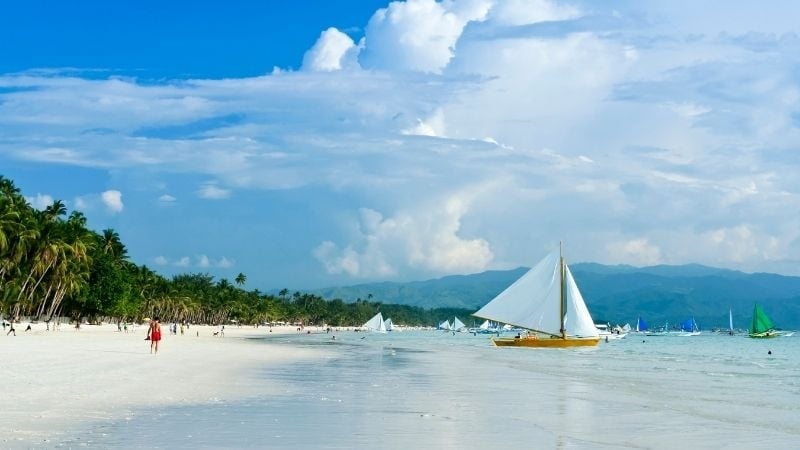 With over 7,600 islands, the Philippines is certainly an idyllic destination for relaxation and basking in the warm tropical sun. After all, you'll find some of the most beautiful beaches in the world here! You know, the kind that, upon seeing photos in a magazine or website, you'd immediately think of the word 'paradise.' To start off, we have Boracay Island, best known for its miles of powdery white sand, gorgeous sunsets, vibrant nightlife, and wide range of water activities!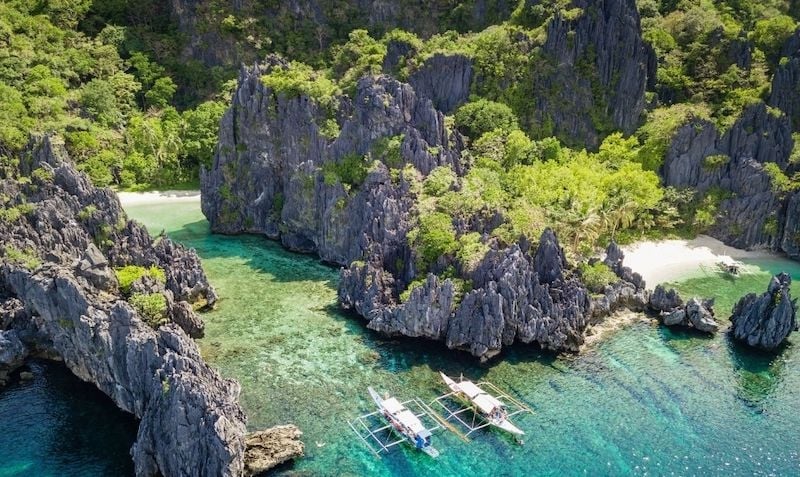 Of course, no experience in this sun-soaked archipelago would be complete without some good ol' island-hopping. And fortunately, there's never a shortage of great options, regardless of which Philippine island group you're in. Our top recommendations are El Nido in Palawan (Luzon), Islas de Gigantes in Iloilo (Visayas), and Samal Island in Davao del Norte (Mindanao). 
Want to experience aquatic life? Some of the best snorkelling and diving sites are in Moalboal, Cebu; Puerto Galera, Oriental Mindoro; and the Tubbataha Reef, a UNESCO World Heritage Site in the middle of the Sulu Sea.
Also read: Top 20 Beach Getaway Destinations in the Philippines
6. Indonesia's rainforests are home to fantastic wildlife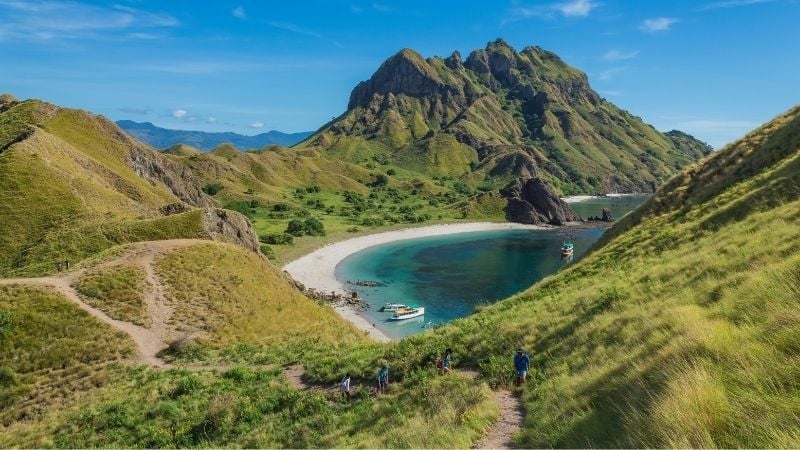 Did you know that Indonesia is a biodiversity hotspot that protects about 17% of the world's wildlife? This is especially impressive when you take into consideration that Indonesia only takes up 1.3% of the planet. Yup, no wonder it's nicknamed the 'Emerald of the Equator'! What's more, local experts actually estimate that more than half of Indonesia's species are still unrecorded. Pretty fascinating, don't you think?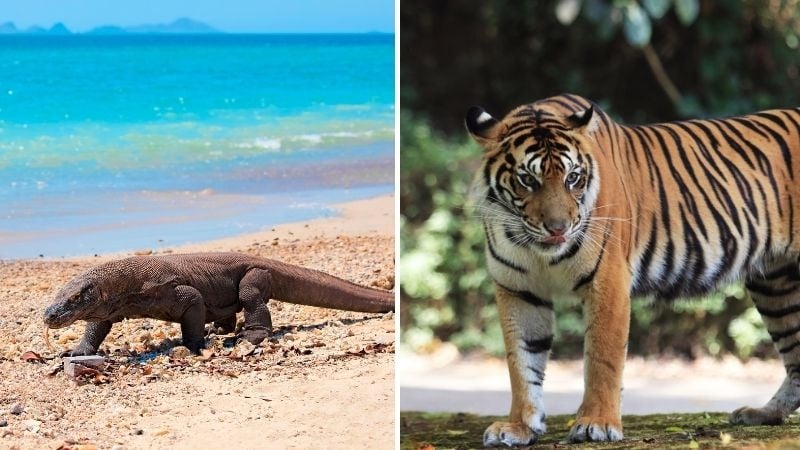 For nature and wildlife enthusiasts, this country is definitely a great reason to travel to Southeast Asia! For starters, we have the Komodo dragon: the largest living lizard in the world… as well as the fiercest. There's also the Sumatran tiger, the smallest tiger subspecies, which you can spot around Kerinci Seblat National Park. Other must-see animals endemic to Indonesia are the Sumatran orangutan, Javan rhinoceros, Mahakam River dolphin, maleo, and crested black macaque. 
Unfortunately, most of these majestic creatures are threatened by extinction. So, during your trip, how about volunteering for a local conservation initiative, too?
Also read: Escape From the Touristy Bali Crowds in North Sumatra, Indonesia
7. The long history of Cambodia is worth delving into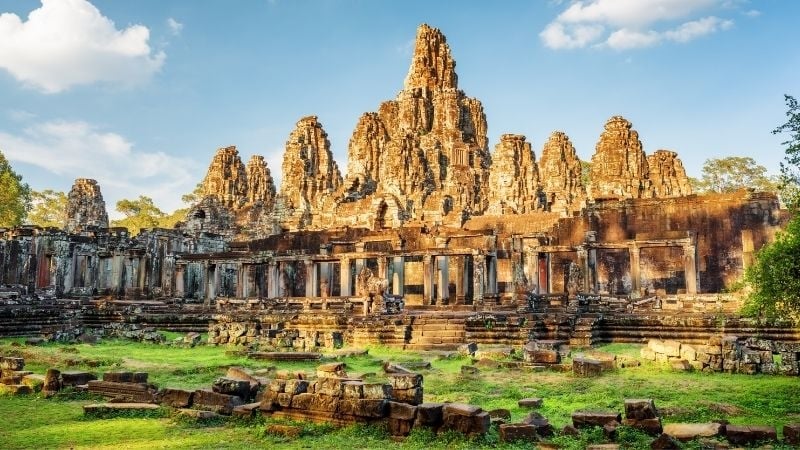 When we talk about Cambodian history, perhaps the first thing that would come to mind would be the dark era under the Khmer Rouge. And while there is certainly no denying this horrific past, there is more to learn about this country during your stay; beginning from the Angkor Empire all the way back to the ninth century, up to the present-day Kingdom of Cambodia. And what better way to do this than by visiting its archeological and historical sites next time you travel to Southeast Asia? 
Let's start with the main attraction in the capital, Phnom Penh: the National Museum of Cambodia, which houses the largest collection of Khmer sculptures, with some dating back to a thousand years old! Meanwhile, in Siem Reap, there's the world-famous Angkor Wat — A.K.A. the largest religious monument in the world. It's located inside Angkor Archaeological Park, which also consists of other must-visit sights like Banteay Srei and Ta Prohm (Tomb Raider, anyone?).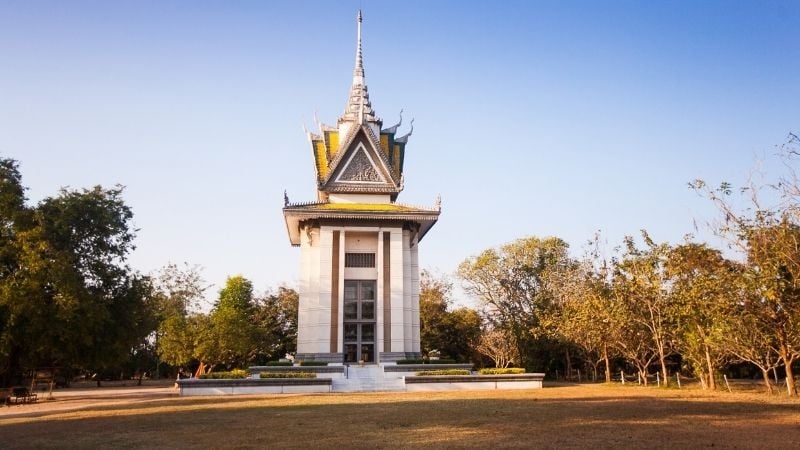 Cambodia also has its share of abandoned sites that used to be enclaves for French colonialists and wealthy locals, namely Bokor Hill Station and Kep — both in the city of Kampot. But for a harrowing insight into the tragic past, pay a visit to Tuol Sleng Genocide Museum, as well as Choeung Ek, the former site of the Killing Fields. Of course, it goes without saying that travellers must be mindful of their actions and show respect — including when taking photos of the place! 
Also read: 8 Things That Only Culturally Insensitive Travellers Do
8. Myanmar has thousands of temples and pagodas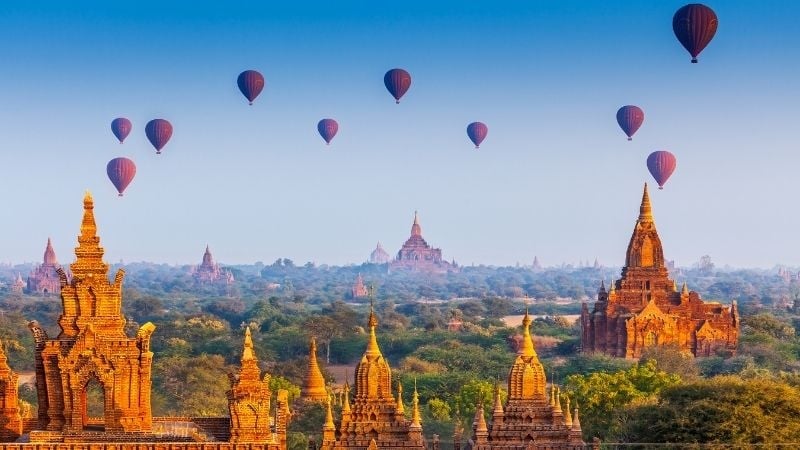 Myanmar is, after all, dubbed as the 'Land of the Golden Pagoda.' Formerly known as Burma, it features temples and pagodas coexisting with natural sceneries, as well as cities and towns. Sometimes, it might even feel as if this country has more religious structures than actual tourists! Nonetheless, if you're yearning for unbelievable sights with a side of soul-searching (or perhaps even a spiritual journey?), then you've come to the right place.
In the ancient city of Bagan, you'll find over 4,000 Buddhist temples that go as far as the eye could see. And if we're being realistic, it'll probably take you days to explore all these. So, why not take the path of least struggle (and much adventure) by going on a hot air balloon ride? Speaking of temples and heights, you also have to see Taung Kalat: a small temple situated on the peak of a 557-foot-high volcanic plug! Someone tell us we're not the only ones getting Avatar: The Last Airbender vibes from this. 
Meanwhile, for temples set against a bustling cityscape that makes for an interesting juxtaposition, head over to Yangon — Myanmar's largest city and former capital. There's the Botataung Pagoda, the Sule Pagoda, and the 2,500-year-old Shwedagon Pagoda — all featuring a gold-plated facade that will surely leave you in awe. And mind you, all these aforementioned attractions are just the tip of the iceberg! Now, doesn't that make you want to travel to Southeast Asia's largest continental country?
Also read: 10 Amazing Destinations in Myanmar to Inspire Your Next Adventure
9. Laos has freshwater wonders that look straight out of folklore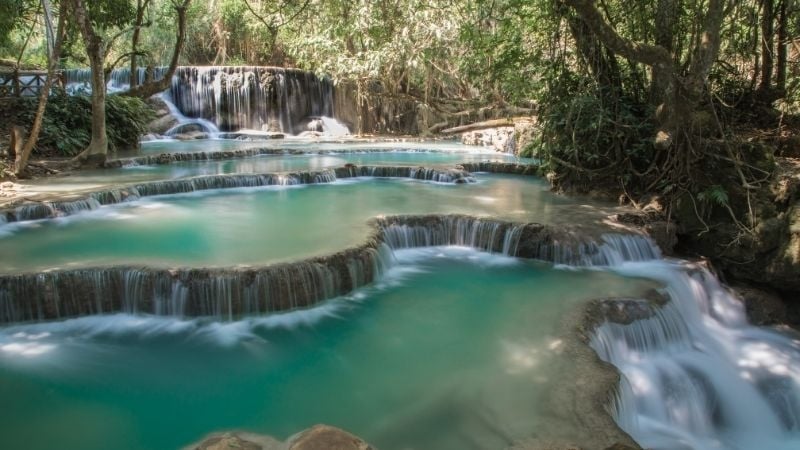 For most parts of the year, the weather in Laos is hot and humid. That said, why not chase some waterfalls when you're there? Not only are they utterly breathtaking, but also offer a great, refreshing way to cool down! Ready to take a dip?
We recommend visiting Kuang Si Waterfall, the most famous of them all. These multi-tiered falls begin atop a steep hillside before cascading down into the perfectly sculpted limestone pools below. And just a few kilometres away is Tad Sae Waterfalls, which features a seating area by the water so you can sit back and enjoy the view. On the underrated side, we have Tad Tayicsua Waterfall, which is quite remote and therefore gives you the opportunity to have the place all to yourself!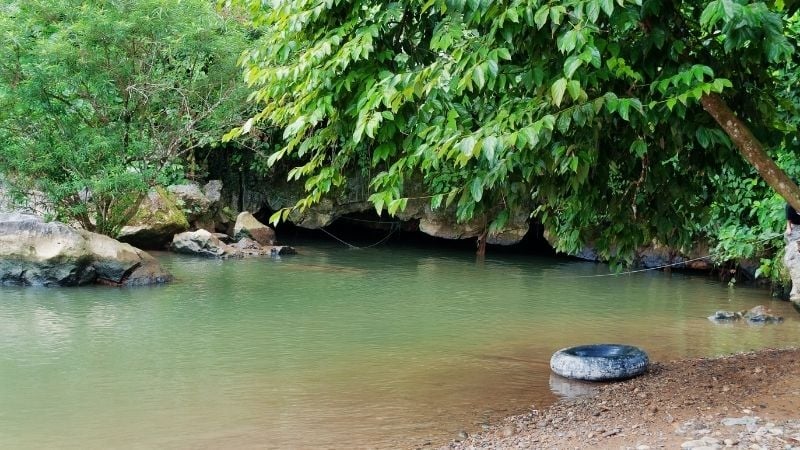 Looking for something a bit more exciting? Head over to Vang Vieng, a town in Central Laos that many travellers consider as the adventure capital. Though, for something that you probably won't find anywhere else, we recommend cave tubing! Essentially, you sit on a floatie and cruise down the river… all the way to the inside of a cave. (Don't worry, there's a rope that you can hold on to.)
Also read: What to Expect When Travelling to Laos: Expectations vs Reality
10. Timor-Leste offers the best of unspoilt sceneries and off-track adventures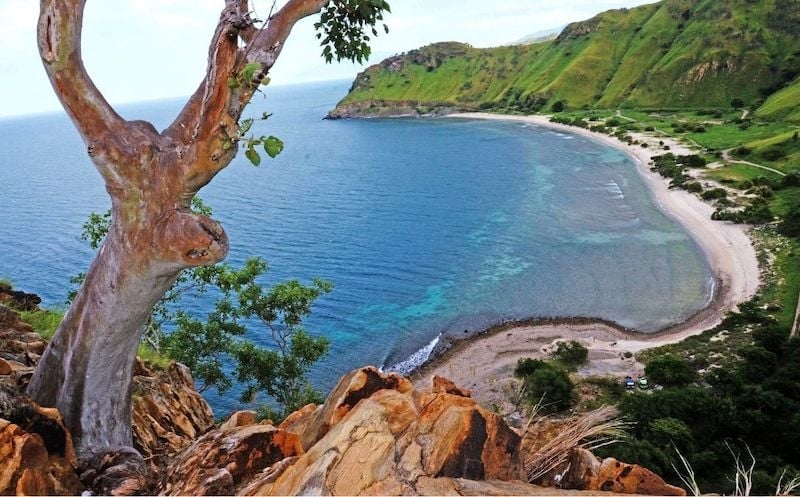 When planning your travel to Southeast Asia, you've probably wondered — is there even a destination that is truly under-the-radar, with barely other tourists in sight? Well then, allow us to introduce you to Timor-Leste, otherwise called East Timor: a relatively young nation nestled between Indonesian West Timor and Papua. You see, it only recently gained independence from Portugal in 1975 and then Indonesia in 2002. Yet despite these, the Timorese have managed to keep their culture and heritage well and alive.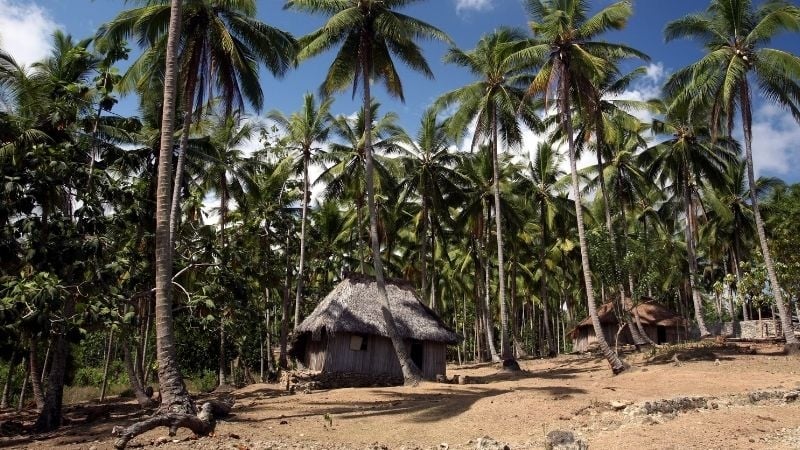 On that note, we recommend stopping by some of the traditional markets and immerse yourself in the locals' way of life. And while you're at it, why not buy a few colourful handicrafts as a souvenir? You can also check out the sacred totem houses in Lospalos. These are owned by the Fataluku people, who restore these every decade or so, with everyone in the village helping out! But for a full insight on the Timor-Leste history, you should definitely drop by the Timorese Resistance Museum in the capital city of Dili. 
Another must-do in Timor-Leste would be to take a coastal road trip, where you can take in uninterrupted views of the glimmering ocean below. It's almost as if you've been transported to someplace like the Amalfi Coast in Italy or the Great Ocean Road in California! Speaking of familiar sights there's the massive Christo Rei statue in Dili, which serves as their version of Christ the Redeemer in Rio de Janeiro. 
11. Brunei is where you can marvel at opulent sights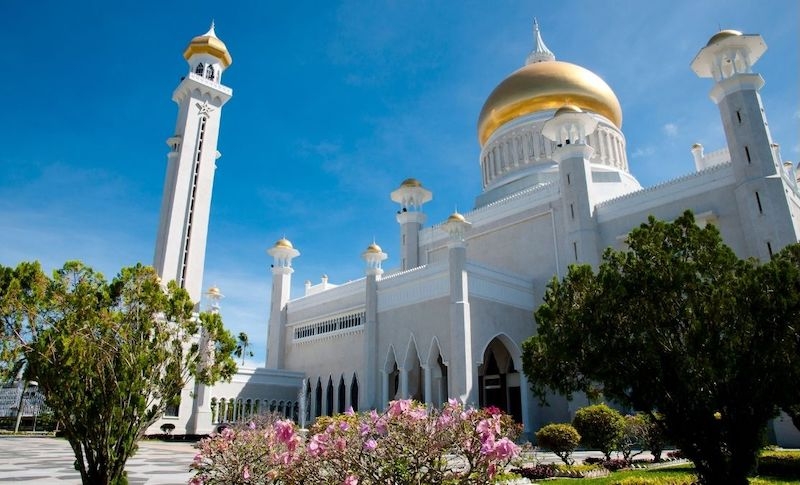 In case you haven't heard, Brunei is nicknamed the 'Land of Unexpected Treasures' — and we're not simply talking about the internet-famous Prince Mateen. (Google him and thank us later.) Kidding aside, it's the second-smallest Asian country after Singapore, and also one of the most developed! Fun fact: its complete name is actually Brunei Darussalam, which translates to 'abode of peace.' 
The capital, Bandar Seri Begawan, is your best bet for all things regal and majestic. We're talking about splendid mosques and other structures, some of which you might not have even thought existed on this side of the globe! For starters, the Omar Ali Saifuddien Mosque: Brunei's national mosque that features the best of modern Islamic architecture. A few minutes from the capital lies the Jame' Asr Hassanil Bolkiah Mosque, the largest in the country. It has a total of 29 golden domes, in honour of the nation's 29th and current sultan.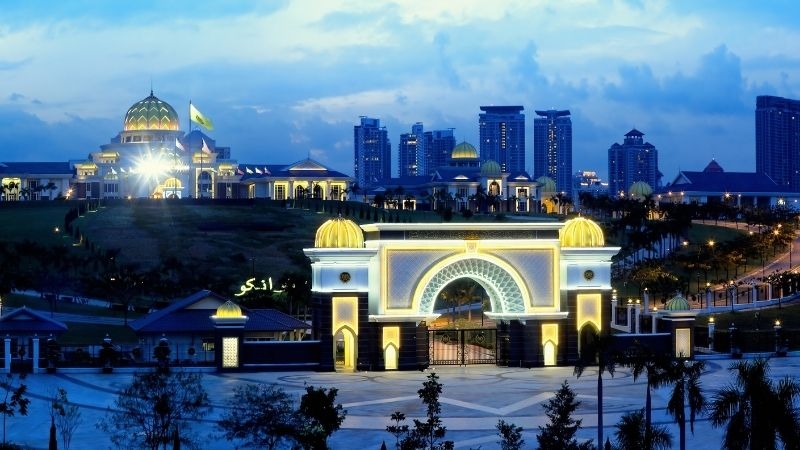 Speaking of the Sultan, if you've ever wanted a glimpse of Bruneian royals' lifestyle, head over to the Royal Regalia Museum. Aside from countless jewels and gold, you'll also find a giant chariot used in the Sultan's silver jubilee. And last but not the least — the Istana Nurul Iman, A.K.A. the largest residential palace in the world. It spans a whopping 2,000 square feet and 1,788 rooms — pretty surreal, we know! However, it's only open to the public during Hari Raya, although you can still snap photos from its humble neighbour, Damuan Recreational Park. 
Also read: Which Countries in Southeast Asia Are Open for Tourism Right Now?
Now that you know what makes each country in Southeast Asia so wonderful, which one has piqued your interest the most? Or better yet — are there any more reasons to travel to Southeast Asia that we missed? Whichever it is, go on and tell us all about it in the comments section!