I'm pretty sure Thai food needs no introduction and is one of the highlights of any trip to Thailand. Sure, there are some pretty good Thai restaurants outside of Thailand but you can't beat the source. The food is definitely one of my favourite things about living in Thailand and just might have played a part in my decision to move here! So without further ado, I give you my top ten Thai food to try on your next vacation…
Also Read: 13 Bizarre Foods in Thailand to Try… If You Dare
1. Som Tam (Green Papaya Salad)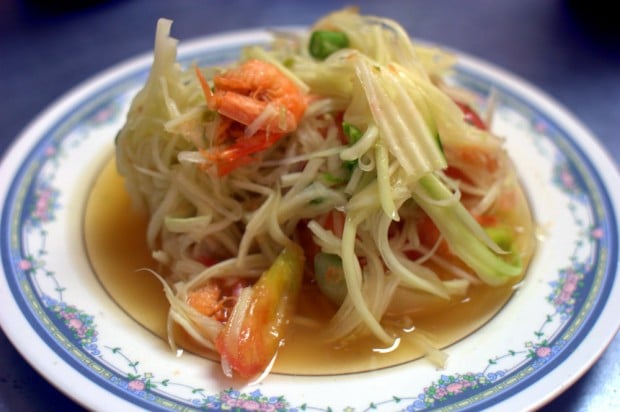 Image Credit: Krista
Som Tam is a staple of Northeastern Thailand and is undoubtedly the most popular regional dish. A favourite among locals due to its simplicity, low cost, great taste and low calorie count.
Som Tam is a beautiful combination of raw green papaya, green beans, garlic, chillies, cherry tomatoes, lime juice and palm sugar pulverised in a pestle and mortar for a flavour like no other and always made fresh! Variations of Som Tam will have cooks tossing peanuts, dried shrimp or even fermented blue crab into the mix, the latter definitely not for the faint of stomach so keep an eye on what the sweet old lady tries to slip into the mortar!
2. Laab (Spicy Minced Meat Salad)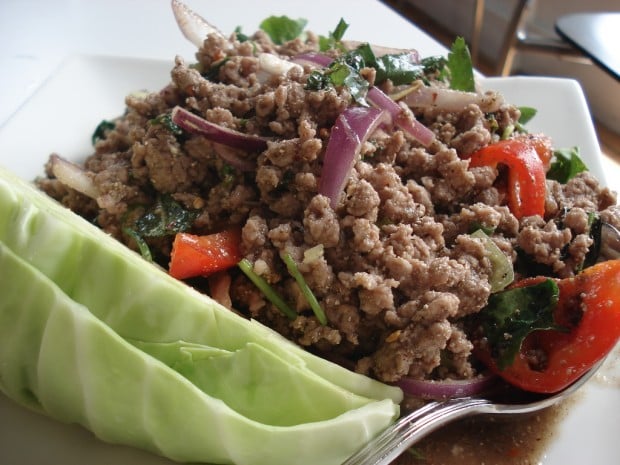 Image Credit: Ian Fuller
I remember my first taste of Laab like it was yesterday. I had only been in Thailand for a few hours and was dealing with a bit of a culture shock. I sat in an empty restaurant on a rainy night nervously scanning the menu for something that sounded "safe". "Laab Nua – Spicy Beef Salad", I pointed out to the impatient waitress and it was love at first bite!
Laab consists mainly of minced meat (chicken, pork or beef) seasoned with crunchy roasted rice powder, lime juice, fish sauce and fresh herbs.  It's a classic example of Isaan cuisine combining a few simple ingredients to create a dish of many flavours.  Try Laab served with some sticky rice (remember to use your hands!) or wrap it in a lettuce leaf for a delicious, crunchy pouch of goodness.
3. Phad Thai (Thai Style Fried Noodles)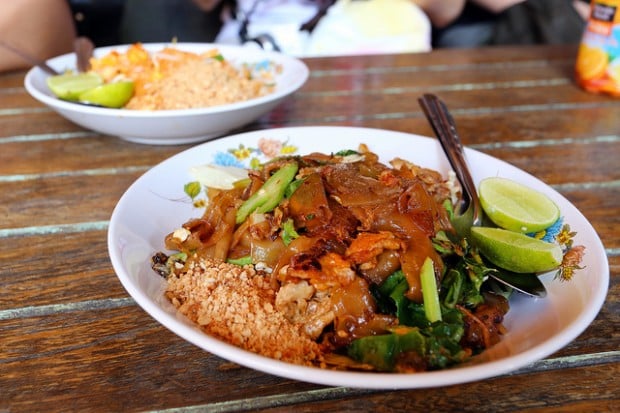 Image Credit: Calvin
By far the most well known Thai dish, Phad Thai is a staple dish on the menus of Thai restaurants outside of Thailand. A delicious mixture of wide noodles quickly seared with a combination of onions, egg and bean sprouts.
The dish is commonly served with chicken and prawns, but you could substitute these for pork, tofu or just chicken/prawns should you prefer. The majority of the flavour actually comes from the condiments served with Phad Thai; plik naam pla (chilli and lime infused fish sauce), crushed peanuts, dried chilli, fresh lime wedges, sugar and raw beansprouts. You're able to customize the dish according to your tastes, which is also part of the fun!
4. Khao Pad (Fried Rice)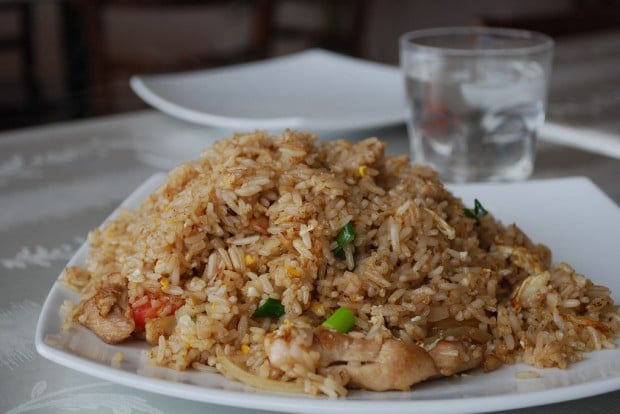 Image Credit: Alpha
Khao Pad is a prime example of Thai comfort food and naturally, everyone has their own favourite version! Most places will serve the dish as rice fried with egg, onion and some form of vegetables (carrots and tomatoes being the most common) along with any meat of your choice.
Khao Pad is quick to make and pretty much anything can be tossed into the mixture, so feel free to try any variation! Since Khao Pad is such a flexible dish, I've been seeing more and more restaurants attempt to serve up more "international" variations of this dish to cater to Western clientele, which usually go horribly wrong so my tip would be to stay clear of these options!
5. Massaman Curry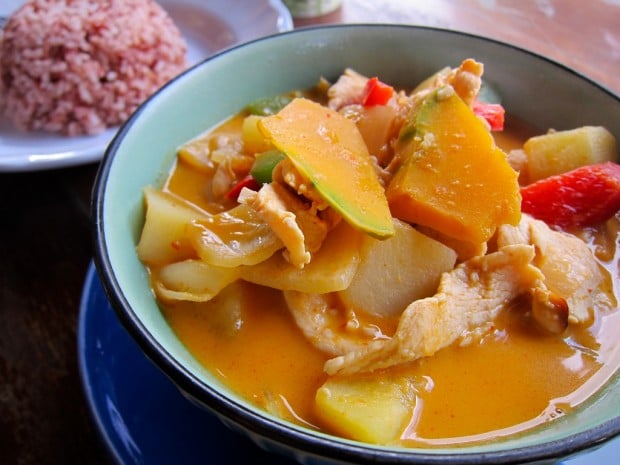 Image Credit: Andrew Hyde
Massaman is a perfect example of Southern Thailand's Muslim influence. The dish includes ingredients not typical in Thai cuisine (cardamom, cumin, cinnamon and cloves among others) which has raised questions as to its origins, with one theory claiming the dish is influenced by Indian and Malay cuisine.
Either way, it's delicious and you shouldn't leave Thailand without at least trying one bowl! Hearty chunks of potatoes, onions and chicken are combined with these spices swimming in a rich, creamy coconut broth for a deliciously filling yet mild curry. Massaman can be eaten alone, but is often accompanied by rice and served with other dishes.
Also Read: Here's Why You Should Stop Travelling to Bangkok
6. Pad See Ew (Fried Noodles In Soy Sauce)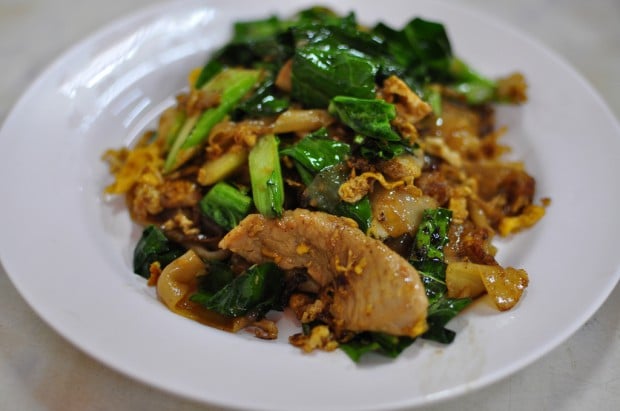 Image Credit: Karen Blumberg
Already a popular dish in Thai restaurants around the world, Pad See Ew is a lunchtime favourite in Thailand. It's a simple yet fulfilling dish consisting of thick rice noodles fried in light and dark soy sauce, garlic, egg, Chinese broccoli and your choice of meat. If you like Phad Thai then you should definitely try out Pad See Eew. Thick, slimy noodles served with sugar, peanuts, plik naam pla and dried chilli on the side just like Phad Thai so you can customise the dish to your tastes. A personal favourite of mine to end a night out or when recovering the next day!
7. Pad Krapow (Stir Fried Meat With Holy Basil)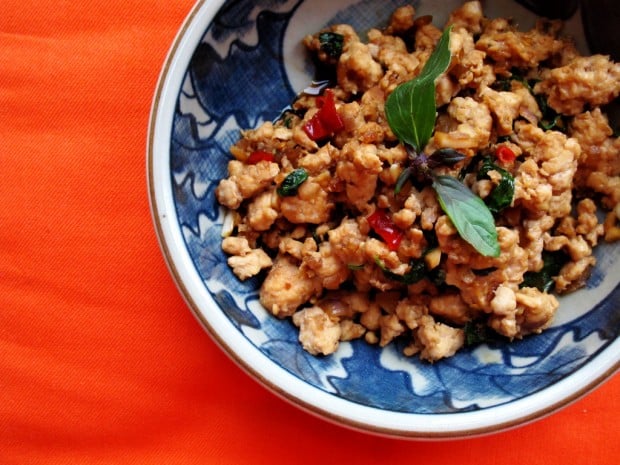 Image Credit: Wendy
Pad Krapow is an extremely popular fast food dish in Thailand, and once you taste it you'll soon find out why. Walk up to any street side restaurant and they'll be sure to have it on the menu. Like most Thai food, Pad Krapow is extremely simple yet oh so delicious! Stir fried meat of your choice (pork, chicken or beef), garlic, chilli, holy basil (Krapow) and oyster sauce served on or with steamed fragrant rice.
It's not uncommon to find it served with a fried egg too, firm but runny in the centre to get mixed in and add to all the deliciousness. Pad Krapow is notoriously spicy, so be sure to specify if you don't like your food "Thai spicy"!
8. Tom Yam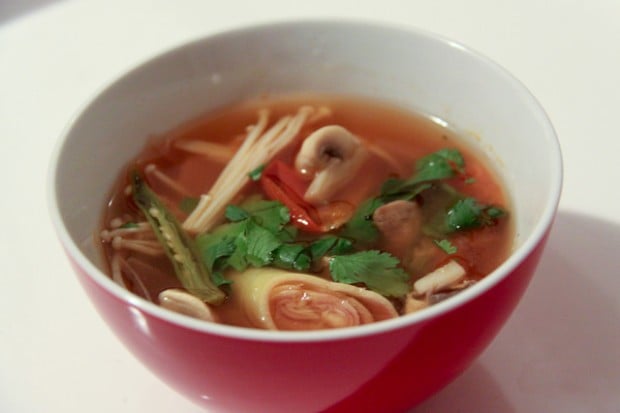 Image Credit: Belinda
A true taste of Thailand! This classic sour and spicy soup combines lemongrass, chilli, lime leaves, shallots, lime juice and thinly sliced galangal root to give it its pleasant taste and distinctive aroma. Most commonly served as Tom Yam Goong (spicy shrimp soup) it can also be served with chicken upon request.
Tom Yam can be eaten by itself, or with rice as part of a group meal. Thais will often order this dish when dining out as a group and pour its contents over steamed fragrant rice whilst slurping up the refreshing broth in between.
9. Tom Kha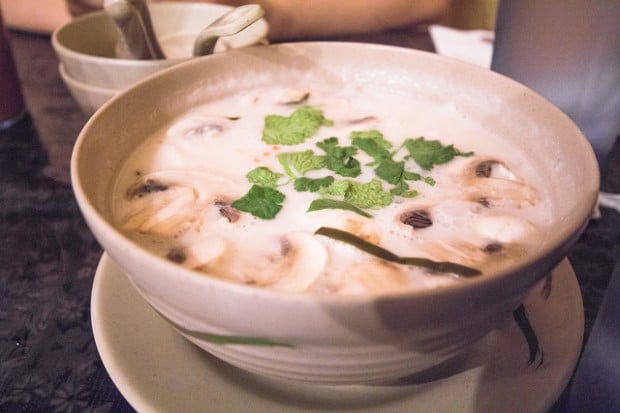 Image Credit: sstrieu
A variation of Tom Yam, Tom Kha combines most of the ingredients found in Tom Yam with coconut milk. This not only dampens the effect of the fiery Thai chillies and gives the soup a sweeter taste but also adds a creamy texture to the soup. Most commonly served with chicken (Tom Kha Gai), one may also order this deliciously rich soup with pork instead. My favourite out of all Thai soups and I need to keep reminding myself to share when dining with friends!
10. Yum Nua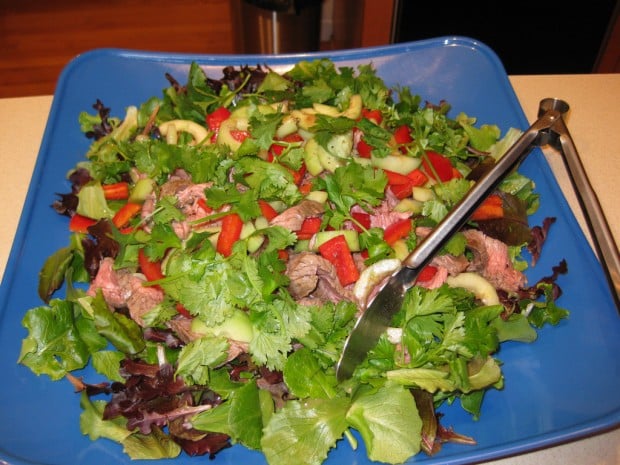 Image Credit: Bnilsen
Yet another classic Thai dish popular worldwide: Yum Nua. A refreshingly zesty mix of spearmint, onion, coriander, lime, garlic and chilli creates a unique flavour that one can't help but associate with Thai cuisine! This superb Thai salad is often served with thin slices of beef (or chicken or pork) as well as a side of "phak" – slices of raw cabbage, cucumber, bean sprouts and other greens with the purpose of cleansing the palate and taking some of the edge off the heat of this amazing dish.
From spicy soups to hearty noodles, you'll definitely find a dish you'll love whilst in Thailand. Everybody's got their personal favourite and mine seems to keep changing every few days! What I can definitely assure you is that the amazing food will be something you're guaranteed to remember long after your vacation's over and you WILL crave more of it!
Also Read: The Thailand Bucket List – 15 Experiences You Need to Conquer