There's more to Indonesia than relaxing resorts and sandy beaches. From volcanic lakes to jungle treks, rich immersive culture to native wildlife – come to discover the 'five wonders' that Indonesia has to offer, right here in North Sumatra.
You won't have to battle the hordes of tourists in Bali as well!
1. Admire the largest volcanic lake in the world
Don't let this picture fool you, Lake Toba is much, much bigger than that.
Located in the centre of North Sumatra, Lake Toba is not only the largest volcanic lake in the world but also one of the deepest and the largest lake in Southeast Asia. In fact, this lake has an island in its centre that is almost the size of Singapore!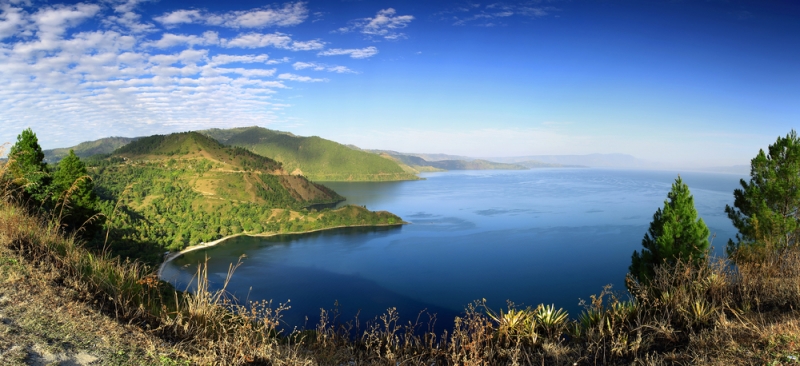 At 900 metres above sea level, Lake Toba offers cooler climates and is a welcome break from the tropical heat and pollution of the city. In other words, Lake Toba makes for the perfect place to kick back and bask in the impressive scenery. From the majestic mountains to crystal-clear waters, revel in a sense of overwhelming serenity.
Getting there: You can take the Medan-Parapat or Medan-Berastagi public bus route, both allowing you to reach Parapat (the town by Lake Toba) in under six hours, or you can contact travel agents in Medan to organise a rental car complete with chauffeur for you.
2. Bask in Batak culture in Samosir Island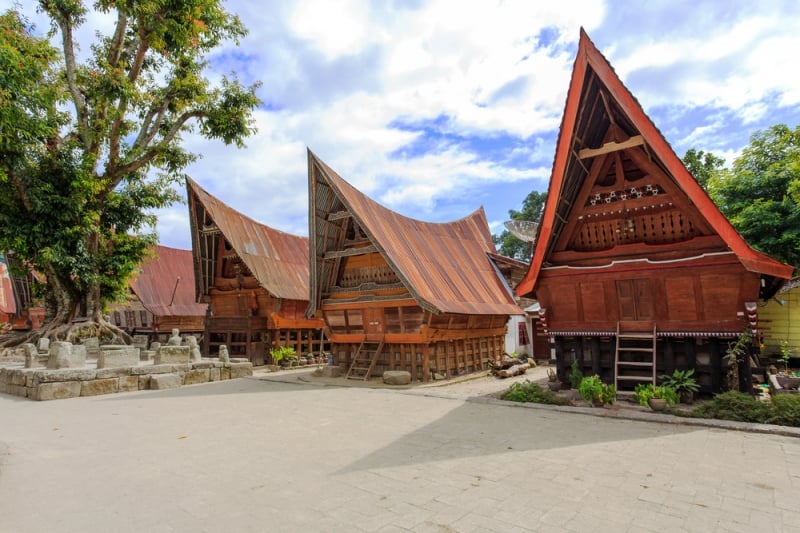 Sitting in the middle of the giant crater lake of Toba is Samosir Island. With numerous traditional villages along its shoreline, it is the heart of Toba Batak culture.
Two popular areas on Samosir Island are Tomok – where most of the traditional villages are concentrated – and Tuktuk Siadong, or Tuktuk – where the azure waters of Lake Toba gently brush up on sandy beaches and blend into the lush green scenery.
Stay at the variety of homestays in Tuktuk, or immerse in Batak culture at Tomok, known for Batak handicrafts, knick-knacks and traditional hand-woven ulos textiles – all perfect souvenirs to bring back home. You can even learn how to dance the Tor Tor – an upbeat, traditional dance of the Batak ethnic group. While you're there, be sure to sample some mie gomak, a traditional curry noodle dish of Batak Toba and the Batak's answer to Singapore's laksa.
Getting there: You can catch a ferry from Parapat to Samosir Island every hour and a half, choosing to dock at either Tomok or Tuktuk.
3. Explore the capital of North Sumatra
Medan is the ethnically diverse capital of North Sumatra and is famous for an array of mouth-watering delicacies. Whether it's a plate of fragrant rice or fried noodles, the aromatic spices used are sure to leave you craving more.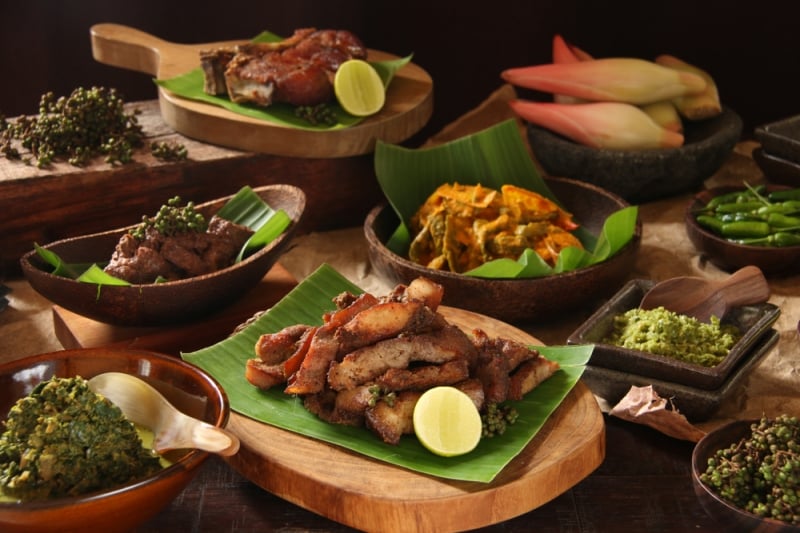 Keep an eye out especially for some Bolu Meranti – their version of a swiss roll cake. The sponge is soft and there's a wide variety of buttercream slathered into the rolled cake to take your pick from.
Getting there: Medan is only a two-hour drive from Kualanamu International Airport.
If you're looking for a place to stay the night, Hotel Deli River not only provides comfortable rooms and soft beds for your stay, but also it sets a relaxing atmosphere far from the usual bustle of the city.
Located in the middle of a lush, tropical garden, cottages here are enveloped by species of greenery native to North Sumatra, like rambutan, jambu, mango and banana trees. On top of that (literally and figuratively), the tropical garden is home to over twenty different types of exotic birds.
With its wide range of facilities and tranquil atmosphere, Hotel Deli River is one of the most relaxing hotels available for you to recharge in.
Getting there: For a small surcharge, Hotel Deli River offers airport shuttle services. Otherwise, you can hail a cab to their address.
Address: Jalan Raya Namorambe No. 129, 20356 Medan, Indonesia
Contact: +62-61-7032964
4. Visit the small town with two volcanoes
Berastagi (pronounced Brastagi) is a small, bustling town nestled between Medan and Lake Toba. While Berastagi is famous for its fresh produce and busy markets, it's hard to ignore the two towering volcanoes in the distance. Both Mt Sinabung and Mt Sibayak are neighbouring volcanoes to the town, with the latter providing a great opportunity for people to get up-close and personal with nature.
Getting there: Berastagi is a two-hour car-ride from Medan and two and a half hours from Kualanamu International Airport.
While you're here, make sure to try some Ikan Bakar – a grilled fish dish, using fish caught fresh from Lake Toba, served with rice and sambal chilli.
Hike up the Mt Sibayak volcano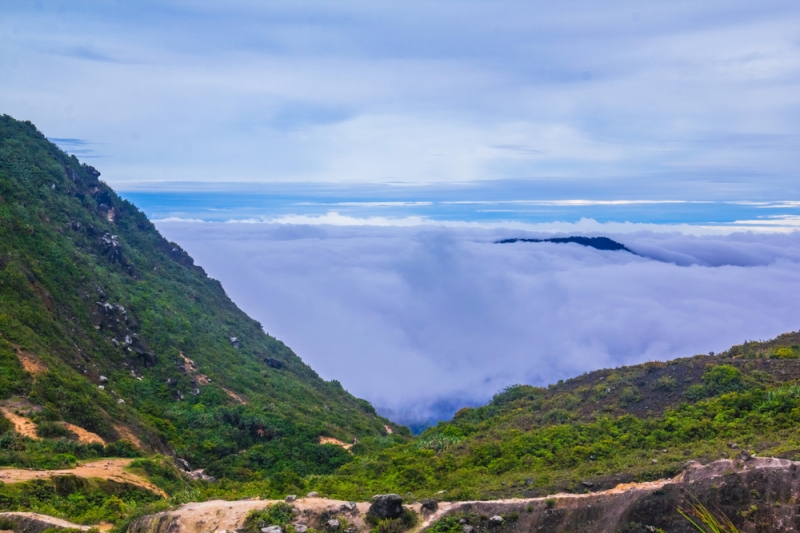 With Indonesia situated along the Ring of Fire, volcanoes are a popular tourist attraction across the country. While both volcanoes are open for hiking if weather permits, Mt Sibayak is a much easier climb, perfect for the casual hiker. The best time to visit? Between June and August – Sumatra's dry season.
Relax in Mt Sibayak's hot springs
If your legs are sore from the climb, then the hot springs are an excellent place to relax your body and let your muscles recover – after you get over the distinctive smell of sulfur!
With amazing views of the volcano and unimaginable levels of relaxation – it's well and definitely worth it.
Be wowed by a waterfall with two colours
Sibolangit Waterfall is probably one of the most stunning waterfalls you'll ever see. Set against a lush green and rocky grey backdrop on the cliff face, the waterfall and its smaller cascades vary in colour from light blue to greyish-white, leading to its moniker of the Two-Colour Waterfall or Two-Tone Waterfall.
Getting there: Make your way towards the ranger's station at Durin Sirungun village campground via private car or public bus. From there, follow the signposted trek into the jungle until you reach Sibolangit Waterfall in about two hours.
Experience local life with a homestay
One of the most popular and traveller-friendly places to stay in Berastagi is probably the Berastagi Nachelle Homestay. The rooms are modern, clean and comfortable, and guests are invited to stay on the third floor and rooftop rooms overlooking the majestic Mt Sinabung. Good news: the hosts, Mery and Abdy, are hospitable and speak superb English.
Another perk of staying here are the various tours and excursions Berastagi Nachelle Homestay organises. From volcano treks to wading in the crystal blue pool of Sibolangit Waterfall, Berastagi Nachelle organises tours for Mt Sibayak and other attractions in the vicinity.
What better? Tours are conducted by a highly-trained English or French guide, so you won't be missing on any tidbit of information!
Getting there: Berastagi Nachelle Homestay will arrange your transport from Medan Airport or Berastagi.
Address: Jalan Simpang Ujung Aji No.1, Rumah Berastagi, Berastagi, Brastagi, Sumatera Utara 22152 Indonesia
Contact: +62 813-6242-9977
5. Meet the 'People of the Forest' in Bukit Lawang
What's a trip to Sumatra without paying our distant cousins a visit? Bukit Lawang is not only a UNESCO World Heritage Site home to multiple bird and plant species, but also the largest sanctuary of the Sumatran Orangutan. With more than 5,000 orangutans making their home in Bukit Lawang, it's not hard to spot them swinging through the canopy as they forage for fruits.
Getting there: You can board a three-hour public bus ride from Pinang Baris bus terminal (located at Jalan Gatot Subroto). Alternatively, you can contact Bukit Lawang to provide a private car transportation from Medan to Bukit Lawang.
6. Marvel at these gentle giants in Tangkahan
Tangkahan is a popular destination for a multitude of reasons: the clean rivers, the rich jungles and, of course, the Sumatran elephants. What makes Tangkahan stand-out is their ability to use community-based eco-tourism as a springboard to improve livelihood, instil a sense of pride and even help stop illegal logging.
The elephants at Tangkahan started off as troublesome elephants that destroyed fields and houses in nearby villages, but are now trained to patrol and protect the National Park from illegal activities like animal poaching and illegal logging. Talk about a win-win scenario!
Getting there: The simplest way to get here is to hire a private air-conditioned car and driver. Alternatively, there are two public buses that depart from the Pinang Baris bus station at 10 am and 1 pm respectively, both for a five-hour journey.
On your next trip to Indonesia, skip the resorts and private pools and explore all of the wonders that Indonesia has to offer. For more information on planning a trip to North Sumatra, click here.
---
Brought to you by Indonesian Tourism Board.