As with most countries, if you look hard enough, Thailand isn't lacking when it comes to places that are a bit different to the norm. While the Land of Smiles is primarily known for its glittering temples, stunning beaches and islands, and lush jungles filled with wildlife, try something new on your next trip to Thailand and include a few of these quirky gems on your itinerary:
1. Chainat Bird Park, Chainat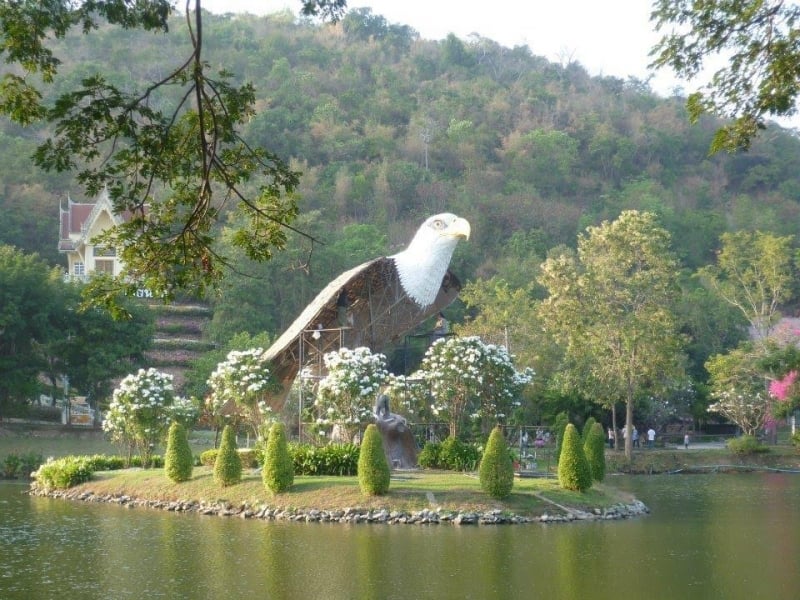 Chainat Bird Park is a fun attraction in Central Thailand. Loved by kids and adults alike, a giant eagle sitting in the middle of a small lake is quite an unusual sight. Add to that a small water park with slides coming out of a brightly coloured robot, an egg museum, and heaps of whimsical statues, and there are plenty of unusual features to enjoy. Of course, the large aviary and mini aquarium are also interesting too.
2. The White Temple, Chiang Rai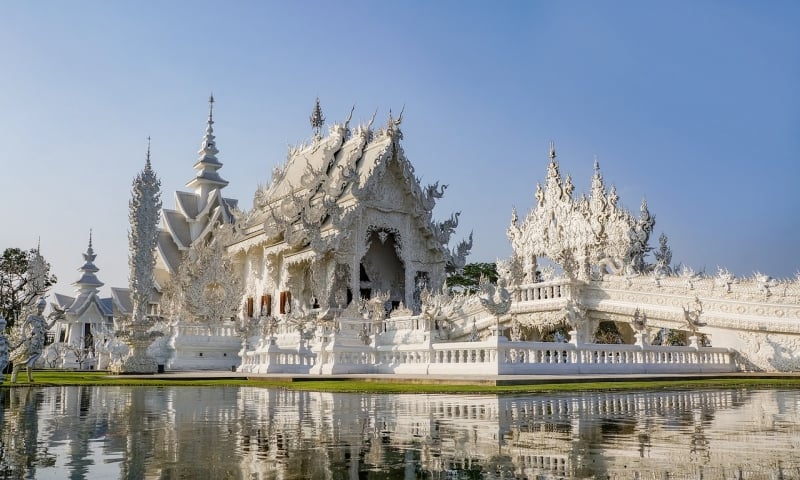 One of Chiang Rai's most stunning man-made sites, The White Temple (known as Wat Rong Khun in Thai) looks like it has been transported to Thailand straight from the pages of a fairytale. With an appearance that's somewhere between cake frosting, a princess's castle, and whipped snow, it's definitely one of the country's most beautiful temples. The insides are decorated with thought-provoking artwork too.
3. Mae Klong Railway Market, Samut Songkhram
Also known in Thai as Siang Tai (life-risking) Market, and in English as the Market on the Tracks, the Mae Klong Railway Market has to be seen to be believed. While it may look, sound, and smell like a regular Thai market, the tracks that run right through the stalls still see trains several times a day. When the train toots to announce its impending arrival, sellers spring into action, moving their wares and folding back their canopies. Of course, they also need to make sure that they are safely away from the tracks too.
4. Haad Pak Meng, Trang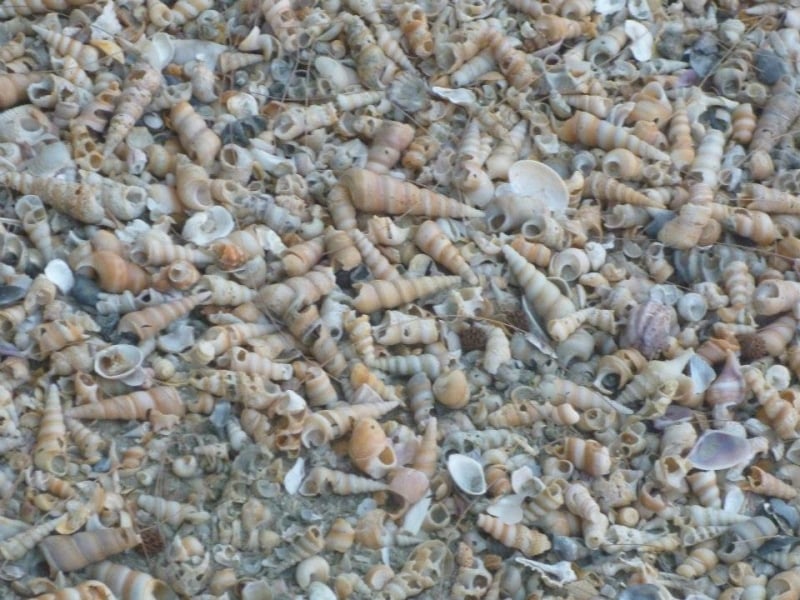 The southern province of Trang is somewhat off the beaten track, and those who do visit unusually head straight for the gorgeous islands. While the islands certainly are the stars of the province, do take some time to also visit the mainland beach of Haad Pak Meng. Just a short distance from the heart of town, the curved beach offers great views. The sandy beach is also covered with thousands upon thousands of twisty seashells.
5. Sai Ngam, Phimai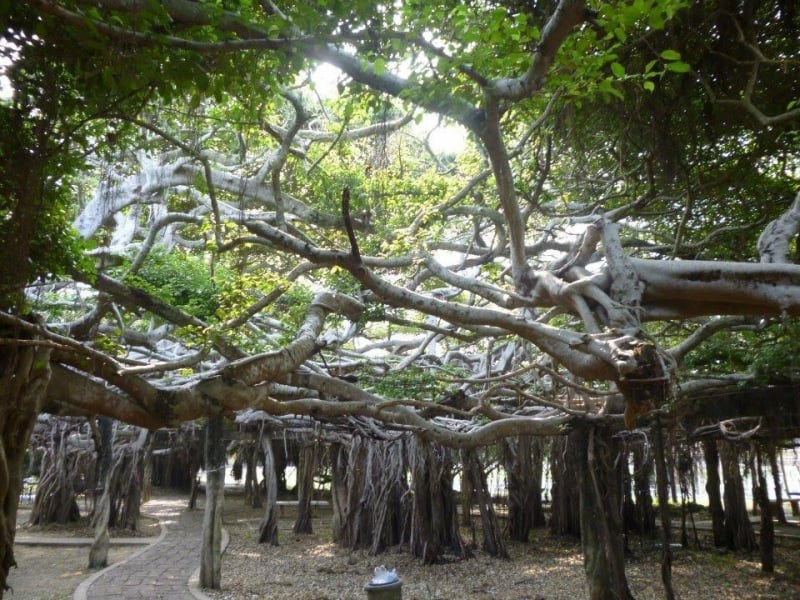 Phimai, in Nakhon Ratchasima Province, is perhaps better known for its ancient Khmer-era ruins, but it has another offbeat gem just waiting to be explored: the biggest banyan tree in the world! Looking more like a forest than a tree, one singular tree spreads out across more than 35,000 square feet (3,251 square metres), its tendrils, roots, trunks, and branches providing an otherworldly area and plenty of shade from the sun.  
6. Pa Hin Ngam National Park, Chaiyaphum
Chaiyaphum boasts the Stonehenge of Thailand, itself quite a quirky attraction. In the province's Pa Hin Ngam National Park, you can also see a strange collection of natural rock formations that resemble known items, objects, and animals. Each rock is named after its appearance, with the most giggle-worthy being the "Erect Penis Stone". You really can't miss it!
7. Phi Ta Khon Museum, Loei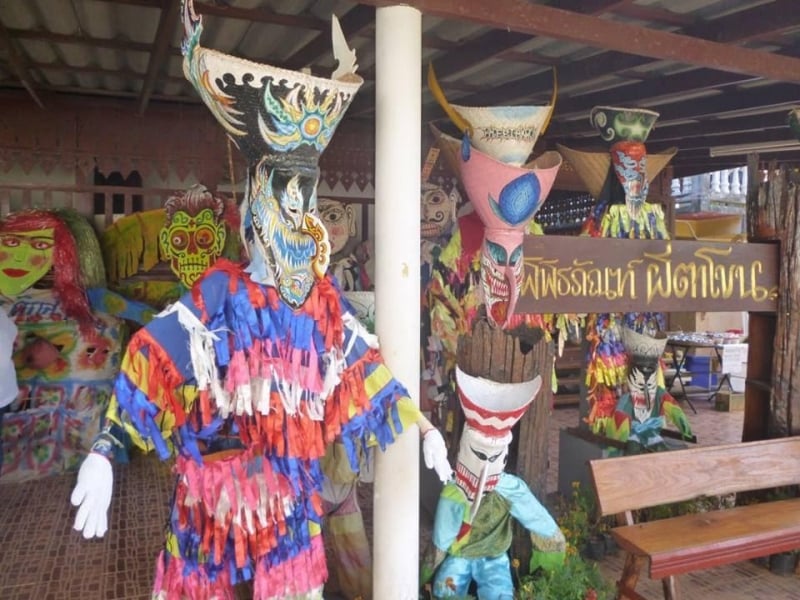 Visit Loei and learn more about the province's belief in ghosts. Every year, locals host a festival, known as the Phi Ta Khon Festival, where people don outlandish costumes and masks to take part in a vibrant parade. The idea is that the festival will help to bring blessings and good fortunes. The festival's dates vary each year, with the precise dates decided by local mediums. If you can't make it for the unusual festivities, visit the Phi Ta Khon Museum instead which is open all year round. There, you can learn more about the festival and see intriguing costumes on display.
8. Wat Saman Rattanaram, Chachoengsao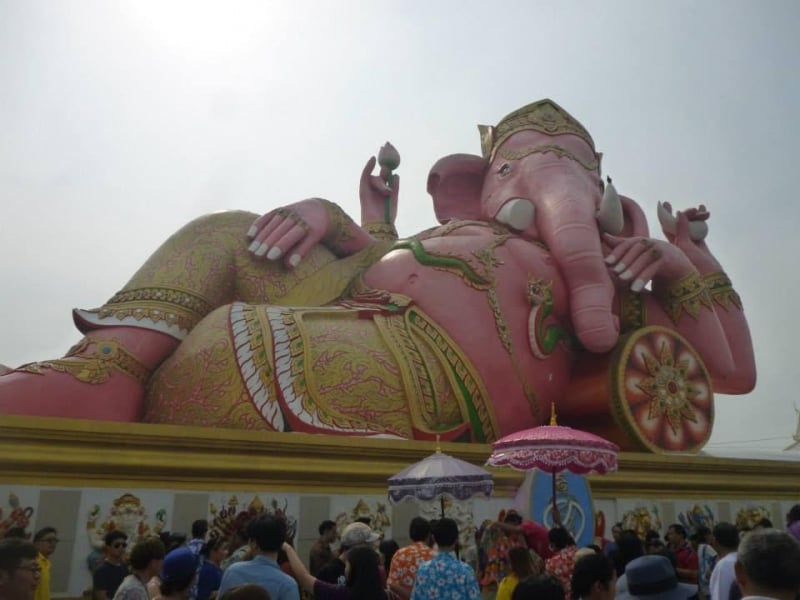 Wat Saman Rattanaram is home to a number of unusual and colourful statues, each paying respect to an array on Buddhist and Hindu deities and spirits. One of the most eye-catching statues is a gigantic reclining image of Ganesha, the elephant god. With a height of 16 metres and a length of 22 metres, it's definitely not an everyday sight.
9. Puek Tian Beach, Phetchaburi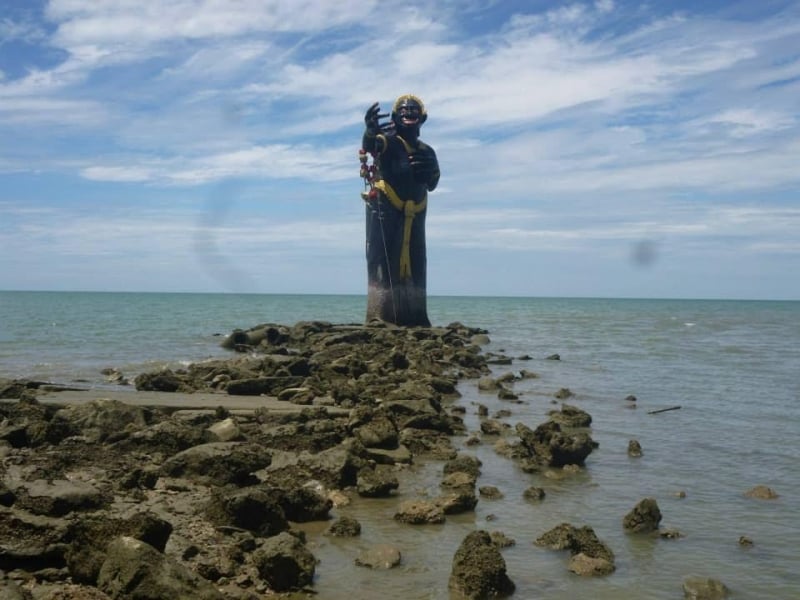 Not far from the popular beach resort of Cha Am in Phetchaburi Province, Puek Tian Beach is home to several unusual statues. Depicting characters from a famous Thai poem, the most unusual is a dark and larger-than-life lady who beckons ominously from her watery position. Her eyes bulge and her ghastly mouth gapes; it's little wonder that many Thais won't actually swim here, believing the waters to be filled with spirits!  
10. Lalu, Sa Kaeo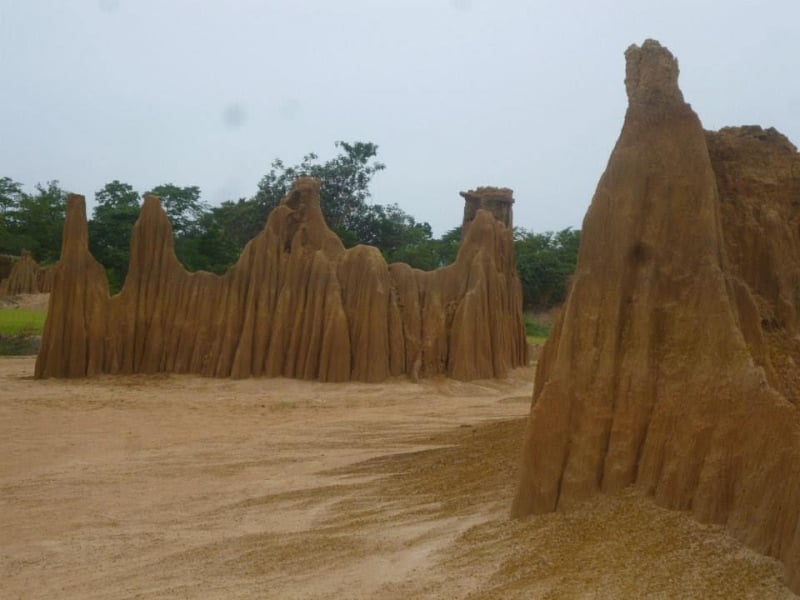 A natural oddity close to the Cambodian border, Lalu is a formation of eroded earth. Strange jagged pinnacles rise from the dusty terrain or, if viewed from above, a strange canyon gorges its way into the earth, filled with odd protrusions. The means of accessing the site is also a little bit unusual and plenty of fun – you must go there along a bumpy road in a cart pulled by a tractor.
11. Bueng Si Fai, Phichit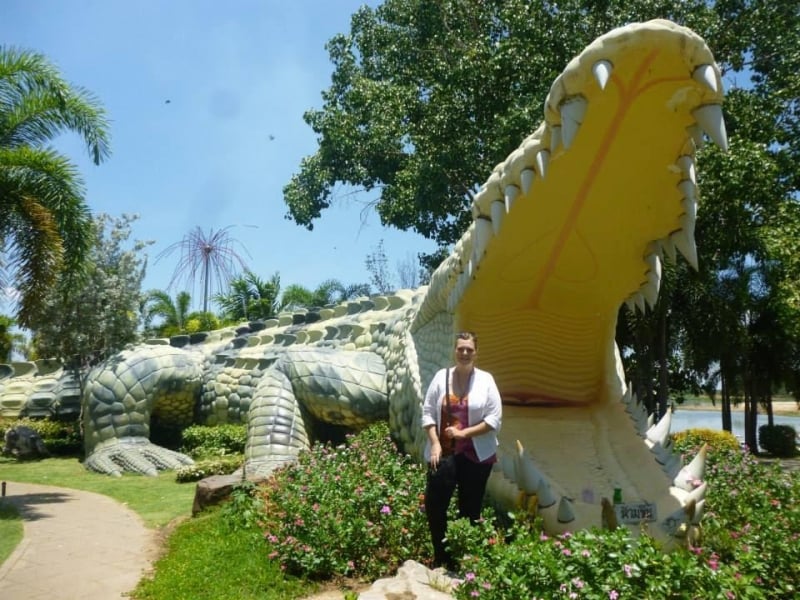 A large freshwater swampy lake, Bueng Si Fai is a local fish breeding site in Phichit. A small aquarium sites next to the lake and there are nice views to admire. Stroll through the adjacent park and you'll come across a huge crocodile statue, its jaws wide open as though waiting to gobble up its next victim. Phichit is known for its crocodile legends, and such sights are common as you travel through the interesting province.
12. Wat Puet Udom, Pathum Thani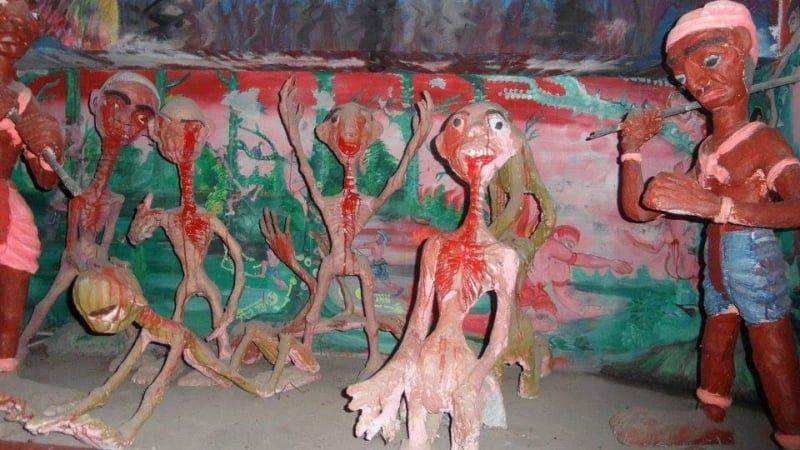 Just a short way outside of Bangkok, Wat Puet Udom is one of Thailand's unusual hell temples. Perhaps a little stranger than the already-odd rest, the gardens of hell here are buried underground beneath the main temple building. Enter through a large open mouth to see what horrific fates await people in the afterlife if they fail to lead a righteous life.
Also read: 9 Unusual Temples in Thailand that Take You on A Journey to Hell
13. Phu Thap Buek, Phetchabun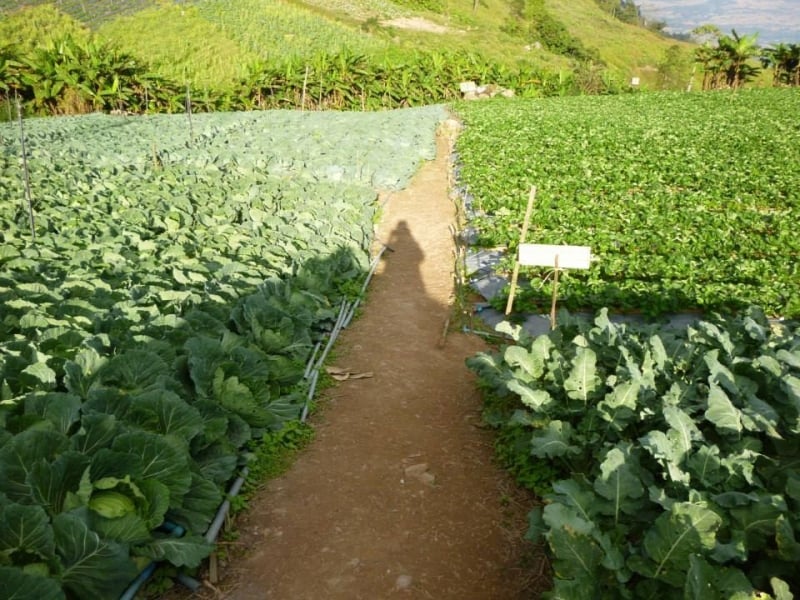 Cabbages stretch for as far as the eye can see up the slopes of Phetchabun's mountain of Phu Thap Buek. The cooler climate and soil conditions in this part of the country make it a prime spot for growing crops that wouldn't survive elsewhere. Where else, though, would you be able to fool around in a cabbage patch in Thailand?!
14. Khao Chi Chan, Chonburi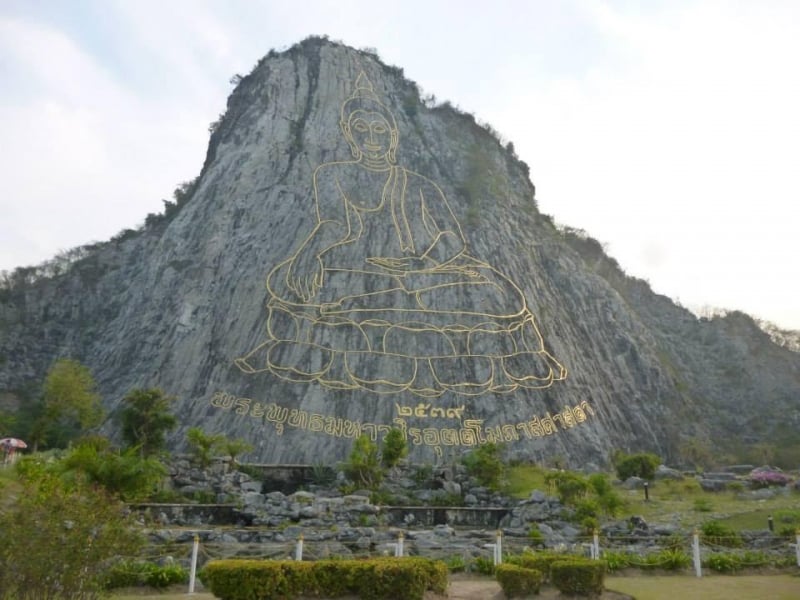 Created to honour the late Thai king, King Bhumibol, on his Golden Jubilee and also to offer apologies for the destruction of the mountains, the striking Khao Chi Chan is a golden Buddha design etched into the side of a mountain.
15. Wat Lan Kuad, Sisaket
What should one do with hundreds and thousands of unwanted glass bottles? Turn them into a Buddhist temple, of course! Taking recycling to a whole new level, monks in Sisaket set about building a place of worship entirely from old bottles. Cement holds the various bottles in place. Small Thai Red Bull bottles, beer bottle, and soda bottles can be seen throughout the complex. Even bottle tops have been used to create murals and other decorative features.
16. Sam Phan Bok, Ubon Ratchathani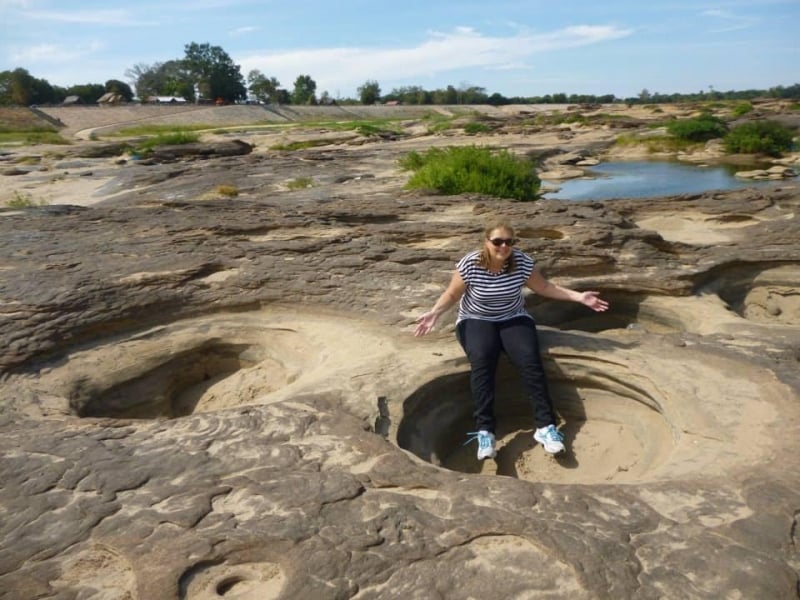 A fantastically obscure natural place of interest in the eastern province of Ubon Ratchathani, Sam Phan Bok is also referred to as the Grand Canyon of Thailand. Only visible in the dry season, it is a series of many holes that have been eroded in the bank of the Mekong River. Exploring the different sized and shaped holes is lots of fun and the terrain looks like something that would be more suited to a different planet entirely.
17. Wat Ban Rai, Nakhon Ratchasima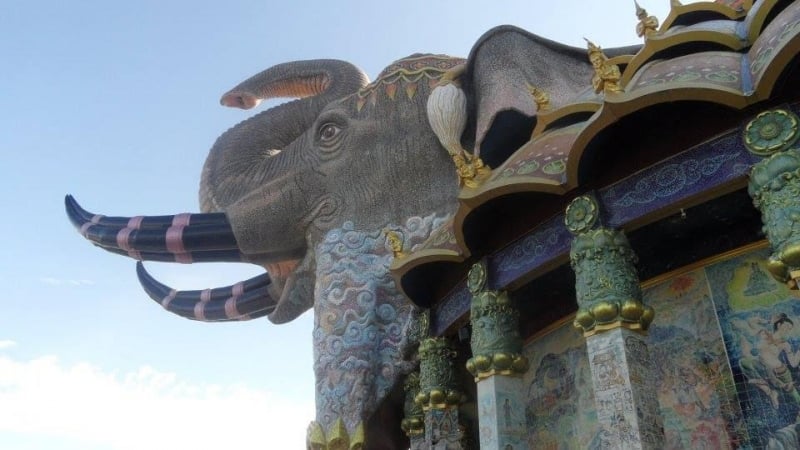 Made using donated ceramics and pottery, the spectacular Wat Ban Rai is in the shape of a large elephant. Wander around the outside of the Dharma temple and admire the myriad details that are colourful, whimsical, and perhaps a little trippy. Sitting on an artificial island, the elephant temple is reached by a short, wide bridge that is flanked by two huge Naga statues. To the right of the temple, down a few steps, are perhaps the most attractive toilet buildings you will ever see in your life! You can follow an art-lined inclining corridor to the top of the elephant and also go underneath for more imaginative art that may make you question what you think you believe about the universe and spirituality.   
18. Sala Keoku, Nong Khai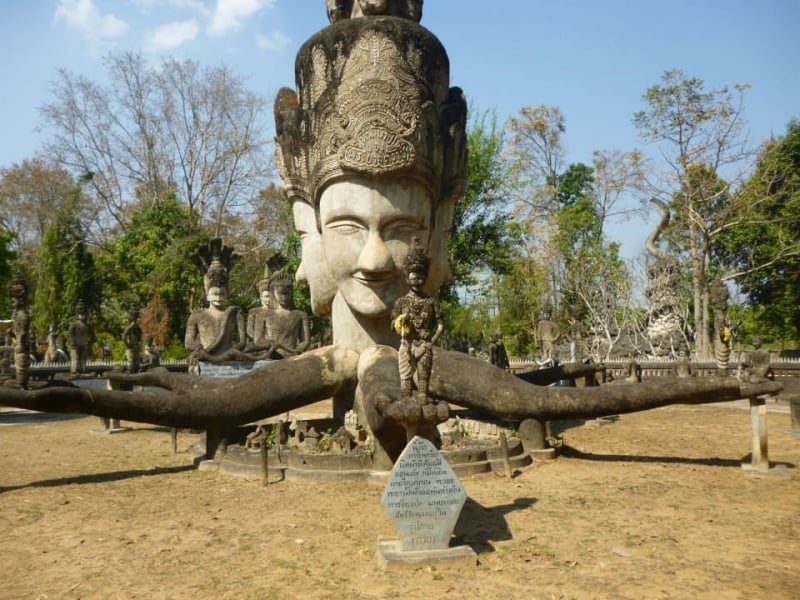 Home to an eclectic and bizarre collection of large statues, Sala Keoku reflects the spiritual beliefs of Luang Pu Bunleua Sulilat, a man who some people saw as insane and others saw as a wise visionary. When you see the creations that came from his mind you may understand why opinions were divided! Combining elements from Buddhism, Hinduism, animism, and fantasyland, it's one of Thailand's most unique religious sites.   
19. Phaya Thaen Public Park, Yasothon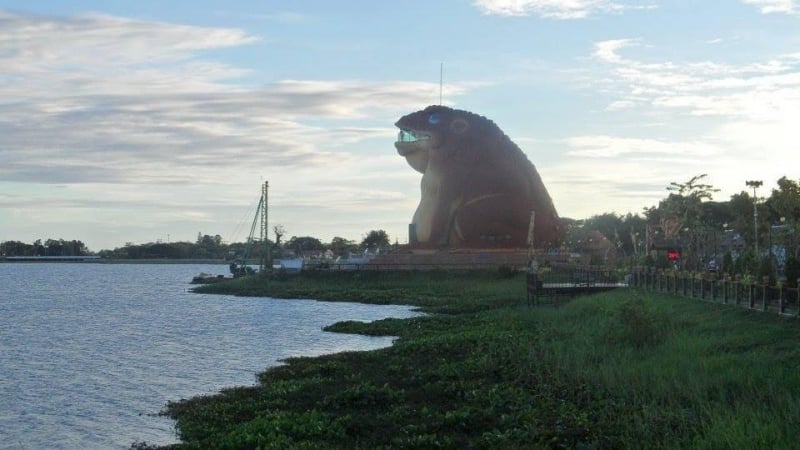 How could people make a peaceful riverside park even more exciting? By erecting a gigantic five-story toad statue, of course! As if that wasn't enough, you can actually go inside the toad and ride the elevator to the viewing platform in its mouth for sweeping views. The park is also home to a large mythical dragon with a belly that's filled with cool artwork.
20. Erawan Museum, Samut Prakan
A large three-headed elephant sits atop a pink pedestal in Samut Prakan. Surrounded by an enchanting garden, filled with interesting statues and large elephants that make strange noises when you pass under them, the creation was the brainchild of a man called Khun Lek Viriyapant. Enter the building and be dazzled by architectural art and splendid features, The stained glass ceiling causes beautiful rays of light to bounce off the grand staircase and there's a blend of spirituality and the cosmos in the upper dome.
Floating markets, sheep farms, dinosaur footprints, unusual accommodations, a Wild West themed attraction park, large displays of shadow puppets, his and hers genital-shaped rocks, a museum dedicated to dead bodies, a cave filled with penis effigies, a lotus-filled lake, a circular temple with a dragon snaking round the exterior, an island covered with black pebbles that's said to be cursed, the mummified remains of monks, a "sticky" waterfall that can be climbed up, and caves filled with unusual rock formations are just a few more of Thailand's many quirky attractions. The country definitely has plenty of variety!