Welcome to Phuket — an island in the Andaman Sea that will mesmerise you with its pristine beaches, vibrant culture, and one-of-a-kind sights! And did we mention that it's the largest island in Thailand? It's more spread out than most people think. So there's definitely a lot to see, do, and experience in this tropical paradise! 
That said, here are the best things to do in Phuket for your first visit! Ready to book that trip and discover what this island has to offer?
Also read: 10 Airbnb Villas in Phuket for an Unforgettable Trip
1. Make your way to the Old Town
One of the first things to do in Phuket upon arriving? Head over to Phuket Old Town — yes, way before you make a beeline for the more touristy Patong or other beaches. The Old Town offers a more authentic experience drenched in a lot of colonial history. In this historical side of town, you'll find rows of colourful Sino-Portuguese mansions and townhouses. Similar to the ones in Singapore, most of these structures have been converted to boutiques, museums, restaurants, and hipster cafés.
Phuket History
The relatively chill vibe of the place makes it an ideal first stop, before all the other livelier (or wilder) Phuket attractions. Think of it as a calm pitstop before the storm — but also quite the Instagrammable destination. There's the Thai Hua Museum, housed inside a well-preserved colonial mansion. Here, you can learn more about the Peranakan Chinese immigrants of Phuket and their lives during the tin-mining era.
The Memory at On On Hotel is also worth checking. Not only is it the oldest hotel in Phuket, but it's also a famous Hollywood movie setting. If you've seen The Beach, you'll recognize this from the movie's opening scenes featuring Leonardo DiCaprio! On the neighbouring Thalang Road lies China Inn. Aside from a café, it's also a vintage furniture store that boasts of a stunning brick-red facade, intricately patterned Chinese lacquer, and a Feng-shui inspired backyard.
Phuket Cuisine
Oh, and you've got to try some Phuket cuisine! It's mainly influenced by Chinese Hokkien cuisine, along with some hints of Indian and Malaysian spiciness. And here in the Old Town, you can taste the best of it. Crowd favourites One Chun Cafe & Restaurant and Raya are owned by the same family, but the similarities end there. The former specialises in spicy Southern Thai cuisine, while the latter offers Phuket dishes that are on the sweeter side. 
Meanwhile, the decades-old Lock Tien is hugely popular among locals and tourists alike. Try out their oh eaw, a shaved ice dessert topped with different ingredients — perfect for beating the tropical heat. And then there's Ko Ang Seafood, where you'll find both fresh traditional seafood and exotic dishes. Don't worry, all of these taste 10 times better than they look! 
2. Live your best life in Patong Beach
The famous resort town of Patong is known as the heart of Phuket. From the countless watersports and shopping spots, to its vibrant nightlife scene, Patong is constantly teeming with young, restless energy. Whether it's on the sandy shores or somewhere along the town streets, this Phuket attraction is anything but boring.
Bangla Road
Otherwise known as Soi Bangla, it's hands down the ultimate Phuket party zone. Along this street, you'll find countless neon-lit bars, clubs, market stalls, and even public performances.  Once the sun goes down, Bangla Road is limited to pedestrians only, so walking around here at night is definitely easier. Though, a fair warning: it's almost always loud and crowded, so introverts might want to charge up their social batteries earlier in the day. 
Paradise Beach
A mere seven kilometres from Patong Beach is Paradise Beach. It's one of the most popular beaches, and there's quite a lot you can do here both day and night. Since jet skis aren't allowed to get too close to the beach, you can have some quiet relaxation in the day. Opt for a spot underneath the palm trees and tropical almonds, and bask in the Phuket sun.
In Paradise Beach Club especially, you can try different watersports such as snorkelling, kayaking, and paddleboarding. For a rather different beach activity, you can enjoy swinging from a rope attached to a tree branch, before jumping into the water. And then at night, it turns into a hotspot for lively beach parties. The most popular one is the Full Moon Party series, which are held thrice a month: on the evening of the full moon, half-moon, and new moon. How cool is that?
Freedom Beach
This hidden gem offers a nearby escape from the crowd and noise of Patong. It's a bit secluded and not easily accessible; you have to either trek through a jungle or take a boat ride to come here. Either way, you'll be rewarded with a quiet, pristine beach where you can leave your worries. It's a welcome change from the loud music and restlessness at the rest of the district. 
3. See the Big Buddha up close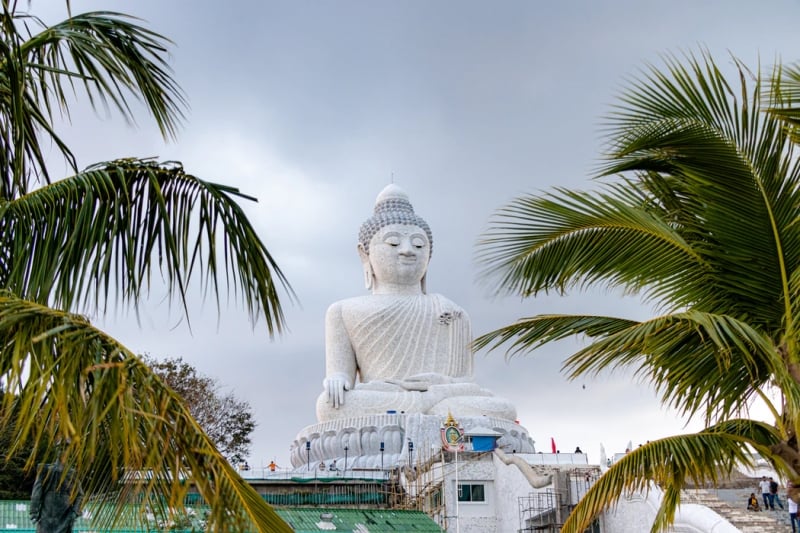 Though the Big Buddha can be seen from almost anywhere in the southern part of Phuket, the close-up view on top of the Nakkerd Hills is still a must-see. The peak offers panoramic views of the mountains and the Andaman Sea. To get there, you have to climb up 94 steps (don't worry — the stairs are relatively easy). The surroundings are mostly quiet, apart from the sound of dharma music and bells. 
The marvellous statue is 45 metres tall and made out of Burmese marble that glints in the sun. Next to the statue, you'll see a smaller golden image made of solid brass. And did you know that this Phuket attraction is also a functioning Buddhist temple? Definitely something to add to your things to do in Phuket! 
4. Visit the vibrant Wat Chalong
Both a temple and historical landmark, the Wat Chalong serves as the spiritual centre of Phuket. While walking around the place, you'll find many impressive structures painted in gold and other vivid hues that are hard to miss. There have also been many claims of miracles happening in this temple. 
One of the most important Buddhist statues is Poh Than Jao Wat, found inside the old hall of the temple. Alongside it are two statues of an elderly gentleman named Ta Khee-lek. According to history, he was a local who became famous for winning many lotteries after visiting the Poh Than Jao Wat statue. 
And then there's the Grand Pagoda, which many deem as the highlight of Wat Chalong. This splendid 60-metre-tall glint-covered structure even contains a small splinter from the bones of Buddha himself! Inside, the pagoda is decorated with paintings depicting the life of Buddha.
5. Go island hopping in Phang Nga Bay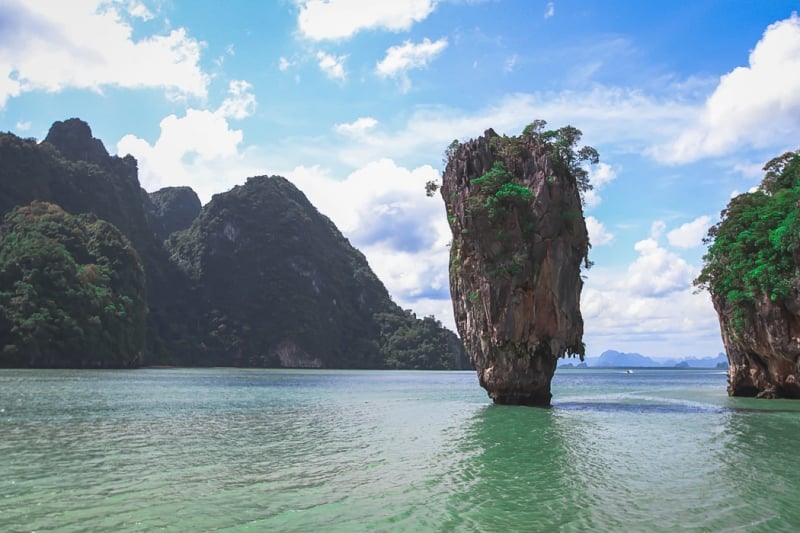 Hop on a speedboat for a day trip to some of Phuket's paradise islands. There are quite a number of tours to choose from! Make sure to put Phan Nga Bay on your list of things to do in Phuket. It's home to around 40 different tiny islands, dotted with exotic caves, idyllic lagoons, limestone cliffs, and lush mangroves. 
Khao Phing Kan (nicknamed James Bond Island) is often the highlight of Phang Nga Bay island hopping. It became a famous Phuket attraction after appearing in the James Bond movie titled The Man with the Golden Gun. From its shores, you'll spot the Ko Tapu — the signature limestone tower with some small caves inside. Meanwhile, in Thalu Island, you can rent a kayak and paddle your way through the sea caves and mangrove forests of Tham Than Lot. Don't forget to visit the charming nearby village in Koh Panyi. Home to a Muslim fishing community, this island features colourful stilt houses and even a floating football pitch.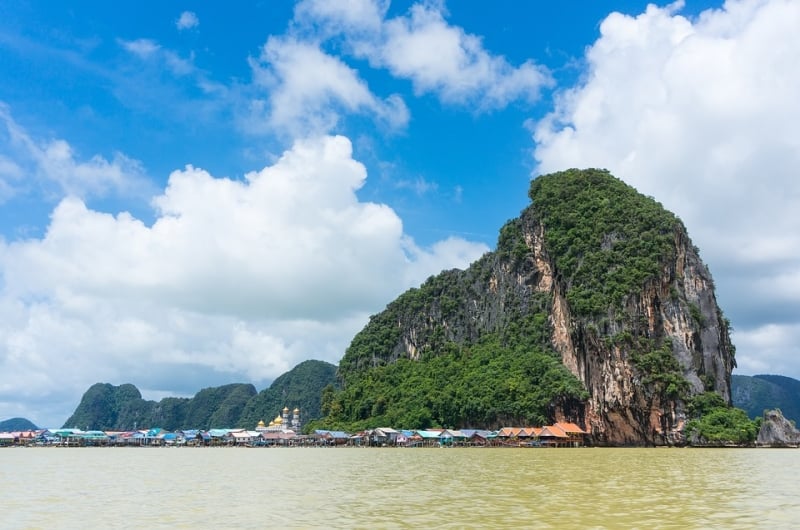 But perhaps the great thing about Phang Nga Bay is that its location naturally protects it from bad weather during monsoon season. No wonder it has maintained its tropical splendour through the centuries! 
6. Climb up these hills for the most spectacular views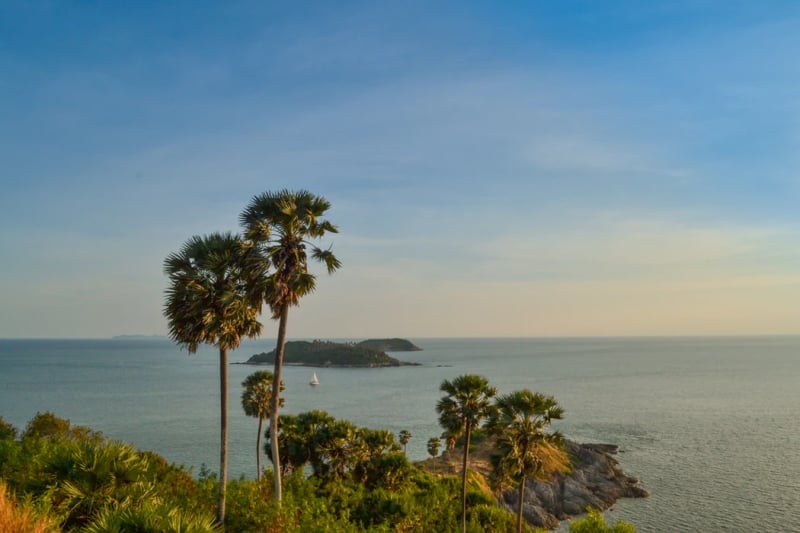 Whether or not you're an outdoorsy traveller, the best place to enjoy the full gorgeous seascape is from a hilltop viewpoint. Don't get me wrong — scenic views on this island are far and plenty. But none can compare to these two Phuket attractions: Karon View Point and Promthep Cape. 
Karon View Point showcases a panorama of the Andaman Sea on one side, with its crystal-clear waters glistening under the Phuket sun. On the other side, you'll see these three beach coves placed side by side: Kata, Kata Noi, and Karon. And then there's Promthep Cape, the southernmost point of Phuket. Take in the sight of lush palm trees and nearby islands,  as well as the majestic waves crashing against the shore. It's the best place in Phuket to watch the sunset! 
7. Explore an underwater paradise in Similan Islands
Take a day tour to the Similan Islands, an archipelago of 11 islands about 100km north of Phuket. While it doesn't have the dramatic limestone-dotted scenery of Phang Nga Bay, it does feature striking granite boulders and tropical forests amidst coral-sand shores. On Island No. 8, you'll find the famous Sailing Boat Rock. But  the islands' real crowning glory is actually underneath the waves. 
Similan Islands has some of the best scuba diving sites in the world. From vast coral reefs to impressive marine species and a few shipwrecks, this underwater escape is all kinds of wonderful. For some divers, a day tour here is simply not enough, so it's a good thing there are liveaboards available for rent! 
Diving season is from late October to early May. But for optimal conditions, come here in March for the best visibility and minimal to zero wind. If you're lucky, you can also spot the rare whale sharks and manta rays around this time. Get ready to do some serious underwater photography. 
Also read: 10 Epic Diving Spots In The World To Include in Your Bucket List
8. Witness Phuket's hippest at Chillva Market
Forget the other tourist-trap night/weekend markets. If you want to experience Phuket like a local, Chillva Market is where it's at! It's especially popular among the young crowd, with its trendy semi-bohemian vibe, chic fashion stalls, and interesting food concepts. Many shop fronts are housed in upcycled shipping containers, painted in the most vibrant shades. 
Best time to visit is from Thursday to Friday when the flea market and hawker stalls are all present. Score cool vintage pieces and local designs — you'd be pleasantly surprised that there aren't many counterfeits here! In fact, most of the stalls here are owned by young entrepreneurs. Pretty awesome stuff. 
Also read: Eat the Streets: 7 Night Markets in Southeast Asia for Street Food and Neon-Lit Views
9. Take a Thai cooking class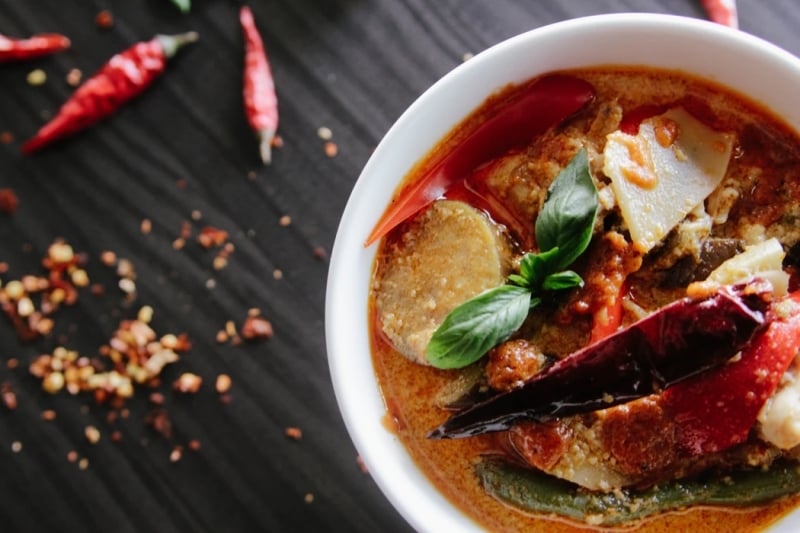 What better 'souvenir' to bring home with you than actual recipes of your favourite Thai dishes? And this time, you'll surely be doing it the authentic way! Discover the secrets of Thai cuisine straight from a local chef — from the ingredients to cooking techniques. 
There are many cooking classes around the island. The most popular ones are from the Blue Elephant, Phuket Thai Cooking Academy, and Dusit Laguna Phuket. Courses range from basic introductions to intensive classes, so there's no excuse to not add this to your list of things to do in Phuket! The part where you get to eat what you just whipped up is the cherry on top. Yum! 
10. Commune with the elephants of Phuket Elephant Sanctuary
No tricks or tourist rides here — just elephants being, well, elephants in a safe and loving environment. The Phuket Elephant Sanctuary is all about ethical tourism for Thailand's national animal. It provides these gentle giants with a refuge from poachers and logging camps, as well as a great way to interact with tourists who want to meet them. They're quite intelligent and sociable creatures, after all! 
Learn about the elephants' plight and rehabilitation, then get to know them more. You can also feed or simply observe them as they enjoy their well-deserved freedom. All the while not disturbing their natural patterns, of course. If you're a responsible traveller (as we all should be, really), then go on and add this to your list of things to do in Phuket! 
Note: Phuket Elephant Sanctuary does not allow bathing with the elephants, as to avoid disturbing their private ritual. However, there's an Observation Sala overlooking the mud ponds, so you can still see the elephants enjoying their bath time! 
Also read: 10 Fun & Free Things to Do in Phuket
You're definitely in for a great time on Thailand's largest island. Make sure you try all these things to do in Phuket, especially if it's your first visit! Which one of these are you looking forward to the most? Go on, book that trip soon, and #MakeTravelHappen!