Contributed by Fly Honey Stars
Hua Hin has been a destination that had been on my to-go list for if I were to make a trip to Bangkok. Can't really recall what I loved or wanted to see back then but all I knew was that it is the King's favourite vacation place and it is also a place well-loved by locals. Earlier this year, I chanced upon this place called "Santorini Park" which was a replica of Greece's Santorini, and I badly wanted to visit this place. It was at Cha-am, a short drive from Hua Hin. #yolotrip
Also read: 7 Great Places to Visit in Hua Hin, Thailand's Royal Town
My last visit to Bangkok was back in 2010, where the airport railway was not completed and we got stuck in very bad traffic on our way to the airport as it started pouring suddenly. We ended up missing our return flight and had to buy last minute tickets for the next flight out of Bangkok. That one-way ticket was more expensive than our two-way tickets.
Alright, bad memories aside, I'm glad to say that I finally had the chance to step into Bangkok again, and that many things have changed and improved for the better. Since we only planned for 5 days in Thailand, we had to split 2 nights for Hua Hin and 2 nights for Bangkok.
Do note that Cicada Night Market (the famous artsy night market in Hua Hin) only opens during the weekend (Fri, Sat & Sun) and that was one of the key factors we had in mind while planning our trip.
Here's the summary of our Hua Hin itinerary in case you don't wish to read the entire lengthy post.
Day 1 – Thursday
Flight landed approximately on 2:45pm at Bangkok Suvarnabhumi Airport
Shared a taxi with 2 other people after failing to get a seat on the 3:30pm Hua Hin Airport Bus
Reached Hua Hin approximately at 7pm
Checked in to Stonehead accommodation (not exactly a hotel)
Visited Hua Hin Night Market
Day 2 – Friday
7-Eleven Breakfast
6 Hours Hired Driver – visited Hua Hin Railway Station, Santorini Park, Camel Republic, Plearn Wan Vintage Market, Hua Hin Beach
Visited Cicada Market+Tamarind Market
Day 3 – Saturday
7-11 Breakfast
Hua Hin Bus Terminal – 8:30am bus back to Bangkok Suvarnabhumi Airport
DAY 1
There are only THREE OPTIONS to travel from Bangkok to Hua Hin:
1. Take the Airport – Hua Hin Shuttle (274B)
2. Minivan from Victory Monument (150B)
3.Taxi from Airport to Hua Hin (2500B)
The airport shuttle was the most logical option for us as we were planning to visit Hua Hin immediately after arriving in Bangkok. The only issue with this option was that their buses are infrequent (2 hours frequency) and that each bus can only accommodate 24 people as it is a VIP bus. To make this simple, we could have pre-bought the tickets beforehand to secure our seats but the risk was that these bus tickers are not refundable. Budget airlines are subject to delays 40% of the time and we did not want to forfeit our money if we couldn't make it in time (There was only an 1 hour window period from our scheduled ETA to the bus timing).
Despite reaching the shuttle bus counter approximately 30 minutes before the scheduled bus departure, we were informed that seats for the 3:30 bus was sold out and the next available bus was at 5:30pm. It was either a 2.5 hour wait or taking a train to victory monument for the Mini Van option (which as our backup plan). However, the woman at the counter was kind enough to link us with the previous couple who couldn't get tickets for the 3:30pm bus too. As the couple was walking away, she called them back and advised us to share a taxi since there were 4 of us. She told us the taxi fare was about 2,000B.
After a short discussion with the couple, we agreed to share a cab down to Hua Hin. Travelling down to Victory Monument will waste approximately 45 minutes of our time and furthermore this minivan option did not seem very straightforward. Other considerations we had was that we were going to have to spend money on a taxi from the drop-off location to our hotel anyway.
There was no special queue for long-distance taxis at the airport. I'm not sure how the taxi queuing system works in Bangkok Airport but I don't think taxi drivers are allowed/willing to reject a customer. We had to take a queue number from a machine and wait at the specific numbered lot for our taxi to arrive. We were hoping that we could be lucky enough to get an SUV taxi or something but we ended up with a normal-sized one.
The taxi driver told us that it would be 2,500B to Hua Hin (not the initial 2,000B) and he brought out this signage in his car and tried to explain to us but obviously we couldn't understand. We entered the car despite not finalising the price but we managed to communicate (somehow) to send us to two separate hotel locations. He kept his taxi meter on throughout the journey and the numbers did end up showing close to 2,500 and we ended up paying him 2,600B in the end.
Although I was sitting on the front seat, the aircon was pretty bad at least for the first 20 minutes of the journey as it was very hot outside. The taxi was pretty old and I felt quite cramped in the front seat. I didn't dare to adjust my seat back either as the people at the back could be feeling worse. So it was kind of like a cramped environment for the next 3 and a half hours.
My friend managed to get a data card (299B; 7 days unlimited) at the airport and I turned on my Google Maps and routed the route in case this taxi driver was trying to scam us or whatsoever. I even took a photo of his license and name in case we faced any issues along the way (Good habit to practice as you can report unscrupulous taxi drivers to the authorities. In fact, letting them know that you are taking a photo can also deter them from doing anything bad, hopefully.)
The driver was a little weird in the beginning as he kept making phone calls (thankfully on earphones). I was kind of suspecting that he did not want to do the long drive and was trying to pass us off to another driver but whatever it was, that did not happen.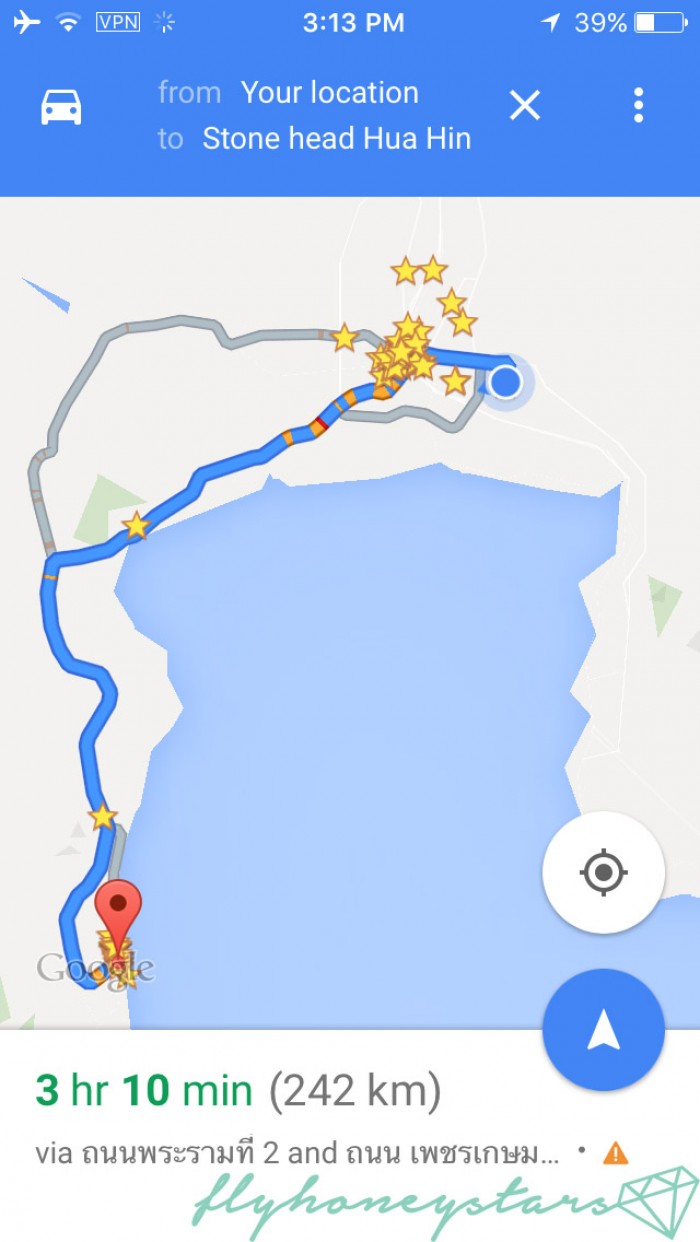 It was a scenic drive that afternoon as the skies were blue and the clouds were white and fluffy. Everything was a lot better in comparison to the grey and hazy sky back in Singapore (PSI hit hazardous levels and schools were closed the following day.)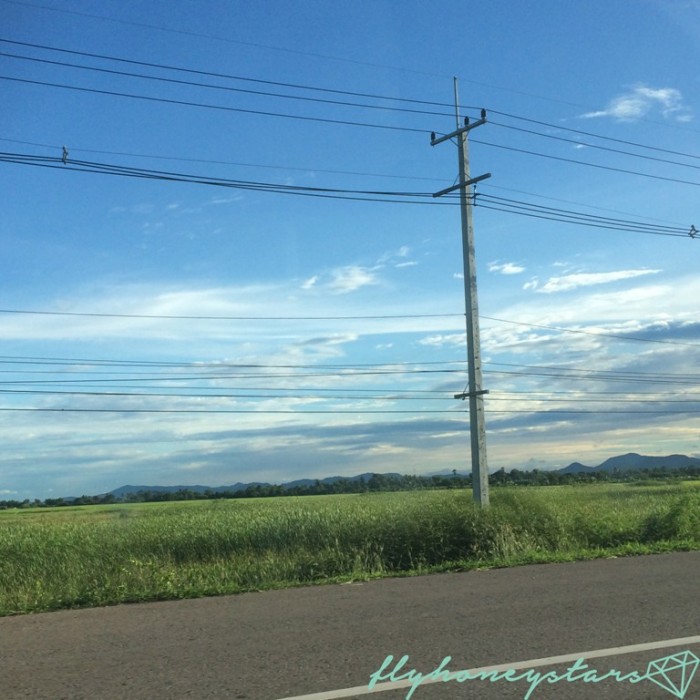 We had a rest stop at a 7-Eleven approximately 2 hours into the journey. We were starving damn badly and I bought a kimbab (seaweed rice grilled salmon wrap), a drink and Bangkok Banana (tasted pretty average to me but I do know of people raving about it).
The couple's hotel was located in Cha-am and the address was not as straightforward. The driver had to call their accommodation twice to ask for directions. We spent about 20 minutes de-touring to find their hotel. The couple paid us 1,250B when they alighted; I guess a part of us know that 2,500B was a reasonable amount given the distance he was driving and the distance he had to drive to return to Bangkok.
We stayed at Stonehead Hua Hin, a relatively new trying-to-be-but-not-a-hotel accommodation. According to reviews, it was newly opened in March this year and the ratings are about 8.2/10 which is very decent given the price that we paid – $42.11/night for twin beds.
It has a 24-hour front desk with a staff that speaks decent English, a standby bell boy ready to carry our luggage upstairs (no lifts), and a sensor RFID room key. Free breakfast was just bread and jam, tea and coffee which I forsook for the 7-Eleven option 1 minute walk away.
This accommodation is not near the main area (Hua Hin Night Market). It is nearer to Cicada which is a 15 to 20 minute walk away. I don't really encourage walking to and from Cicada at night as the smaller roads can be quite dark.
Alright so, after checking in and changing into more comfortable clothes, we headed out to the main road hoping to flag down a tuk-tuk. As the hotel was not located in a touristy area, we had to walk for about 5 minutes before seeing a tuk-tuk. It was the only tuk-tuk within our sight and we couldn't bargain against the 120B he charged us. It was barely a 10 minute straight road drive down yet we had to pay SGD$5 for the ride.. Welcome to the outskirts of Bangkok; everything is cheap except transportation (Remember we paid 500B for a 30 minutes ride in Krabi and it was "market rate").
The beauty of tuk-tuks is that each driver spends effort in decorating their vehicle to make it unique and attractive for the tourists. Some will play loud music while others have disco balls or themed stickers (we had one which had transformer stickers).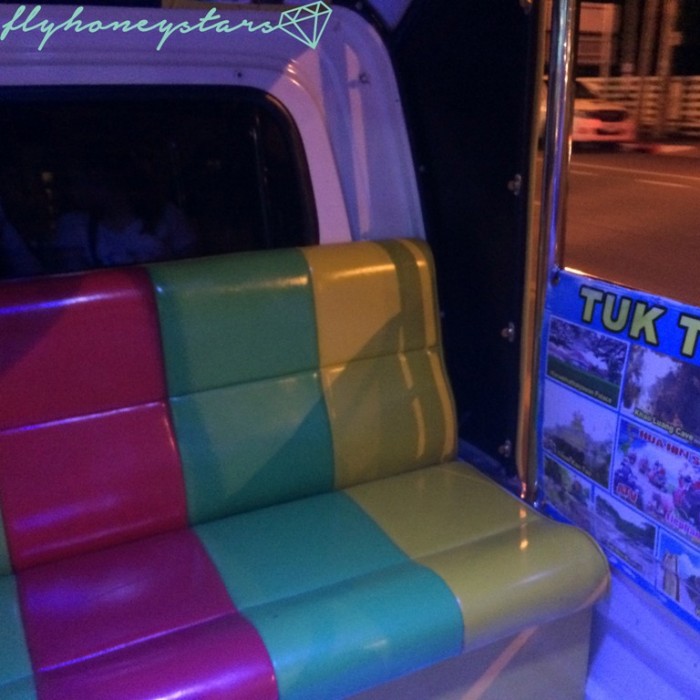 As it was a Thursday night, there wasn't much crowd which was a good (no squeeze) and bad (no atmosphere) thing.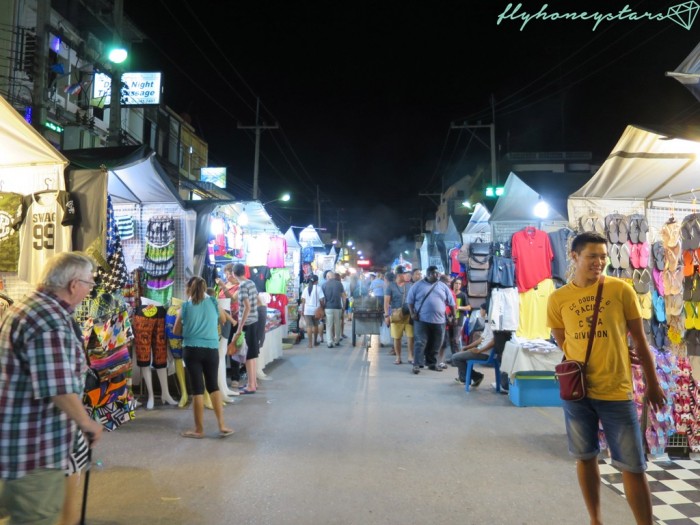 First Dish of the night in Hua Hin – Char-grilled Pork (neck). It was called Moo (meaning pork) something and the price is by weight. Initially, we ordered 100B and he was weighing such a huge serving and we quickly told him to give us only half at 50B. It was $2 for that bowl of char siew with an interesting Thai-style chilli sauce. Awesome, ain't it?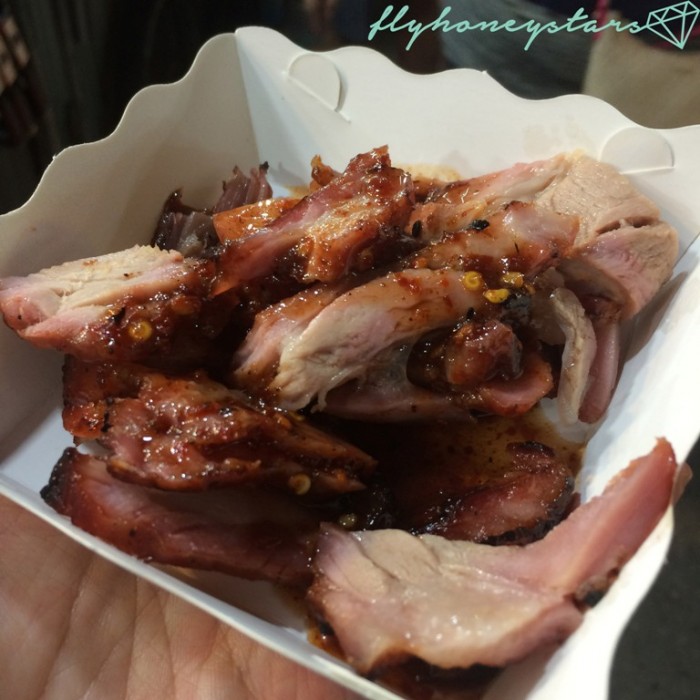 Although it was only our first night and we shouldn't really be spending too much on the first day, I wanted to eat a lobster. It was 1,300B/kg and we chose a 500g lobster with 2 giant red-legged prawns, totalling the bill to 1,000B.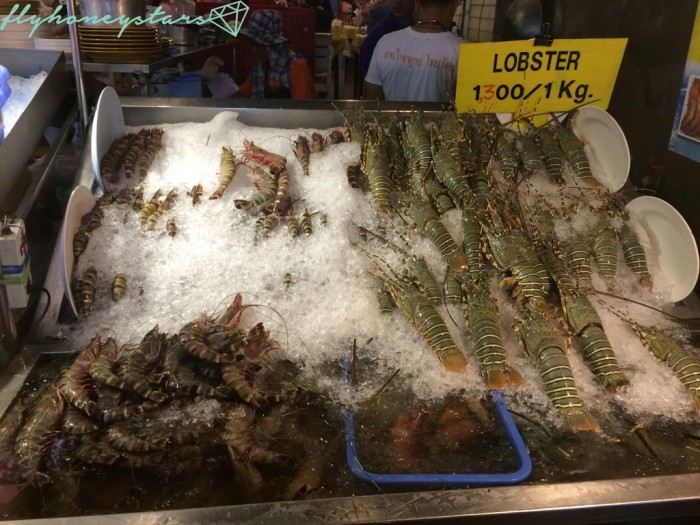 We chose Rod Fai Restaurant as it was one of the few shops which displayed their prices openly. It was pretty full (with tourists) and we were lucky to get a seat without waiting.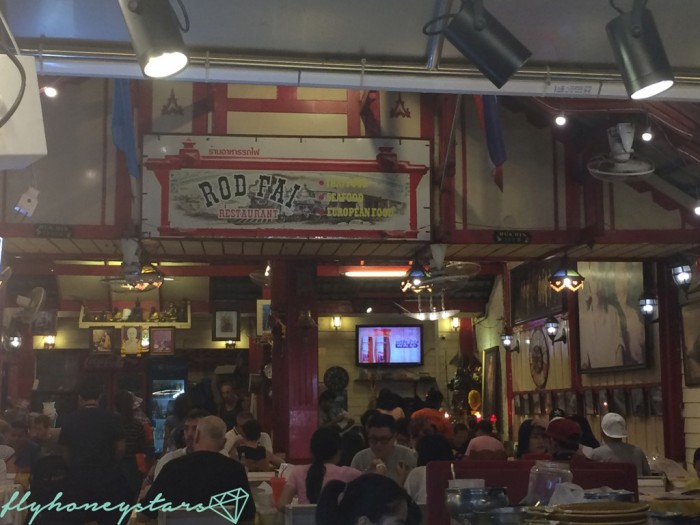 Here's their open kitchen which doesn't look hygienic by modern standards. I guess it's good to be exposed to some germs once in a while to build up your immunity system =p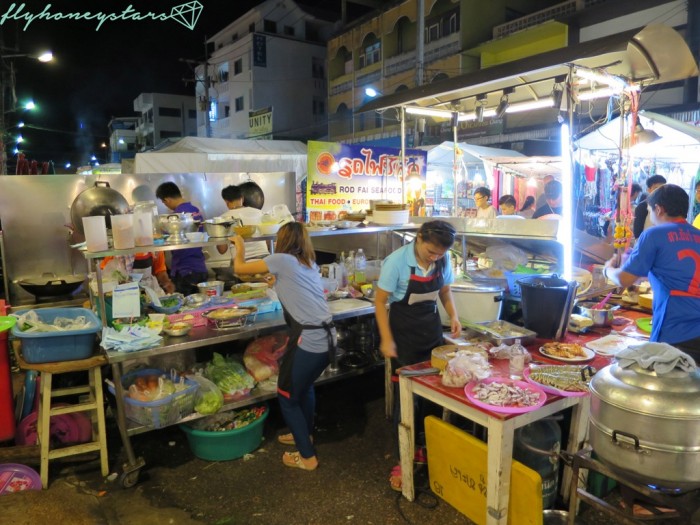 There were many types of cooking styles for seafood. You can choose from grilled to baked to BBQ to fried and the list goes on.
Here's our 500g baked lobster. I somehow wished I yolo-ed away and choose something bigger. The lobster meat was juicy and sweet – definitely satisfying but I can't really compare it against to the ones in Singapore as I don't usually eat them.
Same case for prawns – all I can say is that it is tasty (lower benchmark against the lobster) but it didn't leave me with a die-die-must-try feel.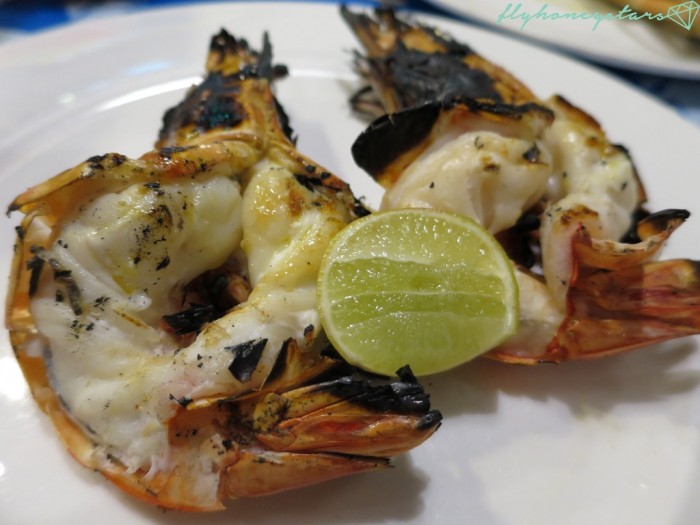 Baaaa. We spent 1,000B ($40) on only 1 lobster and 2 giant prawns. We should have spent more and eaten the calamaris and clams and mussels and everything else but.. it was our first day after all.. our spending power is not so generous yet =p
Here's another seafood restaurant – Lung Ja. You don't have to worry about not being able to find the stretch of seafood restaurant. It is all one line down and I think it takes less than 15 minutes to walk through the night market without stopping.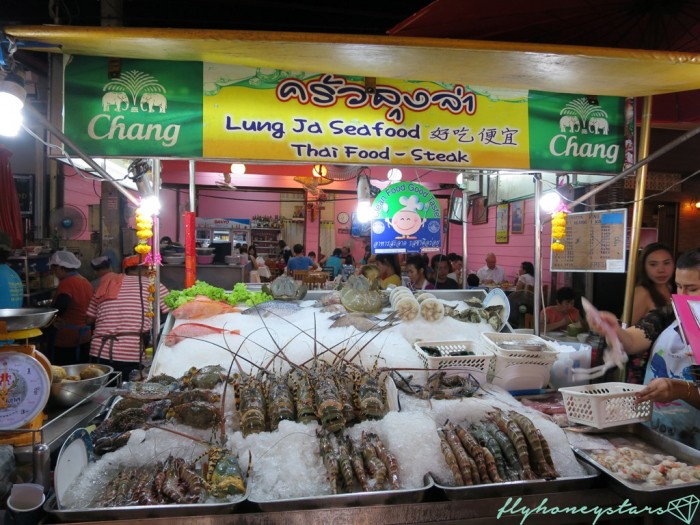 There's always room for dessert! Here's the popular rotee snack which we last ate in Krabi's night market.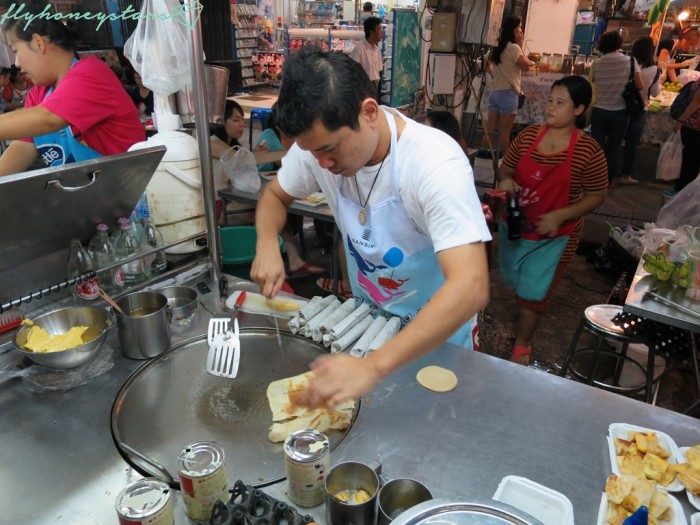 We ordered the Nutella/Banana combination for 50B. Aesthetically, it was nowhere near Krabi's standard but taste-wise it was unhealthily tasty. Nothing goes wrong with fried stuff =D
The Night Market was pretty standard in selling the usual items like T-shirts, caps, souvenirs etc. We were attracted to the two postcard shops as they had chops available. We bought like 2 postcards from 10/20B each and we spent like 10 minutes using their chops. I even chopped my personal travel notebook.
I only managed to buy some T-shirts (price ranging from 100B to 180B) and a fake but decent quality havianas slippers for 170B. 10 years ago, I visited Chiangmai and went crazy over the 100B shirts which was approximately $4.40 back then. 10 years later, the shirts are still selling for 100B shirts, yet with even better quality! #thankyouchinaforexports
The other store (apart from the postcard) which stole our attention away was this "Hammer Name" shop which sells customised accessories with your name "imprinted", or rather "hammered-in". The best part? There are no limits to the number of alphabets and if your metal is a square block, you can event request for imprints on more than one side!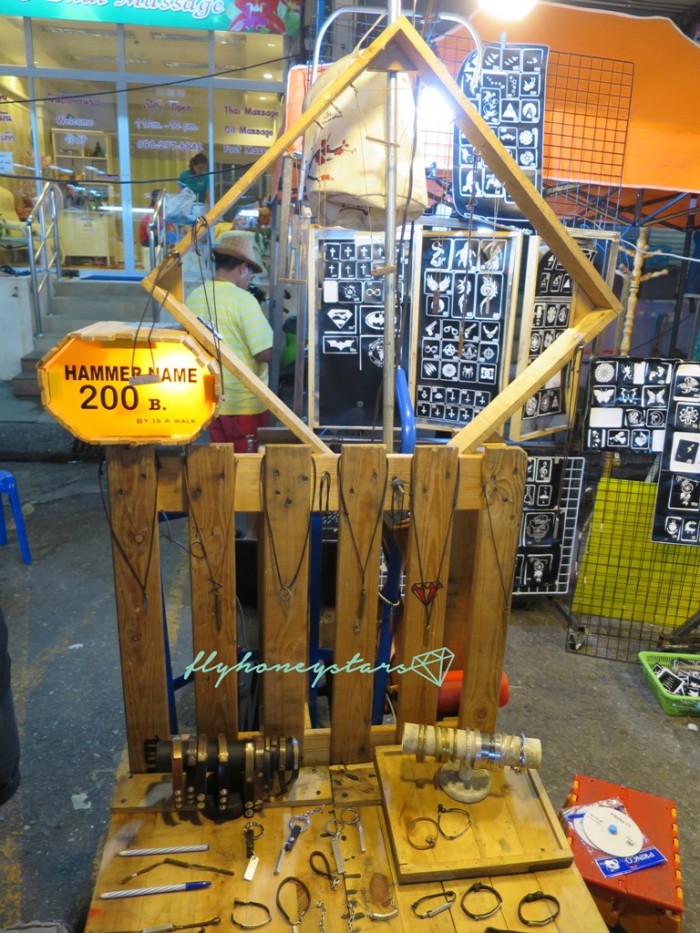 There were many bracelet designs to choose from – flat metal, block metal, thin strap, thick strap, string strap and faux leather strap. We only had to wait 20 minutes and they will measure your wrist against the item before cutting the strap. The result? Mine was a perfect fit with 13 alphabets hammered into a rectangular block with expensive looking faux leather strap with buttons. I cannot describe the amount of satisfaction I received for this 200B. Being very kaypoh, I went over to the back of the shop to see their factory. The equipment was simple – blocks of alphabet templates, hammer, plyer, saw, sandpaper and a drill-hole machine.
My hammer name bracelet 😀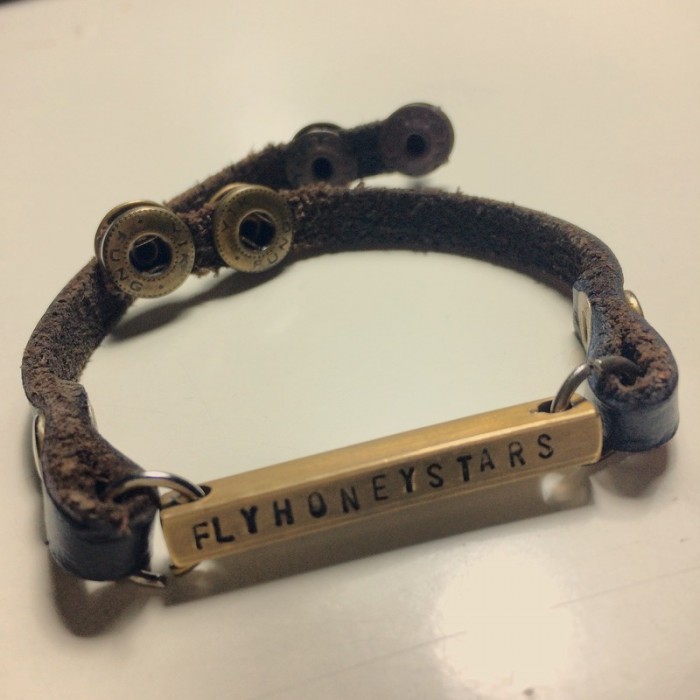 There was another area of the night market which is called Chatsila Night Market. It is a semi-sheltered area which is cleaner and has nicer deco. There are seats available for you to take a break if you get tired.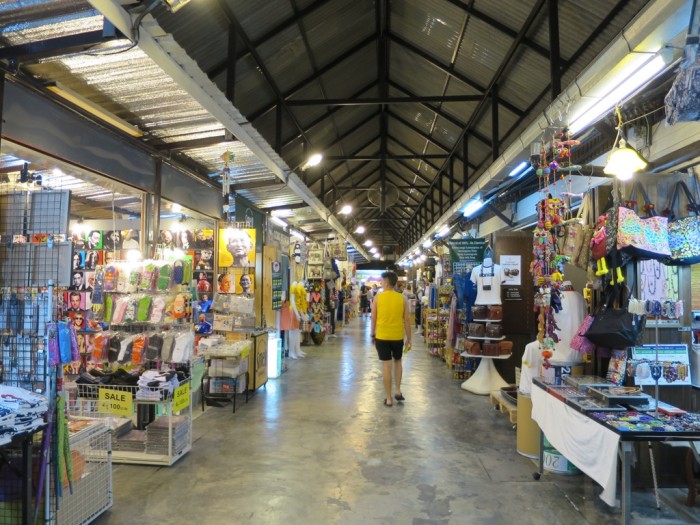 I think we spent about 2 hours or less at the night market.
We were quoted 150B for a Tuk Tuk back to our accommodation. I told the driver that we paid 100B (in actual we paid 120B) for our trip here and no way we were paying more than that for a trip back. Initially, we thought he didn't want to accept our offer and were planning to ask another driver but he grudgingly directed us to his Tuk Tuk and drove at turbo speed back to our accommodation. I guess he was pissed with our haggling and drove so fast that I had to hold on to the bars to feel safe =/ Well, we reached our accommodation without any hiccups and paid only 100B.
DAY 2
Here's my breakfast from 7- Eleven: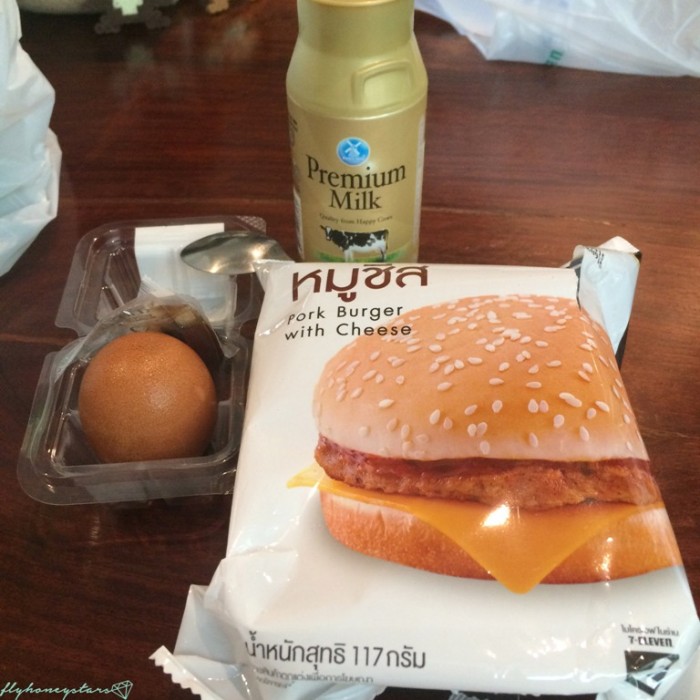 I really like the Premium Milk taste as it has this light taste which reminds me of Hokkaido milk. It is priced at 25B a bottle and I think I drank it 3 times for breakfast =p
Tried this onsen egg thing but it was slightly too cold for my liking.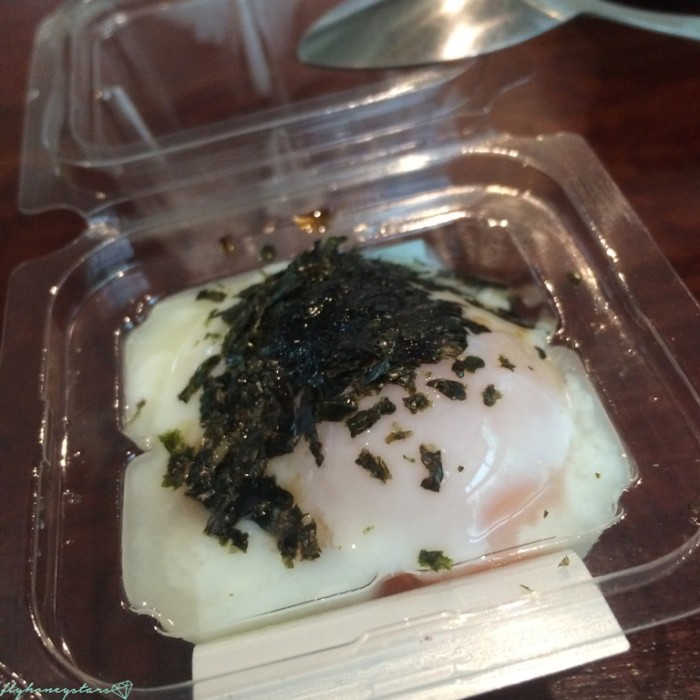 Nothing really goes wrong with their burgers. I wouldn't say it's fantastic but it is definitely satisfying.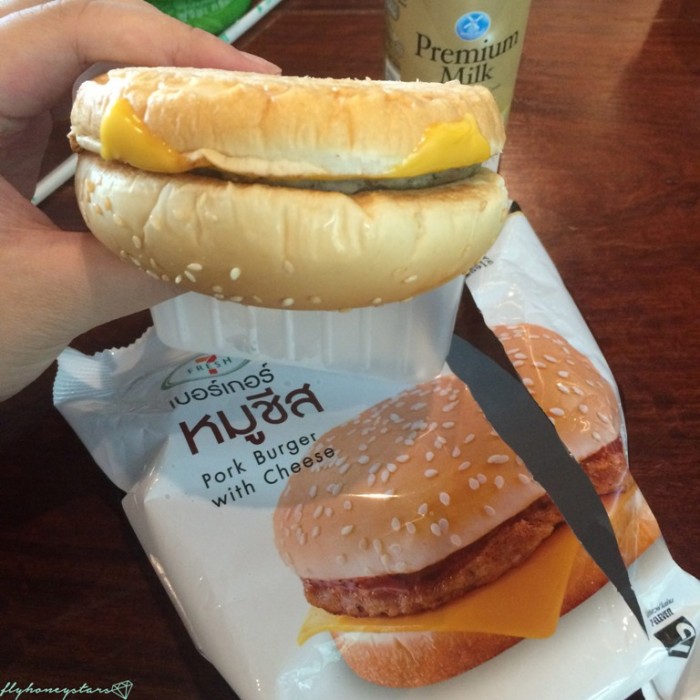 We hired a driver from 10am to 4pm (6 hours) to visit Hua Hin Railway, Santorini Park & Camel Republic at Cha-am, Plearn Wan Vintage Market & Hua Hin Beach.
DAY 2 (night)
We were trying to find a massage place near Cicada Market as we wanted to do it before feasting at the night market. I went over to google and found positive reviews for "Massage Me" on Trip Advisor. We headed over to that outlet (opposite Amari Hotel and 5 minutes walk from Cicada Market) since it was somewhat nearby.
Outside the shop, there were "Trip Advisor" stickers printed on their lightbox (if I don't recall wrongly). I guess seeing a familiar icon does help a shop in its credibility and it definitely stood out against the other massage parlours along the same road.
We requested for a 60-minute foot massage (200B) and a guy (who came from the next door shop) directed us upstairs saying that it would be more comfortable. For the first time ever, I did a foot massage lying flat on the mattress. I don't know how to describe the experience but it was a little weird. It felt more like a leg massage and not the type of foot massage I was expecting.
It also took the masseurs about 15 minutes to arrive (probably calling them to come down from other shops/their homes/or wherever). The shop was kind of empty when we arrived. The place was quite clean but the quality of the massage was very average and I won't exactly recommend anyone to visit this place, despite all the positive reviews on Trip Advisor. We gave them a 20B tip (10% of the price) for their service. The 60-minute massage did little to relieve our fatigue but oh wells, it was only 200B.
We started our night market adventure at "Tamarind Market", which was beside Cicada. Initially, we didn't know that they were two separate places and we just thought that one market just happened to look more "cui" than the other.
Eating at the Tamarind Market is so much simpler as you just use cash to pay the vendors. Cicada Market requires this food cash coupon thing which was so annoying. I'll touch on it later.
The corn is pretty alright with a slightly charred taste for the grilled effect. They kind of put a little too much butter and the taste gets gelat towards the end. It is recommended to share a cup. Alternatively, you can also buy the entire corn-on-cob and slowly bite away. In the background, there's this grilled squid which is really delicious! Can't remember the price but I think it is between 50 to 60B. I wanted to buy one more but I didn't want to waste my stomach space.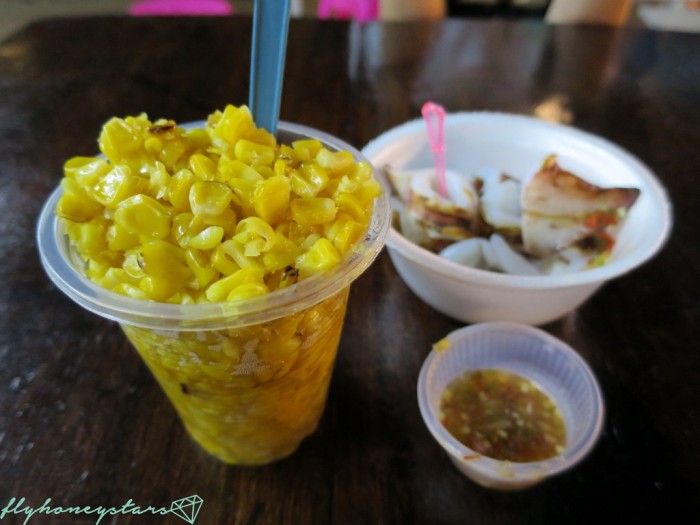 We bought this ice cream mochi but it is nothing unique at all. It was kind of too frozen when it was given to us and the taste is nothing to die for. Can give it a miss.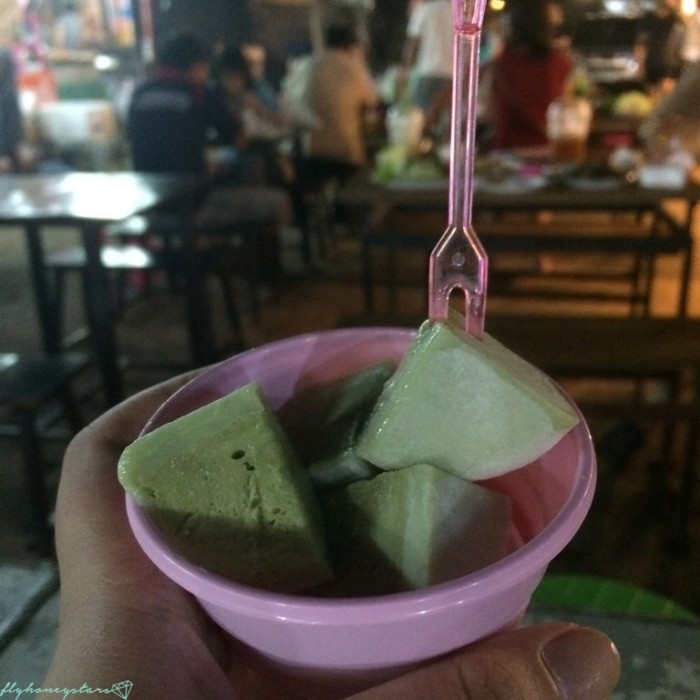 Here's the banana rotee which is my friend's favourite food at every Thailand night market.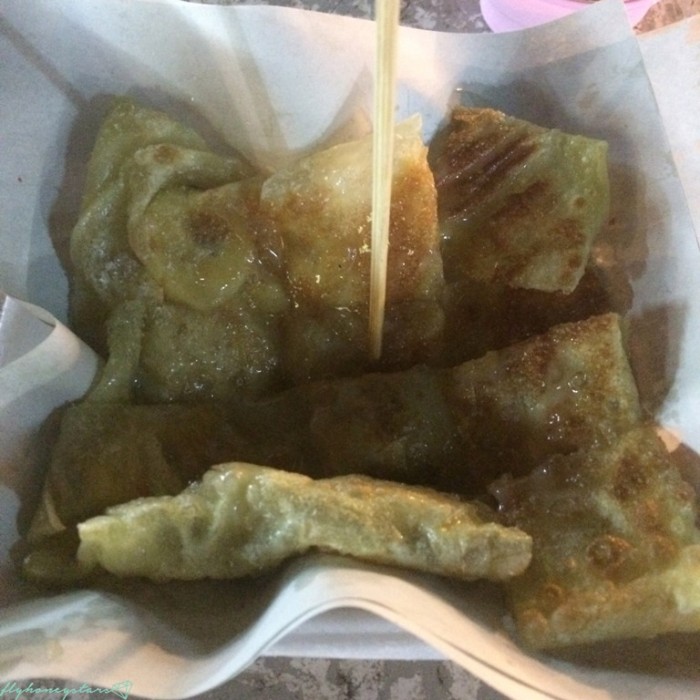 After we were done with the food, we stepped into the nicer-looking cicada market. It is known to be an art market with interesting shops. There was also a magic performance happening in an enclosed area and a music performance in a separate area. Both events require tickets which we didn't bother about.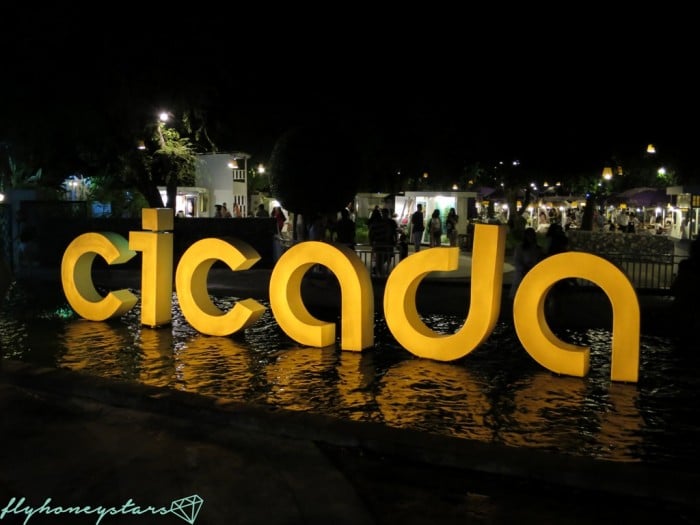 There were art pieces on display.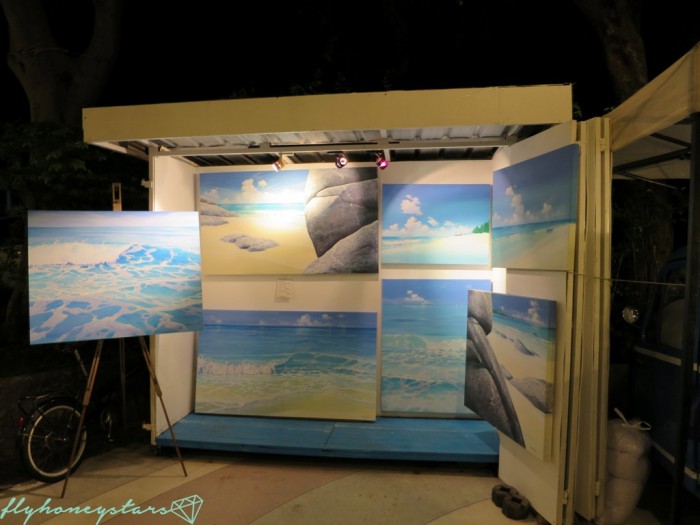 Interesting shops like a live station for glass blowing.
We also spotted a shop which does the Hammer Name bracelet too but it was kind of crowded and the wait time took about 40 minutes. They had a lesser selection of bracelet options (no leather strap) but the price was the same at 200B.
As for the food area, it was nicely decorated with consistent umbrellas and significantly higher prices. To make things inconvenient, they implemented a voucher system where you have to visit the ticket booth to buy cash vouchers and use these vouchers to buy from the food vendors. Although they claim that you are able to do a refund if you have unused vouchers, the usual customer mentality will be to just spend all the vouchers away and save the trouble of refunding.
For 200B, we bought a plate of satay, a bottle of cider, a kebab stick and a chocolate banana which was not as delicious as it looks. Actually, I didn't really enjoy biting that frozen banana. It's too cold for my gums to handle.
Anyway, the conclusion was that we preferred the cheaper and simpler tamarind night market compared to cicada.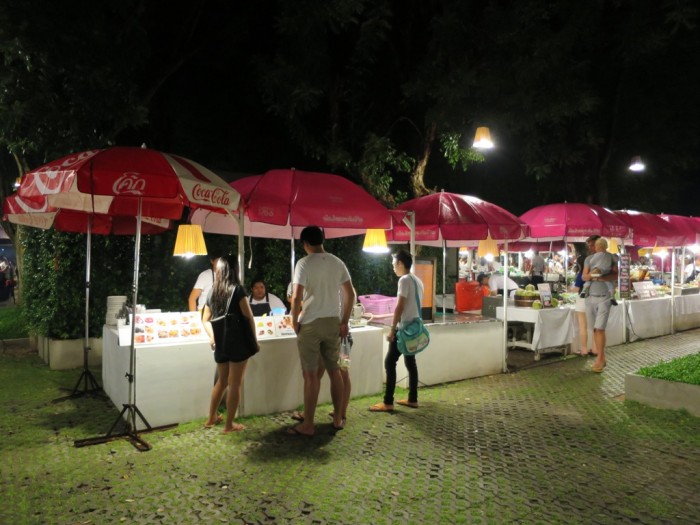 Even though we could walk back to our accommodation, we decided not to as the areas that we had to walk when we came were pretty residential and kind of "back alley" roads which were not exactly safe. Furthermore, we were unsure if the roads were well-lit at night.
As the distance back to our hotel was barely less than 5 minutes by car/tuk-tuk, I wanted to pay only 50B for a Tuk Tuk since we paid 100B the night before for a 10 to 15 minutes ride. Sadly, we couldn't find a willing driver and we paid 100B for a very short ride back to our accommodation. She claimed that 100B was the minimum for tuk-tuk. Do let me know if you manage to take a tuk-tuk for less than 100B.
DAY 3
We decided to book the shuttle bus back from Hua Hin to Bangkok airport in advance as we did not want to end up hiring a cab or feeling lost and cramped up in the minivan. By the time we booked our tickets for Saturday, the only available seats were at 8:30am and 2:30pm. 2:30pm would be too late for us as we had arranged to meet a friend at 6pm in Bangkok that evening. We decided to sacrifice our sleep instead of comfort. Woke up at 7am, left by 7:45am for breakfast takeaway at 7-Eleven. We were willing to pay for a tuk-tuk to fetch us to the bus terminal but there was none in sight as it was pretty early in the morning. We ended up dragging our luggage down the straight road for 20 minutes to the bus terminal.
This is what the bus terminal look like.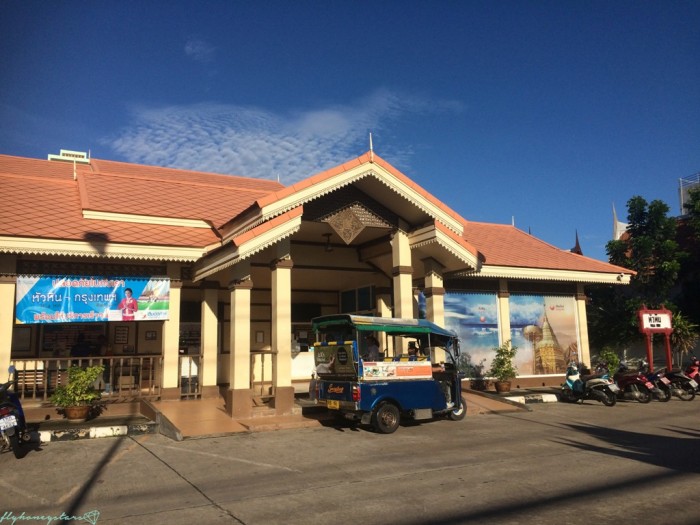 Paying 274B and taking the airport bus shuttle is probably the best decision this trip. It was a VIP LUXURY COACH BUS which gives you a huge and comfortable seat. I had no problems falling asleep and I couldn't even remember if there was even a rest stop for toilet break. There's even a small bottle of complimentary water and the staff will walk down the aisle to make sure that everyone has their seat belts fastened.
Also read: Travellers Can Look Forward to More Ways to Discover Thailand
Breakfast that morning was my pseudo-Hokkaido milk together with the croissant toast sandwich that my friend recommended.
Last sights of Hua Hin before I fell asleep.
The trip took about 3.5 hours and we reached Bangkok Suvarnabhumi Airport slightly close to 12.30. The bus will drop you off at the departure floor of the airport.