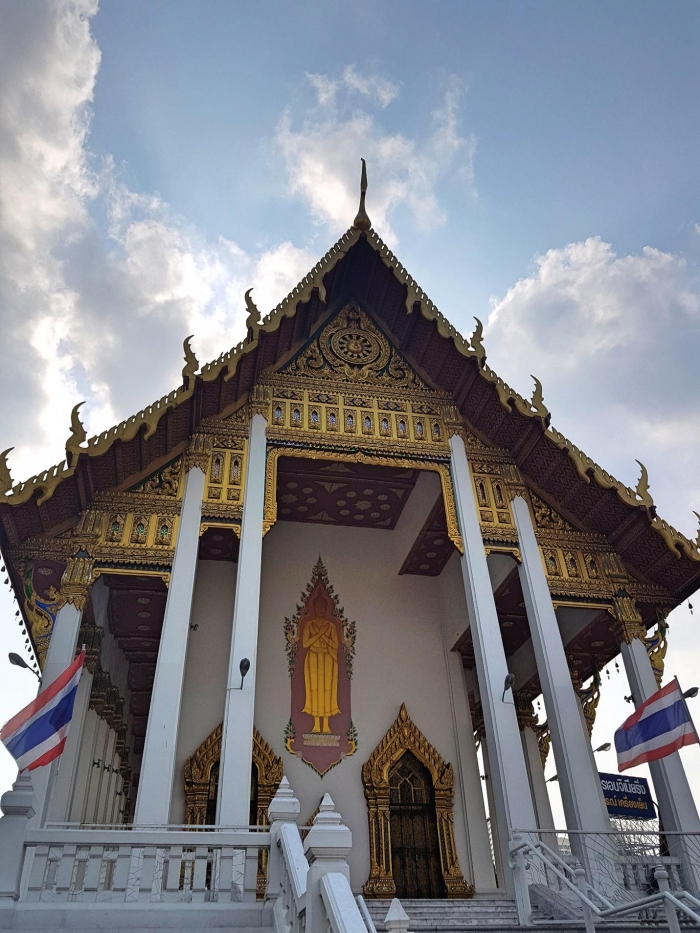 It's one thing to experience a foreign land with the assistance of organised tours or off a friend's recommendations. But it's a totally different adventure when you see the place through the eyes of a true local. If you've frequently been travelling to Bangkok over the long weekends to enjoy some food and shopping, why not switch things up a bit for half a day and seek out lesser-known communities to acquaint yourself with old traditions, off-the-radar street eats and perhaps learn a new craft skill while you're at it?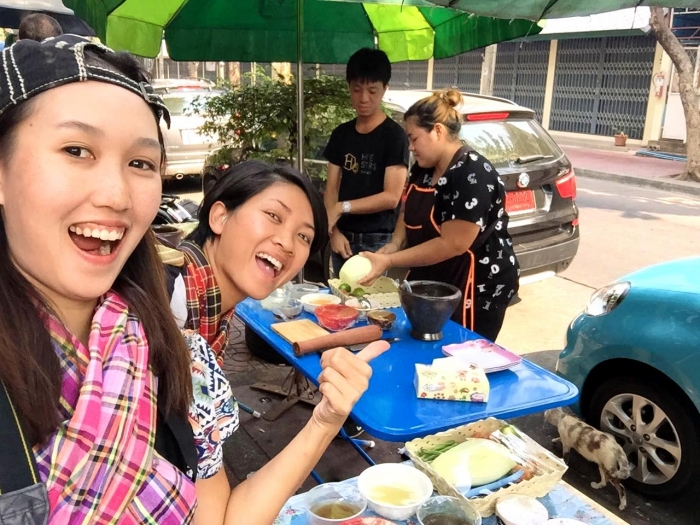 HiveSters advocates social tourism and conducts tours that promote education to tourists about endangered communities in the city. With support from the United Nations Development Program (UNDP) and the Culture, Sports and Tourism Department of Bangkok Metropolitan Administration, these communities have the opportunity to share their culture with the world. Through this collaboration, the livelihoods of the locals in these communities will improve via sustainable tourism, they can preserve age-old traditions, there's room for social innovation and there's hope for future sustainable development within the communities themselves.
Embarking on one of their curated tours, I was taken to wander around Nang Loeng, a community famed for its century-old market that holds rare dessert gems. It's also home to Thailand's first wooden movie theatre and the late iconic Thai actor, Mitr Chaibancha – affectionately dubbed as Thailand's very own Elvis Presley. To add to the charm of this quaint area, it's important to note that Lakhan Alley in Nang Loeng is one the few remaining refuges for classical Thai performances.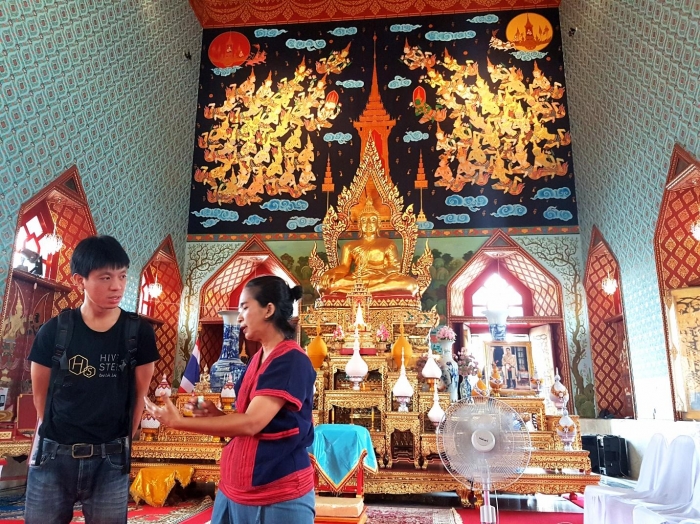 Our day started at Sunthornthammathan Temple, which is situated in the centre of the community. This is where the cremated remains of Mitr Chaibancha lie. The inside of the temple is breathtaking with hand-painted murals on every wall – including the ceiling – and resides an impressive 50-year-old Buddha statue named Luang Pho Baramee.
Next, we tested our culinary skills by attempting to make a Thai papaya salad, with step-by-step instructions dispensed by one of Nang Loeng's residents. Needless to say, some of us had to tweak our recipes because we can't handle the heat like the Thais can! But we had so much fun chopping and mixing along with traditional Thai music in the background.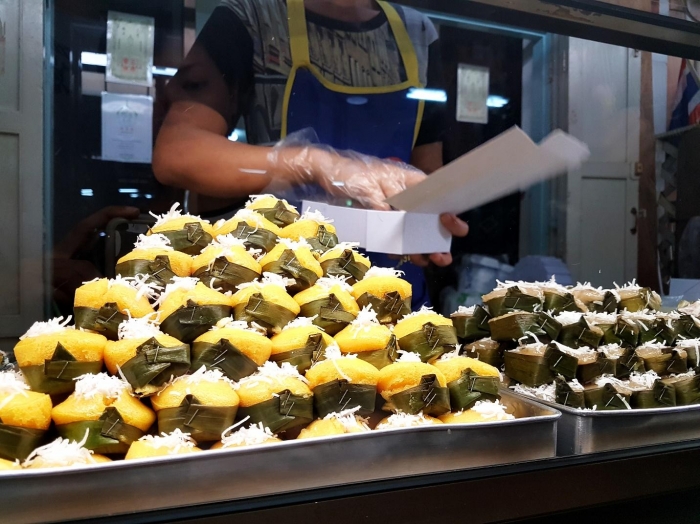 We then crossed the street to enter the fun part of the tour, which is obviously to taste test everything we could in sight! The Nang Loeng market was Thailand's first land-based market in the 1900s. We were fortunate enough to be introduced to food shops that have been open since World War II! One such place is Aunt Hong's stop, which makes desserts like mung bean Thai custard dessert (Ka Nhom Mor Khang).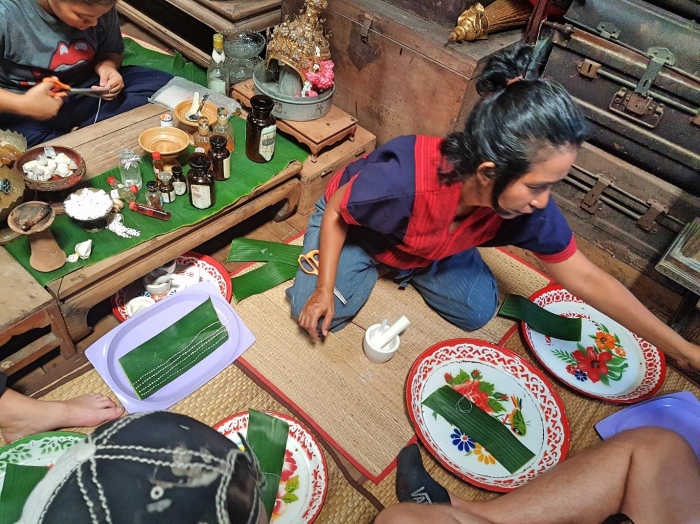 After stuffing our faces, we gave our tummies a break (so that we could fit more for lunch) and headed to the cultural bit of the tour. At Baan Nang Lerng, visitors get a chance to see the place where once, numerous stage performers, artists and comedians would put on shows and performances for the community. Today the house is owned by local activist, Suwan Waewployngam, and has been transformed into a common venue for activities and a performing arts centre which encourages youths' participation within the community. It is here that we tried our hand at Thai vintage perfume garland-making, called Pang Puang.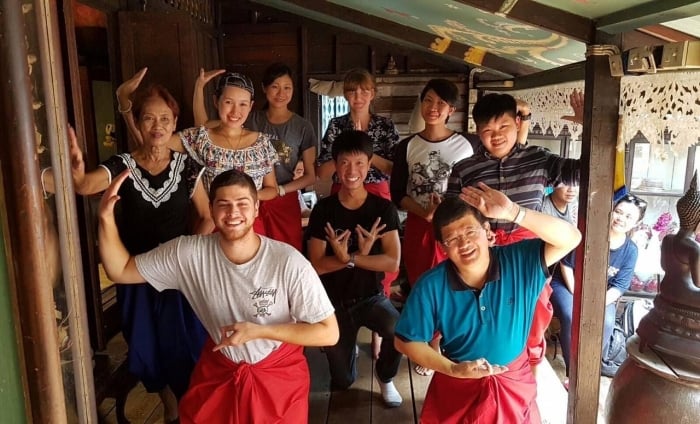 As if that wasn't challenging enough, we were also tasked to learn a few simple dance moves from teacher Moo, who is one of two remaining master teachers of a nearly-vanishing traditional Thai Lakhon Chatri dance. The ancient performance originated from the era of the Ayutthaya Kingdom, combining the art of singing and dancing. After giving it our best shot, teacher Moo was generous is telling us we gave it a genuine effort and we had made her proud!
Also read: 20 Fun & FREE Things to Do in Bangkok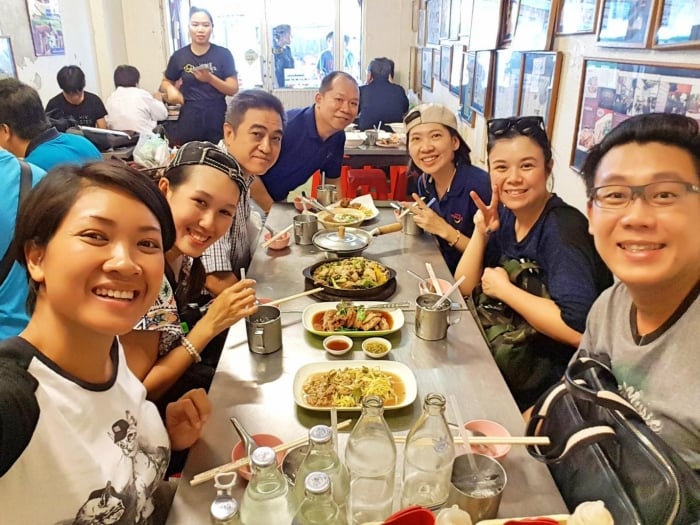 All that learning allowed our bellies to growl again, and we were in for a great local lunch of duck noodles. Everything about the meal was delectable (especially the respite from the blistering heat!), but the most heart-warming was most definitely the well-known Thai hospitality. The HiveSters guides were detailed in their knowledge and dispensed nuggets of information that one may not find in a generic guidebook. They were so patient with every query thrown at them, and ensured the entire group left with not just a deeper insight into the almost-forgotten community of Nang Loeng, but with an abundance of unforgettable memories to bring home.
Thanks to Bangkok Airways & Tourism Authority of Thailand for this media trip and taking me on a tour with HiveSters.