Staying in a hostel doesn't mean sacrificing on your basic necessities. Here are some slightly more upmarket hostels in Bangkok for that added touch of comfort without having to break the bank. You'll be sure to meet like minded travellers without compromising the quality of your bed.
1. The Yard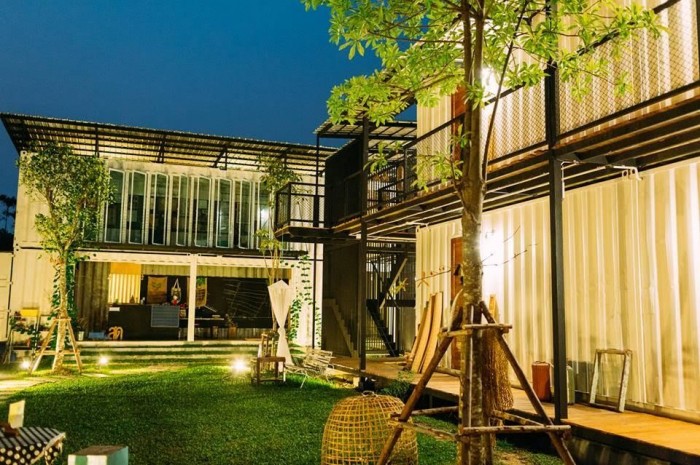 Image Credit: The Yard Bangkok
The Yard hostel is located at Ari so if you want to avoid buckets of tourists, it's the place to stay at. If you don't want to compromise distance from the major sights and still be surrounded by hipster boutiques and fancy independent eateries, book a bed here. It's a little highly priced for a hostel at $23 a night for a 6 bed mixed/female dorm (there are also private room options) but the environment is extremely calming and is an oasis in the middle of the bustling city.
Cool Stuff:
You can rent a bicycle at 50 Baht a day  – just ask the front desk!
BBQ equipment is available for you when you want to have a BBQ party.
7 minutes walk from the BTS sky train Ari Station (N5).
Check out the in-house library for your book-worm needs.
Free luggage storage up to 2 months.
2. Once Again Hostel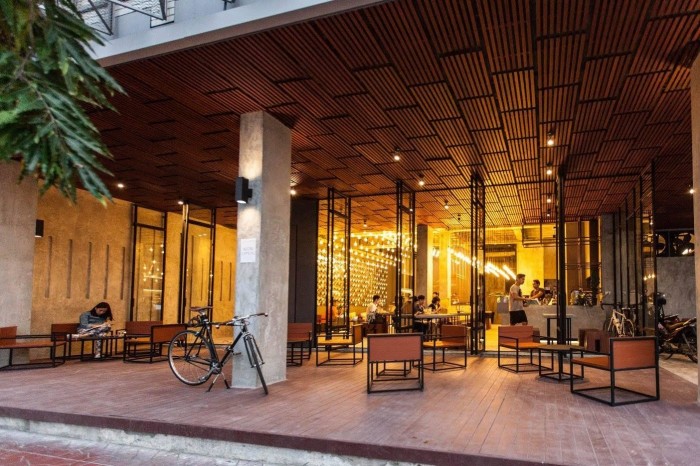 Image Credit: Once Again Hostel
Once Again Hostel is a brand new establishment! It recently popped up (December 2015) right in the centre of Bangkok, so you can bet everything is in pristine condition. It's near enough to Khaosan Road but not too close to hawkers bugging you to buy tie dye shirts.
It starts at only $17 a night for a bunk bed in an 8-bed mixed dorm. The hostel is immaculately designed, right down to the toilets! Kick back and chill at the bicycle-influenced café on the ground floor or the roof top deck. How about coming back after a long day in Bangkok to fully air-conditioned rooms, oh-so-wonderful rain-showers and individual bed partitions to unwind in privacy? SOLD!
Cool Stuff:
Rain-shower facilities
Bigger beds with personal lockers
Also read: Top 6 Hipster Hangout Spots in Bangkok
3. Siamaze Hostel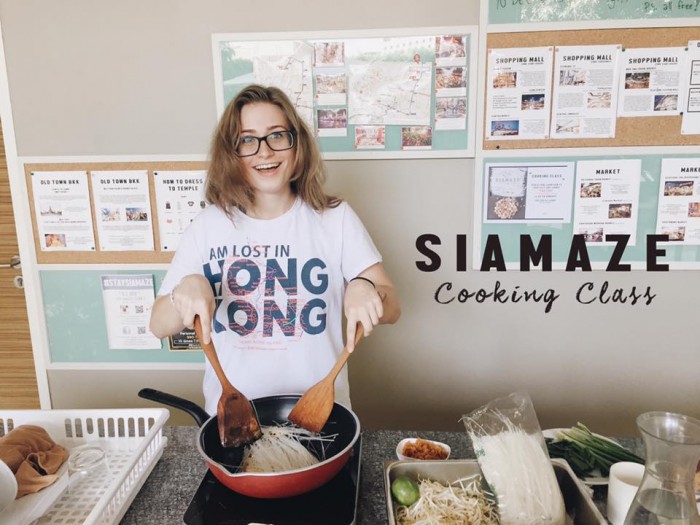 Image Credit: Siamaze
If you are in for interesting in-house activities like cooking classes and BBQs, Siamaze Hostel is where you"ll want to stay at in Bangkok. You can check their facebook page for the latest events.
With a tagline of "let Siam amaze you", it is located at Ratchadapisek Road, a business and residential area, away from Khaosan and connected to both the old town and Bangkok's famous shopping centers.
Each bunk bed has a curtain to secure privacy, and you also get a personal reading light and large private locker to stow your belongings away securely. There are also family rooms available if that is how you're travelling.  Beds start at $17 for 8 bed mixed/female dorms.
Cool Stuff:
In-house cooking classes and BBQs are available for those who love to cook!
Ensuite room has a king size comfy bed, a 32-inch cable-TV, free WiFi, safe deposit box, and spacious balcony. Almost like a hotel!
Power point is available in the private locker for you to charge you devices worry free
8 minutes walk from Sutthisan MRT station
4. HQ Hostel Silom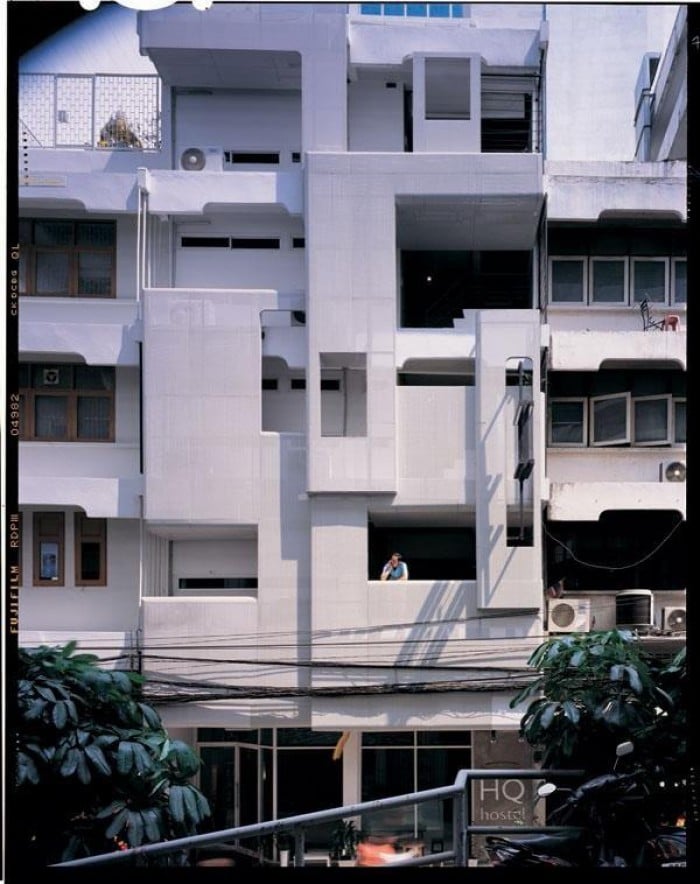 Image Credit: HQ Hostel Bangkok
Located at Silom Road, HQ Hostel Silom is located near the Patpong and clubbing area. If you're looking for a good time out with newly acquainted friends and drinks, this hostel will be a convenient place to stay! Especially if you are a night owl, the 24-hour check in desk is sure to be a plus for you. Prices start at $15 a night in a 10 bed mixed dorm, and the bedrooms are nice and cosy!
Cool Stuff:
FREE Access to variety of books and DVDs!
5 minutes from Saladang MRT station
FREE American Breakfast. Slurp!
5. ONEDAY Hostel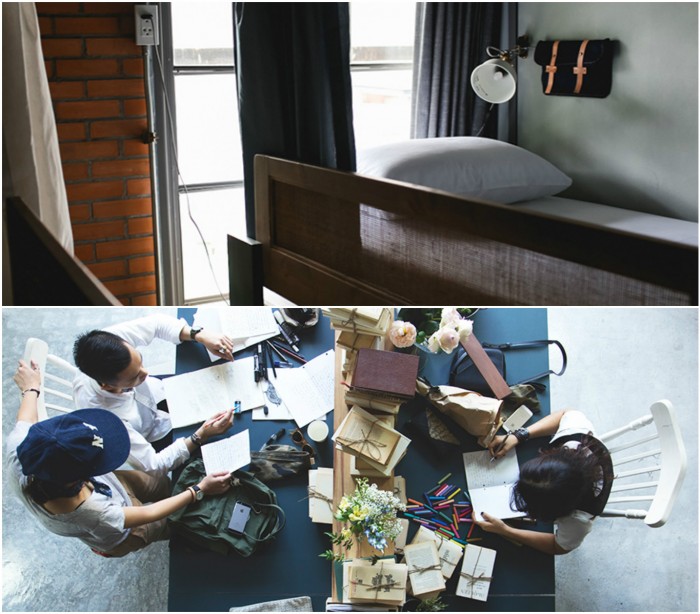 Image Credit: Oneday
ONEDAY is a hostel and co-working space in town that opened only in the summer of 2014. It's for workaholics or people who need to work on the go. You can relax in your bed but also walk out and meet other creatives and 'techies' working in the co-working space. Despite it being a pro-work space, it's beautifully decorated with luscious greenery.
Laundry rooms can also be found onsite at this hostel. Very close to the hostel is a mall called the Emporium where you can get your shopping fix; if that is not your thing, the Emporium also contains the Thailand Creative & Design Center (TCDC) where you can explore the world of design. Prices start at $23 for a bed in an 8 bed mixed dorm.
Cool Stuff:
Fully equipped with high speed internet, individual desk, high quality printer, and even meeting rooms.
Fresh greenery inside and nearby.
Check out the cosy theatre room with DVDs and fluffy cushions for your nights in.
Also read: 15 Insanely Thrilling Things to Do in Bangkok on Your Next Visit
6. Here Hostel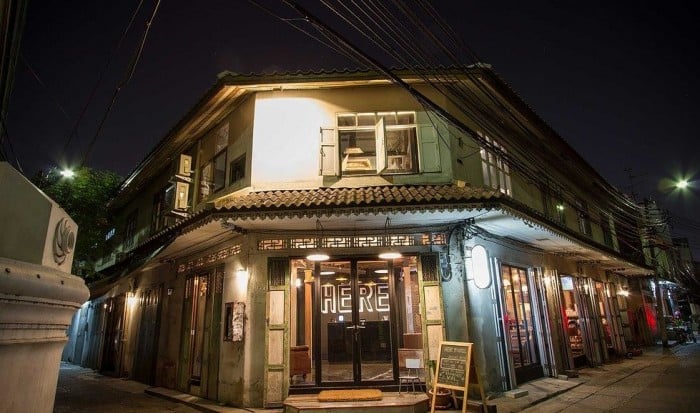 Image Credit: Here Hostel
Here Hostel uses the space of a nearly century old building to create a wonderful temporary living environment for travellers. They are very environmentally aware and have adopted a nature conserving design for the place. It is surrounded by the spectacular and revered historical attractions – Loha Prasat or the Metal Castle, and Rattanakosin Exibition Hall. Beds start at $21 a night for a 12 bed mixed dorm.
Cool Stuff:
Surrounding by historical attractions – Loha Prasat or the Metal Castle and Rattanakosin Exibition Hall.
5-10 minutes from Khao San Road.
FREE breakfast from 7-10am.
FREE coffee and tea all day!
7. The Cube Hostel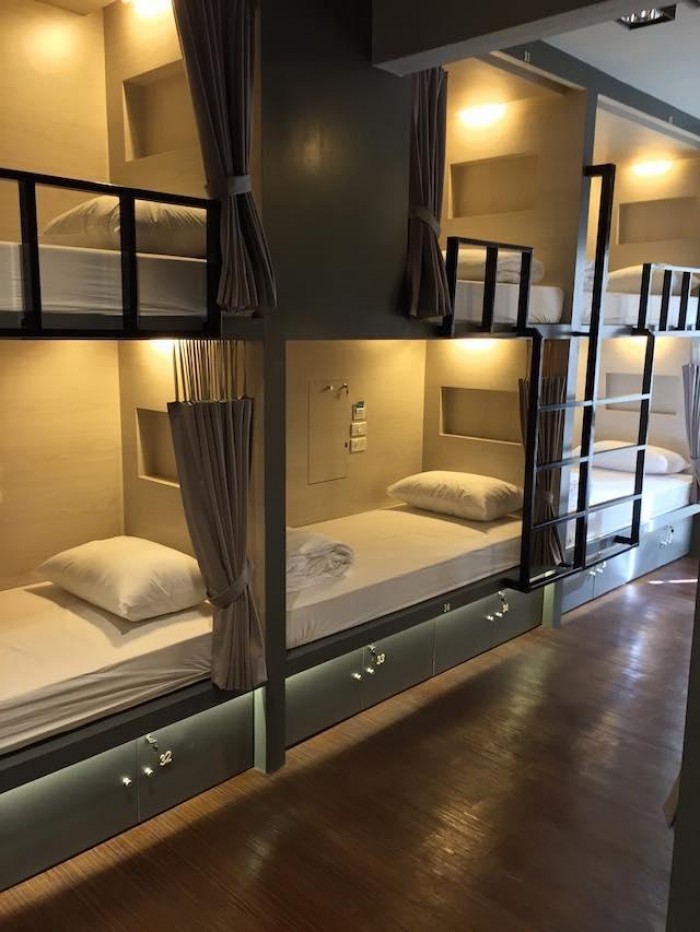 Image Credit: The Cube Hostel
The Cube is a boutique capsule hostel in the Silom area. They have 64 Japanese inspired capsule beds and bunk beds that are situated in separate rooms across 4 floors. There are even double bed cubes for couples if you are travelling with your significant other. Don't worry though, with the capsule concept your privacy is assured. Pro tip: book with them directly on their website to get complimentary breakfasts! Beds start at $17 a night in a 10 bed mixed dorm.
Cool Stuff:
Early birds lookout! Book 30 days in advance for 10% off.
Get your own private fan and reading light in your cosy little capsule!
Also read: 12 Things to Do in Bangkok That Do Not Involve Shopping
So, with such an amazing array of comfortable, luxurious and cheap accommodation options, go ahead and book your flight to Bangkok. Maybe even stay at not one, but multiple of these places!