As a struggling undergraduate with no stable income, I had limited financial capability to fund my travels. So over the summer, I gathered two of my equally frustrated friends and we came to the conclusion that we could probably afford to visit somewhere within the region like Thailand, Vietnam or Cambodia. Then we had a second thought – why not visit them ALL? YES! We packed our backpacks, and embarked on a massive overland journey from Singapore to Vietnam, through 7 cities in 4 countries, finishing up in Hanoi before flying home.
The best part about travelling through Southeast Asia is the sheer amount of diversity that exists in this small corner of the world. Every country was an entirely different experience from the others and this even extends to some of the different regions within countries. In addition, hostels are aplenty in the region, providing low cost accommodation for relatively value-for-money comfort. As long as you do not mind sharing common bathrooms (well not at the same time of course), most accommodation should not cost more than US$10 per person per night.
This is the story of how we travelled through Southeast Asia on a budget of US$700 inclusive of accommodation, transport, food and other expenses. 7 cities, in 16 days.
Leg 1: Singapore – Penang
Sleeper bus ticket: SG$46 (US$32.50) from Grassland Express. Departs Golden Mile Complex at 9pm.
Ferry ticket from Butterworth to Penang island: RM1.20 (SG$0.40 or US$0.30)
Accommodation in Georgetown: RM26 for 1 night at Old Penang Guesthouse (SG$8.60 or US$6.10)
Well for this leg of the trip, we could have taken the train from Singapore to Kuala Lumpur or Penang, which will in fact be cheaper. (RM119 from Woodlands, Singapore to Butterworth, Penang.) However, this will take a whole day, and we would only arrive in Butterworth sometime past midnight. Therefore, we took the more convenient option of the overnight sleeper bus direct from Singapore to Penang, arriving in the morning with various stops on the island itself! We alighted at Butterworth on the mainland side as we had to purchase our train tickets to Bangkok in advance. We then took a short ferry ride across to Georgetown on Penang island where our hostel was.
We were staying in Penang for only one night so we had to make full use of our limited time here. Penang was meant to be a stopover for us on the way up to Bangkok so we did not expect to do or spend much here. Nevertheless, since it was my first time in Penang and we had some time, we sought out some low-cost explorations in the city.
My two sightseeing recommendations for Penang are Armenian Street and Penang Hill. Armenian Street is a UNESCO Heritage Site that gives visitors a glimpse into the colonial era in Penang. It is mostly an arts district nowadays with plenty of little hipster shops springing up all around. The best part of it is that you don't have to pay a cent to walk around! The other is Penang Hill. It is somewhat out of the way from Georgetown, and costs RM30 (SG$10 or US$7) for the two-way train ride up the hill, but the view from the top is definitely worth it. You'll be literally above the clouds and there is even an owl sanctuary at the top if you fancy it.
Leg 2: Penang – Bangkok
Train ticket: RM103.90 (SG$34 or US$24) for upper bunks and RM111.90 (SG$36 or US$25.50) for lower bunks. Departs Butterworth Train Station at 2.20pm.
Accommodation in Bangkok: THB780 (SG$31 or US$22) for 2 nights at Bodega Bangkok.
Following our little stopover in Penang, we were on our way once again on an overnight sleeper train to Bangkok. If you make this journey, please do buy your train tickets once you arrive in Penang at Butterworth Train Station as they get sold out every now and then. Unless you have a flexible itinerary, it is advisable to buy the tickets at least a day ahead. As you can see the lower bunks cost slightly more than the upper bunks on the train. This is because the lower bunks are slightly more spacious (about the size of an average backpack larger) than the upper bunks. In any case, the seats on the train are only converted into the bunk beds at night. A service staff will come down the aisle to turn every seat into bunk beds so all you have to do is move aside and let him do his job.
Our train was scheduled to arrive into Bangkok at 10.30am the next morning but we only got off the train at a little past noon despite leaving Penang on time. I learnt that this is not uncommon so do be prepared for delays.
Well Bangkok is a city that needs no introduction with its great food, charming people and wonderful sights. What stands out for me in Bangkok is the Royal Palace. While the entrance fee of THB500 (around SG$20 or US$14) may be slightly on the pricey side, it is once again money well spent. Be ready to spend at least two hours exploring the sprawling complex. Also apply loads of sunblock when visiting as shade can be sparse and it can get very hot in the middle of the day.
Another interesting place to visit in Bangkok is Asiatique Riverfront. All you have to do is take the BTS to Saphan Thaksin and take the FREE ferry down the river to the place. It's a great photo spot (especially at sunset) and you don't have to spend a cent if you don't want to. This is a good place to chill and unwind after a long train ride to Bangkok.
Also, if you are looking for cheap dinner options, Chinatown (at Yaowarat Road) is not a bad choice. There are plenty of options to choose from along the street from duck rice to bird's nest at very reasonable prices.
Also read: Singapore to Bangkok: How to Make This Journey by Train
Leg 3: Bangkok – Siem Reap
Train ticket: THB48 (SG$1.90 or US$1.35). Departs Hualamphong Station at 6.10am, arrives at Aranyaprathet (Thai-Khmer border town) at 11.35am.
Tuk-tuk to the border: THB80-100 (SG$4 or US$2.80) for 1 tuk-tuk (DO BARGAIN!!!)
Shared car ride to Siem Reap: US$12 per person (ONCE AGAIN, BARGAIN. And beware of scams)
Accommodation in Siem Reap: US$16 for 2 nights at Mad Monkey Siem Reap
It gets slightly complicated in this leg of the trip. The journey can be split into three parts. First, getting to the border on the Thai side. Second, crossing the border. Lastly, getting to Siem Reap from the border. The first part is simple enough. Go to Hualamphong Train Station early and purchase a seat on the train to Aranyaprathet. Tickets should be plenty at this time of the morning. I do suggest that you make that journey nice and early as it up to 10 hours to eventually get to Siem Reap after you cross over to the Cambodian side. This train journey from Bangkok to Aranyaprathet is actually my favourite train ride in the whole trip; we watched school children take the train to school, ladies going to and returning from the marketplace with groceries, and generally everyone in the countryside going about their daily doings in the morning. Certainly a sight that we city dwellers don't usually come across.
Upon arrival at Aranyaprathet, flag down a tuk-tuk and negotiate for a price to take you to the border. Walking is possible too but that will take a massive amount of time given that it took a good 10 minutes even by tuk-tuk. I recommend that you at least attempt to share a tuk-tuk with other travellers heading in the same direction. And trust me, there will be plenty of them. The ride should cost THB80-100 (around SG$4 or US$3) to be split among the number of passengers (up to 4).
The tuk-tuks cannot bring you across the border to Cambodia so we had to get off and pass through customs on foot. After passing through the Thai checkpoint there is a short walk to the Cambodian checkpoint. This is a strange area filled with somewhat empty-looking casinos and houses and I was not very sure if these belonged to the Thais or the Cambodians. After a short walk, we arrived at the Khmer border checkpoint marked by an Angkor style building. The whole process from the Thai border to crossing the Khmer border takes about 30 minutes. This may vary depending on visas so please do check if you are making the same journey. I have heard of multiple visa scams at this border crossing so please do take care and double check that you have the required documents.
Once we crossed into Cambodia, all the fun began. From what I read online, this place seems to be a mess and it truly was. We had to look for a way to get to Siem Reap, which was not exactly near the border. And without any trains to hop on, we had to search for buses or taxis. It was a little confusing, and we ended up at this bus stop where there was a bus to take us to an international bus interchange. Apparently it was run by the government, and the operators had government passes and all. Or so they said. It actually looked legit, but somehow the interchange was quite empty, and the main mode of transport from here on was by cab. So we were kind of left with no choice but to share a car there. Well, it wasn't too expensive but certainly a little more than what we were ready to pay. Luckily for us, our driver wasn't an intimidating fella but rather friendly. I guess he just needed the money. So it cost us US$12 per person for the three-hour car ride from the interchange. Not too bad to us but certainly a lot of money for the locals. The road to Siem Reap was rather smooth other than certain portions where the road was more dirt track than anything else, full on with potholes in them. And finally at about 3pm in the afternoon, we arrived in Siem Reap.
The whole basis for Siem Reap's existence as anything more than a village is its proximity to Angkor Wat. Honestly, there was nothing much else in the vicinity. Entry to the entire ancient city of Angkor cost US$20 per person. (Apparently the entrance fee to Angkor has recently almost doubled to US$37 per person.) The ancient city is in fact made up of numerous temples and buildings which sprawl out across a large forested area so the best way to see as much as we could was to hire a tuk-tuk to take us around. The tuk-tuk tour cost US$18, which makes it US$6 for the each of us. Most tours to Angkor begin before sunrise so that you can catch the sunrise on one of the hills within the ancient city and ours was no different. For a more detailed description of the whole tour and more photos visit my blog post on Siem Reap and Angkor here.
Leg 4: Siem Reap – Phnom Penh
Bus ticket: US$12 from Mekong Express (bought through hostel) Depart at 7am.
Accommodation in Phnom Penh: US$12 for 2 nights at Me Mates Villa.
We arranged our bus ride to Phnom Penh through our hostel in Siem Reap, which booked our seats with a local bus company called Mekong Express. A small passenger van came to our hostel at 5.30am to take us to the main bus station where we transferred to a bigger bus to Phnom Penh that departed at 7am. There are actually more timings for the bus so do check with whichever agency you are booking with. It takes about six hours and is really a bumpy ride so try not to have a heavy breakfast. Do remember that the highways that you see on the map in Cambodia are essentially dirt tracks, complete with complementary potholes along the way.
The city of Phnom Penh sits on the mighty Mekong River (nope Bangkok does not – that's Chao Phraya River) and is the capital city of Cambodia. As self-declared history buffs, how could we miss out on the chance to understand the tragedy of the countries we were in? Cambodia's modern history is evidently centred on the Khmer Rouge regime, which is probably one of the greatest genocides committed in the history of mankind. As the capital of Cambodia, Phnom Penh holds some historical sites which in my opinion cannot be missed. Within the city there is the S-21 Prison which was a school-turned-concentration camp during the Khmer Rouge used to hold political prisoners and other intellectuals. Entry to the site which has been turned into a museum costs just US$3, and gives a good glimpse into Cambodia's horrific past. The whole place was not superbly well maintained, which actually worked in its favour as things in the building remained relatively untouched since the Khmer Rouge. I wonder if this was done on purpose.
The other noteworthy site will be the Killing Fields at Choeung Ek which is someway outside Phnom Penh and can be easily accessed via tuk-tuk. If S-21 prison was horrid this was a hundred times worse. HORRIBAD. Choeung Ek was the place where thousands of Cambodians were executed during the Khmer Rouge. Those who were killed included children and infants. The "charm" of Choeung Ek is that not all the mass graves have been fully uncovered and excavated, and hence it was entirely possible to come across fragments of clothes or even bones as we walked around the killing fields. It costs US$6 to visit the facility which includes a short documentary about the place.
Leg 5: Phnom Penh – Ho Chi Minh City
Bus ticket: US$15 from Sapaco Express, booked through hostel.
Accommodation in Ho Chi Minh City: US$7.50 for 1 night at Long Hostel.
The ride from Phnom Penh to Saigon took us 5.5 hrs. We took the 6am bus run by Sapaco (US$15), which was booked through our hostel as well (seriously our hostel offered so much and I highly recommend it. I know it's a couple of bucks more than the cheapest one available, but for convenience and scam-free sake, we chose to pay that two bucks more. Once again, there are many other options than what you usually see published on their website (buses leave every 30mins or hour), so do check when you're buying the tickets with the agent. After the experience from Siem Reap to Phnom Penh, I dared not expect much from this bus ride either, but I guess the lack of expectation meant that there was more room for pleasant surprises. The road to Ho Chi Minh City (also known as Saigon) was much more pleasant than the one to Phnom Penh. Going through the border checkpoint was also a breeze as compared to the Thai-Khmer border. We simply alighted the bus, went through customs, and boarded the bus again to continue on our journey. It was pretty much like the Singapore-Malaysia border, but much emptier and therefore faster. We then continued our bus ride to Ho Chi Minh City.
As compared to the other cities we had been to earlier on the trip, HCMC was significantly pricier, not only in terms of food but also transport costs. Nevertheless, there are still cheap or even free places to visit! One of the sights to see in HCMC is the Notre Dame Cathedral. Yes that's right. Notre Dame in Vietnam. Built in the 19th century with red bricks, this site has an old-school feel and is absolutely gorgeous in the sunset. The best time for photos in my opinion is in the evening right before it gets dark.
Another great place to visit for free was Ben Thanh Market located in the southwest of the city. There's lots of great shopping here but we did not buy anything. There is a wide range of shops that sell anything from souvenirs for tourists to fresh meat and vegetables. We did try out some of the food here which were very authentically Vietnamese.
We also took a day trip to the nearby Cu Chi Tunnels which were used by Vietnamese soldiers during the Vietnam War. It has since been turned into a tourist attraction offering experiences such as crawling through some of the widened and reinforced tunnels. You can also try your hand at some firearms but this is pretty costly at US$1 per bullet. A half-day trip out to Cu Chi will set you back about VND300,000-500,000 (about SG$20-30 or US$15-22). Not exactly the cheapest but certainly a very interesting experience.
Leg 6: Ho Chi Minh City – Hue
Train ticket: US$78 for soft sleepers booked via http://www.vietnamimpressive.com/ Depart Ga Sai Gon, Ho Chi Minh City 11pm. Arrive Ga Hue 4.23pm.
Accommodation in Hue: US$7.50 for 1 night at Hue Backpackers Hostel
The original plan was for us to spend another day in HCMC and then take the train straight up to Hanoi, but we did not fancy a two-day train ride and so we decided to stop at Hue in central Vietnam for a day. After all, Hue was the ancient capital of Vietnam, and as I mentioned we were history buffs. I read online that long distance train tickets can get sold out in Vietnam occasionally and not wanting to take the chance, we pre-booked our tickets online at the website provided above. It is definitely cheaper to purchase the tickets onsite at the station. The Vietnamese trains were a class above other trains that I have taken in the region which to some extent justifies its high prices. We could have taken the cheaper 6-bunk hard-sleepers but chose to treat ourselves a little by upgrading to the 4-bunk soft sleepers. Also because I read online that in the hard sleepers, locals sometimes bring their livestock along with them into the cabin. Unfortunately, I am not prepared for such an extraordinary experience. The bunks were well-padded and soft. We got our meals from a push-trolley that came down the aisle every now and then. The other option will be to walk to the restaurant car at the front where there was beer served as well. The three of us managed to get in the same four-bunk cabin together with a Vietnamese kid whose English was exceptional. We had a pretty good time teaching and playing Monopoly Deal with him until he got off at one of the stops before Hue.
Hue is now a remnant of its past glory. Once the capital of Imperial Vietnam, it is now a small town with its main attraction being the Imperial Palace. Nevertheless, it still retained its old charm and is a scenic town that is a lot less industrialised and busy than the bigger cities of Vietnam. A good way to explore Hue will be to rent an electric scooter from the hostel or anywhere along the streets. The roads are less hectic as compared to HCMC and Hanoi, and Hue is small enough to just ride everywhere without burning a hole in your pocket. A full day rental only costs US$10 (excluding petrol).
We visited the Imperial Palace in the morning to check out the full ancient Vietnamese glory but were firmly disappointed when we entered the compound. Hue, being in central Vietnam and close to the warfront during the Vietnam war, was heavily bombed during the war and hence most of the buildings in the Imperial Palace were damaged or destroyed. Restoration is underway but hardly completed. We still got to see the main throne hall and a couple of other sites.
Leg 7: Hue – Hanoi
Train ticket: US$59 for soft sleepers booked via Vietnam Impressive. Depart Ga Hue, leaving 4.28pm. Arrive Ga Ha Noi 4.30am. (Expect delays)
Accommodation in Hanoi: US$15 for 2 nights
The experience on the train from Hue to Hanoi is pretty much the same as the previous one into Hue because they are essentially the same train on the same line. Though I have to say that the route into Hue was more scenic than from Hue to Hanoi. As with most long distance routes, delays are not uncommon and our train arrived more than an hour late. It was further delayed on the way up to Hanoi so by the time we arrived in the city it was already past 7 in the morning.
One of the things we did in Hanoi was to go on a walking tour. I found an organisation online that provided FREE walking tours which got me really excited. The guides are actually student volunteers who are looking to improve their conversational English and so it was a win-win situation for us! We still had to pay for the entrance fees for the guide to places where they brought us, though. Our guide introduced us to this awesome Vietnamese breakfast food called Banh Cuon which is like Vietnamese cheong fun with sausages dipped in sweet sauce. IT WAS GREAT. She also introduced us to Vietnamese egg-coffee which tasted really awesome too. Seems like everything that's good with this tour involved food. You can check out and book your free walking tours at Hanoi Free Walking Tours.
The other place that is worth a visit is Ho Chi Minh's Mausoleum, but be prepared to queue for at least two hours before getting to see his body. We arrived at the queue at slightly before 9am but only got to enter the mausoleum at almost noon. The good thing is that there's a museum that is dedicated to him right beside his mausoleum so we visited that as well. Entry to the mausoleum is free (you just pay with your time), while the museum cost VND25000 (SG$1.50 or US$1) to enter. It's free for locals though, if you manage to pass off as one.
Homebound: Hanoi – Singapore
Air ticket: SG$86 (or US$61) TigerAir 2309. Depart Noi Bai International Airport 1.20pm. Arrive Singapore Changi 4.30pm.
Hanoi was our last stop before we flew back to Singapore. The airport was some distance away from the city so we had to leave right after we had breakfast. Before this, I never thought I would or could do something as adventurous as this but the experience got me addicted and craving for more. Following this trip, I dared to do more on my travels, and was willing to be more adventurous on my trips so I guess it all ended really well for me. It took us 16 days to cover 7 cities and honestly, we spent barely enough time in any of them to immerse fully in the experience. Every city had its own charm and culture, and it was lovely to be able to visit them. I only wished I had more time to explore each country slowly and to learn their cultures deeper. Maybe that calls for another trip, this time longer.
Total cost for transport and accommodation: SG$488.45 or US$348.05
Transport and accommodation set us back about US$350 each in total. That left us a budget of US$350 for food and other miscellaneous expenses for the entire trip. This averages out to be more than US$20 a day. For Southeast Asia, I think that was a very comfortable amount to work with. Some cities were definitely more expensive than others, but it all evens out in the end.
Total expenditure on trip: SG$1000 or US$700
So there you go. Train travel on a budget: 7 Southeast Asian cities in 16 days under US$700.
For more detailed posts on each leg of the trip, visit my personal blog here.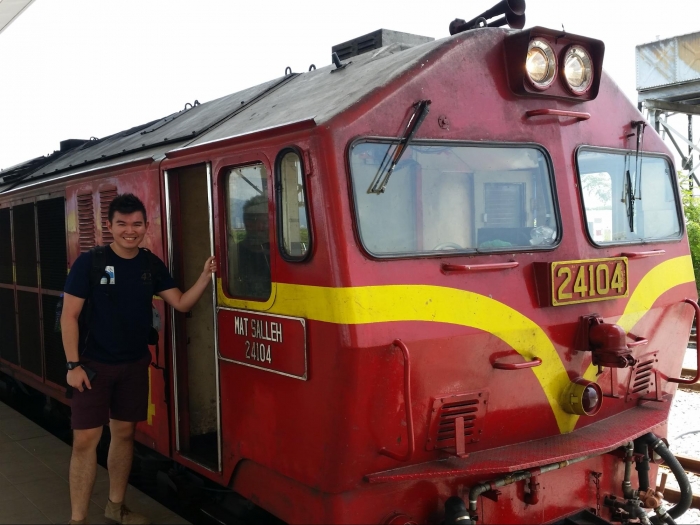 Read also: Singapore to Hanoi by Train: An Extraordinary Journey in 19 Days