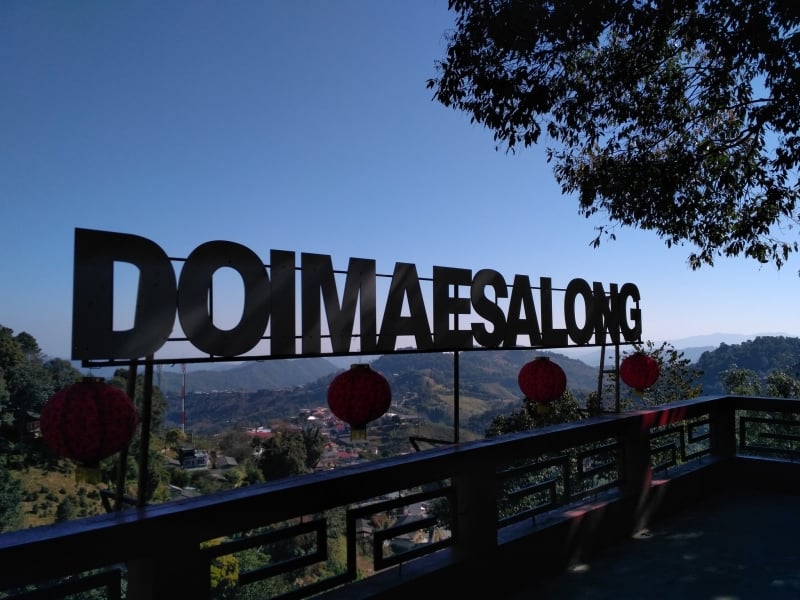 Northern Thailand has become one of the hottest tourist regions, especially in the recent years. Most people would have heard of places like Chiang Rai, Pai, and all-time popular Chiang Mai (which, unfortunately, is overrun with tourists at times).
However, there are still many places left to be discovered in this vast region. One remarkable destination is Mae Salong, a breathtaking mountain settlement lost in time. It may be an unassuming little village, but this destination has a rich history and legacy that dates back to one of the most brutal eras in Thailand and some parts of Asia.
The lost army and its sorrowful history
Once you enter Mae Salong, you'll begin to wonder if you're actually in another country altogether. In fact, you'll discover that most of the signages there are in Chinese and that Mandarin is widely spoken! One would inevitably be curious as to why there's a random Chinese settlement nestled in the Thai mountains near the border of Myanmar. Turns out, it's part of the sorrowful and long-forgotten history of the Chinese Civil War, which involved the communist and nationalist (Kuomintang) camps battling for control of modern China.
Members of Mae Salong's Chinese community are descendants of the nationalist army's 93rd Division. These individuals were originally from Yunnan Province in southwestern China. Their futile defensive campaign led them to lose Yunnan province to the communists and they retreated into Myanmar, only to be driven out by Burmese forces through endless battles. Heavily fatigued from fighting, they had no choice but to retreat further into Thailand, seeking refuge in the mountains that had literally nothing to provide for their survival. Even then, their status was not guaranteed as they had technically illegally entered the country.
Mae Salong today
Eventually, a deal was made with the Thai authorities. In exchange for residency, the outcast Chinese nationals helped to drive out local communist insurgents, whose armed attacks were rampant in the turbulent region. For their service and loyalty to the nation, they were rewarded with Thai citizenship, thus ending their statelessness. Poppies (for the opium trade) used to be grown in the area to fund the army and its weapons, but Mae Salong gradually found the peace it yearned for. With the Royal Project initiated by the late King Bhumibol and currently Queen Sirikit, the lives of Mae Salong residents progressed for the better as they switched to cultivating tea. Today, tea plantations and tourism drive the local economy and living conditions have tremendously improved. Needless to say, if you love a good cup of tea, then Mae Salong is the place to be.
Having survived the darkest times that were hinged on international conflict and the illegal drugs trade, Mae Salong is now a thriving community. It embraces the cultural diversity of Yunnan Chinese and the local hill tribes who call the mountains home. Propelled by political ties, some locals eventually moved to Taiwan and settled there. Despite that, the local demographic is still pretty unique. In fact, Chinese New Year is widely celebrated here and you could easily savour authentic Yunnanese cuisine that has been passed down through generations.
Places of interest
A visit to Mae Salong wouldn't be complete without understanding its melancholic history that has been forgotten by many. Take a hike up to the Tomb of General Tuan Shi-wen, the commander of the 93rd Division who witnessed and experienced the worst of sufferings as he led the retreat into this very location. A soldier dressed in old-style military fatigue would always be present at the site, guarding the general's remains dutifully. This tradition demonstrates the community's fierce loyalty to General Tuan Shi-wen, the long-defunct 93rd Division, and all fallen comrades. Take note: This is a sacred place and one that reminds people of a painful past. Observe solemnity.
After visiting the tomb, head down to The Martyr's Memorial Hall, where the fallen soldiers of the 93rd Division are commemorated. It also houses an exhibition hall documenting the key historical events, the battles, and the obstacles that the soldiers faced, as well as the eventual settlement of survivors in Mae Salong. It's a must-visit spot, especially for history buffs who may not even know that such events transpired there.
Other than its historical significance, Mae Salong is also known for breathtaking views of the vast Thai mountainside. Head up to Sinakarintra Stit Mahasantikhiri Pagoda, one of the highest points in the area. It makes for the ideal vantage point when the weather is good. Or you could go for a day of trekking past smaller villages and hill tribe settlements. Ask the guesthouse owners and they will point you in the right direction.
Looking to shop and eat? Check out the local morning market. The place starts buzzing with activity as early as 5am! Business starts to wind down from 8am onwards, so be sure to wake up early. Soak up the lively atmosphere while enjoying a classic breakfast of hot soya bean milk and youtiao (Chinese doughnut sticks) — perfect on a chilly day. Not enough? Get some piping hot noodles, too! 
As the area is quite spread out, it would be best to rent a motorbike and hop from attraction to attraction. If you can't do that, you may try your luck in catching songthaews (converted pick-up trucks) along the main road. You'll have to negotiate the price for your destinations, though. If you're daring enough, try hitchhiking. Do note locals would not recognise the universal thumbs-up sign, so it's best to prepare paper signages that indicate prominent landmarks (e.g. 7-Eleven or TMB for Thai Military Bank). This will allow you to catch drivers' attention as they pass by, and will also minimise the need to converse especially if you're having trouble with the language barrier.
Also read: Meet the Singaporean man who hitchhiked across 21 countries in 8 months on S$100 a week
Getting there
Located deep in the mountainous region, getting to Mae Salong by public transport can be a challenge. The steep, endless winding road up is too much for heavy vehicles like buses and the journey is punishing even for small vehicles in good conditions. Thus, the most convenient method is to just approach a travel agency and book a tour that departs from Chiang Rai, the nearest city.
If not, songthaews are the only way up and they have very limited departure schedules that end before early afternoon. They're available from the towns of Tha Ton (reachable from Chiang Mai by orange bus departing from the Chang Phuak bus station) and Mae Chan (reachable by bus going towards the border of Mae Sai, from the Chiang Rai bus station).
It is best to rely on local knowledge for departure timings, so ask around before you make that memorable trip up the mountains. That way, you could also make friends along the way. Safe travels!
Also read: 16 Things to Do on Your First Visit to Chiang Rai