Contributed by How To Getaway With Ched
The Thailand-Cambodia border could be the trickiest and worst border crossing process across Indochina countries if done without research. You would be surprised how dirty (literally and figuratively) the place, the negotiations within it, and the process itself just to cross the neighbouring country. I would like to narrate the nerve-wracking experiences we had, together with my two friends, when we travelled overland from Bangkok, Thailand to Siem Reap, Cambodia last June 2016.
The first mistake, I have to admit, that we committed was when we booked through a travel agency a "direct" and "fast" van transfer from Bangkok to Aranyaprathet border, as well as a bus transfer from the border directly to Siem Reap City bus terminal – all in one package.
The package cost us THB 850 each. The van transfer was an hour late than the said call time. When I called the travel agent twice, she said it was because of morning rush hour traffic. We let that pass. The van arrived and we picked up the tour operator few blocks away from the travel agency. She then collected our receipt in exchange for the rectangular red sticker (which until now, its purpose is unclear) placed on our shirts. We proceeded by picking up 4 more passengers along the way, but two of them alighted approximately 4 km away from the border.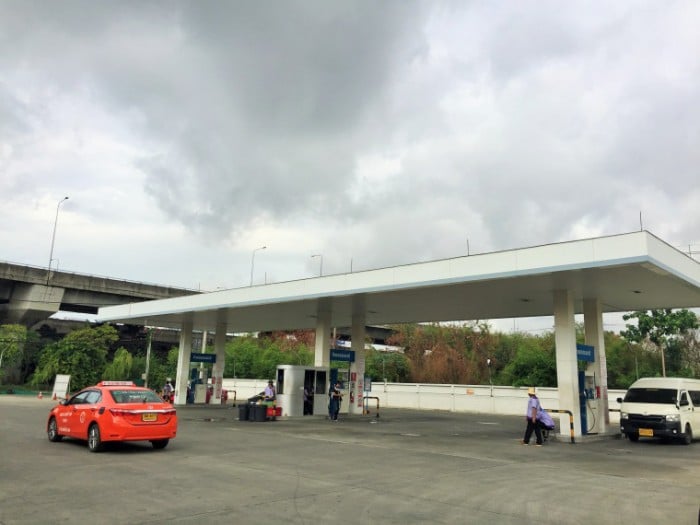 The ride went smoothly but we had about four stops for a 5-hour journey. Yes that plenty, guys. The driver loved to stop just to smoke. And no one will understand the fact that every stop he had to fuel up. Like can't he just make it full tank all at once? Anyway, we didn't want to ruin our day, so we let that pass again. Upon arrival at the waiting area just before the Thailand-Cambodia border, two men were endorsed to us by the driver. These guys will assist us with the step-by-step border crossing procedure. They said we had to wait for 45 minutes for they need to "process" first our passports, and they invited us to have lunch first at the nearby eatery.
The two guys went back holding our passports with the arrival card to Cambodia. They asked the old French couple for some money for the entry visa. Surprisingly, we were also asked THB400 for the stamp. We felt something sketchy was happening that moment. Being a Philippine Passport holder, we must be exempted or should only pay a little amount since we are members of the ASEAN Union. There's varied information on the web, so we were unsure of it. In the end, we just handed out the money so as not to start any argument. After the payment, we received no receipt at all.
We were then instructed to fill out the Thailand departure card and the Cambodia arrival card. After that, they told us the procedure and that we had to meet on the other side. It was a less than 10-minute walk with different Thai men and women offering "faster process" to cross the border, but our guys told us to just ignore them. We finally got our Thailand exit stamps. To my surprise, the walk from this point to the Poipet Border Immigration Office was more heart-pounding and a more horrible one. Building constructions anywhere you look, construction workers offering assistance to the office, and the place was full of trash, muddy and unorganised. About 10 minutes and we finally reached the border office, then we got our Cambodia entry stamps.
We boarded a bus thereafter. This time, we were with other travellers. This bus took us to the terminal station of both minivan and bus transfers to Siem Reap.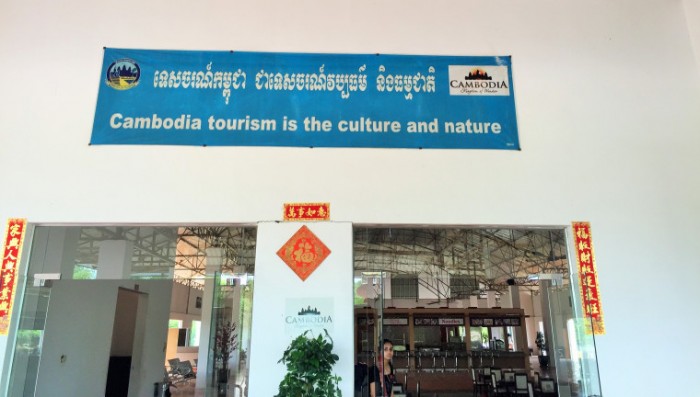 The bus/minivan terminal station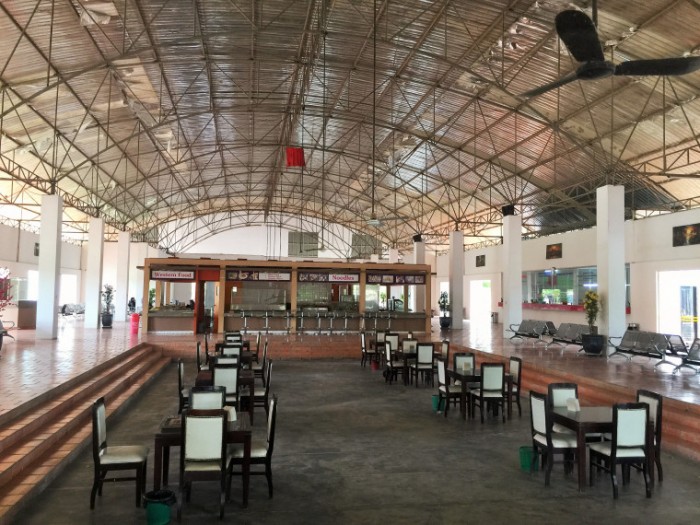 The bus/minivan terminal station
We sat down to rest for a while before the 4-hour bus journey. About 20 minutes later, one of the two guys called out my attention and whispered to me that the bus which will take us to the city will leave at 4 o'clock in the afternoon, and we could take the other option which is a minivan that will leave in a while. Our group decided to wait for the bus because that's what's included in the package. Less than 10 minutes after, the guy approached us again and said they didn't want to wait any longer so we should take the minivan and pay another THB300. We said no to his offer.
My two friends talked to other travellers and they discovered that the minivan is offered free-of-charge to them. Again, free-of-charge. Moments after, the guy approached us again and insisted on taking the minivan for a lowered price of THB 100. We strongly said no to this, since my friend had a talk with the minivan driver and agreed that we will join their ride for free. We told this to the two guys, and it was obvious they were shocked and got enraged. Perhaps because we knew about their modus. They said we can't join the minivan group, because what we paid was for the bus ride. Okay, we clearly understood their point. However, the minivan ride is offered for free. So why are they not allowing us to leave? The tension intensified. The other guy left, but the other one stayed and kept forcing us to pay THB100 if we opt to ride the minivan. My friend asked the other minivan drivers on stand-by if the ride is really free-of-charge; they all whispered yes. The discussion went on and the guy was just going around the bush. That we didn't pay for the minivan, we paid for the bus. That's his statement for a hundred times.
One of the two guys who assisted us from the border to the terminal
We were about to lose hope of catching the minivan. So I asked the guy if we can make a call to the travel agency to formally ask permission to ride it. He said we can call, but kept on saying the same alibis he said earlier. He didn't hand us his phone to make a call by the way. So we insisted that we will ride the minivan, but will not pay him any amount. It took another ten minutes before he decided to allow us to leave via minivan, leaving them empty-handed.
I am sharing this with my readers as a guide in planning an overland trip from Bangkok to Siem Reap.
So here are some tips to avoid being scammed and to make your trip cost-efficient:
1. Don't book via HEHA Travel & Tours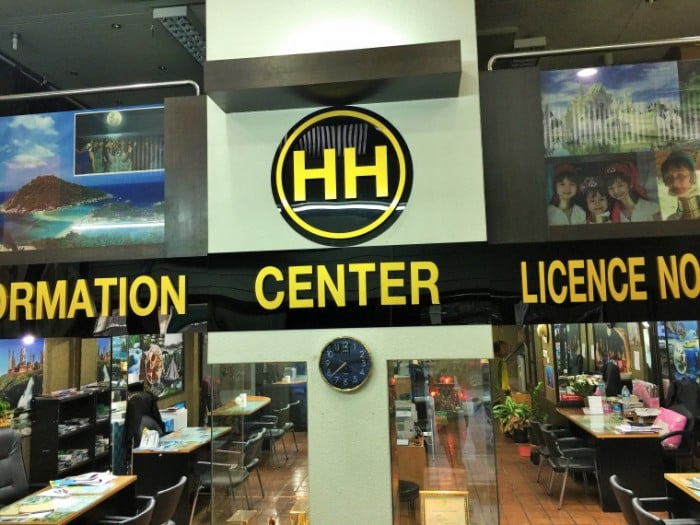 Office of HEHA Travel and Tours
The travel agent promised us a smooth total of 7-8 hours travel time arriving Siem Reap by 2:00 PM, without informing that our bus will be available at 4:00 PM.
2. Cheaper transfers within Khao San Road area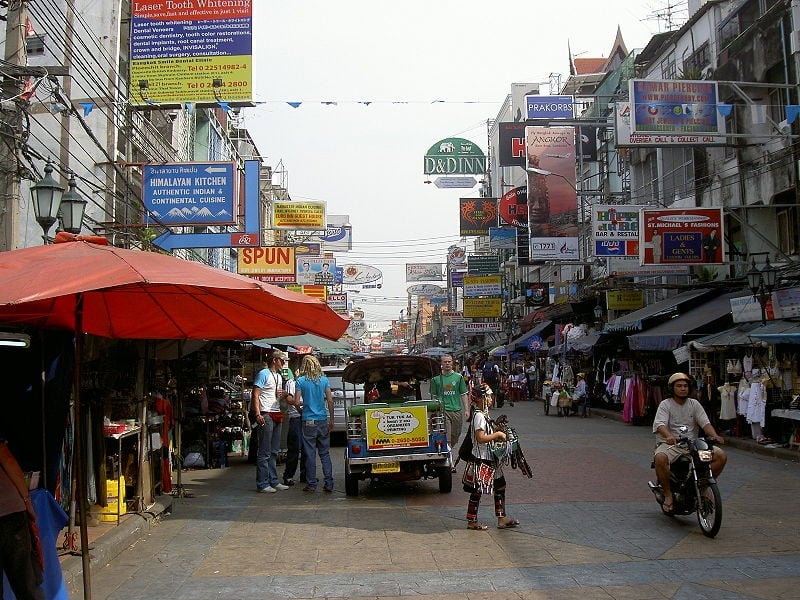 Image credit: Mr Bullitt
There are travel agencies within the area that offer almost half the price of what we booked through HEHA Travel & Tours. We've already booked when we saw these ones.
3. When at the border, don't entertain any offer from anyone.
4. Ride the train from Hua Lampong to Aranyaprathet border if you have more time to spare. It costs only $1.6.
5. Don't take a 2-in-1 offer
Just book a minivan or bus transfer to the border. There are available buses and minivans from the border to Siem Reap City.
6. If you plan to book any package through a travel agency, take a photo of the agency's number for emergency purposes.
7. Don't rely solely on a tourist information centre
One of the reasons why we trusted HEHA Travel & Tours' service was because the Tourist Information Centre agent near Wat Suthat told us that the price of an all-in-one package costs THB 750 and up. The information he gave us was not grabbed from the Tourism Department's website by the way.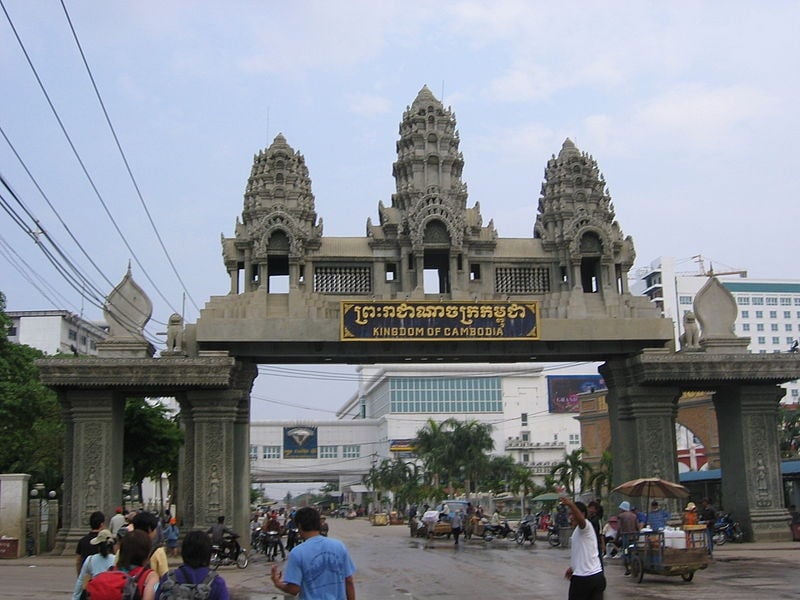 Image credit: Darcy M | The Thai Cambodian border crossing at Poipet
Scams are everywhere, but we have various ways to prevent it. We just need to be well-informed of the alternatives we can do instead of settling with travel agencies that can't keep their promises. I'm still thankful for this experience because we learned a lot from it.