South East Asia is home to many tropical paradises, but there's an up-and-coming one that has been lying quietly in the shadows of its popular peers – discover Belitung, an Indonesian island located in Eastern Sumatra. It is well known for its beaches that make the trip there worth it, but there are plenty of other fun activities available as well, such as trekking and kayaking. We went on a 4D3N trip recently to this relatively undiscovered tropical haven to bring you our first-hand report of what to see, do and eat there!
Day 1:
We arrived at H.A.S. Hanandjoeddin Airport (TJQ) in Tanjung Pandan at 19:00hrs on Garuda Indonesia after a short one-hour flight from Singapore. Shortly after landing, we went for dinner at Dapoer Belitung restaurant that specialises in traditional Belitung cuisine.

After the meal, we stopped at a nearby grocery store; Indonesia is a Muslim country so it's hard to purchase alcohol at the grocer, but if you are keen on buying some for late-night drinks, there are other options – just ask the local folks or tour guide! We were directed to the Lux Melati Hotel, where we promptly stocked up our inventory of whisky, wine and nibbles to enjoy at the hotel pool amidst the sea breeze and sound of crashing waves.

Day 2:
Leebong Island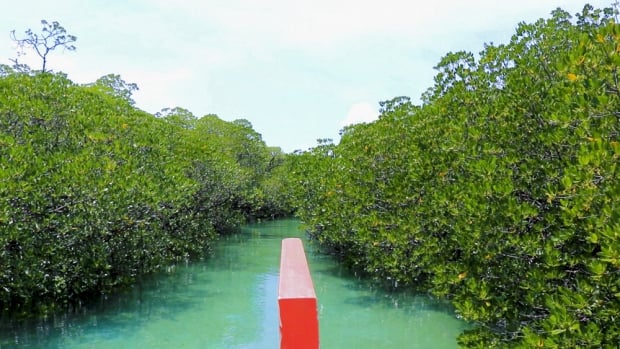 On the way to the island, you'll have a chance to traverse a mangrove, with space just enough for the boat to past. The water is so clear that you can see all the sea creatures such as turtles clearly – remember to get to the front of the boat to get the best seats, but watch out for tree branches!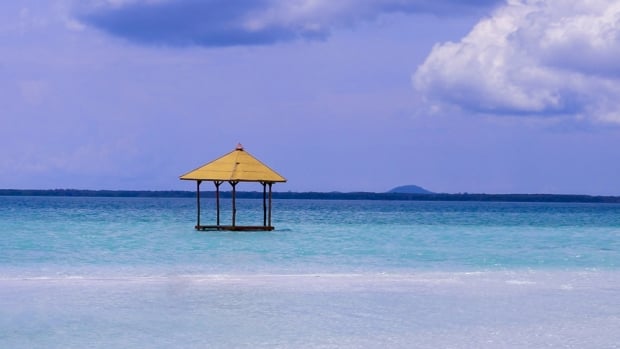 Finally, we arrived at Leebong Island, where there are tree-houses that reminded us of our young and free childhood.

I got a coconut drink and enjoyed my peaceful time there immensely, with the sea breeze (that was rather chilly!) in my hair. If you're not the sedentary type, you can also choose to sweat it out with activities like beach volleyball.
Peramun Hills

At the foothill, you can try Belitung's traditional cakes and coffee. You can find three different types of cakes there; the Kue Klepon, Kue Lumpur, and the Kue Martabak. The cakes are prepared and served in a very traditional way. I don't know whether the cakes are special or because I'm too hungry, but they're probably the best I've ever eaten.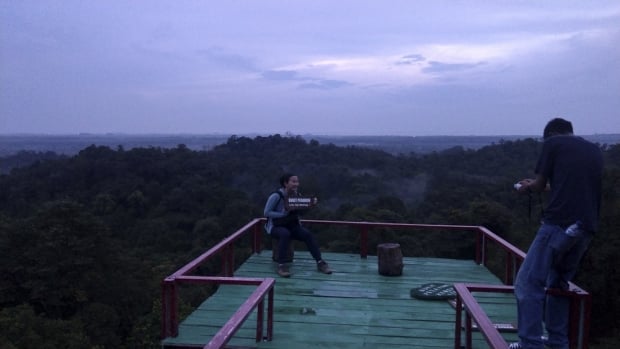 After 20 minutes of easy trekking, you will arrive at the top of the hill. There are some spots for you to take some breathtaking photos. We chose this spot to see the sunset, but unfortunately, we missed it! On the bright side, we got a chance to see the Tarsius – the smallest mammal in the world. No flashlights are allowed so we didn't manage to snap a photo of it, so you'll have to observe them yourself!
Belitung Traditional House

From Peramun hill, we headed directly to a traditional Belitung house to experience the traditional culture. In Belitung, the youngest will have to serve all the other family members, starting from the oldest. This traditional house belongs to a village mayor, so it's the biggest in the area. In Belitung, no one is allowed to build a house that is bigger than the mayor's. All daily activities happen in the main hall, including eating and sleeping. There are no private rooms, not even for newly married couples – there is only a thin curtain to separate them from the rest of the family.
We also tried a unique musical instrument, which is a combination of a guitar and a violin and no, we didn't manage to master it!
Day 3: Island Hopping
Tanjung Tinggi Beach

From Tanjung Tinggi beach, you'll get amazing views of the sea and granite rocks. Look at how blue the photos are!
Garuda stone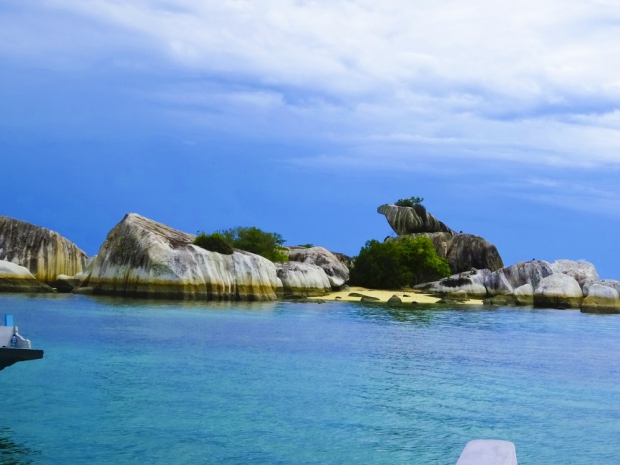 Home to Belitung is the Garuda stone, which got its name because of the resemblance to Indonesia's symbolic bird.
Sailing Rock Island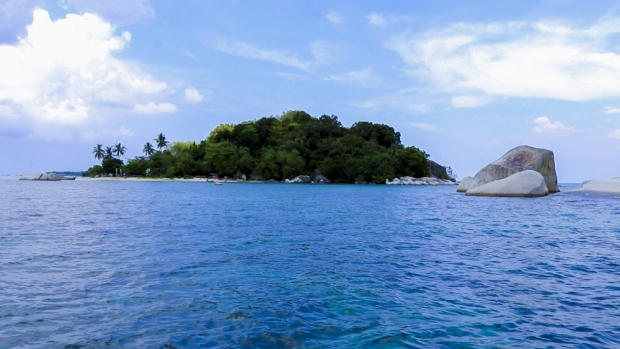 It may not look like it in this photo, but this island actually looks like a sailboat (well, at least according to the tour guide)! We had too many places to explore, so we had to skip this verdant patch of an island.
Lengkuas Island
We stopped at Lengkuas Island to take a rest, enjoy fresh coconuts and take precious selfies with the lighthouse.
Snorkelling at Lengkuas
The photos explain it all – snorkelling is an immensely satisfying experience at Belitung because its waters are absolutely teeming with life! All it took were some biscuits and we were swarmed by marine life.
Kong Djie Coffee

At this traditional Indonesian coffee place, I fell in love with the very strong and authentic beverages. The portions here are huge, so be warned if you're preparing for an early night's rest!
Day 4:
Laskar Pelangi Primary School

Belitung became famous partly because of the hit Indonesian movie, Laskar Pelangi (Rainbow Troops). The flick was so popular that they rebuilt the classroom set for visitors.
Museum Andrea Hirata

One of the must-dos here is to get a photo taken at the colourful gate of the museum of Andrea Hirata, the author of Laskar Pelangi. The nostalgic settings here will bring you right back to the good old days!
Kaolin Lake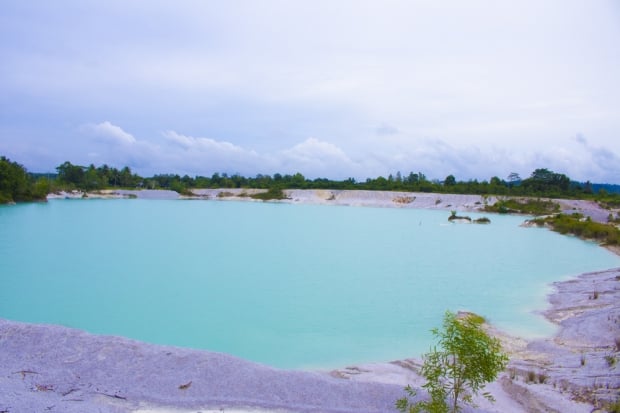 During our journey back to the airport, we made a quick stop at Kaolin Lake, a former mining ground whose eye-blindingly blue water and white border is a result of the mineral-rich deposits in the area. Fun fact: Kaolin is a commonly-found ingredient in skincare, prized for its exfoliating properties!
We left Belitung with a solemn promise to ourselves that we'd be back here again, just to escape from the crowd and enjoy the unadulterated beauty of the place before it gets inundated by tourists, which is inevitable since word is spreading fast! Plus, it's faster to get there on a plane from Changi, than it is to travel to say, Johor Bahru – no further convincing needed!
Big thanks to Garuda Indonesia for making this enjoyable trip possible!
Read more: A 5D4N Davao Itinerary: Eagles, Whitewater Rafting and Traditional Festivals