Do you want to go on an adventure?

Bangkok, the crown jewel of Thailand, and the favourite place for all rabid, shoestring budget Singaporeans to eat, shop, party and Instagram. Oh yes, let's not forget the temples and the cultures and the histories of the place too!
These days, you can do it all at the click of a few buttons. Find the cheapest flight, find the best hotel, and away we go! In two hours, you can be in another country altogether.
But, do you want to go on an adventure?
In this article, I bring you a short, 'how-to' guide for getting from Bangkok to Singapore by train. Don't waste hours googling through the horror stories and the timetables – read this first!
The Journey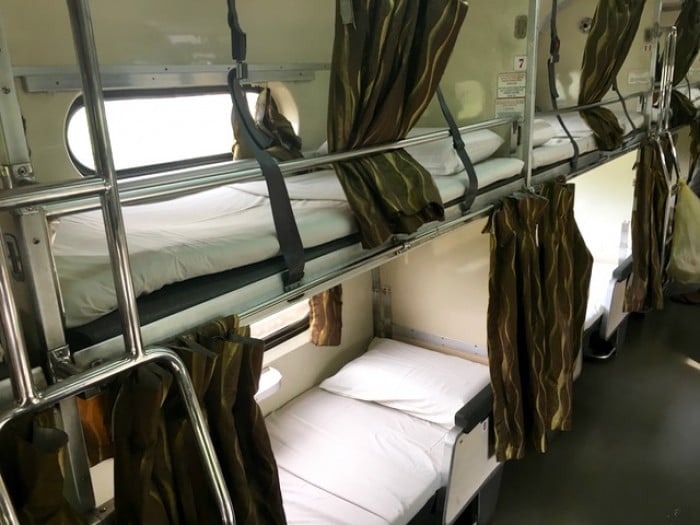 Ground Zero: Getting Started
If you are starting the adventure from Singapore, the journey begins with a different sort of train: Singapore's Mass Rapid Transit (MRT).  From Marsiling MRT station on the North-South (red) line, catch bus 856 to the Woodlands Train Checkpoint. Alternatively, from Kranji MRT station, buses 856, 911 and 913 can also take you to the Checkpoint.
Step 1: Woodlands Train Checkpoint to JB Sentral
Due to the vagaries and intricacies of state-to-state relations and negotiations, no train currently exists that can take you from Singapore to the heart of the Malaysian interior, let alone all the way to Bangkok.
Hop onto the KTM (Malaysian Railways) shuttle train that runs between Woodlands Checkpoint and Johor Bahru (JB) Sentral, the closest Malaysian transport hub to Singapore. There is a KTM Intercity ticket office at Woodlands, so you can buy tickets there too. The journey takes only 5 minutes – which may seem an unnecessary journey, until you see the Causeway jams on the road, traffic snarls which can sometimes run into hours. Taking the train reduces the risk of being stuck in a jam quite significantly.
JB Sentral
At JB Sentral, you must make choices: a headlong dash? Or a more leisurely waltz, with stops all along way? The journey is yours to craft (freedom can be terrifying!) – but here are some alternatives.
First, however: there is no direct train from Singapore, or even JB Sentral, to Bangkok. You will have to change trains along the way, although the details of these journeys are far less complex and troublesome than you imagine.
Step 2: JB Sentral to Gemas
From JB Sentral, catch train 40 (daily at 8.45am, takes 4.5hours), 42 (daily at 10.10am, takes 4.5hours) or 44 (daily at 11.40pm, takes 4hours) to Gemas, the railway junction between the Malaysian east and west coast rail networks.
Trains from all directions stop at this town. It's worth spending some time in Gemas as well, because of its proximity to Gunung Ledang (or Mount Ophir), a climbable mountain. Gemas was also near the site of a fierce, historic battle during the Malayan Campaign of World War Two, where invading Japanese troops fought and overwhelmed British forces.  
Step 3: Gemas to Padang Besar
At Gemas, take the Electric Train Service (ETS). From here, the adventurer has a choice. For those in a hurry, you can choose to carry on: straight to the border crossing to Thailand at Padang Besar, via Train 9204 (daily at 4pm, takes 8hours).
Step 4: Gemas to Kuala Lumpur
For those seeking to add to their collection of capital cities, or to see the familiar anew, catch Train 9202 (daily at 3pm, takes 2.5hours) or Train 9204 (daily at 4pm, takes 2.5hours to KL), and stop at Kuala Lumpur (KL) Sentral station. Kuala Lumpur is the capital city of Malaysia, the beating heart of a country well-known for its dense, mysterious rainforests, its achingly delicious cuisines, and its meteoric rise as an economic powerhouse.
Step 5: Kuala Lumpur to Padang Besar
Consider spending some time exploring this city, if you have the time. In many ways, KL is the older sibling-city to Singapore, albeit one far larger and eclectic in its landscapes and peoples. If Singapore was too manicured, orderly for your adventuring sensibilities, try Kuala Lumpur on for size: beneath its orderly patina of skyscrapers, KL is still delightfully and strangely messy and variegated.
Overnight here, and then catch a morning train northward, to the border crossing at Padang Besar. Trains 9220 (daily at 6.56am, takes 5hours), 9208 (daily at 9.30am, takes 6hours) or 9214 (daily at 11am, takes 6hours).
Padang Besar
Are you ready? Padang Besar is the border you never crossed, because you used to think going to Bangkok only involved an aeroplane. Well, be pleasantly mistaken.
Padang Besar is the only rail crossing between Malaysia and Thailand. Translated literally from Bahasa Melayu, the name means 'big field' – its Thai counterpart across the border bears the same name, although Malaysians refer imaginatively to the Thai town as Pekan Siam…or "Thai Town". From the Big Field, you can actually catch a direct train from Padang Besar all the way to Bangkok.
Again, the question is, are you in a rush?
Step 6A: Padang Besar to Bangkok
The Padang Besar-Bangkok (Train 36, daily, departs at 6.40pm, 18 hours) connection is an epic journey, both in terms of time and distance travelled. Climb into your berth on the train, and wake up nearly a day later in another city, another culture, another country, about a thousand kilometres north of your starting point.
OR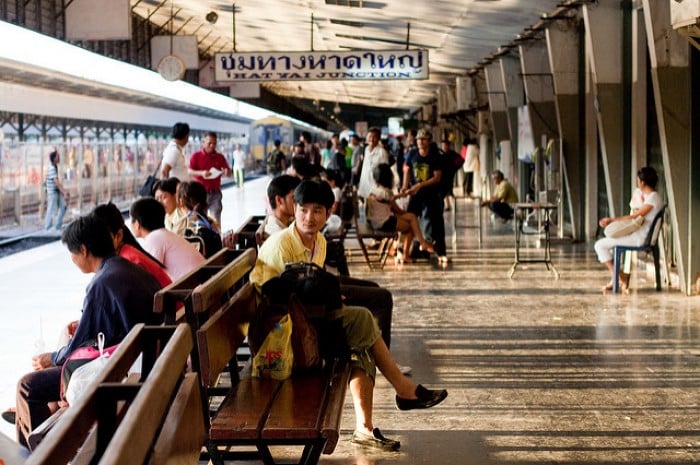 Image credit: Elena Gurzhiy
Step 6B: Padang Besar to Hat Yai
Alternatively, one can wander, because all who wander are not lost. Take your time, and break the journey up. From Padang Besar, catch a train to Hat Yai, a quaint, relatively quiet southern Thai town.
You can take Trains 948 (daily at 9.55am, takes 1 hour) or 950 (daily at 3.40pm, takes 1 hour) to Hat Yai, which takes about 1 hour.
Before you jump headlong into the exuberant chaos of Bangkok, consider walking the more placid streets of this city. Despite its tourist brochures and banners, the truth is that there isn't much in the way of adventure in this city, usually a weekend getaway for older tourists from Malaysia or Singapore. But this in itself makes the city a very attractive place, harking to an older, simpler Malaysia or a Singapore one sees more in postcards and textbooks than in real life these days. Seeing how lives functions at a more mundane, slower pace, can be charming.
Step 7: Hat Yai to Bangkok
Once you are done, however, hop aboard the train again: from Hat Yai, there are two trains for the northward journey to Bangkok, Train 170 (daily at 2.45pm, takes 18 hours) and Train 36 (departing daily at 6.45pm, takes 15.5 hours).  
You will begin in Thailand, in Hat Yai, but the South and the Centre can be worlds apart. Watch as the landscape changes: unravelling first into rural ricefields and rock formations – and then condensing as you near Bangkok, nearly a day later, into urban density and skyscrapers. It's something you would not otherwise see from the sky.
Image credit: Tarik Abdel-Monem
Also Read: Long Train Journeys: 7 Hours Across Southern Thailand
Fast and Slow: A Summary
We've talked too much, and perhaps you are too confused already by the options available. Here's a quick summary of this overland adventure – for the speed demon, and for the slow waltzer.
Fast and Furious:
Singapore → JB Sentral → Gemas → → → Padang Besar →→→→→ Bangkok
Travelling time: about 31hours (not inclusive of customs delays, transit times, delays between transits, etc.)
Slow and Steady:
Singapore → JB Sentral → Gemas →→Kuala Lumpur →→Padang Besar
Padang Besar→→→Hat Yai →→→ Bangkok
Travelling time: About 33 hours (not inclusive of customs delays, transit times, delays between transits, etc.)
Costs have not been included because the combinations and permutations for each individual leg are dazzling! We'll leave you to decide how much (or how little) style you want to travel in, once we have shown you…

How to Book
All long-distance train tickets in Malaysia and Thailand require a reservation, and tickets always include a seat or sleeper reservation for a particular day, and a specific train. Malaysian train reservations open 30 days before departure; Thai trains 60 days. But where to buy said tickets?
Online
There are two main options.
One can also purchase Malaysian train tickets online through KTMB E-Ticket System, the Malaysian Railway network's very own e-booking service. This website can help to book any express train running within Singapore and Malaysia, and you even get to choose a specific seat. You print the e-tickets out yourself and bring them onboard with you. However, you can't book Thai trains on this website.
A more unified solution to online booking is the website 12go.asia, an online agency selling tickets for both Malaysian and Thai railway networks. You can book a whole Malaysian-Thai train itinerary on this site. KTM tickets retail for the same price at which KTM sells them, while Thai tickets come with a small booking fee; however, the Thai railway network itself does not offer online booking services, so this may be a tiny price to pay for the convenience! For KTM trains, you can simply print the tickets out yourself, although Thai trains will require you to collect these tickets at designated collection points, or have them couriered to you.  
At the Station
Or play with chance and serendipity! That is, after all, part of the adventure – turn up on the station on the day itself, and buy tickets from the counter. You can buy tickets for any Malaysian KTM train at the Woodlands train checkpoint in Woodlands, or any KTM station in Malaysia, up to 30 days ahead of your scheduled departure.
Take note, though – international journeys between Malaysia and Thailand cannot be booked in another country. This means that Malaysian KTM ticket counters only sell KTM tickets; they do not sell berths on Thai trains. Likewise, Thai trains cannot sell tickets for Malaysian trains.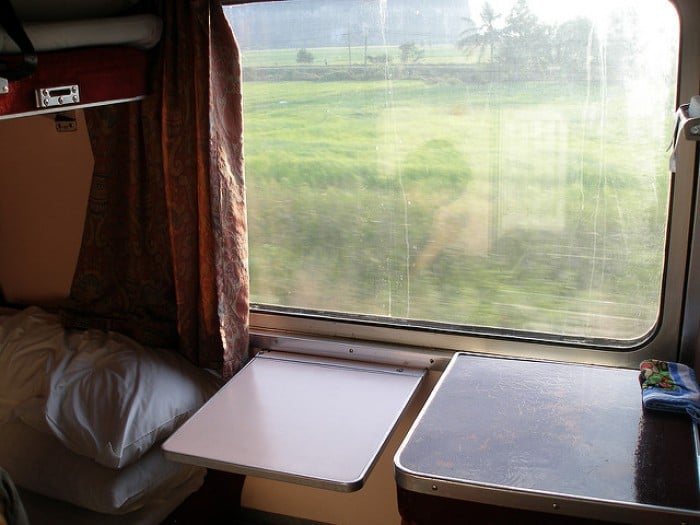 Image credit: Khairil Yusof
Also Read: The World's Most Scenic Train Rides You Have to Take in Your Lifetime
Conclusion
In an age of cheap flights and online bookings, destinations have become cheaper; our dreams to travel have become more and more extravagant: from Chongqing to Cairo; from Paris to Palau. But maybe in taking the high (aerial) roads, we forget that there is also plenty to see and learn, to think and feel, on the ground as well. The overland journey from Singapore to Bangkok is about 2,000 kilometres, and takes more than a day in raw travelling time.
Do you want to go on an adventure?