Singapore may be small, but that doesn't mean that there's nothing to do here in our little red dot. Fancy getting more connected with Mother Nature any time soon? Well, believe it or not, in as much a Singapore is known to be a modern sophisticated hub, here are 20 hiking and nature trails in Singapore for you to check out during the weekends. Remember to put on a comfortable pair of shoes before you get started!
Without further ado, let's check out the best Singapore hiking routes for some outdoor fun!
Also read: 12 Perfect Spots to Catch The Sunset in Singapore
The best nature and hiking trails in Singapore:
1. Chestnut Nature Park
The biggest nature park in town, Chestnut Nature Park, has three trails for you to choose from. This Singapore hiking trail divides into two sections, the North and the South, with two trails that run on the Northern part of the park and another that traverses the Southern section. The Northern Trail is perfect if you're looking for some afternoon shade, what with its scenic cluster of trees. For water lovers, consider the Northern Nature Trail. It walks you by a scenic stream and a showcase of old kampong structures to boot! Lastly, the Southern Trail is perfect for those with a fascination for geological masterpieces.
2. St John's Island
St.John's Island is an unexpected treat for many Singapore visitors and residents alike. In fact, government park conservation group NParks recently launched free and easy 1.6 km out of the 2.8 km guided trail that shows just how unique the St John's experience can be. The most unique part of this tour is that during low tide, you can make your way into the lagoon and get up close and personal with the marine life! Pretty cool, huh?
The park holds guided tours on the first Sunday of every month on a first-come, first-served basis. Be sure to book yourself a slot by checking the registration information here.
3. Dairy Farm Nature Park
Heralded as one of the most natural, rugged trails in Singapore, you can escape Singapore's rigid and manicured facade and take a break at Dairy Farm Nature Park. At this Nature Park, you get to bask in nature in its bare splendour. Not exactly a farm per se, the park has since been repurposed to function as a wetland habitat. Moreover, it is also home to a large species of flora, fauna, and local animals. A hike through this nature reserve leads you to a viewing platform for visitors and to a quarry at end of the park.
Look out for the Wallace Trail (extended in 2020), a 2.2km nature trail that stretches from Hillview MRT station to the Wallace Education Centre and Singapore's first community nursery catered to propagating and nurturing endangered native plants.
Note: The Wallace Education Centre is closed till 13 June 2021.
4. Coney Island
An actual island just a bridge away from mainland Singapore, this island's charm lies in the fact that it's mostly left untouched. Here at Coney Island, Mother Nature runs her course, and the trees grow and bloom unrestrictedly. If you're looking for a day away from the urban jungle that is Singapore, then this is the hiking trail for you. Devote a whole day to walk through the different paths, stake out its five beaches, and brave its off-beaten tracks. The vastly different landscapes make this island a gem at every turn. You'll come to discover why it is one of the best Singapore hiking trails!
Head on down for a variety of activities, including bird watching, cycling and nature photography! Coney Island links to nearby park connectors such as Punggol Waterway and Punggol Promenade Nature Walk. That way, you'll never run out of space to wander around.
Note: Box jellyfish have been spotted in Singapore waters in recent months. Please proceed with caution when visiting Coney Island, lest you get stung! 
5. Southern Ridges
This 10km trek connects together Mount Faber Park, Telok Blangah Park, HortPark, Kent Ridge Park, and Labrador Nature Reserve. Not only does this trek offer a rich selection of flora and fauna for you to admire, it also has the best panoramic view of the city. For leisure hikers, don't worry: You don't have to climb all the way up the 10 km stretch. Instead, simply choose your starting and ending points, and off you go. One highly recommend vista is the magnificent Henderson Waves structure along the route from Mount Faber to Telok Blangah.
Also read: 15 Fabulous Picnic Spots in Singapore [UPDATED 2021]
6. MacRitchie TreeTop Walk
Macritchie Reservoir seems like a usual green reserve at first, but within that lush greenery is a bridge high above the canopy of trees. Sitting 25 metres above the treetops, a trek on the bridge gives hikers a different view of Singapore's lush green landscape. The trek itself will surround you with the thick forest, which makes for a cooling hike towards the suspended climax. Watch out for the monkeys, though, they can get quite mischievous and steal your things!
Note: TreeTop Walk is closed for maintenance works from 11 August 2020. It is expected to be complete by the third quarter of 2021. 
7. Green Rail Corridor
As the name suggests, this hiking trail in Singapore was once a railway track for trains. However, it has been out of use for many years. In recent time though, the track flourishes with lush greenery, coalescing harmoniously with nature. At an astounding 24 km long (supposedly to connect Singapore to Malaysia), it extends from the Tanjong Pagar Railway Station all the way to the Woodlands Checkpoint.
Pro tip: Check out the area between Chua Chu Kang Road and Upper Bukit Timah Road at night, where a section of it actually glows in the dark!
8. Sungei Buloh Wetland Reserve
This reserve is lauded as Singapore's first ASEAN Heritage Park. This one is truly for the animal lovers — with just enough patience and luck, you might chance upon a crocodile lurking in the waters! This reserve is a safe home for an abundance of wildlife — thanks to conservation efforts . As an added nature trip, you'll get to enjoy the lush views of mangroves, mud lands, forests, and ponds.
Note: The Main Bridge is closed permanently and part of it will be converted into a lookout platform from 26 Nov 2020 to end 2021. Also, the Mangrove Gallery and Nature Gallery are closed till 13 June 2021 Click here for more updates. 
9. Kranji Marshes
From walking along actual marshes to grassy lands where unique birds abound, this would make a lovely weekend escape to learn more about the biodiversity and landscape of Singapore. Join the "Evening Chorus at Kranji Marshes," a free guided tour by NParks through the marshes, and gain access to areas normally inaccessible to the public.
Note: Groups visits to Kranji Marshes are suspended till further notice to prevent the spread of COVID-19. 
10. Fort Canning Park
Out of all the hiking trails in Singapore, this park will pique the interest of history buffs. With structures that housed Malayan kings to barracks used during the era of colonisation, this park has borne witness to many historical milestones of the country. Today, it functions both as an event space as well as a quickie rural respite that's perfect for history lovers.
Catch a virtual tour of the park, or check out the lineup of activities here for an enjoyable Fort Canning experience!
Also read: What You Can Still Do in Singapore During Phase 2 (Heightened Alert)
11. Bukit Timah Nature Reserve
Being a popular lookout point and also the highest point in Singapore, this top spot is surely not new to Singaporeans. In fact, it is one of the best Singapore hiking trails. Bukit Timah Nature Reserve trail still, however, offers, a novel way to experience the city. From the foothills, you can choose to take a few paths to the summit, such as the main path which is fairly easy. If you prefer a more scenic route, try hiking up the South View Path to get a more immersive dose of nature on your way up to the top.
Note: To facilitate safe distancing measures, the carpark at Bukit Timah Nature Reserve may be closed. Additionally, certain areas at Bukit Timah Nature Reserve (including Kampong Trail) are undergoing development works until 31 December 2021. More information about the closure of routes and facilities can be found here. 
12. Hindhede Nature Park
Right next to Bukit Timah Nature Reserve, you can spot Hindhede Nature Park. This Singapore nature trail is suitable for families with young ones looking to get outside for some fresh air and greenery. Or, for those who have already checked out the nearby Bukit Timah trail. The reason: It is peppered with well-defined footpath and is considered an easy trail. Moreover, you can acquaint your kids with the rich flora and fauna teeming in the area, on top of enjoying the spectacular view of Hindhede Quarry. It'll be an adventure in nature that textbooks can't replicate.
13. Windsor Nature Park
Singapore's sixth nature park — Windsor Nature Park — positions itself as a fun date spot. There are three rather easy trails for you to choose from, though if you want to try something more novel, go for the Drongo Trail and walk amongst the trees! Also, animal lovers, rejoice: With about 23k to 28k of species on the ground and 392 recorded bird species, it'll make for a fun weekend of exploration and animal-spotting. For flora enthusiasts, make sure to discover the Hanguana Trail teeming with rare native plants. 
Note: To facilitate safe distancing measures, the carpark at Windsor Nature Park may be closed.You can refer to a list of notices and updates here.
14. Clementi Forest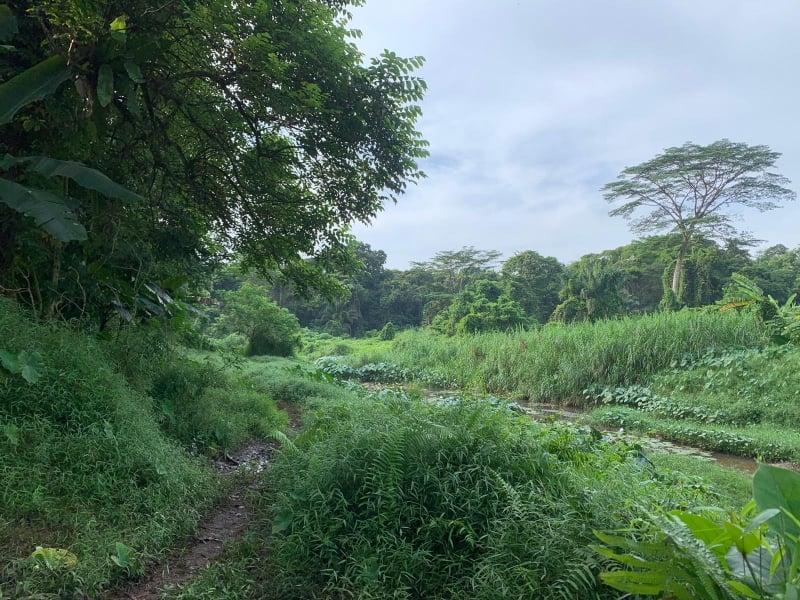 Make your way to Clementi Forest, a green lung nestled in the west side of Singapore, to venture off the beaten track. The sheer untouched beauty here is a stunning juxtapose to Singapore's urban landscape. Spanning 85-hectare, it formerly housed the Keretapi Tanah Melayu (KTM) railway line. Just a heads up: There are no official pathways here so come ready to thread your way through luscious vegetation carefully. Plus, the best bet is to start your trail in the morning so that you can catch sight of the glorious sun illuminating the forest.
15. Singapore Botanic Gardens' Rainforest Walking Trail
Step back in time as you walk amongst a good 314 species of plants that make up the rainforest on this popular nature trail in Singapore. Some of these plants exist even before Singapore's discovery by Stamford Raffles in 1819. You can almost imagine just how green Singapore was like before it became truly urbanised. Plus, since 50% of the plants here are classified as rare, you'll be sure to spot exotic species while trekking through this forest-shrouded trail.
16. Tampines Eco Green
With a savannah-like landscape with geographical features like secondary rainforests, freshwater ponds, and marshlands, this hiking trail in Singapore is almost as natural as you can possibly get. There are three tracks for you to choose from, and the names speak for themselves: Diversity Trail, Forest Trail, and Marsh Trail. Pick your nature trip for the weekend and wander off to your heart's content. One thing's for sure: Whichever path you choose, you'll be sure to feel like an explorer trekking through undisturbed lands. If you're brave enough for night hikes, note that the paths are unlit so as not to disturb the creatures living there.
17. Changi East Boardwalk
Located at the East of Singapore, this trail is mainly a boardwalk overlooking the serene sea. For those who fancy seaside trails, this is an easy walk that treats you to peaceful views of fishing villages of the past and undisturbed beaches. At the end of this trail, reward yourself with some modern comforts at Changi City Point. 
Stop to unwind along this stretch of pathway after a hectic day. Who knows, you may be able to catch a picturesque sunset!
18. Pulau Ubin's Chek Jawa
In spite of its small land area, this hiking trail in Singapore sure packs a punch because of the diversity of the landscape. This spot has no less than seven vastly different ecosystems. You get to enjoy and appreciate each one as you walk around the grounds. You'll find a coastal forest, mangroves, a natural rocky shore, a sandy shore, a sandbar, a seagrass lagoon, as well as the coral rubble area. This is arguably the most well-preserved natural space in Singapore, so it'll be a fun whole-day outing for you to kick back and see more of its hidden gems.
For adventurous spirits, rent a bike or walk to Chek Jawa upon arriving at Ubin jetty. And in case you're holding out on visiting Pulau Ubin, hop on this virtual tour instead!
Also read: 8 Long Weekends in Singapore in 2022 (Bonus Calendar & Cheatsheet)
19. Punggol Waterway
Punggol Waterway is perfect for some family fun because of its water play area and a sandpit where kids go to build sandcastles. If amped up activity isn't part of the itinerary, you may opt to take a relaxing walk by the river to enjoy the calming presence of nature.  After all, it is one of the ideal places to walk in Singapore. Also, the bridges here are a sight to behold – the Jewel Bridge and its futuristic design, for instance, glistens serenely on the water.
Fellow Northeasties, it's time to bring your friends over to explore the beauty that is Punggol Waterway!
Note: Car Parks A and B at Punggol Waterway Park are closed till further notice. Also, the toilets near Car Park B is closed for renovation works. The expected date of completion is 31 October 2021.
20. Upper and Lower Peirce Reservoirs
Even though these two parks sit next to each other, each reserve stands independently of the other, providing more individuals paths to explore. Both the Singapore nature trails are famous for sightings of cheeky monkeys, views of the waterways, and blossoming trees. The Lower Peirce Reservoir, in particular, offers one of the most beautiful sunset views in Singapore. With little high-rise buildings obstructing the view, the calming sunset makes for a great reward after a leisurely hike.
21. Labrador Nature Reserve
For those who love the sea, this Singapore nature trail should be right up your alley. Not only are its coastal views extremely picturesque, this park also teems with wildlife. You can expect to catch sight of  adorable squirrels everywhere during your hike! Other views include swamplands and secondary forests, both pleasant surprises during a hiking weekend.
22. Bukit Batok Nature Park
Last but not least, stake out the quarry pond at Bukit Batok Nature Park. With so little natural quarries in Singapore, its granite core is indeed a sight to behold with stone slabs stretching upwards through rich vegetation. The nature trail is so extraordinary in Singapore that it has a sobriquet "Xiao Guilin" (small Guilin). Fun fact: The name takes inspiration from Guilin city in China where dramatic limestone cliffs adorn the grand city.
Climb up to the lookout-points (easily ten storeys high) for breathtaking views of the quarry. It's definitely a sight you do not want to miss out on!
23. Coast-to-Coast (C2C) trail
Seeking an adventure to kick your Singapore hikes up a notch? Embark on the Coast-to-Coast trail (C2C) that takes you across the island through a series of nature areas, parks, and park connectors. Stretching 36 kilometres, you can set off on your exciting journey from Jurong Lake Gardens and wend your way to Coney Island Park. This curated Singapore hiking trail is certainly lengthy but it commands a variety of sights along the way. Think of the likes of pagodas, lotus garden, a tranquil oasis, abundant wildlife, and so much more.
Undertaking this hike requires a great deal of effort and preparation, no doubt. Also, hydration is key so do make sure you have an adequate supply of water. You can refer to the C2C online Trail Guide or download the C2C Mobile App to help you get started. Fret not if you feel worn out during your hike, you can make a pitstop at one of the ten checkpoints.
Also read: Top 32 Things to Do in Singapore Including FREE Activities!
With so many trekking places in Singapore, there's no excuse to hole up for a boring weekend ever again. Not only do these places provide you with a much-needed reprieve from the urban rush, they also offer so many unique features to keep you occupied, mesmerised, and fit. So, unearth your hiking boots out and get ready for trails that'll shake up your weekends. Are you ready for your best hikes in Singapore yet?