Looking to visit Sentosa for a beach getaway soon? From October 17, all visitors will be required to make a Sentosa beach booking in advance. This applies to peak periods, namely weekends and public holidays.
These new regulations come after a statement released by Sentosa Development Corporation on Wednesday, Sept 23. The system is aimed at facilitating COVID-19 safe management measures. And it will be trialled for an initial period of three months. Adjustments will then be made based on public feedback.
All three of Sentosa's beaches, Tanjong, Palawan, and Siloso, will be involved.
Sentosa said that the procedure is part of their efforts to enhance guest experience and safety, along with reducing queues and waiting times.
Also read: Go Local: Eat, Play and Stay the Singapore Way in 3 Weekends
The booking procedure
To make the Sentosa beach bookings, guests can pre-book their entry up to seven days before their intended beach visits. This is subjected to capacity limits. For visits commencing Oct 17, you can pre-book your visit on Oct 10.
Bookings can be made at this website. Guests may choose from two time slots to visit. This includes the morning slot of 8am to 1pm, or the afternoon slot from 2pm to 7pm.
You may make reservations for up to five people in each booking, after which you'll receive an e-mail confirming your selected beach zone and time slot.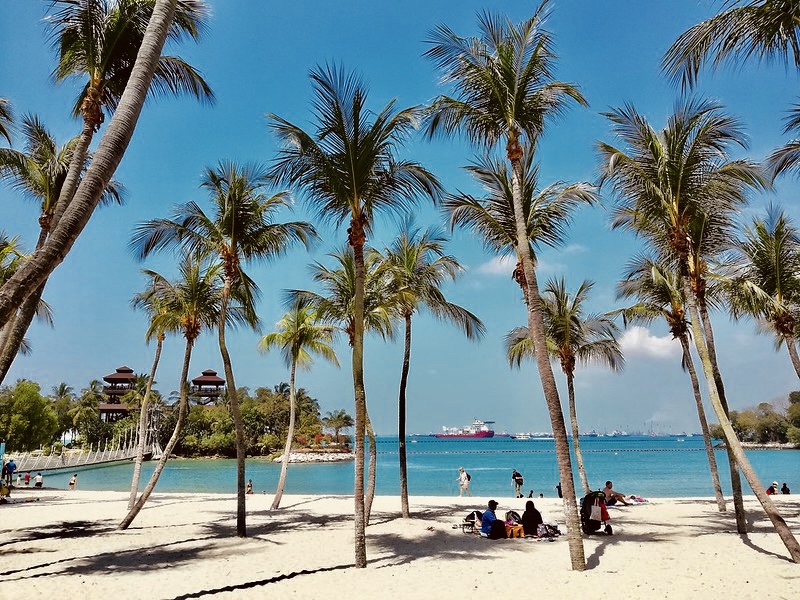 On the day of the visit, all you have to do is to approach the beach entry kiosk and present your confirmation e-mail for verification. Following which, you'll be issued wristbands for admission and may access the selected beach zone at any point during the reserved time slot.
The beaches have been segmented into seven zones, each with a capacity limit of 100 to 350. If you will not be visiting after making a booking, Sentosa reminds you to cancel the reservation so that other guests can visit. With Sentosa beach bookings, you can look forward to a safer beach experience.
Beach activities for you to try
1. Gogreen Segway®
Eco Adventure
Who said all the fun is packed in the sand and water? Try your hand at the Segway® Eco Adventure during your visit to Sentosa. Enjoy a 60-minute ride around the Siloso and Palawan beach and soak in some picturesque views of the island. You can also embark on a shorter adventure of either Siloso or Palawan beach when you opt for the 30-minute ride. This activity is open daily from 10:00 am to 07:30 pm. Visit their
website
for more information regarding bookings.
2. Ola Beach Club
What's a beach day without water sports and chic cocktails? Enjoy an exotic holiday-themed beach outing when you visit the Ola Beach Club. From trying out watersports like paddleboarding and kayaking to enjoying Tiki-style cocktails and Hawaiian-themed food. You are sure to get those beach holiday feels! The club is open daily from 10:00 am to 07:00 pm. Visit their website for more information regarding bookings and boat rentals.
3. Sentosa beach courts
Whether you're at Silosa, Tanjong, or Palawan, a beach court isn't far from view! An engaging game is the perfect way to spend your day under the sun. With numerous beach courts located at various points across all three beaches, you can enjoy a competitive game of beach volleyball, ultimate frisbee, or sand soccer. The beach courts are available for bookings from 09:00 am to 07:00 pm on weekdays and between 08:00 am to 01:00 pm and 02:00 pm to 07:00 pm on weekends. The court bookings are free and based on availability! Visit their website for more information about bookings.
Let's make the most of our trip to Sentosa now that bookings are officially open. These fun and exciting activities are sure to suffice our desire for that beach holiday, right? But it is important to be responsible and follow set guideline so that you can have a safe beach experience.