Nestled in the heart of Southeast Asia, Singapore is a sunny city-state extremely popular with travellers who are eager to discover its world-class architecture and tuck into mouth-watering local delicacies. However, beyond the glitz and glamour of the country lies a more down-to-earth and genuine side that many foreign visitors have yet to uncover. The next time you head to Singapore, venture beyond the usual touristy sites and take it a step further with these seven things to do!
1. Ride the MRT and public buses
Singaporeans are always complaining about the country's train system, but the truth is, it remains as one of the most efficient in the world. Instead of spending money on taxis or sweating profusely while walking under the hot sun, travellers should opt to take the public trains (also known as MRT) and buses and experience what's it like to be a typical Singaporean. On board, you'll get to see Singaporeans from all walks of life and witness them going about their daily business. 
2. Eat and 'chope' a seat at a hawker centre
Forget classy restaurants and dreamy cafés, a hawker centre is the place to be if you're up for some delicious AND crazy affordable local cuisine! "What are hawker centres?", you may ask. They are basically food centres with rows and rows of food stalls selling a variety of drinks and dishes, ranging from refreshing sugarcane juice to fragrant nasi lemak (Malay rice dish infused with coconut milk).
Take note: Don't be surprised if you see packets of tissue paper lying on the tables, because that's how people 'chope' a.k.a reserve seats here! You may also do the same for yourself. 
3. Flaunt your Singlish skills
How could we forget about Singlish, the unofficial national language of Singapore? An English-based creole, Singlish is basically a mix of Chinese, Malay, English and various other dialects. Even though most Singaporeans speak good English, many of us still prefer speaking Singlish from time to time. Whether it's ordering coffee in hawker centres or just chatting with our friends, Singlish is the best way to get closer to one another. The bad news is that Singlish is extremely difficult to pick up unless you stay in Singapore for an extended period of time, but that's no reason to try! Educate yourself about the world of 'lah', 'leh' and 'lor' and see if you can get a grasp of it. 
4. Join every queue you see
Singaporeans have a special relationship with queues. While most foreigners would prefer to avoid queues, many Singaporeans are eager to join the winding lines! And the longer, the better! Whether it's for baked cheese tarts, Hello Kitty plushies or the latest iPhone model, to us, the fact that there's a queue implies that the items must be worth the wait. So the next time you see a queue in Singapore, especially one in front of a food stall, join in instead of just walking away! 
5. Chase after shopping discounts and sales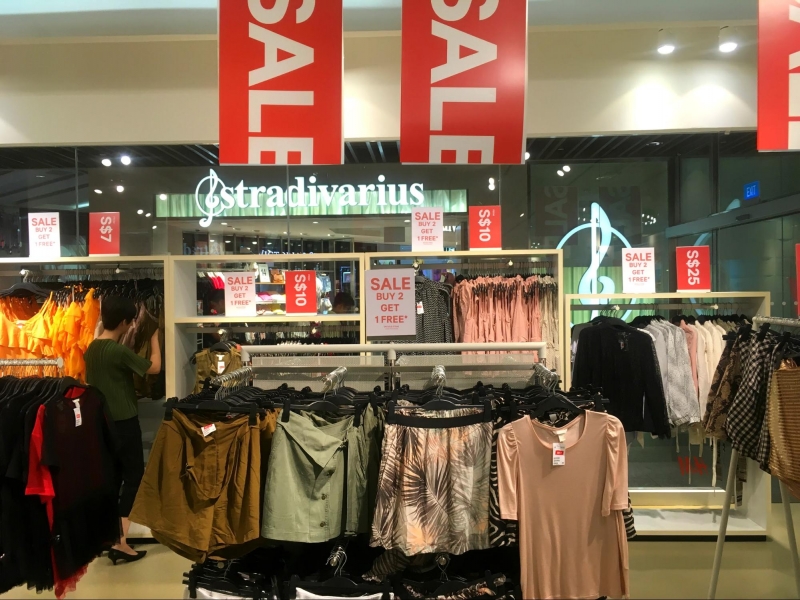 Singaporeans love a good bargain. Nothing is more attractive than the red signs screaming "SALE"! If you visit Singapore, don't forget to spend an afternoon (or two) checking out the various shopping malls for the best deals. Plus, the air-conditioned malls are definitely a welcome respite from the relentless heat outdoors.   
6. Take a stroll around the HDB neighbourhoods
About 80% of the Singapore population resides in public housing flats managed by the Housing and Development Board (HDB) in Singapore. Even though most travellers would not get to experience what it's like living in these flats, those who wish to catch a glimpse of the everyday lives of ordinary citizens can still visit the HDB neighbourhoods! Here, one would find children's playgrounds, small family-run grocery shops, badminton courts, community centres and green spaces scattered around the neighbourhoods. And if you're feeling extra confident about your Singlish, feel free to strike up a conversation with the friendly locals too!
7. Explore the midnight supper spots
To many Singaporeans, there are not three but four important meals in a day: breakfast, lunch, dinner and SUPPER. Hence, it is not difficult to find food stalls and eateries that are open 24 hours or even specially opened at night to cater to the hungry supper crowd. Whether it's the sinfully delicious dim sum or the tantalising butter chicken and naans, your hungry tummies will surely be satisfied. There's no need to worry about going to bed hungry when you're in Singapore!
Singapore may be small in size, but it is certainly a diverse and unique country with plenty to discover. So be sure to try these out the next time you head to Singapore! See you soon!