The SingapoRediscovers vouchers open doors to so many exciting staycations, activities, and tours this year-end holiday. With over 200 different merchants to choose from, the task of planning these activities can get tedious.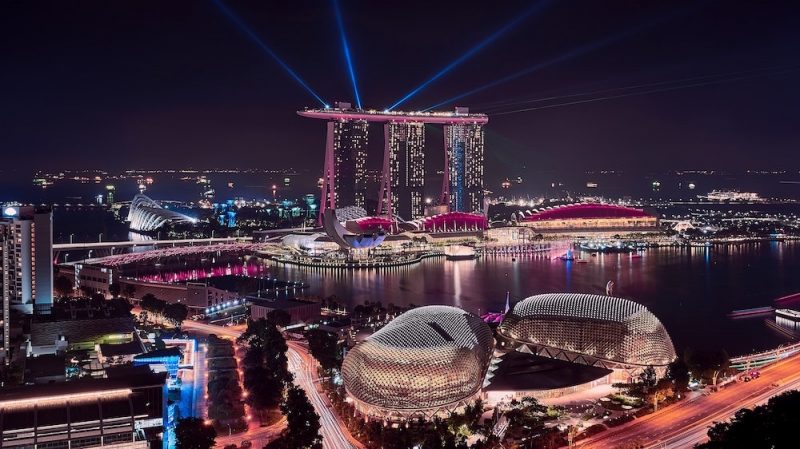 Well, luckily for you, we have the perfect guide to five getaways in Singapore that you can redeem with your SingapoRediscovers vouchers. These include a combination of experiences from all three categories that are sure to reduce the planning time and increase the fun times. What better way to rediscover Singapore than by utilising the vouchers for the best possible experience!
Enjoy a S$10 voucher for your future hotel bookings when you redeem Hotels and Xperiences (attractions and tours) through Traveloka and book with DBS, Citibank or OCBC cards!
How to redeem the SingapoRediscovers vouchers on Traveloka?
But before you begin your holiday plans, you will need to redeem the SingapoRediscovers vouchers through the designated vendors. To redeem the vouchers on Traveloka, you will have to go to the platform and book your hotel or Xperience before being redirected to the SingapoRediscovers Vouchers Portal and selecting the redemption amount. Here's an elaborate step-by-step guide on the redemption process: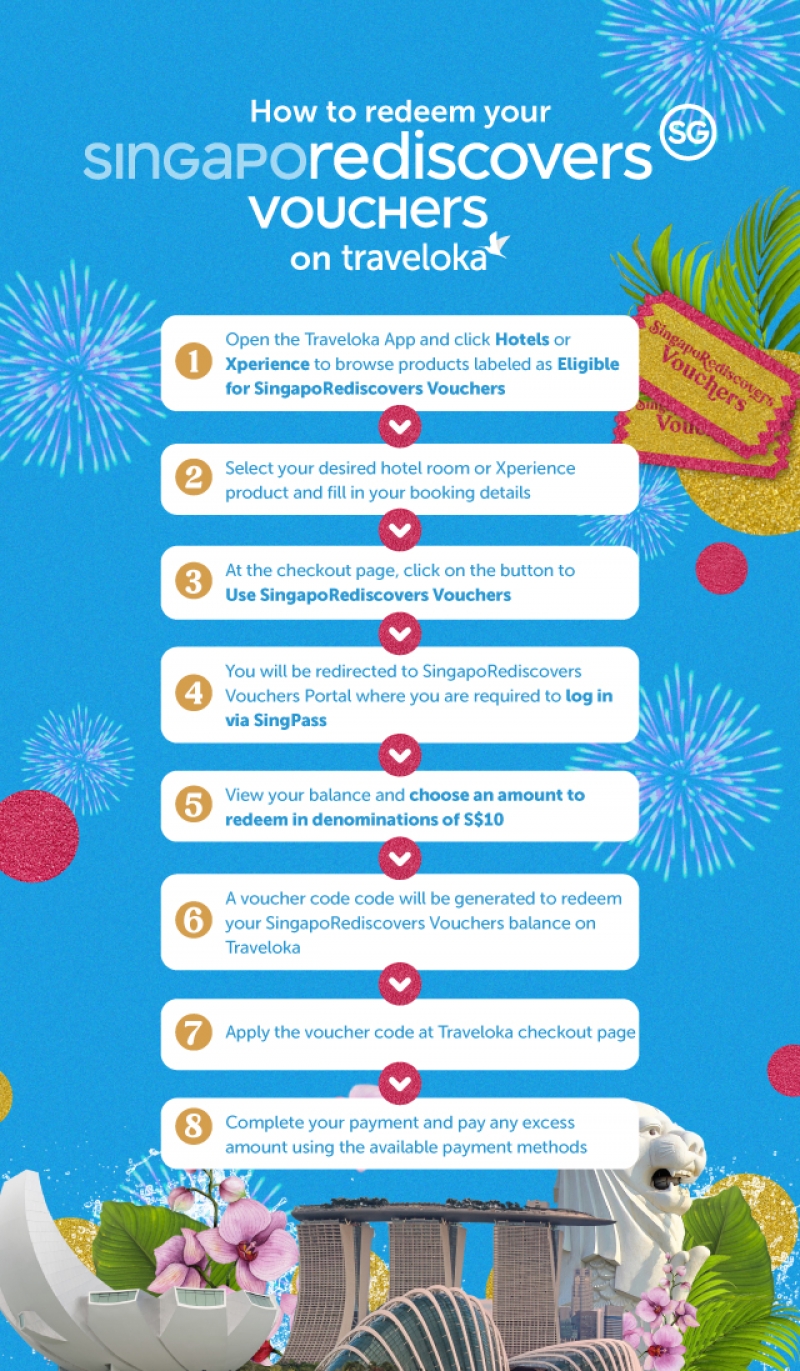 You're now all set to begin your ultimate Singapore getaway for the best possible holiday experience!
1. Staycay at Marina Bay Sands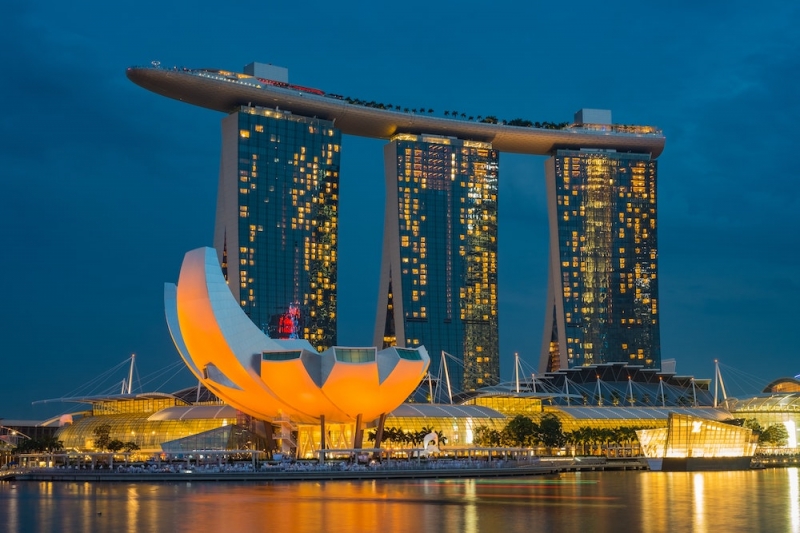 Looking for postcard-worthy stays and a luxury experience of a lifetime? Book your staycation at Marina Bay Sands through Traveloka which will be available late December onwards. This magnificent structure, which paints its presence across Singapore's skyline, is truly hard to miss!
If the sublime views aren't enough, you can enjoy other facilities, including the casino, mall, convention centre, museum, and more. It's no wonder that this is one of Singapore's most iconic landmarks and possibly your next destination for a staycation. 
The two must-use facilities at Marina Bay Sands have to be the Infinity Pool and the boat-shaped SkyPark Observation Deck. The Infinity Pool is the perfect place to enjoy a cool dip whilst sipping a refreshing cocktail. You can enjoy a relaxing swim in the pool that stretches itself to the edge — arguably the best way to take in sweeping views of Singapore's cityscape. Did we mention that the pool is complimentary for all hotel guests?
The SkyPark Observation Deck is excellent for soaking in stunning views of the Marina South Pier. We highly recommend heading here to catch Singapore's blazing sunsets. You're in for a visual treat with some of the country's most iconic attractions at your doorstep, including the Supertree Grove, the Esplanade, and the Singapore Flyer.
The best part? You can redeem your SkyPark ticket with SingapoRediscovers vouchers. It's all about the views and Instagram-worthy pictures here!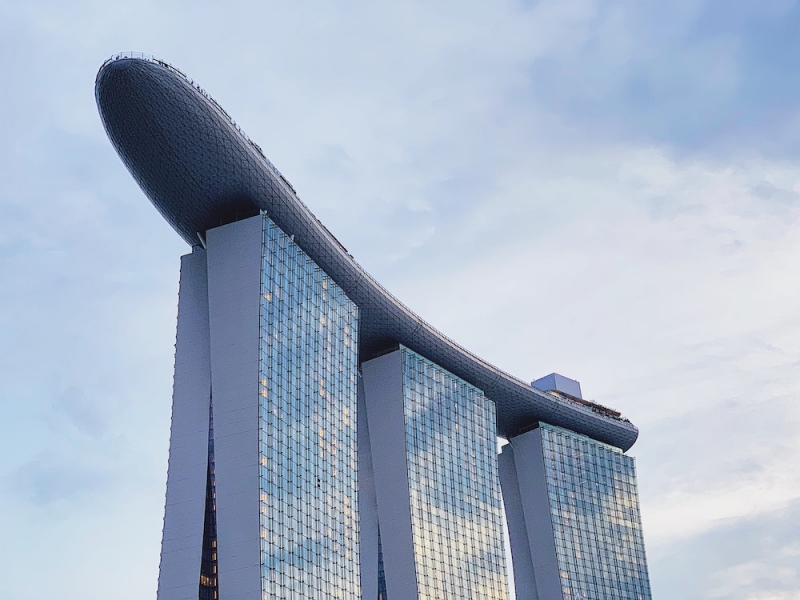 What's a staycation without a sightseeing experience? There are various attractions within Marina Bay Sands for you to explore with your SingapoRediscovers vouchers. If you weren't already mesmerised by the spectacularity of the hotel, these beautiful attractions are sure to do the trick!
You would have already had a look at the magnificent Supertree Grove from the SkyPark. Why not convert the viewing experience into a day tour? Visit Gardens by the Bay and take the opportunity to roam the various attractions there!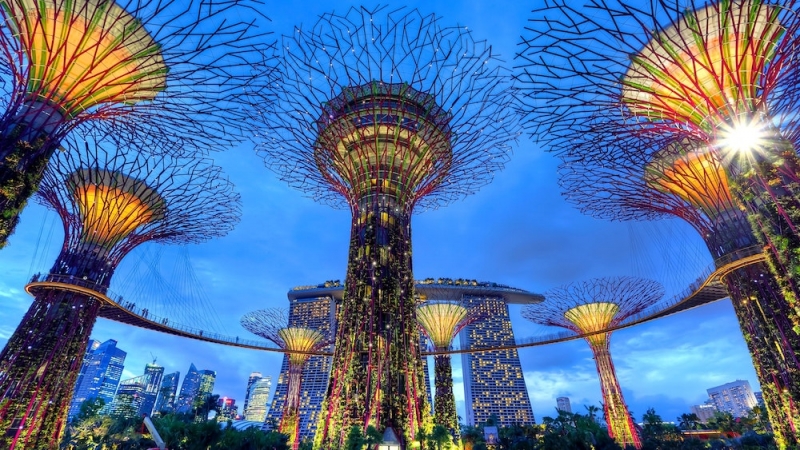 Here's your chance to witness a diverse species of flora from around the world with your SingapoRediscovers vouchers. Visit existing attractions that have charmed tourists from all over: enter a world of eternal spring at the Flower Dome; explore the plant life of the mountainous regions in the Cloud Forest; admire the Supertree Grove on the OCBC Skyway.
Or you can check out new flower exhibits and displays, which include the panoramic Marina Bay skyline seen from the Supertree Observatory and an immersive experience at Floral Fantasy amidst live plants, cut flowers, foliage, and preserved blooms. You can redeem all these vibrant experiences with your vouchers!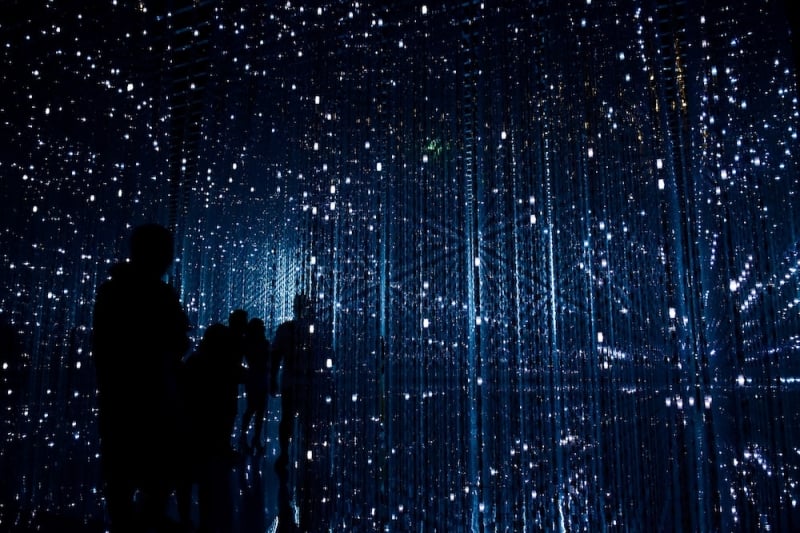 We've all been through tedious museum tours, right? Well, the ArtScience Museum located within the integrated resort at Marina Bay Sands is possibly unlike any other museum you've been to!
An iconic cultural landmark in Singapore, the futuristic exhibitions and amalgamation of art and science make this museum the perfect place to learn all while capturing some great photographs. Exhibitions here cover a wide range of interesting topics, from big data, particle physics, and marine biology to space exploration and cosmology.
Want to explore Singapore's mesmerising skyline and skyscrapers at night instead? Embark on a thrilling Marina Bay night bike tour that can be redeemed with your SingapoRediscovers vouchers through Traveloka! 
2. Fall in love with river views, French vibes, and vibrant city tours
Waking up to a view of the river seems like a Venetian dream right? Well, a staycation at Four Points by Sheraton Singapore, Riverview located at the iconic part of the Singapore River in Robertson Quay certainly comes close!
Stylish guest rooms, contemporary architecture, and a marvelous river scene will greet you every day during your stay here. The amenities at this hotel include an outdoor pool and an all-day dining restaurant, among others. What's more, the hotel grants you 24-hour access to visually pleasing walks along the Singapore River. The hotel also offers complimentary shuttle bus services to Orchard Road — perfect for you to soak in the Christmas decor and street lights this festive season! 
If you're looking for alcove interiors, classy vibes, and French architecture for your hotel experience, you can make your staycation booking at M Social Singapore. Located in the same area, your staycation at this chic hotel is nothing short of an Insta-worthy experience.
The ambience and setting of this hotel are something the French would call tres belle (very pretty). Communal spaces like the hotel pool are a great space for relaxation, but the most striking element at the hotel has to be their greeting robot AURA, and AUSCA, their robot breakfast chef. Now doesn't that sound like two very enticing staycation experiences to redeem with the SingapoRediscovers vouchers?
You know what's a great way to truly maximise your local tourism experience as part of your staycation? Booking a tour with Monster Day Tours! Unlike other monotonous sightseeing tours, a guided walking tour with Monster Day Tours is filled with surprises and unique experiences.
Led by expert guides, you will hear intriguing stories about Singapore's streets, art murals, iconic landmarks, and unique shops. Think of it as seeing the city from the viewpoint of a tourist! Even locals have been known to learn a new fun fact or two about Singapore with Monster Day Tours.
Choose between six different guided tours of Chinatown, Kampong Glam, Little India, Civic District, Marina Bay, and Changi Airport. Sounds like a great mix of heritage sites and urban life!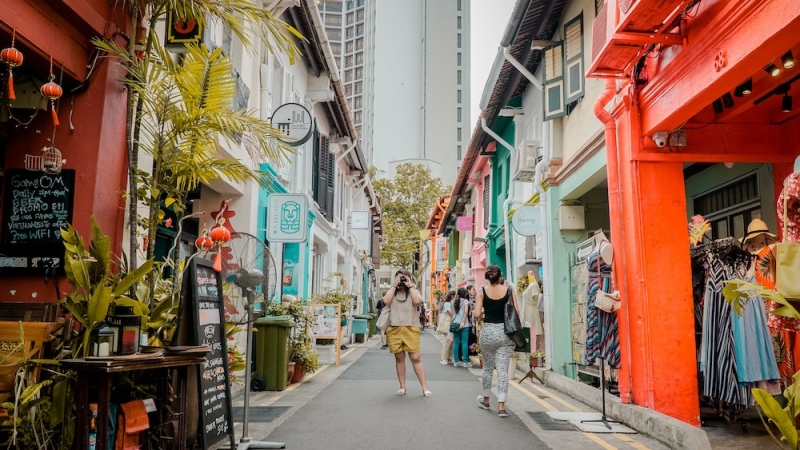 If you're looking for the whole experience of people, culture, and food, why not try out one of their themed experiences? A unique adventure filled with hands-on activities, "behind-the-scenes" experiences and insider tours make for an engaging adventure for family and friends. Don't know how to begin exploring the Singapore River during your staycay? Redeem the Eat, Play, Love @ Singapore River themed experience and embark on a journey to explore the award-winning establishment along the River.
Learn about untold stories, and feast on signature dishes as part of this experience. If you're looking for a more interesting experience, redeem Singapore: The Melting Pot of Tea experience with your SingapoRediscovers vouchers. Every tea-lovers dream, you can get your hands on 20 different tea blends and even take part in the tea-making process! Sounds "tea"-rrific, doesn't it?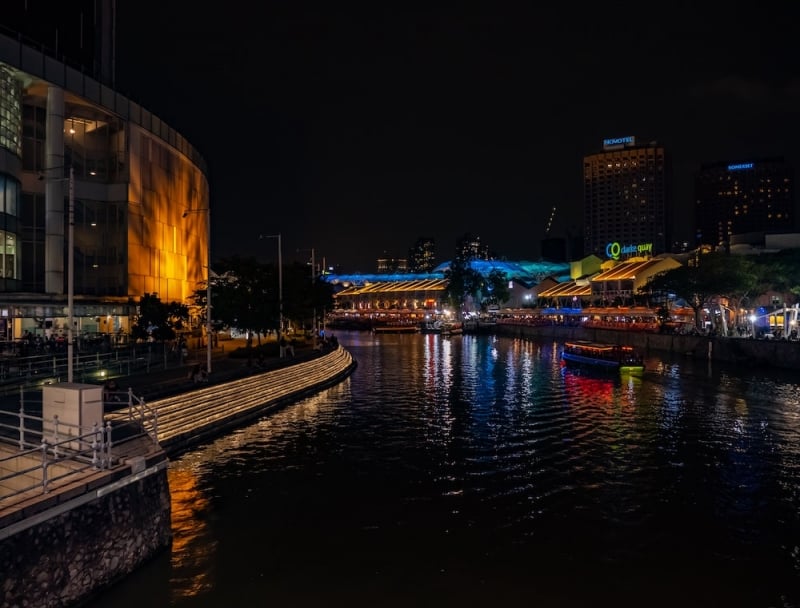 Are you excited to take in stunning river views and learn more about the Singapore River? Find out more by redeeming the
Eat, Play, Love @ Singapore River
tour with your SingapoRediscovers vouchers when you book through Traveloka!
3. Kick back and relax at Sentosa
Looking to indulge in a beach getaway with an array of activities for you to try out? What better place to spend your SingapoRediscovers vouchers than at the ultimate beach-life experience at Sentosa, starting with a hotel booking at the Amara Sanctuary Resort Sentosa.
This resort offers rooms that range from suites and five-star rooms to villas and mansions. Experience time away from city life and completely rejuvenate amidst endless sunshine, free-roaming peacocks, and exceptional hospitality services. What's more, the resort is within walking distance of several attractions in Sentosa, all of which can be redeemed with your vouchers!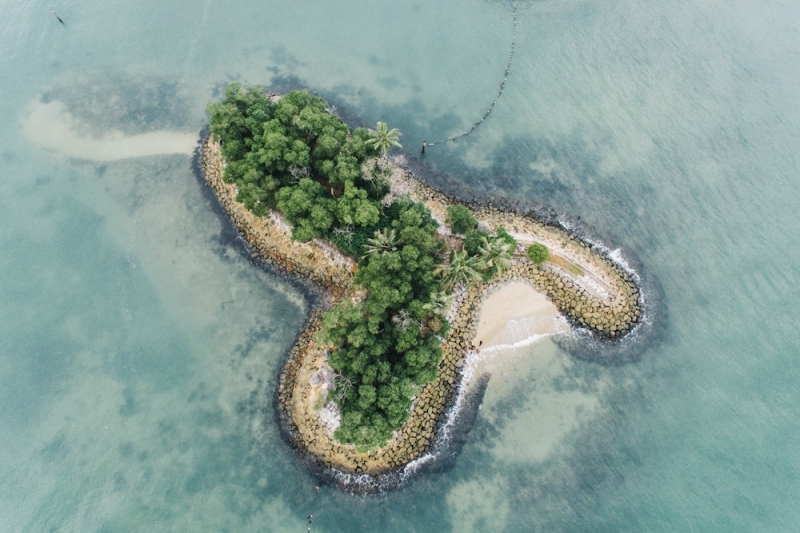 A great way to soak up the various experiences at Sentosa would be to group them by interest. From visiting amusement and wildlife parks to exploring unique museums and trying out adventure sports, there is certainly an activity here for everyone! 
Spend a day at Universal Studios Singapore or Adventure Cove Water Park at Resorts World Sentosa. You can enjoy roller coasters and fair food or go with a refreshing yet thrilling water park adventure! There's a theme park even for the tech junkies! Visit HeadRock VR and enjoy a combination of rides and interactive games all divided into three engaging zones.
Intrigued by marine life? Head to the S.E.A Aquarium™ to see marvelous sea creatures in their simulated habitats. Imagine walking along guided paths while aquatic life swim and whizz past you; the experience is sure to satisfy all age groups! 
Was the sea life adventure not enough to satisfy your love for the wildlife? Redeem your tickets to the Wildlife Reserves Singapore with the SingapoRediscovers vouchers! Explore the Singapore Zoo, Jurong Bird Park, Night Safari, and River Safari.
Museum aficionado or not, the Trick Eye Museum and Madame Tussauds Singapore are definitely fun places to be. Not only do both these museums provide visitors with a unique experience; you can also redeem your visit here with the SingapoRediscovers vouchers!
Let your imagination run wild at the Trick Eye Museum, consisting of various exhibits that feature unique optical illusions and Augmented Reality that brings the art installations and paintings to life. The pictures you take here will leave your Instagram followers both puzzled and amused. 
Ever dreamt of walking the red carpet with your favourite celebrities? Well, a visit to the World Famous Wax Museum, Madame Tussauds will help you turn this fantasy of yours into reality. Bringing you a unique blend of the glitz and glamour of the celebrity world, visitors will be treated to five interactive experiences. This includes an experience at the only Marvel 4D Cinema in Asia and the newly opened ultimate film star experience. We guarantee you that there won't be a dull moment in both these museums! 
What's a beach holiday without lounging under large parasols, sipping on chic cocktails, and diving into adventure sports? Sentosa offers you a myriad of both land and water adventure sports that are sure to give you that adrenaline rush you crave! 
As part of the land adventures, you can try out the world-famous MegaZip flying fox at Mega Adventure. The zipline spans 450 metres in length and overlooks the jungle and beaches of Sentosa — the perfect way to soak in the entire island.
You can also try out Singapore's first and only Bungy jumping experience at AJ Hackett on Siloso Beach. You can even choose to experience a warm water touch in the Bungy pool below. Who said skydiving is an outdoor experience? At iFly Singapore, you can brave an indoor skydiving experience under true free-fall conditions! For a more serene adventure, you can book a seat aboard the famous Singapore Cable Car which will be available late December onwards to capture stunning photos of the island. 
If you're looking for a more grounded experience, the Gogreen Segway Eco Adventure is just for you! Embark on a journey through Sentosa's Palawan and Siloso beaches onboard a segway and take in some picturesque views of the island! For a kid-friendly experience, You can head on to one of the more classic attractions, the Skyline Luge, and steer your way through the various trails. 
With so many activities and attractions available for you to redeem with your SingapoRediscovers vouchers, your beach-themed getaway to Sentosa is surely going to be an exciting one! 
Redeem a combo deal featuring a fun and eco-friendly segway ride around Sentosa and meeting your favourite superstars at Madame Tussauds with your SingapoRediscovers vouchers. Learn more when you book through Traveloka.
4. Explore neighbourhoods and off-the-beaten-track attractions
Little India and Paya Lebar are great places to explore and shop at. So why not make these shopping trips easier by booking a relaxing staycation nearby amidst the city-life? 
A delish dive right into Singapore's exquisite hospitality culture, your staycation at the Aqueen Hotel is going to be warm, friendly, and exceptionally catered to your preferences. The Paya Lebar branch of the hotel offers convenient access to the lively culture of Singapore.
Also read: How to Spend Your SingapoRediscover Vouchers: Here's What You Need to Know
Guests here can explore the vibrant east side of Singapore and retire for the day in the hotel's tastefully furnished, luxurious rooms. The Kitchener branch of the hotel located near Little India, on the other hand, is perfect for those looking to immerse in Singapore's culture and heritage scene. The hotel itself is ideal for fun and relaxation and provides guests easy access to the streets of Little India and Haji Lane. Graffiti walls, art murals, and colourful panels surrounding this area make for an Instagram-worthy experience! 
Whether you book your staycation at Aqueen Hotel Paya Lebar or Kitchener, wouldn't it be great to go beyond the lively scenes these places have to offer and discover lesser-frequented attractions in Singapore?
Head on to the Flight Experience Singapore for a thrilling, immersive experience onboard award-winning flight simulators. Your experience onboard the flight simulator is probably the closest thing to air travel you'll get this year.
This experience is guaranteed to be like no other, where you get the opportunity to pilot your genuine Boeing 737-800. Experience realistic views of the surroundings, different weather conditions, and even hear real flight control sounds. What's more, the entire simulation is conducted by certified pilots who will guide you through the entire "flight". This is truly a unique and exciting experience for those who love travelling, or have ever dreamt of flying an aircraft. 
Your next stop has to be the Singapore Musical Box Museum. An integral symbol in the European culture, musical boxes date back to the 19th century and early 20th century. Learn about Singapore's hand in the progress and development of musical boxes in South-east Asia and even the European influences on the musical box! This is the first musical box museum in Singapore and provides its visitors with an engaging experience that walks you through the history of musical boxes. Talk about a musical journey!
A stay at the Aqueen Hotel sounds like a great way to destress and begin your Singapore discovery journey, right? Learn more about redeeming your tickets to enjoy this rejuvenating experience when you book through Traveloka!
5. Lose yourself in water tours and a shopping paradise
The holiday season should be all about shopping and pampering ourselves. How great would it be to combine these experiences and book a staycation at one of the many hotels along Orchard Road?
Orchard Hotel Singapore offers modern style and comfort whilst being minutes away from the many malls in Orchard. Located right at the busy city-centre, the elegant rooms at the hotel provide repose away from city life. You can jump back into the city as and when you please, and also conveniently access other areas like Dempsey Hill and the Singapore Botanic Gardens. The hotel also provides a fine Cantonese dining experience at the Hua Ting Restaurant for an authentic Singaporean meal.
If you're looking for a more secluded experience, there is no better place than Shangri-La Hotel Singapore. Nestled amidst lush greenery and tropical foliage, this hotel provides a hideaway into nature that is just minutes away from Orchard Road. From complimentary shuttle bus services to Michelin-star dining at Shang Palace, a staycation at Shangri-La is one fancy affair. 
Situated at the heart of Orchard Road, Yotel Singapore offers classic hotel amenities like an outdoor swimming pool, premium spaces, and first-class services for all hotel guests. This hotel is perfect for those looking for an exuberant and exciting break away from work life.
Another centrally-located hotel, Mandarin Orchard Singapore, is a vibrant yet intricately designed hotel with exceptional amenities and features. Guests can enjoy the outdoor swimming pool with a sundeck, a meal at the award-winning restaurants, or even a drink at their bar. Guests staying here also get the opportunity to enjoy the award-winning Mandarin Chicken Rice from the Chatterbox Restaurant. The rooms of the hotel exude contemporary architecture with oriental-inspired themes and soothing colour combinations.
It is also directly connected to the Mandarin Gallery from where hotel guests can begin their shopping experience. Wouldn't it be just lovely to be treated to mellow lights and embellished streets every time we look out onto the streets?
Redeem Singapore DUCKtours tickets with your SingapoRediscovers vouchers and embark on an exciting and picturesque land and water journey of the Marina Bay area. 
This tour experience is going to be a unique one featuring an hour-long adventure that starts with a city tour before splashing into the water for a harbour tour. You will drive past historical landmarks in the Civic District and get a unique view of Singapore's iconic sights from the water, including a sail past the Merlion.
This wacky tour is going to be a fun experience for the entire family and friends. Experience Orchard and Marina Bay as part of this getaway when you redeem your SingapoRediscovers vouchers!
From exploring iconic landmarks and beach activities to soaking in picturesque views and relaxing in opulent hotel rooms, these Singapore getaways are the perfect year-end treat. Take this as an opportunity to rediscover Singapore and experience luxury at the same time. The SingapoRediscovers vouchers certainly do take the disappointment away from our cancelled travel plans! We hope you are as excited as we are to embark on these exciting getaways.
Did we mention that there are over 200 merchants for you to choose from?
Visit Traveloka's website for more information on the full list of accommodations, attractions, and tours that you may redeem with your SingapoRediscovers vouchers!