The promise of a romantic getaway always sounds so promising – until you actually have to make concrete plans. Whether you're a married couple trying to get away from childcare duties, or trying to put together the perfect surprise for your first anniversary – planning the perfect romantic getaway will always be daunting.
If you're stuck in a rut and don't know where to start, why not check out this unique list of activities that you can enjoy at Gold Coast, Australia? While Gold Coast is often marketed as a family holiday destination, its fantastic beaches, vast hinterlands and whimsical theme parks are often overlooked as prime attractions for a romantic couples getaway. From epic road trips to awesome eats, Gold Coast has it all for you and your partner.
1. Laze around and get that sun-kissed glow
What's the Gold Coast without hitting up one (or a few) of their gleaming beaches? Seek refuge from the tropical Asian climate with the beautiful cool winters of Gold Coast! Remember to pack a beach blanket, light sunscreen and picnic basket and get ready for balmy winds that caress your skin as you enjoy a languid afternoon with your partner.
If you are not sure where to start, we recommend the iconic Surfers Paradise to see and be seen! Be moved by the energy of this beach precinct as you lay back and enjoy the feeling of soft sand against your skin and the never-ending stretch of turquoise waters. Or head to Burleigh Heads in Southern Gold Coast to hang out with the locals and visit one of the many great cafes nearby. We also recommend a romantic stroll along Burleigh Heads National Park to enjoy scenic views with your partner. The golden beaches of Surfers Paradise and Burleigh Heads are also prime spots for surfing – whether you're a seasoned pair of surfers or amateurs yet to conquer your very first wave.
Are you and your partner avid animal lovers? Then head down to Palm Beach, a dog-friendly zone that stretches all the way around the creek, with adorable dogs at all times of the day scampering around in their element.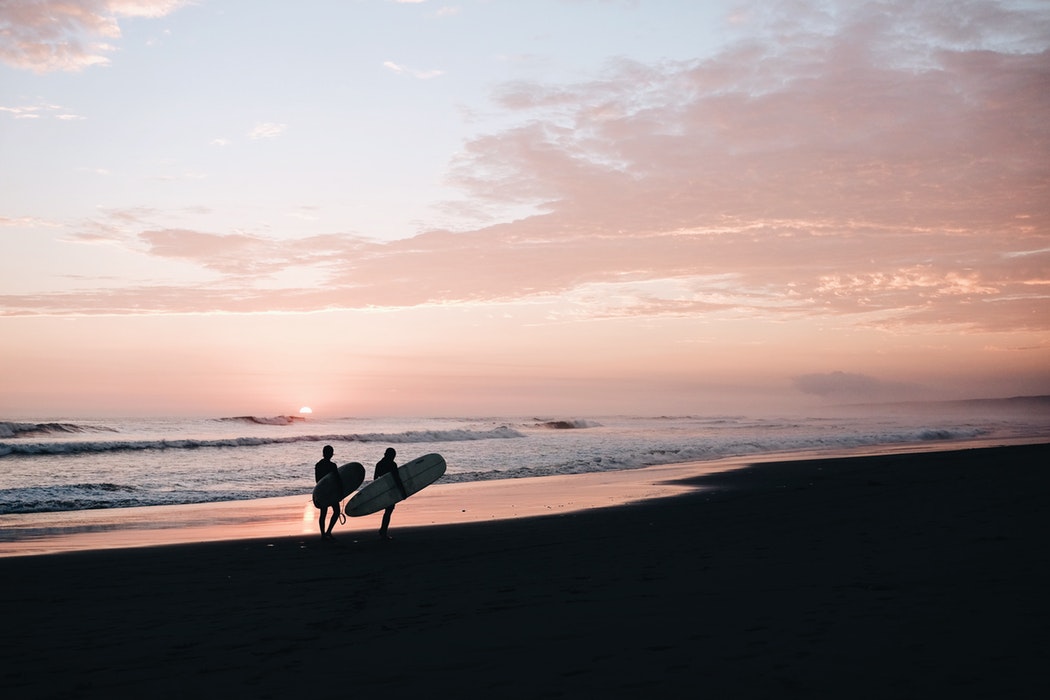 2. Unique dining experiences only in Gold Coast
When night falls, get on board the Ghost Train! Choose from a variety of dining packages at Dracula's Comedy Cabaret Restaurant and strap yourselves in for an unforgettable night of food, wine and an edgy vampiric production designed to be provocative yet energetic.
If vampires are a little too wild for you, you can still have a fancy night out at one of the trendy restaurants dotting the glittering coastline, boasting both exquisite sea views and gastronomic delights that will wow your partner. Don't miss Rick Shores in Burleigh Heads, where an eclectic mix of Indian, Vietnamese Thai and Japanese flavours can be found in treasures like cuttlefish popcorn, pork cheek bao and poached rhubarb.
Seafood fanatics can likewise check out Seaduction, a chef-hatted establishment with scrumptious delights like sumac-dusted baby calamari, butter-poached lobster tail and crushed pea tortellini. With full-length windows framing an uninterrupted view of the ocean, you'll both be treated to a romantic dining experience like no other.
On a budget? Romance is still alive and well at Gold Coast's many night markets such as Miami Marketta and the Night Quarter Market, abuzz with an abundance of delectable choices and live entertainment.
3. Embrace your inner child at Warner Bros Movie World
If the Warner Brothers were a big part of your childhood while growing up, there's no better way to relive those memories than to visit its very own theme park! The theme park boasts 25 thrilling attractions ready to captivate nostalgic couples.
Scream your hearts out at the DC Rivals Hypercoaster – the largest, longest and fastest rollercoaster in the Southern Hemisphere – then feast on finger food to soothe that racing heart. Stay tuned for mind-blowing stunt performances and street entertainment, and you've got a full day of activities lined up to satisfy your inner child.
Taste buds tingling? We've got great news for you – there's no better time to fly and sink your teeth into these gastronomic delights than this summer with Scoot! 
Fly in style with ScootBiz and enjoy BoardMeFirst privileges, double legroom, in-seat power, a wider selection of meals and more – you'll definitely be getting a lot more bang for your buck with ScootBiz.
4. Catch the sunrise in a hot air balloon
Never failed to tear up at the Fredricksens' fairytale romance in the Up movie? Well, you can now recreate snippets of your favorite love story – onboard a hot air balloon ride. While a single hot air balloon seems less striking compared to Mr. Fredricksen's colourful amalgamation of regular balloons, the panoramic views of Tamborine Mountain and Lamington National Park bathed in the soft rays of the rising sun are sure to tug at your heartstrings just the same.
You'll have to get up at ungodly hours (the latest pick-up ends at 4:30AM), but we promise that the sights are worth it. The luxurious spread of breakfast food, pastries, fresh juices and fruits after your ride puts a perfect end to your beautiful morning.
5. Race each other on a quad-bike
New experiences are often the key to keeping the romance alive, so why not rent out a rumbling ATV Quad Bike and head out for an outdoor adventure with your partner? Race each other across the unobstructed landscapes of Springbrook and Lamington National Parks, and navigate through quaint creeks and winding dirt tracks in search of picturesque spots for that classic Insta-worthy romantic shot. Try out providers like Gold Coast Quad Bike Safaris and book them in advance for an exciting afternoon ahead!
6. Profess your love from the skies
You've got your nerves in a bundle, a bunch of butterflies in your tummy and your sweaty fists clenched in a ball. Taking the leap of faith off a helicopter sounds a lot like that time you confessed to your partner, doesn't it?
Laugh about that nerve-wracking moment with your partner after you soar through the skies with Gold Coast Skydive, the only skydive centre on the Gold Coast. Forget Italy or Switzerland, Australia's scintillating beaches are the best places to conclude that spectacular landing.
7. Elope on a road trip
Why not live out your fantasy of eloping for a day by cruising away on a road trip? Nothing's more romantic than having one hand on the wheel and the other firmly wrapped around your partner's – just be sure to keep both eyes on the road.
Gold Coast has a lot of car rental companies on offer with pick-up points at airports and various areas in the city centre, so feel free to take your pick. Nature lovers cannot miss the Glasshouse Mountains National Park in Sunshine Coast, which boasts unmarred blue skies stitched together with the dramatic row of 11 jagged volcanic peaks and other mesmerising views that will take your breath away.
Raring to check these scenic landscapes off your bucket list, but unsure of when to fly? Here's your chance!
With Scoot's non-stop flights 5x weekly from Singapore to Gold Coast, you'll no longer have to worry about finding a flight timing that fits your busy schedule. Grab your partner and get packing right away, it's time to Scoot to your next holiday!
8. Savour fine wine and picnic on a vineyard
Looking to indulge yourselves? Get lost in each other's eyes as you make your way through O'Reilly's Canungra Valley Vineyard. You can get your hands dirty together with fun activities such as grape pruning and harvesting, before grabbing a gourmet picnic basket along with a bottle of wine to just stretch out by the creek.
Gold Coast is home to a slew of other excellent vineyards such as Cedar Creek Estate, Witches Falls Winery or Mount Nathan Winery, so you can be sure there'll always be one within your reach. Make sure to pre-book a timeslot at the vineyard of your choice before going, to guarantee a fantastic visit personalised to your preferences.
9. Rediscover yourselves in the Gold Coast Hinterlands
Thirsty for more of Gold Coast's natural beauty? There's no greater place to lose yourselves in nature than the Gold Coast Hinterlands, a stretch of paradise famous for its unsullied World Heritage sites, scenic mountain villages, a beautiful rainforest and much more.
Spend a day exploring the wonderland of Mount Tamborine, where waters are so clear that they look like a sea of mirrors, or traverse cascading waterfalls such as Cameron Falls and Cedar Creek Falls. Burn some calories together by trekking around O'Reilly's Rainforest Retreat to spot numerous wildlife, do the Glow Worm Tour or ramp up the thrill with a ride on the zipline.
And if one heart-stopping moment leads to a craving for more, check out the Currumbin Wildlife Sanctuary, complete with a treetop rope challenge course, Aboriginal performances, a journey through the ancient supercontinent Gondwana and the isolated Currumbin rock pools – perfect for you to take an uninterrupted dip in.
10. Snorkel with the fishes
If it's not too cold for you, we recommend diving into crystal-clear waters for a fascinating afternoon of snorkelling. Marvel at the untouched corals of the Southern Great Barrier Reef with a day trip to Lady Elliot Island, where you'll find the best snorkelling and diving destinations.
Take your pick between unique ways to admire the reef  – onboard a helicopter, a glass bottom boat, snorkelling, or even all three! Swim free amongst the colourful fish, clams, sea stars, reef sharks (they're harmless, don't worry), manta rays and dolphins before cuddling up to one another for an hour of bird-watching; it'll be one of your most enthralling holiday experiences yet.
11. Take on nature with style
Do you find yourself or your partner constantly addicted to social media and dependent on the Internet? There's a way to go off the grid and spend quality time with your dear one without compromising on comfort: glamping!
For the uninitiated, glamping is an upgraded style of camping, such as the likes of Ketchup Glamping or Nightfall Wilderness Camp. For the latter, immerse yourselves in the privacy and tranquility of nature whilst retaining the comforts of city life in a luxurious private tent, in front of a campfire and beneath a sky full of stars.
Have a couple of special requirements? Whether it's dog-friendly accommodation, a beachfront view or secluded enough for you to party the night away, Pitch Luxury Camping on Sunshine Coast will take care of everything for you. Simply put in your requests, check off a list of optional extras (private showers and toilets, separate pop-up kitchens and personal chefs, anyone?) and show up for a lovely night of self-indulgence.

If you're both looking for something a little more rustic, book a farmstay! At places like Cedar Glen where the cell phone reception is next to none, unwind by collecting chicken eggs, milking cows, petting miniature ponies and dining on fresh produce. You'll both feel refreshed and rejuvenated after such an organic and simple experience!
Are you ready to fly? Don't miss these unbeatable flight promos to set aside more dough for your fun in the Gold Coast!
Scoot's non-stop flights 5x weekly from Singapore to Gold Coast means you get to skip the hassle of transits, and jump straight into your romantic getaway. If you're looking at overnight flights, we recommend choosing ScootBiz. ScootBiz perks include seat selection, double legroom, priority check-in and boarding, extra check-in luggage allowance, larger variety of dishes on the menu, complimentary drinks and more!
There's no time to lose; it's time to experience Gold Coast with Scoot today.
For more information about Gold Coast, visit Tourism and Events Queensland's website.
---
Brought to you by Scoot and Tourism and Events Queensland (TEQ).