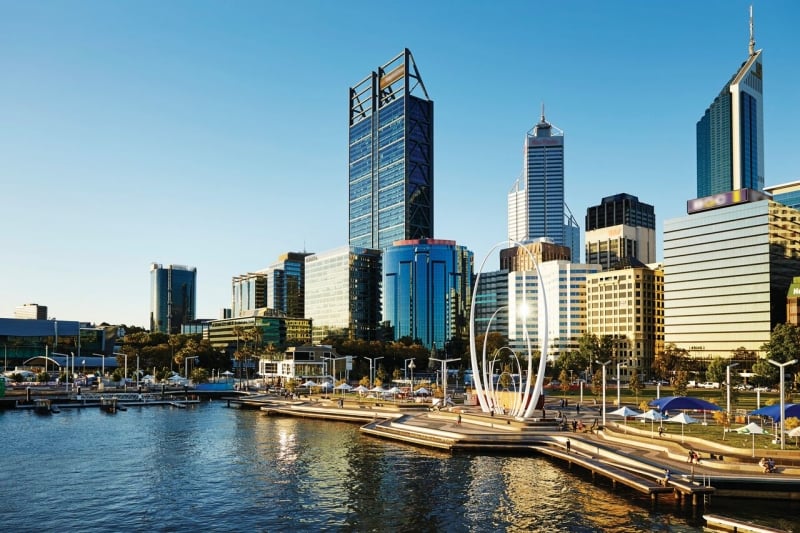 Are you feeling jaded, worn out from office life, or simply dreaming of a short break and possibly a new adventure? Well, what you (much) need is a weekend getaway. And we're here to help you get down to it! Situated in the heart of the Western Australian (WA) state and a short 4.5 hours flight away from Singapore is Perth, your perfect travel destination (weekend getaway or not)!
The weather in Perth's great – you'll get to experience summer without the harsh humidity, or winter without the freezing cold. Plus, accommodation options are relatively affordable here, with hotel rates going for less than S$150 per night (even in the CBD!) and various special weekend deals. From its delectable dining scene to its many scenic and off the beaten track landscapes, Western Australia offers a range of extraordinary experiences you won't find anywhere else.
Don't believe us? We've gathered a few reasons that'll have you planning to make Western Australia your next weekend getaway.
1. Perth's a lot cooler than you might think
Over the past decade, Perth has undergone many changes – and fabulous ones, may we add. Dubbed as Australia's new capital of cool, Perth is home to dozens of hip cafes, stylish boutiques, chic hotels, and stunning hangout spots like Elizabeth Quay. While it has been developing steadily, the city's unique heritage can still be felt within its chill atmosphere and surroundings.
Not sure what we mean? Simply pay a visit to Northbridge, the city's urban arts district. You'll find not only indie art galleries and the Perth Cultural Centre in the area, but a wide array of nightlife fun, from cocktail lounges and al fresco eateries. Outside Northbridge, there are countless bars and pubs scattered around Perth's CBD too. Don't miss the newly opened Yagan Square – it's a fun community space featuring street food, cafes, and a venue to arts and special events. Even if you're outside the city, you're not missing out much – simply look up at the night sky and sip on a glass of your favourite wine underneath the canopy of stars.
2. Perth's local speciality products are addictive
It's not every day you get to savour and shop fresh farm produce. Besides its huge array of homegrown fruits and vegetables, Western Australia is known to satisfy taste buds with its local specialty products, like honey and nougat. Don't know where to start? We suggest hitting up Swan Valley for its many food factories, where you'll find premium chocolate, nuts, and more. There's also honey cake (a heavenly combination of honey flavoured layers and smooth milky caramel filling topped with fresh ground walnuts) – which you can find in Fremantle, and even in Perth CBD. Prep your wallets beforehand, because not only are these snacks wonderfully addictive – they're perfect as souvenirs and gifts for your loved ones back home!
3. There's always something exciting happening in Perth
If you can't make it to Perth in June, fret not – there's always something happening in the city literally every month. Though, there are some activities you want to keep an eye on. For those travelling with younger ones, truffle hunting is a fun family activity you don't want to miss! Truffle hunting season occurs every June (just in time for the kids' school holidays!) to September, in the Manjimup region. For those who love the ocean, we suggest swimming with the (completely harmless) whale sharks and abundant marine life in WA's stunning Coral Coast area every mid-March to August.
Even if you aren't the active type, there are music gigs all year round, so chances are you'll find something that tickles your fancy – whether you're in the city or the countryside.
4. Perth showcases the natural wonderland that is Western Australia.
Believe it or not, Western Australia has one of the world's biggest wildflower collection – boasting over 12,000 flower species, with over 60% not found anywhere else! The season typically begins in the North every June and reaches Perth by September, so plan your trip well!
You really don't want to miss out on an opportunity to pose with the perfect Instagram backdrop or a scenic view of kaleidoscopic flower fields at every corner. For the adventurous, there are several wildflower trails spanning across the region you definitely want to try out. If you're heading up north towards WA's Golden Outback region, don't miss the bright bubblegum pink lake. Yes, pink – you have to see it to believe it!
5. There's tons to do – even an hour out of Perth
You'll probably be craving for a more relaxed, laid-back vibe once you're done exploring the metropolis of Perth. Good news: there are tons of places to go to that are far from the charming city, and they're all an hour away at most! If you're a foodie at heart, head on a food and wine trail in Swan Valley's never-ending vineyards and farms. Fremantle's also got cool microbreweries and cafes you can easily lounge for hours in, and even seafood joints and markets for the seafood lover in you.
Animal lovers, discover Rottnest Island's tropical marine life and snap a selfie with one of the many friendly quokkas while you're there. If you love dolphins, swim with the majestic creatures at Rockingham (45 minutes away from Perth), or spot them while you embark on a cruise in Mandurah (an hour away from Perth).
Now it's no big secret that Western Australia holds a plethora of hidden gems, all of which are worth discovering and marvelling at. We hope we've inspired you to begin your next adventure in this underrated destination! So why not take some time off for a short weekend getaway in Perth?
---
Brought to you by Tourism Western Australia and Singapore Airlines.