The Harbour City beckons with the holidays just right around the corner! A perfect balance of both nature and city life, nothing screams enticing as much as Sydney. No matter what type of vacation appeals to you – from chasing adrenaline rushes to food hunts, experiencing new cultures, or getting intimate with Mother Nature, Sydney's got it all lined out!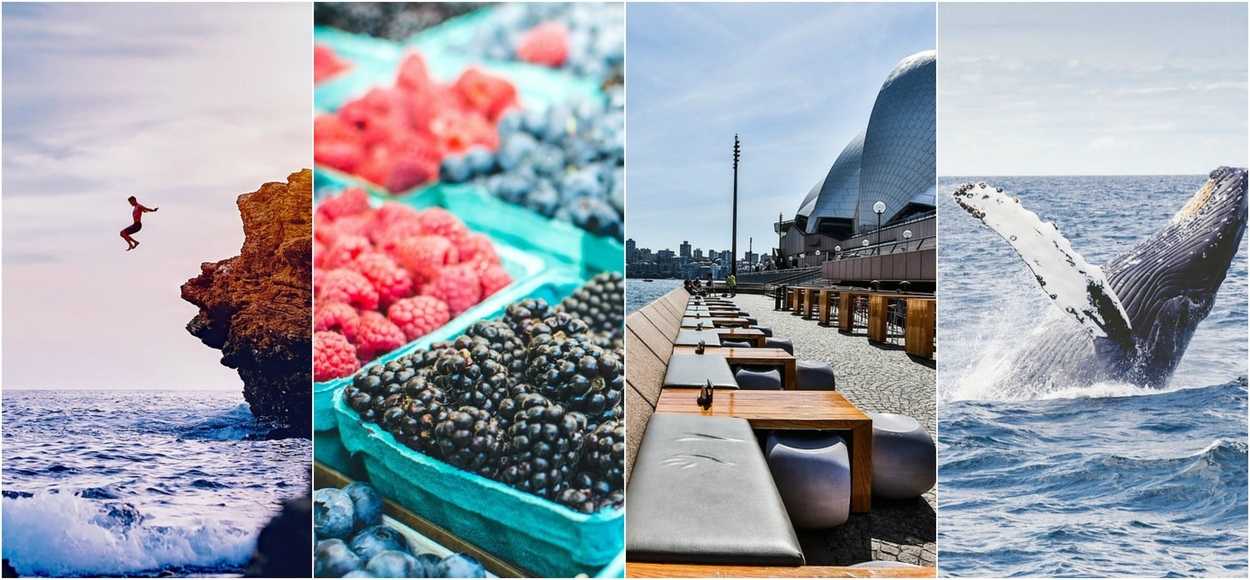 Not sure where to start though? Fret not, our young padawans. Experience Sydney like a true Sydneysider (even if it's your first time there!) with our specially crafted itineraries that cater to the needs of different travellers. We guarantee that you will be spoilt for choice.
For the Adrenaline Junkies: The Sky's The Limit
For all you thrill-seekers out there itching for a rush, take a plunge from 14,000 feet (Australia's highest altitude!) in Wollongong – Sydney's only beach skydive! Scream your lungs out as you savour the thrill of freefalling at over 200km/hour for a minute! What's more, you also get to enjoy a panoramic view of the gorgeous Wollongong and Sydney beaches as you float under a canopy for 5 – 7 minutes. This is definitely a must-go for adrenaline junkies!
Why cross the bridge on the ground when you can climb all the way up to the highest point of the bridge's structure? No, we aren't kidding! At Bridge Climb Sydney, climb along ladders, catwalks and stairs on the skeleton of the famous Sydney Harbour Bridge at a whooping 134m above sea level. Admire the glorious view from the bridge's summit – one of the world's most beautiful harbour, the city's skyscrapers and the sails of Sydney Opera House all before your very eyes. While this is certainly not for the faint-hearted, there is no better way to experience the most iconic structure in Sydney!
Just slightly over an hour's drive away from Sydney, feel your heart race as you take on a turbocharged rally drive in Hunter Valley! Experience what it's like to be Dominic Toretto as you strap on for an encounter with the fast and furious. For those who cannot drive but want a taste of that tantalizing speed, you have the option of going on a hotlap with Rally School's experienced drivers (some of them are even racecar winners!). A favourite activity of the Sydneysiders, watch your surroundings blend into a blur as your Supercar picks up speed!  
For the Foodies: Indulge in Delicious Gastronomic Offerings
If your life goal is to travel to the far corners of civilisation in search of the most yummy delicacies, take your pick with these hipster cafes for brunch in Sydney! One all-time favourite of Sydneysiders is Bourke Street Bakery, which serves unique ginger brûlée tarts and kick-ass pork sausage rolls. Be sure to catch them early to avoid having to queue up too long for your breakfast!
For those who are interested in wacky food ideas, visit Locals Corner to try their latest creation – Carrot-cino – your daily brew in an actual carrot! Sydneysiders evidently take their brunch very seriously with all their incredible creations. Or you could feast on their grilled Wagyu beef burger, smashed avocado, big breakfast and more!
BONUS: Foodies who with an extra sweet tooth must most definitely check out the Fried Mars Bars at Bondi Beach! It is so sinfully DELICIOUS, even the locals can't get enough of it! Take a second serving if you must, we promise nobody will judge! What can we say, the Australians truly keep reinventing the wheel.
Hungry for more? Well, for foodies who are also masterchef wannabes, artisanal food markets are a must-go in Sydney! Purchase top quality and freshest produce from Carriageworks Farmer's Market and EQ Village Market, both of which are neighbourhood farmer markets which Sydneysiders frequent. Can you imagine biting into a freshly plucked apple and tasting that sweet and juicy flesh just oozing with fragrance? Well, you have to check in to a Farmer's Market to understand what the fuss is all about!
Aren't you all hyped up for an authentic Sydney adventure already? Check out AirAsia X's promotional airfare to the fascinating city now!
[FLASH SALE: AIRASIA X ECONOMY FARES FROM ONLY RM529]
AirAsia X now flies you all the way to Sydney for just RM529 ALL-IN! This coming August, satisfy the inner foodie in you and be sure to travel like a true Sydneysider to all the fantastic locations we've listed!

Alternatively, you can pluck up your courage and get an adrenaline rush with skydiving or the Harbour Bridge Climb! If you want to calm your nerves on a comfy plane ride before that, simply top up RM1,370 for a Premium Flatbed ALL-IN fare! The relaxing flight will be sure to prepare your minds and bodies for an unforgettable adventure ahead.

Hurry, book between 12 – 18 June 2017 to enjoy this exclusive promotion!
For the Culture Vultures: Uncover Sydney's Best-Kept Secrets
For those who are more laidback and prefer to explore the city's multicultural art scene, you must visit the historic Belvoir Street Theatre. Engaging Australia's most prominent playwrights and presenting plays that invoke the most challenging, difficult and thought-provoking insights, the theatre productions here will not disappoint! Be sure to check out their latest production Hir, a play deconstructing problems in a dysfunctional family and its tragedies.
Of course, one can hardly miss the Sydney Opera House. Watch the tapestry of Sydney's art scene come together at this World-Heritage listed building – comedy, opera or ballet – you name it, it's got it! Sydney Opera House also offers guided tours around and within its gorgeous architectural compound, and you will even have the chance to watch a dance or theatre practice session on this intimate tour!
Since Sydney is one of the oldest cities in Australia, it naturally has an incredibly rich history. Take a leisurely stroll with I'm Free Walking Tours to learn more about this charming place! As its name suggests, the guided tour is FREE, and is often conducted by local students who are excited to share with you their perspectives on Sydney. Even locals and Australians alike embark on this walking tour to delve into Sydney's best kept secrets. Psst…Rain, hail or shine, you will find these guides in green every day without fail. Talk about dedication!
For the Nature and Wildlife Lovers: Get Up Close & Personal  

There's an abundance of unique wildlife in Sydney and the region. Every year from May till November, the coastlines of New South Wales come alive with migrating humpback whales as they swim up north to breed in warmer waters before making their way down – sometimes making an appearance right in Sydney Harbour! Watch these friendly giants along the shores of take a whale watching cruise out to see them up close.
If you'd like to meet with the cute and furry on land instead, visit Taronga Zoo in Sydney, Featherdale Wildlife Park near the Blue Mountains or Symbio Wildlife Park in the Grand Pacific Drive to see koalas, kangaroos and wombats. There's also Port Stephens, the official Dolphin Capital of Australia, just 2.5 hours north of Sydney.
Looking for a respite from the fast-paced city life? Sydney's got numerous options for you as well! Venture on a road trip along the Grand Pacific Drive from Sydney to Wollongong, and back! Discover the wonders of nature as you drive through picturesque towns and stunning rainforests – an adventure Sydneysiders would definitely recommend! This scenic coastal drive will take your breath away with the awe-inspiring landscapes that unfold before you. Special reminder to the Instagram addicts: you'll have plenty of spectacular photo opportunities here that will make all your followers envious.
Contemplate about life in tranquility as you marvel at the breathtaking views before your very eyes. A short two hour drive away from Sydney in New South Wales, the idyllic Blue Mountain is the perfect candidate for fans of the outdoors and mountains. Here in the elegant Blue Mountain, precious moments are being forged – be it a romantic moment with your loved one or sharing a quiet and profound moment with Mother Nature.
Phew, that was a long but definitely NOT exhaustive list of incredible experiences in Sydney. If any of the above has caught your eye, we've got something even better!
Warning: You may never want to leave this paradisiacal haven! Start travelling like a Sydneysider right now.
---
Brought to you by AirAsia X