Disney fans in Singapore, rejoice! The long-awaited Pop-Up Disney exhibition has touched down on the sunny shores of Singapore! Amidst the chaos of the pandemic, it's good to know that Disney will be bringing some much-needed joy to our lives soon, thanks to the iconic smile of Mickey Mouse! 
Also read: This Studio in Japan Rents Out Disney-Themed Kimonos!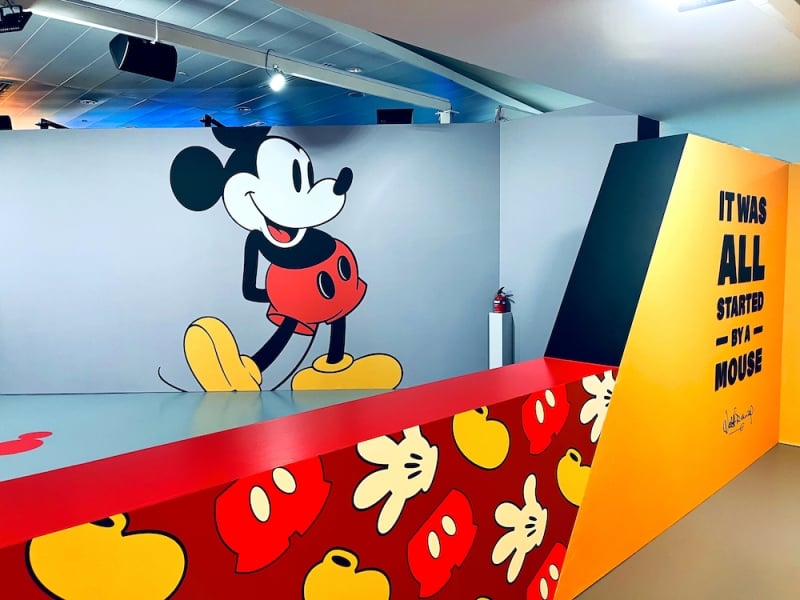 To celebrate their leading mouse, Disney brings their immersive exhibition 'Pop-Up Disney! ' from the States to Singapore, marking its first Southeast Asia outing ever. Pop-Up Disney! A Mickey Celebration in Singapore is now open to the public and will remain until 20 March 2022.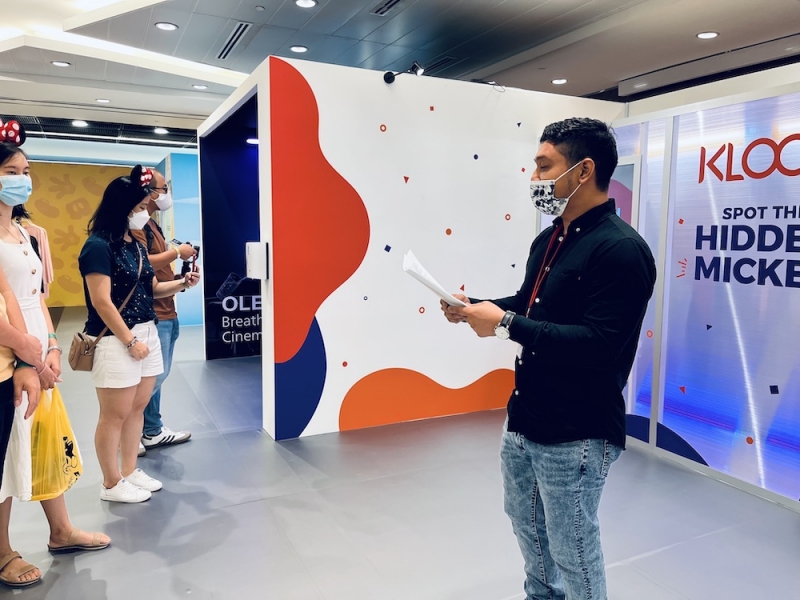 A day before the grand opening, TripZilla was invited for an exclusive sneak preview. Needless to say, we were thrilled! Hundreds of photos, lots of laughs, and a great time later, we're here to share our experience!
Our Experience at Pop-up Disney!
There are seven experiential rooms in the House of Mouse, including an entire room dedicated to Singapore, exclusively designed by local artists! Armed with your best smile, a cute outfit, your favourite people, and perhaps a pair of Mickey ears (that can be purchased in their experiential retail store, Mickey Mart), you're ready to enter the Mouse's mansion and fill up your photo album!
Mickey and Minnie's Love
First up, we have 'Mickey and Minnie's Love'. As the name suggests, the room is a tribute to Disney's most beloved power couple! Wrapped in bright colours and bold patterns, it's clear that the room took inspiration from Minnie's impeccable style. Bring your boo along and take a seat in front of the sofa shaped like Minnie's bow. There are also hidden Minnies hiding around the room. Try to spot them all as you wander from one photo opt to the next!
It All Started With A Mouse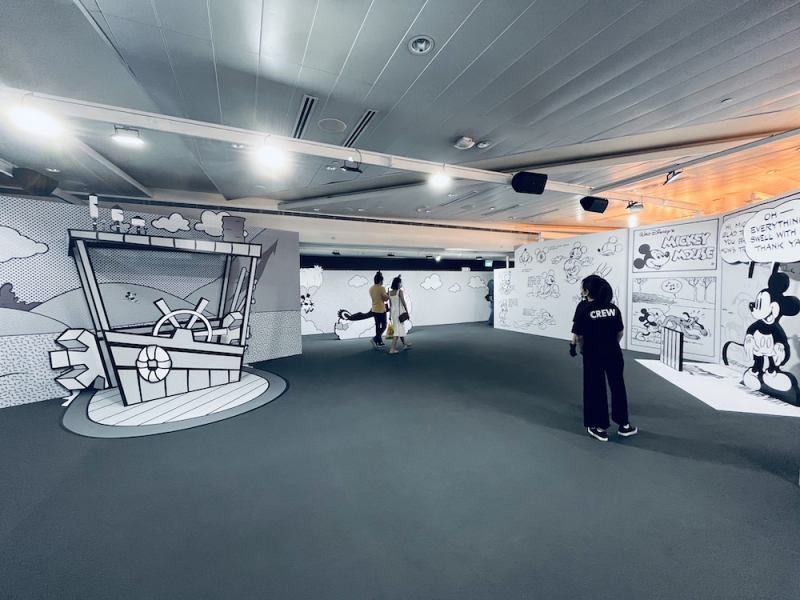 Next comes the epic origin story we've all been waiting for. Familiar to hardcore fans of the Mouse, take a peek at what things were like before coloured animation. The walls of this room are scrawled with pages upon pages of Mickey's classic comics. It's really the perfect throwback!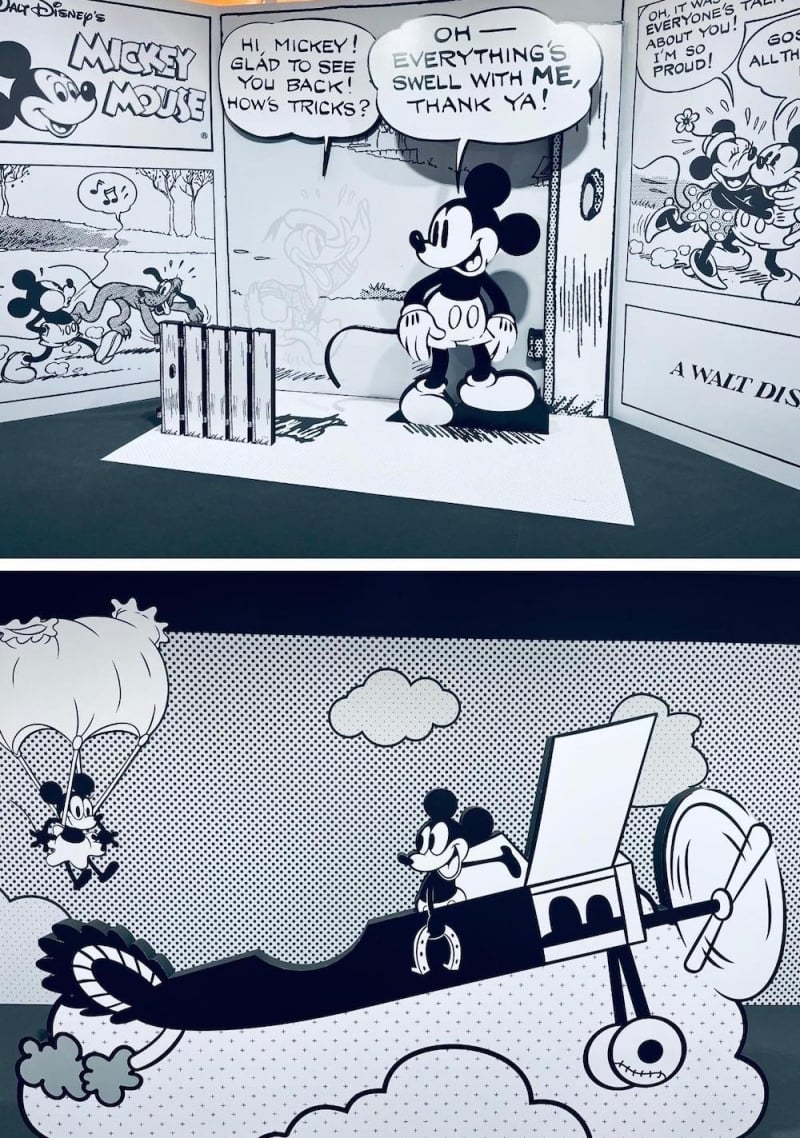 Mickey's Friendships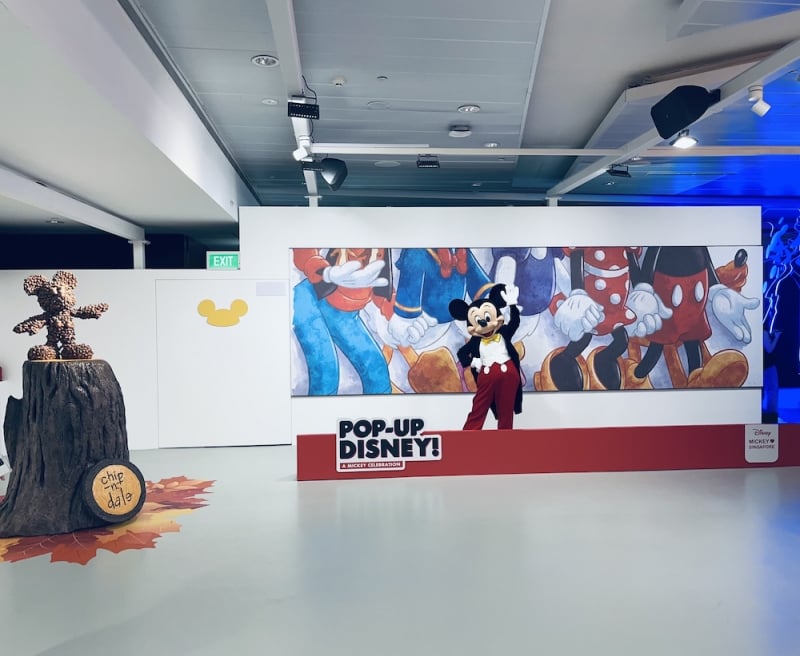 If you miss interacting and taking photos with live mascots and think you'll have to wait until you're in Disneyland to experience it, think again! Pop-up Disney has their very own guest star in the form of the Mouse himself! Unfortunately, in light of current Covid-19 measures, guests cannot get too close to  Mickey. Nonetheless, the face of Disney is as lively as ever and is excited to meet everyone!
Sorcerer Mickey's Magic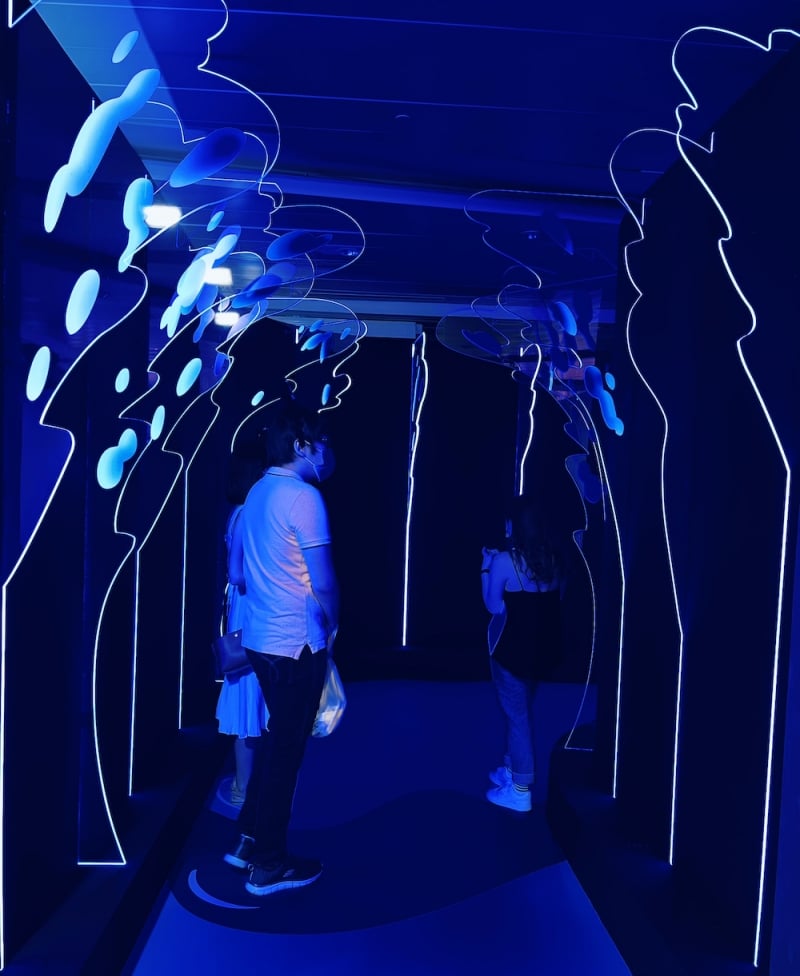 Step into the mystical room of Sorcerer Mickey! Decked out in neon blue lights but otherwise shrouded in darkness, this magical room is filled with surprises and photo opportunities!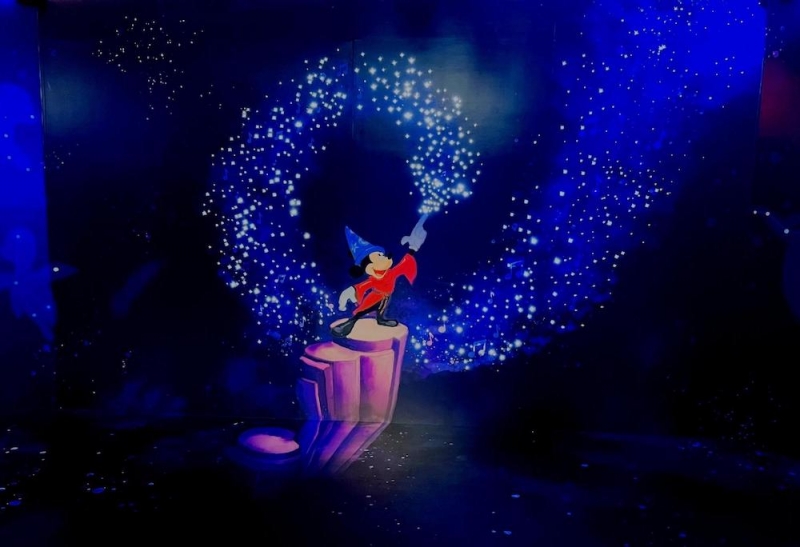 Mickey Loves Singapore: Dreamland Carnival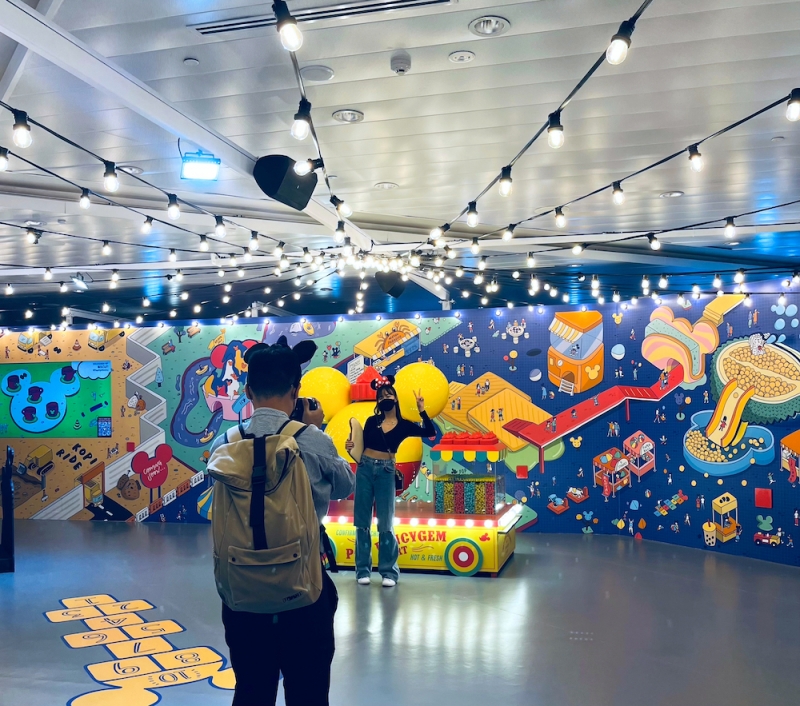 Mickey Loves Singapore: Dreamland Carnival is arguably the star of the show at Pop-up Disney. This one of a kind experience room can only be found in this edition of Pop-up Disney. Aside from brightly coloured carnival lights and art, there are callbacks to Singaporean classics like ice jem biscuits, hopscotch and more!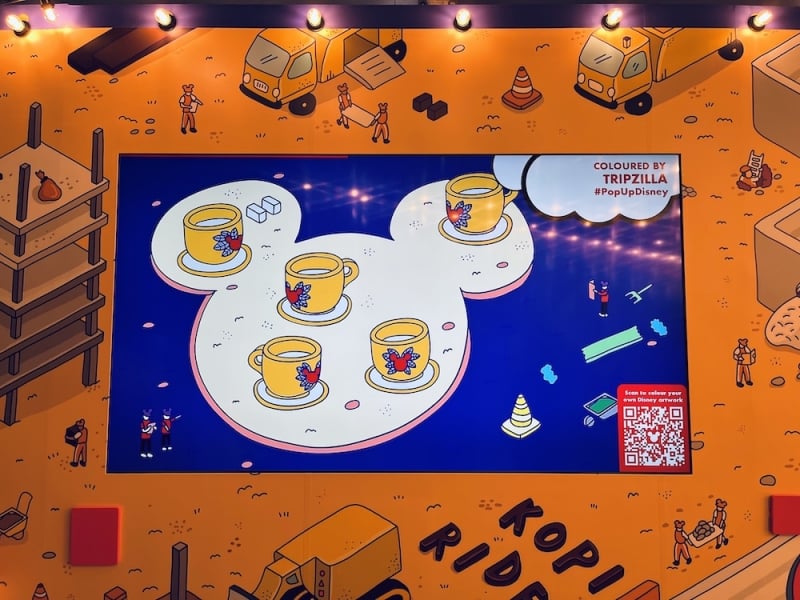 What's more, hidden around the room are small red doors that will give you a peek of Mickey and his friends! You can also leave your mark at the exhibition by scanning a QR code and colouring in the artwork. Look at the one we did!
Forever Mickey
The Forever Mickey room is a futuristic look at Mickey, paying homage to all the years of ears and the infinite moments still to come. The mirror room is dim, accented by endless rows of multicoloured ears. 
Also read: 12 Yayoi Kusama Infinity Mirror Rooms & Where to Find Them
Mickey at Disneyland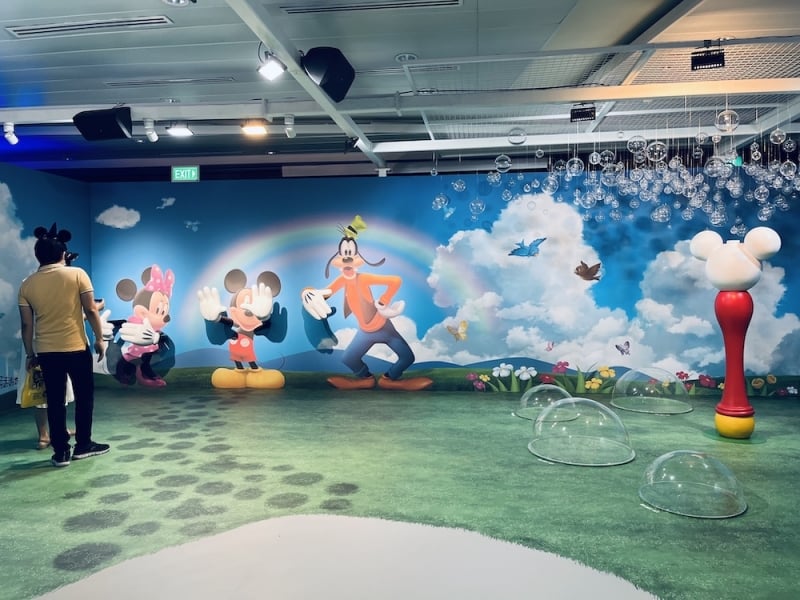 The last stop in this spectacular adventure is of course the Disneyland room! Inspired by the best of Hong Kong Disneyland, this room not only features Mickey and friends, but also a trick-eye Castle of Magical Dreams, giant Mickey waffles and a supersized version of the famous bubble wand, accompanied by floating bubbles!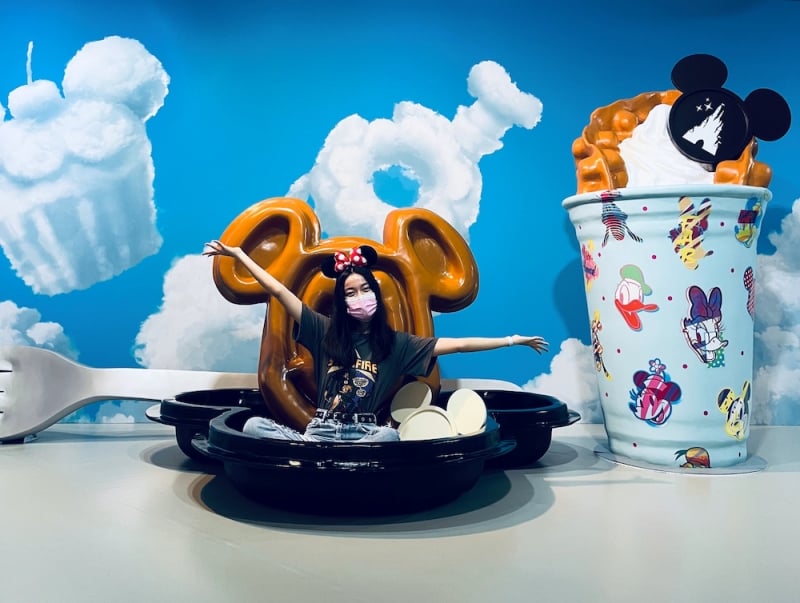 Mickey Mart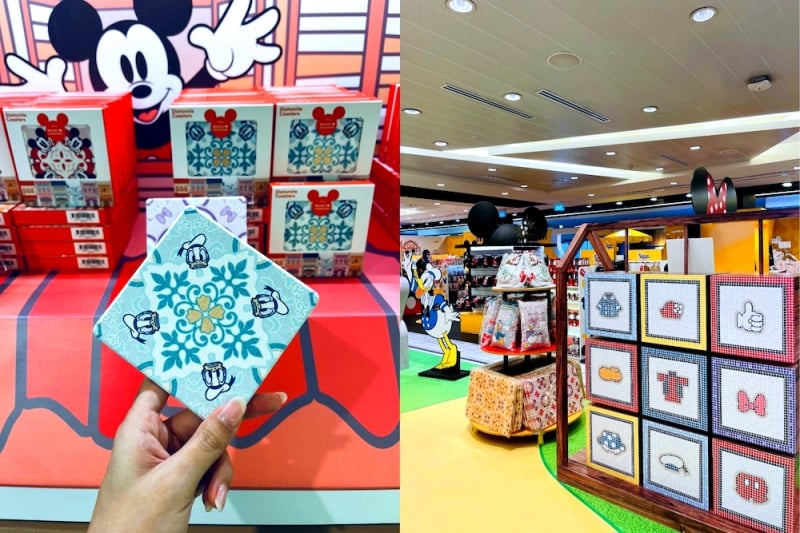 When you emerge from the exhibition, you are led right to Mickey's Mart, where you can purchase a slew of Disney merchandise. Honestly, anything you can possibly think of (and probably more ) is sold here, from coasters inspired by local art and cute socks to Mickey air fryers and bedsheets. Talk about covering all bases!
Lastly, to herald the festive season, check out some custom, Disney-themed laser cut ornaments!
No matter if you're a die-hard Disney fan or just looking for something to do this holiday, Pop-up Disney is the perfect outing.