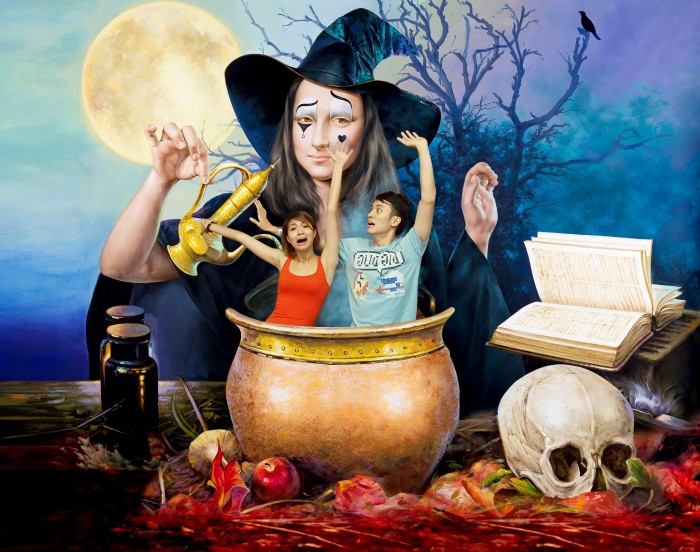 Ever wanted to be cooked in a cauldron, eaten by a monster or defy gravity to walk on walls and ceilings? You can do all that, and more, at Seoul's Trick Eye Museum!
Have a blast with friends and family at this large 3D optical illusion art exhibit, where you can take crazy photos using the art technique 'Trompe-l'oeil' (Trick of the Eye) to create optical illusions, making flat paintings appear 3D!
Due to popular demand, the Trick Eye Museum expanded from its first branch in Hongdae, Seoul to Singapore's Sentosa and Hong Kong's Victoria Peak.
Here are 10 reasons you cannot miss the Trick Eye Museum when you are in Seoul!
In Seoul's Trick Eye Museum, you can…
1. Blend in with 3D paintings and take epic photos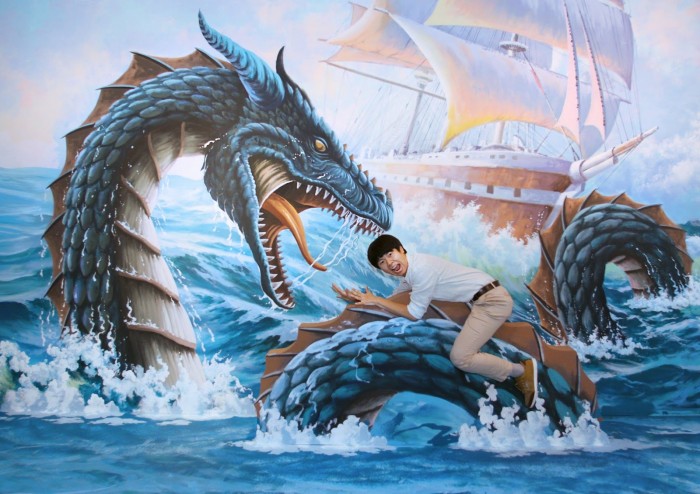 From re-imagined classical paintings and optical illustrated illusions to silly and fun wall-sized artworks, the amount of amazing photographs you can re-create in the museum is limitless. Rules such as no touching or no photography do not exist here. In fact, visitors are encouraged to interact with the paintings and to take as many photos as they want.
Dance with ballet dancers and swim with synchronised swimmers. Float on tables and stand on ceilings. Pour tea for minister one minute, then get eaten by sea monsters the next!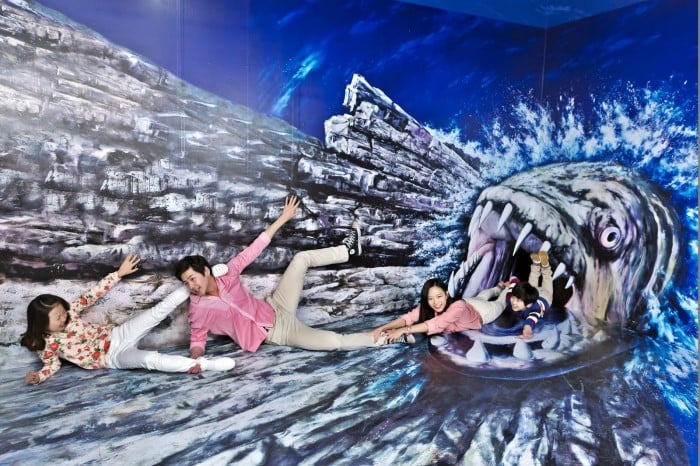 2. Experience winter all-year round at the Winter Wonderland Ice Museum filled with real ice sculptures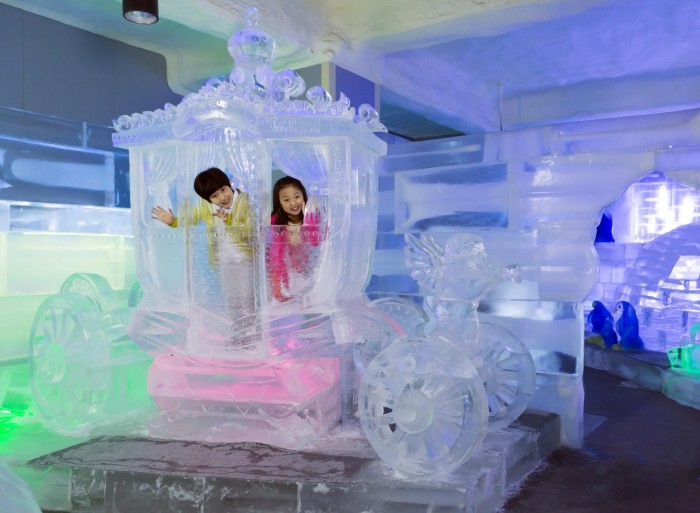 Who said you can only experience the cold weather during winter? With Winter Wonderland Ice Museum (inside Trick Eye Museum), you can pose right next to life-sized ice sculptures and go down the slide made of ice! What's even better is that you do not need to pay extra to go inside the ice museum. Just show them your ticket for Trick Eye Museum and you're free to spend unlimited time inside the winter wonderland.
Also read: Places to Hang Out in Seoul for the Young and the Old
3. Play entertaining games at the Carnival Street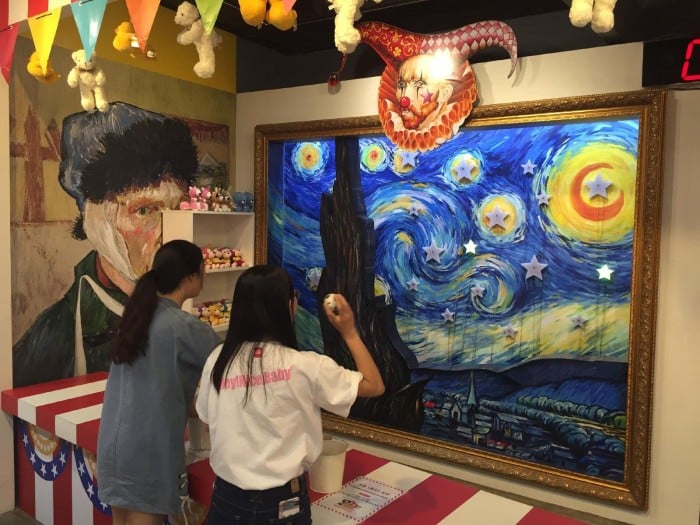 Bring out the inner child in you by going all out playing games at the carnival street. You can play a game of shooting stars, golf, basketball, balloon darts, and many other games. Have the chance to win many exciting prizes as well! The paintings found in the museum are incorporated in the games, too. But of course, everything has a carnival twist to it. You don't always see a Van Gogh piece in a carnival, right?
4. Visit Seoul's first and only adult interactive attraction—Love Museum
For the more mature visitors, the Love Museum (located one floor above Trick Eye Museum) is a sure hit especially with couples and friends. Due to the nature of the images and displays, only visitors 19 years old and older can enter. And if you're too shy that you want to hide your identity when taking the photos, they provide paper glasses you can use to hide your face. But when you're having so much fun, shame would be the last thing on your mind.
5. Get lost inside the Mirror Maze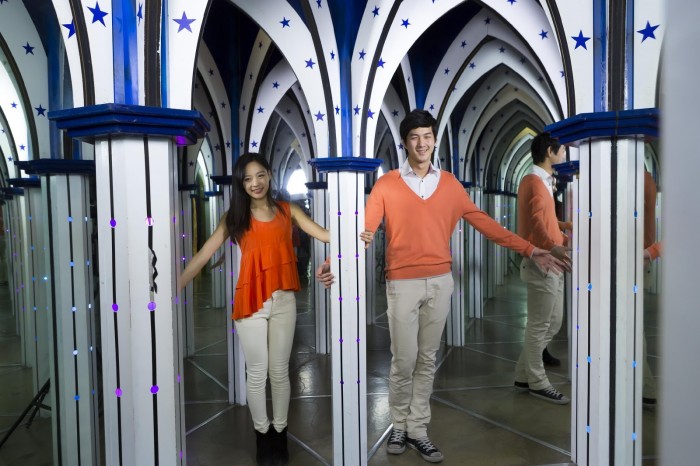 Just when you think all fun is over, you'll need to get through the Mirror Maze before leaving the Trick Eye Museum. The museum definitely knows how to prolong the fun by making sure you get lost and dizzy inside the maze. You may think you already found the exit, but you'll be faced again and again with your reflection. Either be terrified with this horror-esque attraction or have fun with it—you decide!
6. Try some real fist and kick fighting with Michelangelo's David in an interactive "Art Fighter Game"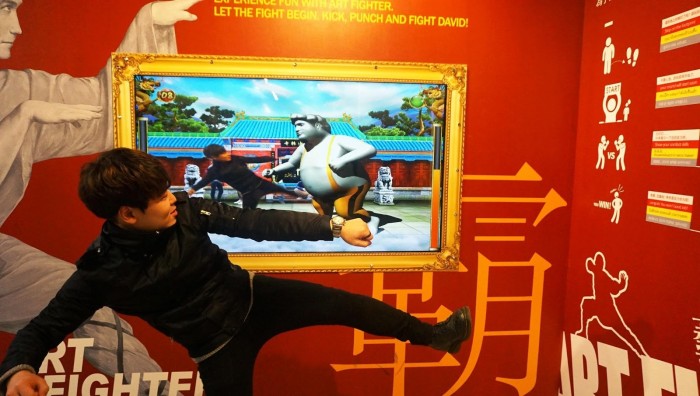 This Street Fighter-ish combat game doesn't require joystick nor consoles. All you need here are your arms and legs to be a feisty fighter. Unleash your inner martial artist without having to worry about getting bruises and aching muscles later. Kick, punch, and fight your way to winning against Michelangelo's David.
Special thanks to Pupuren for providing a video!
7. Indulge in delicious beverages at the Kung Fu café & Make your own original souvenirs with Art Toy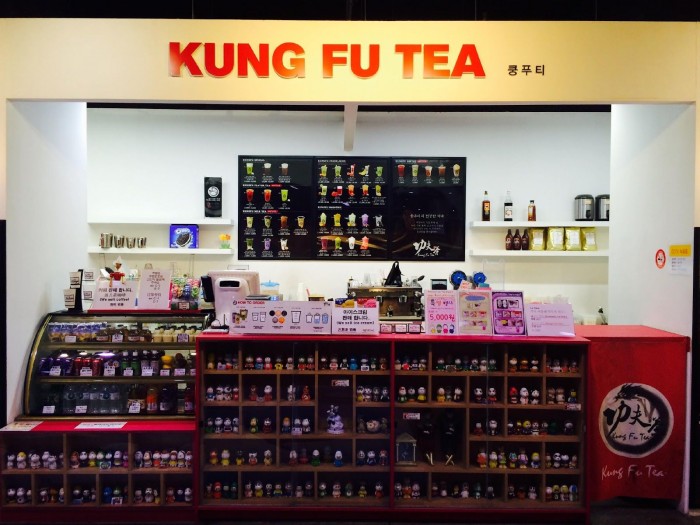 We all know how playing around and having the time of your life can be physically draining. That's where Kung Fu café comes to the rescue! Boba tea and other snacks and drinks are available at the café. And while you're devouring your refreshment, you can also try creating and painting souvenirs with your own hands with Art Toy.
8. Try on hanbok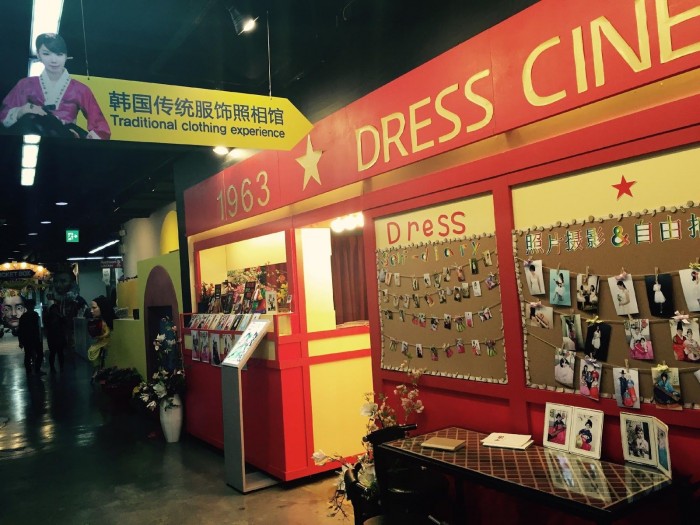 The Traditional Korean Clothing Photo Booth is another facility you must try when you're in the museum. You don't just get to try on a hanbok here, there's also a professional artist to do your hair and makeup for you, making for a perfect souvenir.
Also read: 15 Unique Experiences Every Traveller Should Have in Korea
9. Have a caricature portrait drawn
Once you're done with our traditional hanbok experience, you can have your portrait drawn by a professional caricature artist at the Caricature Corner! Sounds like a perfect combo!
10. Explore Hongdae right after your museum visit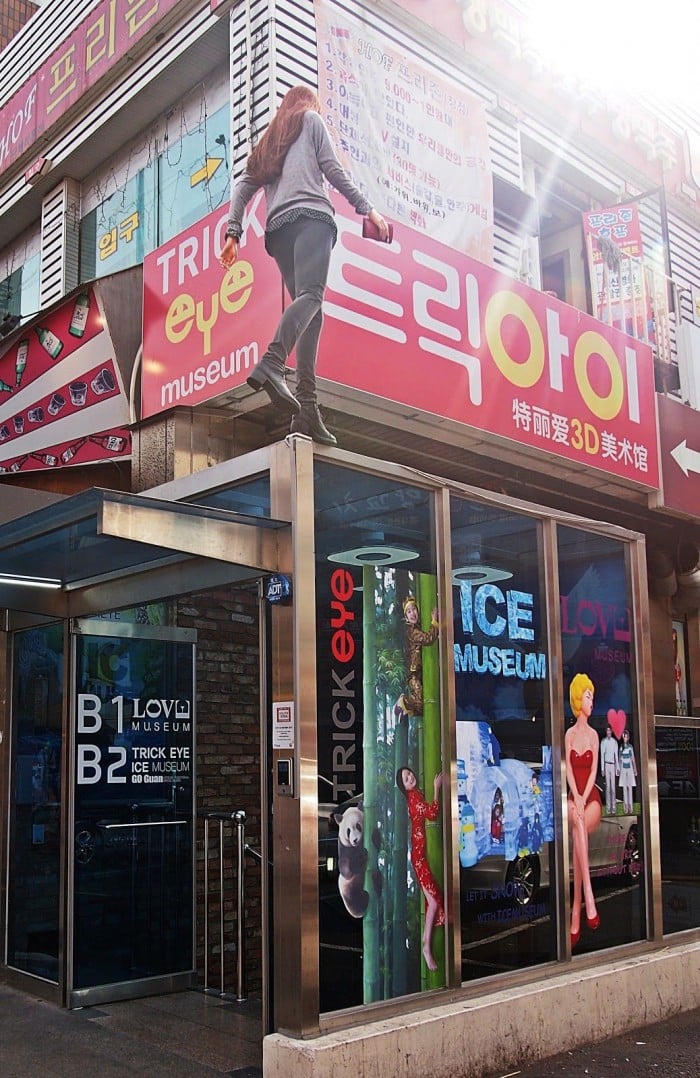 Trick Eye Museum is conveniently located in in the heart of Hongdae, a famous Indie and youth culture area in Seoul that's consistently buzzing with activities. No matter what day of the week it is, the university community is a hotspot for tourists and locals alike. Here you can find clubs, restaurants, quirky shops, cool cafes and whatnot. Korean drama lovers will also find the place familiar as it has been featured in numerous dramas such as Coffee Prince, A Gentleman's Dignity and Mary Stayed Out All Night.
Also read: Finding Street Art in Seoul: Ihwa, Mullae, Apgujeong & Hongdae
On your next visit to Seoul, get your cameras ready because the Trick Eye Museum deserves a spot in your itinerary.
Ready, set, click!
Museum Opening Hours: 9:00 A.M. – 9:00 P.M.
Address: B2 Seogyo Plaza 20 Hongikro 3gil, Mapogu, Seoul
Tickets: 15 000 won (adult), 12 000 won (child)
Website: http://trickeye.com
Trick Eye Facebook: https://www.facebook.com/trickeye.museum