Guess what? Finding Muslim-friendly Japanese street food is extremely easy! If you're planning an adventure to Tokyo but worried about the lack of halal food, fret not, there's an abundance of Muslim-friendly street food in Tokyo such as Takoyaki and soba noodles. While many of the street food stalls are not halal-certified, you may look out or request for vegetarian or seafood options.
Street food is not only tasty, cheap and easily available – it is also a reflection of the local culture and appeals to many palates. For your next food adventure, be sure to try these yummy street food in Tokyo!
Note: None of these street food are formally halal-certified. Do consume at your own discretion.
1. Yaki-Imo
Up first on the list is Yaki-Imo or Japanese sweet potatoes. This snack is as natural as it gets, so you don't have to worry about non-Halal ingredients! Typically baked in a stone oven in the back of a truck, Yaki-Imo is sold fresh and piping hot for customers along the narrow streets of Japan. This snack is so sweet that there's no need to add any sauce or sweetener. Watch out for vendors making their rounds in the back streets and be sure to try some sweet and creamy Yaki-Imo!
2. Yaki Tomorokoshi
Sold at yatai (mobile stalls) during fairs and festivals, Yaki Tomorokoshi or grilled corn on the cob is one of the most popular street food loved by the Japanese. Yaki Tomorokoshi is prepared on the spot so you can enjoy fresh corn off the grill.
The corn cobs are glazed with a sweet soy sauce mixture and sprinkled with a seven spice pepper mix, making this snack super flavourful and simply appetizing! The sweetness of the summer corn juxtaposed against the saltiness of the soy sauce and the flavourful pepper mix is a three strike combo that is sure to tantalise your taste buds.
Note: The sweet soy sauce might contain mirin (rice wine) so you can request for your Yaki Tomorokoshi without the sauce.
3. Soba noodles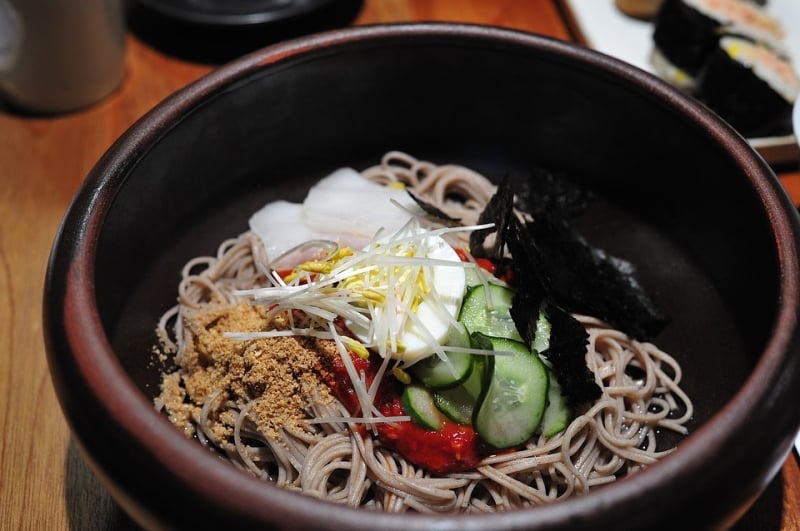 What's more refreshing than cold soba noodles in the summer heat? Cold soba noodles are simply soba-rilliant! Soba noodles are brown noodles made from wheat and buckwheat, served with a dashi sauce made from kombu (kelp), katsuobushi (dried smoked bonito or tuna flakes) and ikiri or niboshi (anchovies or sardine). The cold soba noodles are the perfect antidote to the summer heat, so be sure to try some if you visit Tokyo during summertime!
Bonus: Buckwheat noodles are fat-and-cholesterol-free and are a good source of nutrients namely manganese, lean protein, carbohydrates and thiamine.
4. Okonomiyaki
If you want to eat what you like (literally), then Okonomiyaki is a must-try street snack! Okono means 'what you like' and yaki means 'grill'. Okonomiyaki is a savoury Japanese pancake made of flour, eggs, shredded cabbage and a variety of ingredients or condiments of your choice. It is drizzled with Japanese mayonnaise and a thick brown sauce, and garnished with bonito before serving.
This Japanese pancake typically goes with pork but you can opt for seafood or vegetables. Tantalise your taste buds with the crunchy yet creamy Japanese pancake, with a thwack of sweet, savoury and smoky flavours!
5. Mochi
Up next on the list is mochi! Made of mochigome, a short-grain japonica glutinous rice, mochi is extremely firm and chewy. It is traditionally made in a ceremony called 'mochitsuki' where the rice is placed in an usu (large bowl of wood or stone), pounded into a paste using a heavy wooden hammer and later moulded into small balls.
Albeit its ceremonial significance, mochi has become a daily treat for Japanese people. On your next visit to Tokyo, be sure to try a variety of mochi such as the daifuku mochi (with sweetened bean paste) or ice cream mochi!
6. Takoyaki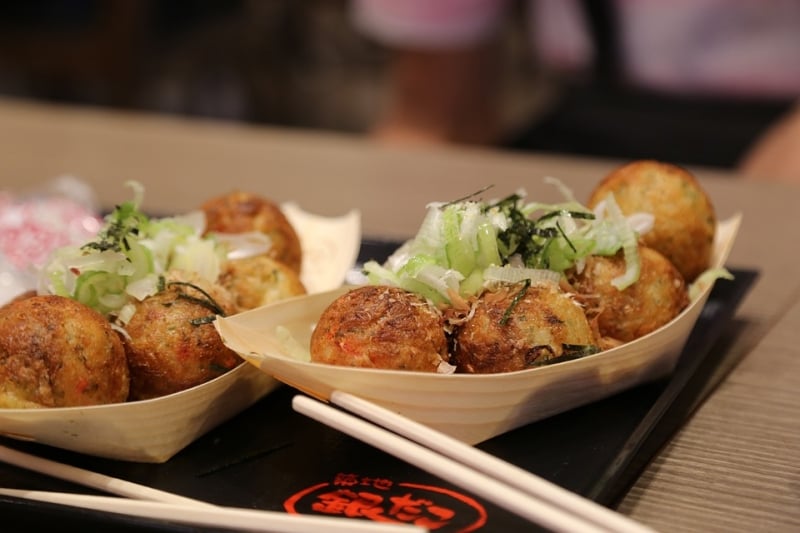 The Japanese street food list is incomplete without takoyaki. Takoyaki is a wheat-flour ball cooked in a moulded pan, typically filled with tako (diced octopus) and brushed with Takoyaki sauce and mayonnaise, then topped with dried bonito shavings and green laver.
This snack is easily found everywhere in Japan, sold by street vendors, convenience stores, supermarkets, food courts and restaurants so don't miss out on these tasty octopus dough balls!
Bonus: There are also other fillings available such as cheese, chocolate, shrimp, vegetarian and more!
7. Grilled Scallops
You've got to be a bit shellfish with scallops… they're simply too tasty to share. Japan's flavourful grilled scallops topped with butter and soy sauce is extremely appetising! The scallops are grilled for approximately 5-10 minutes until the butter starts to bubble, then sprinkled with a little sea salt.
The method of serving the scallop attests to its freshness; the vendor skillfully washes and cuts the scallop before grilling it. If you're looking for great quality seafood, Japan's scallops are a must try!
8. Imagawayaki
Imagawayaki… sounds like a mouthful and is sure to keep your mouth full. This snack will keep you coming back for more! The batter is cooked in a waffle iron and filled with sweet azuki bean paste. However, you can also choose from a variety of fillings such as vanilla custard, chocolate and matcha (green tea).
9. Ikayaki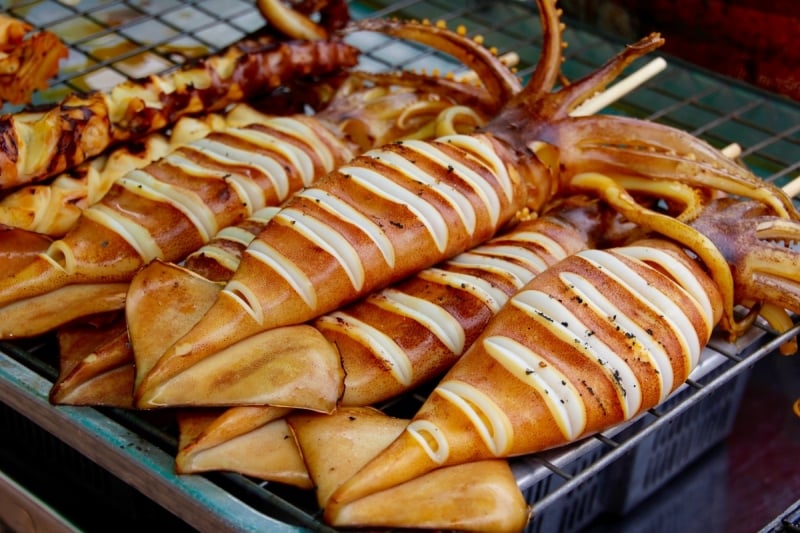 Ah, Ikayaki… just the thought of it makes your mouth water! This tender, plumpy and flavoursome grilled squid is certainly a must-try! The whole squid is grilled on charcoal, exuding a wholesome flavour and texture like no other. Ikayaki is served on sticks, which makes it easy to eat on the go! If you're looking for a delicious no-frill street snack, this is it.
Note:  The soy sauce slathered on the squid might contain mirin (rice wine) so it is advisable to get Ikayaki with no sauce.
10. Crepes
If you need a snack to tame your sweet tooth craving, Harajuku's crepes will do the trick! There are a variety of yummy ingredients to choose from such as banana, strawberries, blueberries, cheesecake, cinnamon apple and even ice cream, typically drizzled with chocolate sauce and fresh whipped cream!
We're always told to enjoy the sweet things in life… well, crepes are no exception. If you're in the Harajuku district, be sure to try the crepes from Angel's Heart, Marion Crepes, and Santa Monica Crepe!
Also read: Muslim Travel Guide: How to Find a Mosque or Prayer Space
There you have it! If worrying about the availability of halal food is holding you back from planning a trip to Tokyo, these ten Muslim-friendly Japanese snacks in the city will change your mind.
What are you waiting for? Pack your bags and kickstart your travel in the land of the rising sun!