Ask anyone about Japan, and the popular tourist haunts of Tokyo, Osaka and Kyoto will be on the tip of their tongues – but hardly ever Hiroshima. To many, Hiroshima has always remained "that city that was nuclear-bombed during World War II"; however, it has actually come a long way in recent years, and is now one of Japan's up and rising destinations!
So the next time you're in Japan, why not shake things up for a change and head to Hiroshima? Even better, SilkAir has recently rolled out a new route – where they fly directly from Singapore to Hiroshima thrice weekly. And with flights going from just S$589, there's really no better time to visit!
BOOK YOUR FLIGHTS WITH SILKAIR NOW!
To give you an extra push, here are 8 reasons why you should forget Tokyo or Osaka – and make Hiroshima your next Japan destination instead.
1. The city is a stark reminder of how we should not take peace for granted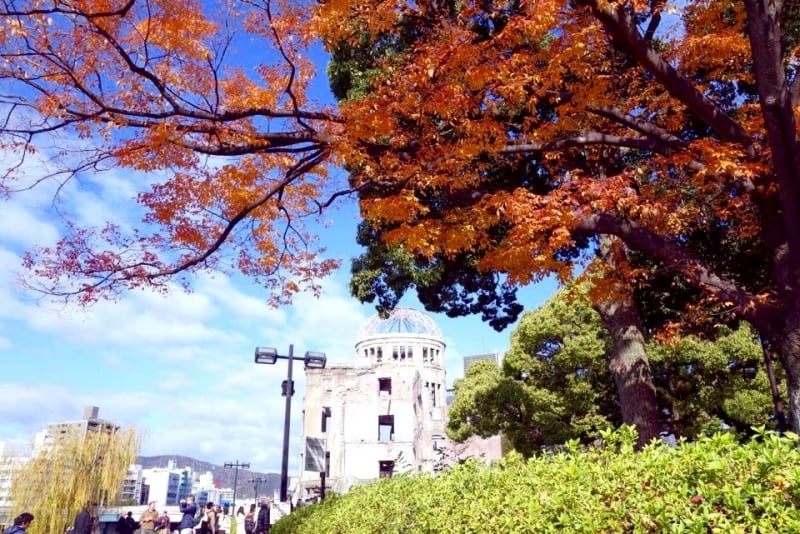 Hiroshima Peace Park is one of Hiroshima's most iconic sights! Quick history lesson: prior to its bombing, the area was designated as the city's commercial hub. Towards the end of World War II in 1945, a nuclear bomb (called 'Little Boy') was dropped on Hiroshima, with the A-Bomb Dome being the only building left standing near the bomb's hypocenter.
Also known as 'Ground Zero', the Hiroshima Peace Park today serves as a memorial for the fallen, as well as a stark reminder of the devastations of war and how we should never take peace for granted.
The Peace Memorial Museum educates visitors about what happened on, and the aftermath of, that fateful day, while The Cenotaph for the A-Bomb victims is an arched tomb dedicated to the fallen – the number of which exceeds a staggering 100,000. During your visit, do drop by the Children's Peace Monument, dedicated to Sadako Sasaki – a young girl who, in a bid for health, attempted to fold a total of 1000 origami paper cranes. She was unfortunately unable to do so before her passing, and her classmates helped to complete the task. This story serves as a source of inspiration for the Japanese who, till date, leave multiple paper cranes at the monument as a show of solidarity and hope.
Address: Japan, 730-0811 Hiroshima Prefecture, Hiroshima, Naka Ward, Nakajimacho
Opening Hours:
Peace Memorial Museum: 8.30am-6pm (until 7pm in August, and until 5pm from December to February). Last admission is 30 minutes before closing.
2. You can eat your way through a four-storied Okonomiyaki Building
Okonomiyaki is a Japanese savoury pancake consisting of a variety of ingredients. The base is made out of flour, eggs and shredded cabbage, usually mixed with different kinds of meat and topped with a sticky sweet sauce, mayonnaise and fish flakes. Literally translating to "grilled as you like it", Okonomiyaki is indeed one of the foods that you definitely have to hunt down when in Japan!
In fact, the people of Hiroshima love Okonomiyaki so much that they have "Okonomimura", an entire four-storied building dedicated to the dish! Otherwise known as an Okonomiyaki theme park of sorts, the building is home to 25 Okonomiyaki shops, each specialising in a specific version of the savoury pancake.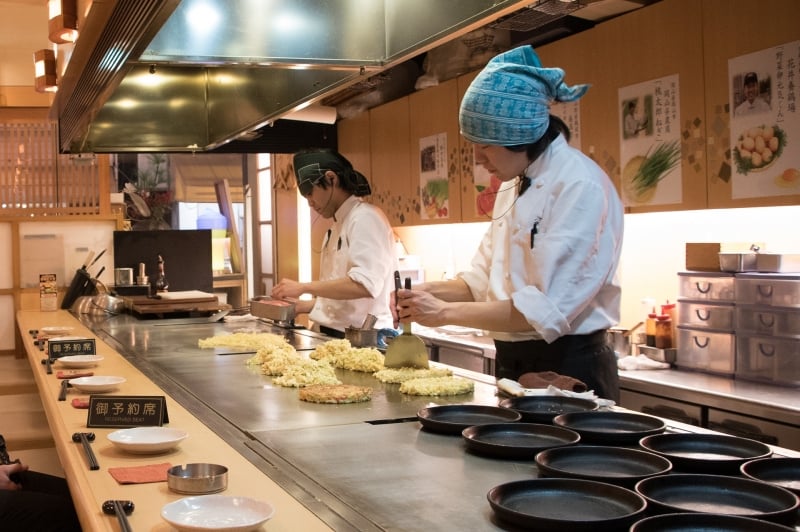 At each of these stalls, the Okonomiyaki is cooked in front of you on a piping hot grill. We highly recommend 'Humichan' on the second floor, which has a long-standing history of 50 years. If you prefer something lighter on the palate, head to 'Sonia' on the fourth floor, which garnishes their Okonomiyaki with mint leaves. We hear that this is especially popular with the ladies, as the pancakes served here are lighter on the palate.
Address: 5-13 Shintenchi, Naka-ku, Hiroshima
Opening Hours: 11am-2am daily
They say to live is to eat, and we're sure it's not too presumptuous to say that no one does food like the Japanese. If you can't wait to dig into a steaming slice of
Okonomiyaki
, SilkAir has rolled out
a new direct route
to Hiroshima from Singapore! From just S$589 for return flights, you'll also get food and baggage ALL-IN.
3. It's a mere train/ferry ride from Miyajima Island, one of Japan's top three scenic spots
Known as one of Japan's top three scenic spots, Miyajima is an utterly picturesque island that's full of surprises. Many head here for the famous floating torii gate, which seems to be floating during high tide. During low tide, however, visitors are able to walk right out to the gate itself, making for an incredibly novel experience like no other!
However, that's not all the island has to offer. Miyajima is surrounded by numerous oyster beds, and offers visitors a taste of the delectable seafood – literally fresh from the sea. The streets are lined with shops that offer oysters that can be had both fresh or cooked in different ways – flame-grilled, fried, or even baked with cheese. In addition, Miyajima is also home to plenty of free-roaming deer. This is basically a less-touristy alternative to Nara, and the deer here aren't afraid to interact with humans. In fact, many will even approach you for a pat or a nuzzle!
The island is also home to a couple of weird and quirky things, such as more deer-related merchandise than you can probably handle and the world's largest wooden spoon. Whilst you're there, don't forget to grab one of Miyajima's local specialties – Momiji Manju, which is a maple-leaf shaped bun filled with red bean or matcha paste.
How to get there from Hiroshima: Take the JR Sanyo line from Hiroshima Station to Miyajimaguchi Station (25 minutes), which is a short walk to the ferry pier. A short 10-minute ferry ride will bring you to the pier. The train ride costs 410 yen (~S$5) one-way and the ferry costs 180 yen (~S$2) one-way; do note that both the train and ferry journeys are fully covered by the JR Pass, should you purchase one for your trip. Alternatively, you can embark on a scenic boat ride from Hiroshima Peace Park, which will take approximately 55 minutes to reach Miyajima. A one-way journey costs 2000 yen (~S$24), and a round-trip costs 3600 yen (~S$43). The JR Pass is not valid for this boat ride.
If you're a lover of all things
kawaii
(Japanese for 'cute'), then how can you miss out on visiting Miyajima? Animal lover or not, these cute little deer are bound to melt even the hardest of hearts. Fly to Hiroshima with SilkAir on their new nonstop route – where
tickets are going from just S$589!
4. The streets of Takehara will make you feel as if you've travelled back in time
Takehara is a darling historic quarter filled with many heritage buildings, museums, shops and cafés, all of which line a labyrinth of cobbled streets. Hailing from the Edo era, the town is blissfully void of tourists – offering a peaceful respite from the city. The best way to explore the town is on foot and without a plan; buffer a few hours to get lost among the streets and wander through the alleys.
After an afternoon of exploring, refuel by indulging in some Soba and Sake – two gastronomic specialties of Takehara.
One icon of the Takehara historical quarter is Saihoji, a stunning temple perched on a hill. Modelled after Kyoto's Kiyomizudera shrine, Saihoji looks over a panoramic view of Takehara town. Originally constructed in 1560, the temple burned to the ground in 1602 and was restored to its former glory in 1702.
How to get there from Hiroshima: Take the Kodama Shinkansen (Japanese bullet train) to Mihara (30 minutes; 970 yen (~S$11.60) for an unreserved seat or 2250 yen (~S$27) for a reserved seat), followed by the JR Kure Line to Takehara (~40 minutes; 500 yen (~S$6). Takehara is only located about 12 minutes from Tadanoumi Station (the closest station to Okunoshima), so you can choose to combine both on a day trip. Alternatively, Takehara is also located about 30 minutes from Hiroshima Airport, which is perfect for a stopover before you head home.
5. There's a Samurai Castle for you to explore
Unlike many other castles in Japan, Hiroshima Castle boasts a rather unique exterior of wood and black lacquer. The formidable castle is five stories tall, and is surrounded by a moat. Somewhat resembling a Samurai's armour, the castle doubles up as a museum on Samurai culture. The castle served as the 'centre' of Hiroshima back in the day, giving Hiroshima the reputation of being a castle town.
Visit on Sundays to watch a Samurai performance, which happens outside the castle at 1pm and 3pm. Every Saturday and public holiday, there is also a Samurai Parade that happens from 1-3pm from the Castle Tower to the Outer Citadel. Visit this website for more information on the performances and parades! Alternatively, you can imagine yourself as a Samurai by dressing up in one of the costumes available inside the castle.
Address: 21-1 Motomachi, Naka Ward, Hiroshima, Hiroshima Prefecture 730-0011, Japan
Opening Hours: 9am-6pm (March to November), 9am-5pm (December to February). Last entrance to the castle is 30 minutes before closing time.
All ready to channel your inner Samurai? Now you can fly directly to Hiroshima with SilkAir – yes, SilkAir is the only airline to offer nonstop flights from Singapore – which are
going from just S$589
!
6. The Mazda museum is total heaven for car enthusiasts
Hands up if you love Mazda cars! Hiroshima is home to the headquarters of the Mazda Motor Headquarters, where the company museum and parts of the factory have been made accessible to the public. Fun fact: to this very day, Mazda still manufactures over a million cars annually! To visit the museum, you must make a reservation in advance for a free guided tour – either via their website or phone (082-252-5050).
During the 90-minute long tour, you'll gain insight into Mazda's history and set sight on a number of its vehicles. The highlight is when you'll get to see an actual vehicle assembly line in the factory, and witness firsthand how the cars are assembled. The tour ends at the Mazda souvenir shop, where you can fill your baskets with several keepsakes.
Address: 3-1 Shinchi, Fuchu, Aki, Hiroshima Prefecture 735-0028, Japan
Opening Hours: Tours are held from Mondays to Fridays, with English tours starting at 10am and Japanese tours starting at 1.30pm.
7. It's one of the few cities in Japan that still uses Street Cars
Aren't these a sight to behold? These nostalgic carriages still run through the streets of Hiroshima, offering a novel mode of transport to locals and tourists alike. These street cars function a little differently as compared to buses and the subway, where payment is made upon arrival at your destination. Credit cards and dollar bills aren't widely accepted, so do make sure to have some change on you. There are coin exchange machines located inside all major train stations. Most people board the trams through the rear door, and alight at the front after paying the driver.
So why visit all the same old destinations when you can do something different?
From just S$589 with SilkAir
, an extraordinary holiday in Hiroshima awaits.
SilkAir flies directly to Hiroshima three times a week. Take your pick and…
Alternatively, you can hop onto the Hiroshima Sightseeing Loop Bus, which covers all of Hiroshima's major sights! Take your pick from three routes – the Orange Route,  Green Route, and Lemon Route – depending on where you want to go. The routes start and end at Hiroshima Station, and travel to sights such as the Peace Memorial Park, Hiroshima Castle, Shukkei-en Park and the Hiroshima Museum of Art among others. One ride costs 200 yen (~S$2), whilst a one-day ticket costs 400 yen (~S$5); this sightseeing loop bus is also free for all JR Nationwide Pass and JR-West Rail Pass holders.
And, if you need any more reason to visit Hiroshima, you'd be delighted to know that…
8. You can now fly directly from Singapore to Hiroshima with SilkAir thrice weekly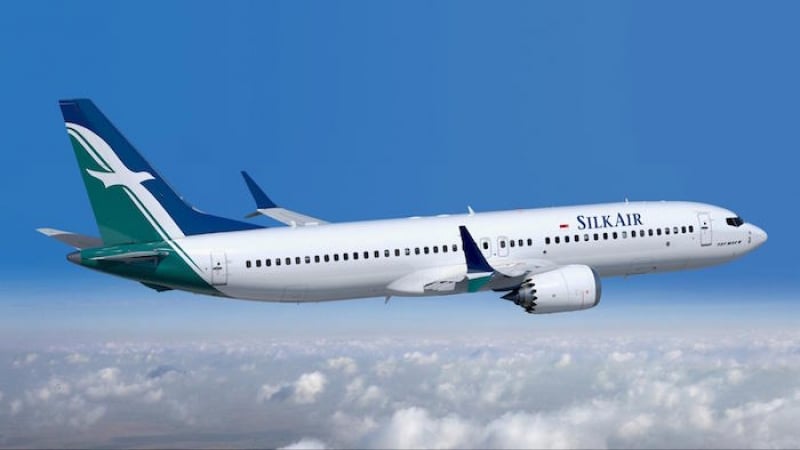 Yes, SilkAir now flies directly (read: nonstop) to Hiroshima! With its recent inaugural flight on 30 October 2017, this return flight service will run on Mondays, Thursdays and Saturdays. The flight departs Singapore at 1.45am and reaches Hiroshima at 9.30am – flight time is 6 hours 25 minutes, allowing travellers to sleep on the plane during the night and essentially waste no time at all! The return leg departs Hiroshima at 10.25am, and reaches Singapore at 3.40pm. This new service will be operated with SilkAir's fleet of Boeing 737 MAX 8 aircrafts.
Plus, flights are going from just S$589 – what a steal, huh! All ready to snag this deal and start planning your Hiroshima adventure?
But first, why fly with SilkAir? Besides being the only airline to offer direct flights to Hiroshima from Singapore, SilkAir offers a full-service experience complete with baggage and food – ALL-IN. Besides, when you book your flights to Hiroshima with SilkAir, you'll be able to dig into an array of Japanese fare – such as Chicken Takikomi Gohan and Oyako Don – allowing you to kickstart your Japan adventure from the minute you step on board. SilkAir also caters to special food requests; find out more information and send in a request here.

Don't forget to download the 'SilkAir Studio' app on your smartphone, laptop or iPad, which will allow you access to an extensive collection of Hollywood blockbusters, comedic sitcoms and chart-topping music. In-flight downloading is only available for Android users so all Apple users, do take note to download it beforehand from the App Store.
Book your flights to Hiroshima with SilkAir today! From just S$589 for return flights, what's holding you back?
BOOK YOUR FLIGHTS WITH SILKAIR NOW!
---
Brought to you by SilkAir.