The sprawling streets of Japan are littered with convenience stores known as konbini. From 7Eleven to Lawson and Family Mart, these stores have saved my stomach more than once – especially when the midnight hunger pangs hit. Yet, Konbinis don't usually get much attention. After all, people rush in and out after grabbing chips, sandwiches or bottled water. I mean, there isn't anything that special at a convenience store right?
Well, you're wrong. While the items sold may seem totally ordinary and underwhelming, don't forget that this is Japan – and most things are usually super delicious, even if they are from a random convenience store. On your next visit to Japan, why not take some time to traipse the aisles of a konbini nearest to you and try out some stuff off this list? I guarantee that you won't be disappointed!
1. Onigiri
While I was in Japan, I made sure I bought an onigiri (or two) every night before going back to my hotel. These rice balls have different fillings ranging from tuna mayonnaise to umeboshi (pickled japanese plum), and even salmon roe! My favourite was a superbly seasoned, ketchup-fried rice ball that was encased in a thin piece of omelette. It was simple but mind-blowingly delicious.  Plus, they are priced from only 100¥ – 250¥, how affordable is that?
2. Lawson's Fried Chicken
Lawson's fried chicken is legendary! Most people probably wouldn't even consider going to a convenience store for fried chicken but I for one would beg to differ! Fancy a 12 spice-marinated chicken fried till a beautiful golden brown, sold at 200¥ a pop? Nestled in a paper bag and served with an additional packet of seasoning spice for an extra kick, the chicken is crispy, juicy, and not too oily! I'm trying not to drool as I type this.
3. Chukaman buns
When one's gaze flits over the warming showcase box that holds the Chukaman, one would probably think "this is just another bao." Well, it's not just any bao! A perfect winter comfort food, Chukaman buns have become konbini staples, so much so that each convenience store chain has its own rendition of Chukaman.
Apart from the usual Nikuman (steamed pork) bun, you can also find Chukaman filled with cheese, sakura, chocolate, sweet custard, and even curry! Imagine sinking your teeth into pillowy soft buns bursting with flavour… Oishii desu!
Be sure to ask for assistance when you buy a Chukaman though! Due to safety reasons, most stores do not allow patrons to handle the steamer. Chukaman buns are priced at around 150¥ – 200¥ each.
4. Dessert tarts
If you have a hankering for something sweet, but are sick of the conventional mochi or taiyaki, I recommend stopping at your nearest kombini to pick up a couple of these unassuming dessert tarts!
My favourite is the cheese tart! The flaky, buttery tart crust complemented the rich and creamy cheese filling so perfectly. I was afraid that it might be too cloying after a few bites, but that didn't happen! The cheese tart was in fact, light and smooth – an excellent sweet treat after a long day out.
If cheese isn't your kind of thing, there are also Tiramisu or Red bean with Matcha dessert tarts available as well! You will most definitely be spoilt for choice. Prices of these tarts range from 150¥ – 300¥.
5. Kokutou Mochifuwa Pancakes
Have some Kokutou Mochifuwa pancakes for both breakfast and dessert! Unwrap the packaging to reveal a tasty mini pancake stack consisting of two fluffy mini kokutou (black sugar) pancakes sandwiching a butter and maple syrup filling! These moreish delights are definitely the perfect balance of savoury and sweet that dance in your mouth. For only 100¥ a packet, who knew that decadence could be so affordable?
6. Kirin Milk Tea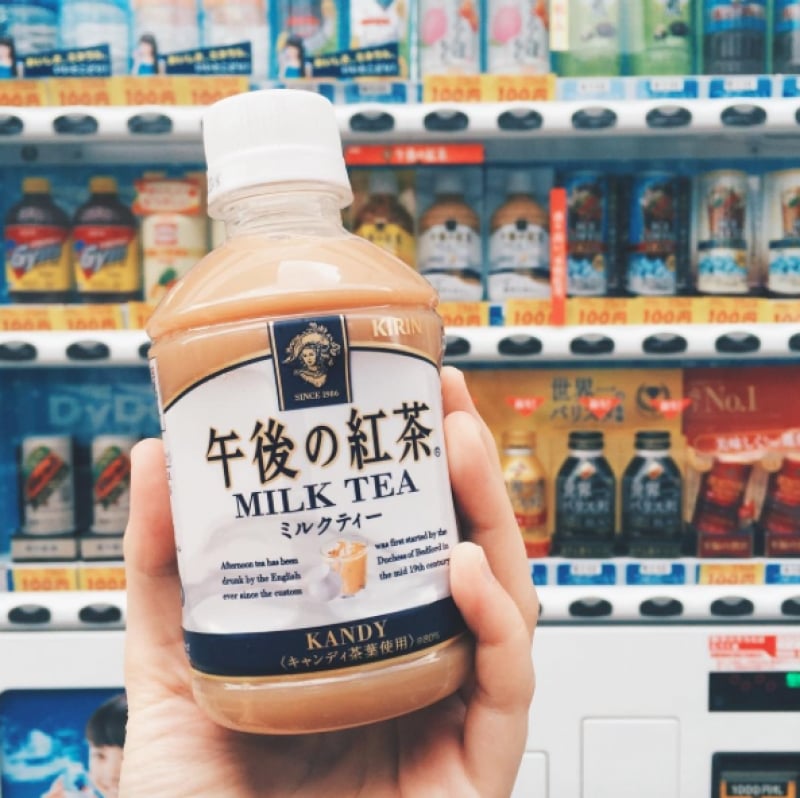 Instead of spending your yen on something that can be found back home, such as bottled water or juice, may I suggest that you go for a bottle of Kirin Milk Tea? You are probably thinking, "Why would I want to buy teh-bing in a bottle?"
But wait! Kirin milk tea is not just any milk tea, because it is the best bottled milk tea in the world. I kid you not. It is the best one that I've ever tasted. Fragrant, smooth and lightly sweetened, this bottle of goodness was my go-to drink every day! Trust me, you won't regret! Bottles are priced at 100¥ – 200¥ depending on volume.
7. Seasonal products
There are a plethora of seasonal items in Japan's konbinis! The most popular include a variety of sakura (Japanese cherry blossom), white peach and chestnut flavoured products. There are also items specially released in line with festivities. For instance, Halloween heralded the birth of pumpkin pie-flavoured cream rolls and buns while Christmas presented eager consumers with delightful treats such as Lawson's "Red Christmas cake" – berry mousse on chocolate sponge cake underneath a berry sauce glaze. There is truly no end to Japanese creativity.
Needless to say, these goodies come and go quickly, so be sure to swipe as many as off the shelves as you can before they vanish! Different konbinis come up with varying products all the time, so be sure to keep your eyes peeled – the next concoction could be the best one yet!
Are you sold? Or still a skeptic? Well, there is only one way to find out! Be sure to give these delightful treats a go on your next trip to Japan! After all, they aren't that hard to find.