There are a few things Malaysia does best — nature, heritage, and food. While the city of Kuala Lumpur is a gem that is already worth seeing, there is much more to explore in other parts of the country. One of the best ways to do this is to go on a road trip starting from Singapore to the best parts of Malaysia. Not only will you get to witness pristine beaches and rainforest jungles, but you will also get to visit many other intriguing places. When that sounds like the next perfect thing to do, here is a guide to having the ultimate Malaysia road trip. 
Also read: Where to Travel in Malaysia: Top Destinations From Every State in the Country
Best road trips in Malaysia
Trip A: Singapore → Melaka → KL →  Ipoh → Penang
For most travellers, the epitome of a Malaysia road trip involves travelling to the top states of Melaka, Ipoh, and Penang. Altogether, these three destinations are best known for their food, heritage, and lively culture. 
To kick off our trip, let's stop by Melaka first. In the morning, revisit history at numerous sites like St. Paul's Church, A'Famosa, and Dutch Square. In the afternoon, go cafe hopping near Jonker Street and hop onto a river cruise along the Melaka River for the best sights of the city. At night, indulge in delicious street food at Jonker Street Night Market and head to the Malacca Tower for panoramic night views of the entire city. 
Up next, we'll be entering the city of Kuala Lumpur. Many of Malaysia's most iconic landmarks are here, including Batu Caves, Petronas Twin Towers, and Merdeka Square. In the heart of Bukit Bintang, go luxury shopping in the country's top malls. Alternatively, you can spend the rest of the day visiting Putrajaya for the city's best architecture and most stunning parks. 
When you've had your fill of KL, let's go for a drive to Ipoh. To be honest, many travellers tend to come here just to eat, but the town is more than that! Ipoh is famous for its myriad of Chinese temples, creative art murals, and lively cultural scenes. On your first visit, don't forget to stop by Concubine Lane, Lost World of Tambun, Kedai Kopi Sin Yoon Loong, and Kedai Biskut Sin Eng Heong. 
Last but not least, make a final stop in Penang. The beloved city is known for its diverse culture, incredible hawker food, and amazing beaches. Take a self-guided tour of George Town and Cheong Fatt Tze Mansion for a taste of colonial architecture. After that, get on a funicular train to the top of Penang National Park for incredible views. If you're feeling adventurous, ESCAPE Penang has the world's longest tube water slide that's worth a challenge!
Average travel time for Trip A: Six hours and 12 minutes
Also read: A Foodie's Guide to Malaysia: Where and What to Eat in Penang, Ipoh, Kuala Lumpur, and Melaka

Trip B: Singapore → Bukit Tinggi → Genting Highlands  → Cameron Highlands
Pahang in Malaysia, has some of the best road trip destinations in Malaysia. The state is about a six-hour drive from the borders so we recommend making a stop in KL first. After that, you can continue your journey up north to Bukit Tinggi, Genting Highlands, and Cameron Highlands. 
When it comes to escaping the hustle and bustle of the city, Bukit Tinggi is the place to be. Besides the countryside charm, visitors will be treated to lots of natural scenery and fresh air. In fact, some may reminisce about their trips to France with the familiar architecture of Colmar Tropicale French Village. 
In contrast, Genting Highlands is an excuse to have fun. Despite the freezing cold weather, Genting has always been known as a great recreational hub. Go shopping at Genting Highlands Premium Outlets and then stop by Chin Swee Caves Temple for an hour of sightseeing. Further up, live out your thrills at Genting Skyworlds and Genting Skytropolis.   
Towards the end of your trip, get ready to fall in love with one of Malaysia's most picturesque nature spots. Cameron Highlands is home to strawberry farms, lovely flower parks, and sprawling green hills. Tourists typically spend their days hiking the trails in Mossy Forest and Gunung Jasar, or petting sheep at The Sheep Sanctuary. Around tea time, head to The Lakehouse and Jim Thompson Tea Room to sip on tea and enjoy the most incredible views. 
Average travel time for Trip B: Nine hours and 11 minutes
Also read: Top 29 Places to Visit in Malaysia for First-Time Travellers

Trip C: Singapore → Gopeng → Ipoh → Taiping
Likewise, Perak is a great state for one of the best road trips in Malaysia. While Ipoh usually takes the cake when it comes to its travellers, let us introduce you to two underrated destinations: Gopeng and Taiping. 
While Ipoh is great for foodies, Gopeng's appeal lies in its outdoor activities. The town is located 30-minutes away from Ipoh, and it's perfect for anyone looking for a thrilling experience in Malaysia. Some of these include white water rafting in the Kampar River, abseiling at Ulu Geruntum Waterfall, and hiking in a number of spots. 
Nonetheless, if any of these activities are too much for your comfort zone, sightseeing is another popular option for tourists in the area. Kellie's Castle is the most iconic landmark in Gopeng, and you get to explore the remains of the mansion. Besides that, head into town for Gopeng Heritage Museum and Gopeng Museum to learn about history. 
On the other hand, Taiping is one of those places that you'll never forget. Many travellers come here for peace of mind and to learn about the country's heritage. Be prepared to spend your days among the reflective lakes of the Taiping Lake Gardens and dive into a world where nostalgia still lines the streets. In fact, you'll be able to visit two of Malaysia's oldest buildings, specifically Aun Tong Coffee Mill and All Saints Church Taiping. 
Average travel time for Trip C: Seven hours and 20 minutes
Also read: 15 Outdoor Activities in Malaysia for Thrill-Seekers to Jump Into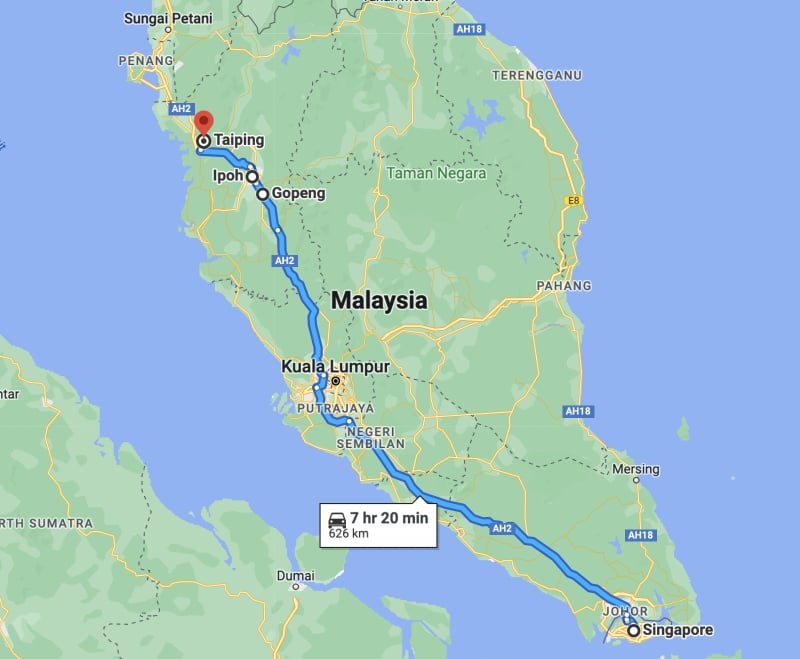 Trip D: Singapore → Johor → Melaka 
However, if you'd like a shorter Malaysia road trip, fret not — we've got you covered! For this trip, we'll be only sticking to the south with Johor and Melaka. 
Johor is known for a few things. Typically, travellers come here for LEGOLand Malaysia, and to take advantage of the shared borders with Singapore. This beautiful state is known for its beaches, rainforests, and great food scene. Travellers may spend their days island hopping or completely winding down at the resorts along Desaru Coast. If not, you can go shopping at Johor Premium Outlets or sightseeing at a number of religious temples scattered throughout the city. 
Although we've already covered Melaka for Trip A, here are additional noteworthy attractions to check out:
Mamee Jonker House
Skytrex Adventure Melaka 
Pantai Klebang Sand Dunes
Baba & Nyonya Heritage Museum
The Huskitory
Muzium Samudera
Average travel time for Trip D: Three hours and 12 minutes
Also read: 10 Cafes in Johor Bahru to Check Out on Your Next Trip Across the Border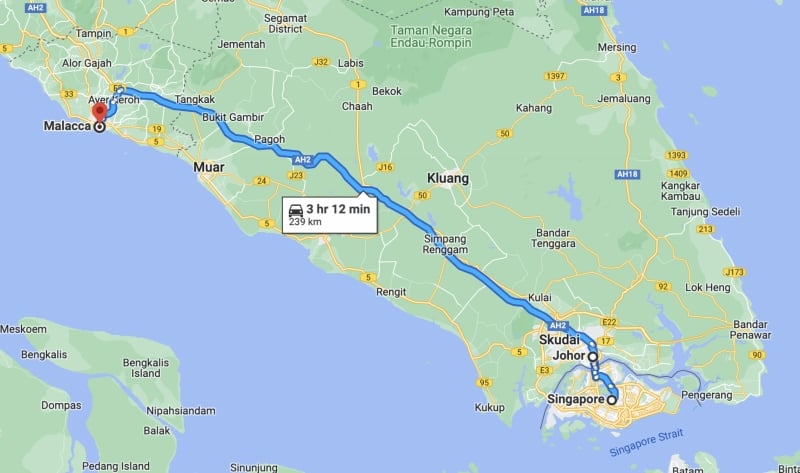 Trip E: Singapore → Port Dickson → Kuala Selangor → Sekinchan
In this section of Malaysia road trips, we'll be taking you to the best road trip destinations for scenic towns. These include Port Dickson, Kuala Selangor, and Sekinchan. We hope you're ready for the peaceful views! 
Port Dickson is a seaside town in Negeri Sembilan, Malaysia. It's one of the best road trip destinations in Malaysia for a beach vacation. First-timers will be treated to stunning beaches, historic landmarks, and blue waters. To fill up your time, indulge in watersports at Blue Lagoon Beach — jet skiing, swimming, and banana boat rides are the most popular activities, especially for those travelling in groups. 
For those who plan to explore the rest of the port, some of the best sightseeing spots are Wan Loong Temple, Cape Lachado Lighthouse, and Kota Lukut. Last but not least, head to Tanjung Tuan Recreational Forest for a chance to birdwatch or hike up the trails. 
In the estuary where the Selangor River meets the sea, lies Kuala Selangor. Travellers who come here can expect some of the best road trip destinations in Malaysia, including Sasaran Beach Sky Mirror, Melawati Hill, and Kuala Selangor Nature Park. At night, you have to go on a river cruise to witness two incredible sights: fireflies and the Blue Tears phenomenon. This is when the river will emit blue-green light from plankton and algae at night. Trust us, it's as cool as it sounds!
The next morning, make the final stop at Sekinchan. Despite its size, the paddy town is an underrated gem for a Malaysia road trip. Imagine fresh air, lush green paddy fields, a bustling fishing village, and a beach. When you've finished your first round of explorations, head to N.16 Cafe for a unique dining experience. That is, you get to literally eat inside a refurbished bus. Isn't that crazy?
Average travel time for Trip E: Six hours and 13 minutes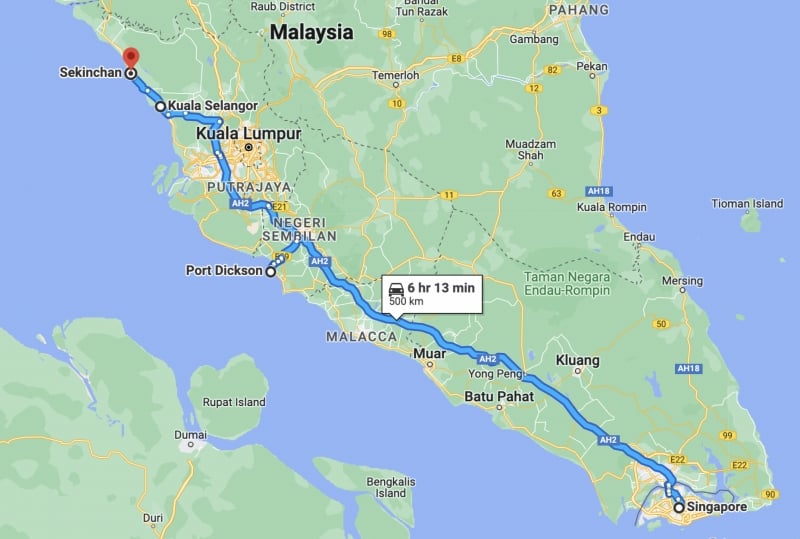 Trip F: Singapore → Cherating → Terengganu
Besides Port Dickson, if you want to visit other seaside spots in Malaysia, then this road trip route is for you! This time around, we'll be taking you to two locations in the east: Cherating and Terengganu.
You might know Cherating for its resort, Club Med Cherating. However, there is more than what meets the eye when it comes to its travellers. While you can still choose to go on a resort vacation here, the seaside town is also appreciated for its idyllic beaches, incredible seafood, and thrilling surf waves. If you have a soft spot for turtles, the Cherating Turtle Sanctuary offers guided tours of their exhibits to learn more about their facility and the shelled reptiles. 
On the next part of your trip, let's make a two-hour drive up to Terengganu. The state is famous for traditional Malay craftsmanship, including wood carvings, batik art, and boat building. Not only that, but you will also get to witness heavenly mosques, the alluring Perhentian Islands, and quiet beaches. 
Average travel time for Trip F: Seven hours and 40 minutes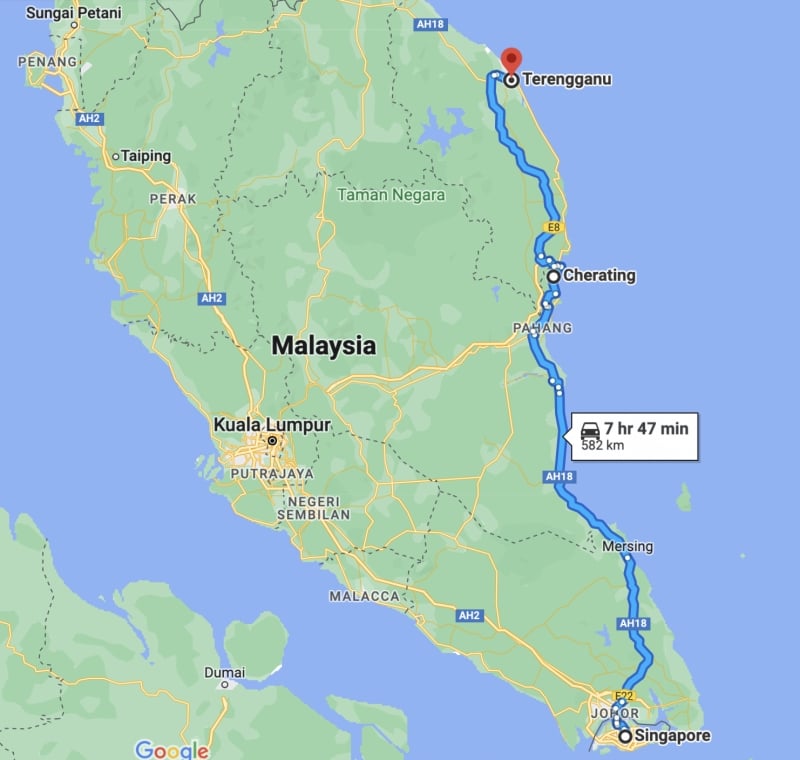 There you go! This is our Malaysia road trip guide. We've selected the best destinations for you, and we hope you'll love them as much as we did. 
---
Featured image credit: WALLER BANSAR via Canva Pro