Located in western Malaysia's Pahang, Cameron Highlands is a fresh and verdant destination filled with myriad things to do and see. From rolling tea plantations and vibrant flower fields, to cool museums and religious sites, Cameron Highlands is one cool (in both senses of the word!) place to add to your Malaysian bucket list.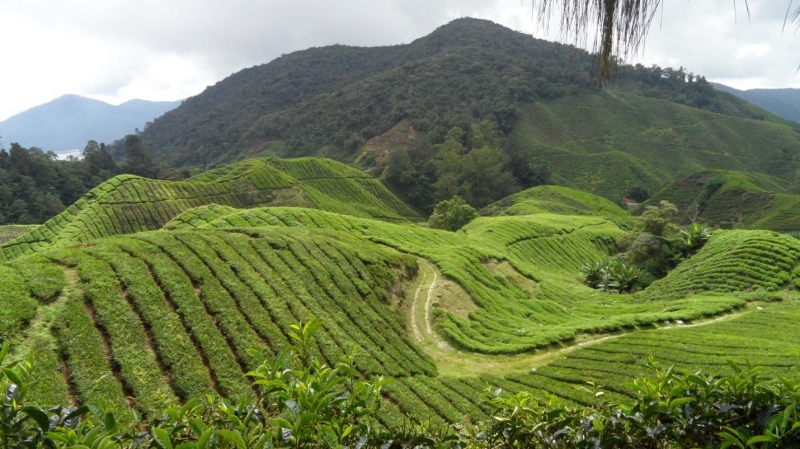 Planned as a side trip, I'd heard that Cameron Highlands was a pretty place. I wasn't, however, prepared to be so impressed by the awesome views and variety of experiences. Many places of interest are located alongside one major road, so getting from place to place is easy. Local buses run the length of the mountain road, or you can book several day trips around the area if you don't have your own transportation. Accommodation is available to suit most budgets, and there are plenty of places to eat and drink.
Here's the ultimate list of things to do in Cameron Highlands:
1. Be dazzled by green at a tea plantation
If stunning verdant vistas and undulating hills and mountains covered with a blanket of lush leaves are your cup of tea, don't miss visiting one of the Cameron Highlands' tea plantations. As well as being able to marvel at the views, most offer tea tasting opportunities and the chance to learn more about the local tea-growing industry. BOH Tea Plantation is one of the most famous in the area, and the plantation that I chose to visit, but others include Boh Sungai Palas Tea Centre and Bharat Tea Plantation.
2. Pick your own fruit at a strawberry farm
The higher elevations and cooler temperatures of Cameron Highlands make it relatively easy for farmers to grow strawberries. Indeed, it's the only place around Malaysia where strawberries are grown. There are many strawberry farms around the area, most of which allow visitors to look around and pick their own fruit. Many also sell a wide variety of strawberry-flavoured and -themed items too, including milkshakes, jam, ice cream, and ornaments. Local strawberry farms to visit include Big Red Strawberry, Strawberry Farm Kea, Healthy Strawberry Farm, Kok Lim Strawberry Farm, and Raaju Hill Strawberry.
3. Taste the sweet life at a honey farm
If you've ever wondered how bees produce sweet and sticky honey, Cameron Highlands provides the chance to find out. There are several honey farms in the area, including Cameron Tringkap Bee Farm, Ee Feng Gu Bee Farm, and Highlands Apiary Farm. Each provides interesting details about the life cycle of the bee and the production and purpose of honey; you may end your visit with a greater appreciation for the small striped creature and a sense of sorrow for the life of hard work that most bees live. Taste locally produced honey, meet the beekeepers, and buy a range of goodies made from honey. On top of the obvious jars of honey and honey-flavoured treats, you'll also find things like honey soaps and hair products.
4. See prickly plants at a cactus centre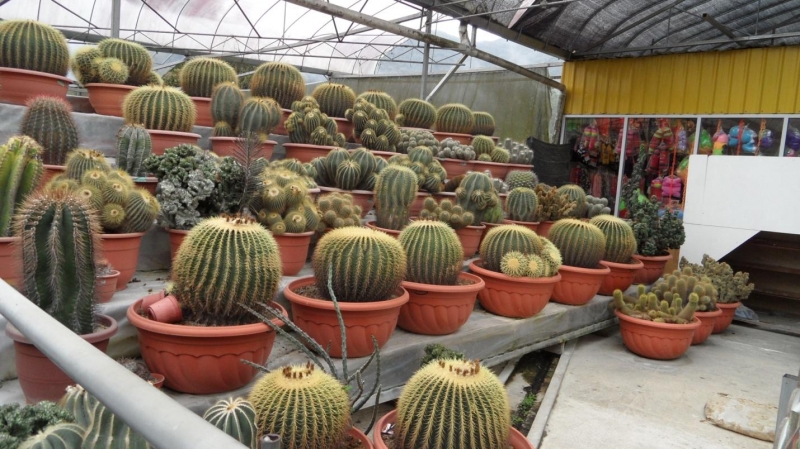 There are two main cactus centres in Cameron Highlands: Cactus Valley and Cactus Point. Each is home to a large assortment of cacti, with angry spines big and small growing from plants of all different shapes, colours, and sizes. You'll see cacti that come from various parts of the globe, as well as some that are pretty old. Both centres have other plants on display too.
5. Feast your eyes on floral beauty at the lavender garden
The scenic Lavender Centre is one of the prettiest places in Cameron Highlands. Home to a staggering assortment of different lavender varieties, the purples, lilacs, mauves, and blues cannot fail to impress. Take a wander along the well-maintained pathways, where the air is filled with distinct, strong aromas. Learn more about the use of lavender, including for medicinal and therapeutic reasons. It's rather enlightening to learn about the culinary uses of the plant too. You can also buy an assortment of goods made from lavender to take home as an unusual gift or souvenir.
6. Visit the fragrant Rose Centre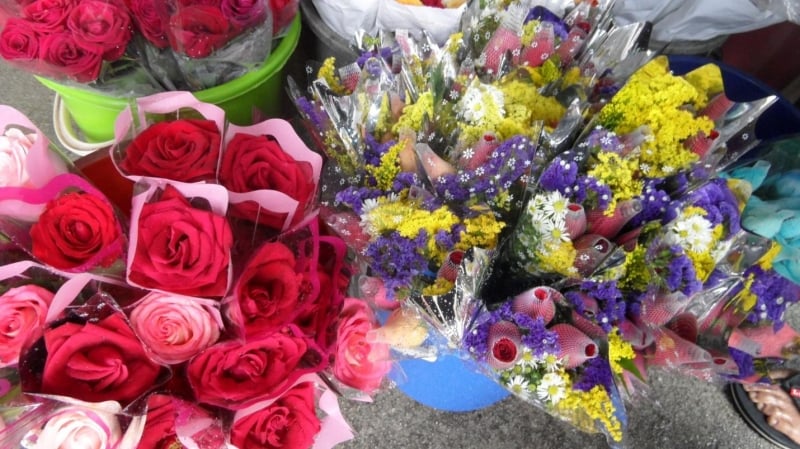 The charming Rose Centre is all about delicate fragrances and beautiful colours. You'll probably be surprised by the huge number of rose varieties that are grown here—the centre has more than 100 different species! After walking around and admiring the flowers, follow the elevated walking trail for great views over the surrounding area.
7. Be enchanted at the Butterfly Farm
If you've ever wanted to enter a tropical garden filled with colourful butterflies flitting through the air and sitting on the flowers, the Butterfly Farm is sure to delight. Popular with children and adults alike, the facility also has a large collection of creepy crawlies. Watch insects, spiders, and reptiles with a mixture of curiosity, intrigue, revulsion, and horror. Other creatures that call the farm home include ducks and fish.
8. Learn more about agriculture at Mardi's Agro Technology Park
A one-stop-shop for visitors who are interested in local farming practices and agriculture, the expansive Mardi has a number of gardens where different items are grown. From tea and roses to grapes and herbs, stroll through the well-ordered gardens and discover more. The information centre is a useful source of interesting facts, and plants and seeds are available to purchase.  
9. Travel back to the past at Time Tunnel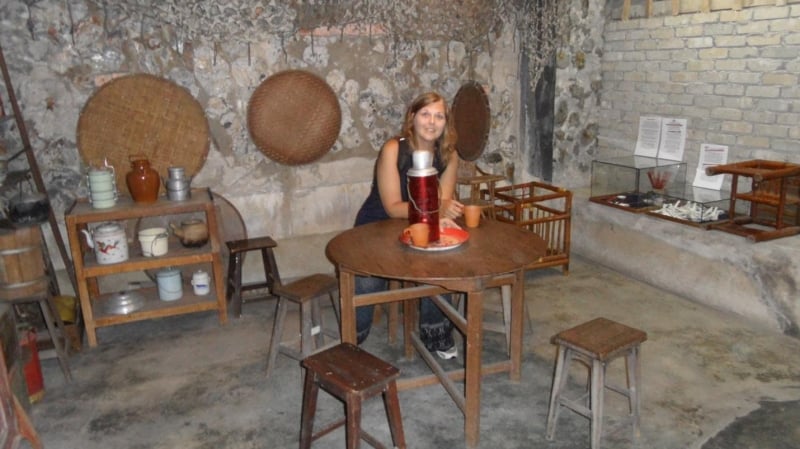 One of my absolute favourite attractions in Cameron Highlands, the fantastic Time Tunnel is also sometimes referred to as The Local Museum. Much more than just a museum, though, Time Tunnel lets you experience life in times gone. Immerse yourself in different scenes and play with various props for fun and fabulous photographs. Sit down for a cup of tea, step into a hairdressing shop, climb behind a bar counter, pose with a drinks' cart, play with vintage games, and more. The collection of memorabilia is impressive, and it's a top place to learn more about local life following the Japanese occupation.
10. Admire indigenous creations at Mah Meri Art Gallery
Mah Meri Art Gallery showcases the delicate and intricate indigenous wood carvings that are traditionally made by the Mah Mehi ethnic group. The Mah Meri people come from the country's Carey Island. There are masks, statues, and more, all expertly carved from wood.
11. Tour Sam Poh Temple
The large Sam Poh Temple is one of the main Buddhist temples in Cameron Highlands. The walls of the main temple display hundreds of small ceramic images of the Lord Buddha, and there are many other Buddha statues and pictures to admire. The scent of incense hangs heavy in the air and you may spot local Buddhists visiting to pray and make merit. There's also plenty of imagery from Chinese folklore.
12. Soak up spirituality at Sri Tehndayuthapany Swamy
One of the area's few Hindu places of worship, Sri Tehndayuthapany Swamy is home to many colourful statues. Constructed in the Nadu style, which is common among Tamil groups, the temple is a good stop for people interested in religious culture.
13. Walk through the Mossy Forest
Located at the top of Gunung Brinchang, one of the area's highest peaks, the Mossy Forest is a great place to experience the natural world. Named because of the thick layer of moss that covers the forest's floor, the Mossy Forest has a boardwalk which makes exploring the area easy. There are sweeping views of the surroundings, and the dense foliage and tall trees provide plenty of shade. Fog sometimes hangs thickly in the air and the forest is home to a diverse array of flora and fauna.  
14. Explore the hiking trails
There are plentiful opportunities for exploring the great outdoors in Cameron Highlands. Independent hiking is possible along the selection of marked routes. Look out for enormous rafflesia flowers, curious pitcher plants, large birds, and more.
15. Gaze upon lovely waterfalls
The Cameron Highlands is home to a couple of nice waterfalls. The Thompson Falls offer a peaceful ambience and pretty views, and it's possible to paddle in the pool at the bottom of the falls. Steps lead to the top of the waterfall, from where you can enjoy nice views. Parit Waterfall requires a short hike to reach, and it sees relatively few visitors. It cannot be accessed during periods of intense rains. Another local waterfall is the Robinson Waterfall, located just outside the town of Tanah Rata.
16. Play a round of golf
The 18-hole Cameron Highlands Golf Course presents a challenge for keen golfing enthusiasts. Equipment is available to rent onsite and the course provides nice scenic views over the mountains and tea plantations.
17. Shop in local markets
Providing a window into local life, the markets around Cameron Highlands typically sell an assortment of fresh produce, herbs, clothing, and other day-to-day items. Many also cater to tourists, with an array of souvenirs and trinkets and, of course, local products like tea, honey, and strawberries.
18. Enjoy a British cream tea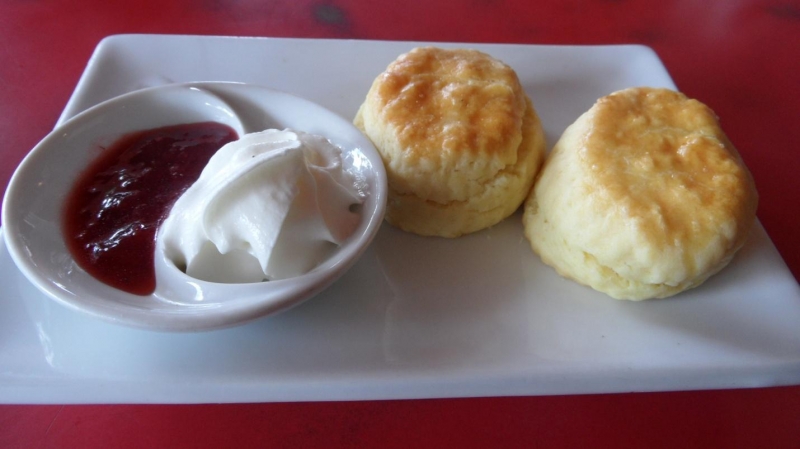 The Malaysian hill station was a popular retreat during the times of British colonization, favoured for its beautiful landscapes and cooler temperatures. Look closely and you'll spot several reminders from the colonial era, including black and white architecture that is reminiscent of the Tudor times in England. Another enduring legacy is the cream tea. Indulge in a British scone, complete with jam and cream, while sipping a warm cup of local tea.
There really are so many terrific things to see and do in Malaysia's picturesque Cameron Highlands – start with this list!
Also read: 2D1N Cameron Highlands Itinerary for Your Next Getaway