Even though it's been a year since the Singapore–Malaysia land border opened, major traffic jams at the causeway still happen just before a long weekend. But, with so many things to do in Johor Bahru (and at a fraction of the price), we might've caught ourselves being part of this jam already. That is why, we've got you covered with this Johor Bahru day trip guide containing the absolute city must-dos — so that you can make the most of your time there.
Also read: 12 Best Food Spots in Johor Bahru for the Perfect Gastronomic Adventure
6am: Start your JB weekend getaway with a hearty breakfast
Our biggest tip when travelling into Johor Bahru? Start as early as possible by crossing the border before the morning rush hour traffic (i.e., before 7am).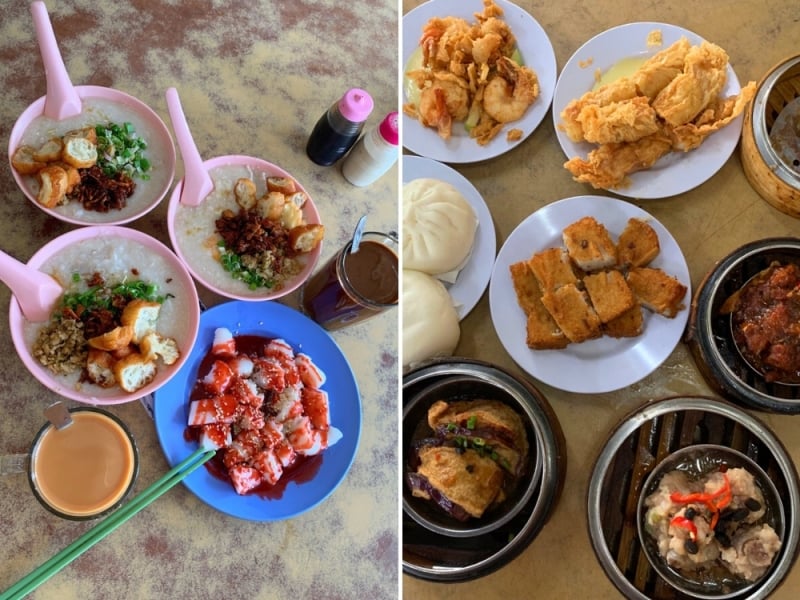 Food is fuel; so once you've entered JB, start the day right with a nourishing meal. The area surrounding Johor Bahru Checkpoint has many options, and you can find these along the streets near KSL City Mall and City Square Mall.
Our favourite breakfast spots in Johor Bahru include porridge at Restoran Multi Mart and local staples with anything from Chinese to Malay options at Kedai Makan Jadi Baru Botak and Restoran Hua Mui JB.
P.S. — If you're spending your Johor Bahru day trip at Taman Mount Austin, stop at Gim Cheng Dim Sum for an affordable and wide array of dim sum options! They are open from 7am–1pm, from Thursday to Tuesday.
10am: Enjoy retail therapy at mega malls
With so many shopping malls to choose from, be sure to add retail therapy to your Johor Bahru day trip to-do list. 
Since most malls open at 10am, beat the mall traffic by heading there when it first opens. Get ready to throng the floors and rows of retail stores, where you can find anything from fashion to household and electronic products. Treat yourself to something from Starbucks or The Coffee Bean & Tea Leaf, and book a salon or massage appointment to catch a break in between. 
Plus, as with most mega malls in Johor Bahru, you can watch a movie or even go rock climbing to pass the time. Also, these malls are where you can stock up on Eureka popcorn, Auntie Anne's pretzels, and Famous Amos cookies — at a much lower price than in Singapore! 
3pm: Complete a must-do Johor Bahru day trip activity: cafe-hopping
Ready to see more of the city? Your JB weekend getaway continues at the city's many cafes, from the modern, minimalist branches to the vintage and nature-inspired ones. 
Whether you're exploring the area near the causeway along Jalan Tan Hiok Nee or further in along Jalan Ekoflora Utama, a latte (and a slice of cake) is just the fuel you'll need to continue on with the rest of your day. Not to mention, with their photogenic interiors, these cafes will make a worthy addition to the 'Gram. 
6pm: Experience the night market scene
As the sun goes down, the city's many night markets come abuzz with excitement and activity. You'll find merchandise ranging from clothes to household products here, but nothing quite steals the night market spotlight as much as street food!
From RM1 lok-lok skewers to street food staples like potato twist and Ramly burgers, these night markets are the perfect place to have dinner — in true local fashion. 
TripZilla Tip: Night markets are generally open on only one day of the week. The night markets at Taman Desa Tebrau and Permas Jaya open on the weekends, but the more popular ones — at  Taman Century and Taman Johor Jaya — open on Monday and Tuesday respectively. In any case, you've got Pasar Karat, which opens daily (at different hours)!
Of course, if you prefer a sit-down meal, there are plenty of mouth-watering options. Korean and Japanese fare populate Taman Mount Austin, while local cuisine can be found nearly anywhere — depending on what you're looking for. 
Our favourite local dinner spots include Restaurant Teck Sing (for their paper-wrapped herbal chicken) and New Chua Kee Restaurant (for their seafood). 
10pm: Unwind with a massage
Finally, what better way is there to end an exciting and eventful day than with a relaxing massage? Parlours are located all over the city in shopping malls and in the Taman Sri Tebrau, Taman Abad, and Taman Mount Austin areas. 
Our favourite things about a massage in JB? These spots open late into the night (e.g. Bangkok Spa closes at 5am!), and can cost three times cheaper than what you'd pay for in Singapore! 
Also read: Johor Bahru Walking Tour: 9 Best Attractions to Immerse in Its Culture
Now all that's left to do is to figure out the best time to head in (this five-minute train is one of the quickest ways there) and get ready for an exciting day trip to Johor Bahru! 
---
Featured image credit: restlesskath via Canva Pro
Featured FB image credit (right): FredFroese via Canva Pro