Ah, Penang, the Pearl of the Orient. Often considered one of the best destinations to travel to in Southeast Asia, Penang needs no introduction. From mouth-watering street food and ambient historical location to Instagrammable cafes, this magnificent island in Malaysia has it all! If you're planning your first trip to Penang (or second, or third!), here's a list of the best things to do in Penang that will keep you coming back for more.
Also read: 17 Airbnbs in Penang Where You Can Live Like a Local
1. Take a walk along Penang's Harmony Street
Penang's Street of Harmony is found along Jalan Masjid Kapitan Keling. It is one of the places which best reflect the multi-cultural uniqueness of Malaysia as a country. The street is filled with multiple places of worship catering to different faiths. It's not uncommon to see devotees pouring in and out on a weekend or religious holiday. Some of the buildings include the Masjid Kapitan Keling (duh!), Kuan Yin Temple, St. George's Church, the Sri Mahamariamman Temple, and many more. The famous Khoo Kongsi building, along with some of Penang's famous street murals, are also located here. Exploring Harmony Street should be first on your list of what to do in Penang!
2. Experience being a Crazy Rich Asian at the Cheong Fatt Tze Mansion
Did you know that the epic mahjong showdown between Michelle Yeoh and Constance Wu in the 2018 film, Crazy Rich Asian, was actually shot in Penang? Yes, that tense scene was filmed on-site at the Cheong Fatt Tze Mansion aka The Blue Mansion! Built in the 1880s by a wealthy Chinese merchant, the building features a blend of extravagant East meets West design. Now a boutique hotel, you can choose to live it up by spending a night or two here. You can also take part in its daily guided tours.
Also read: 13 Hollywood Movies That Perfectly Capture the Beauty of Asia
3. Play hide & seek with the street murals of Penang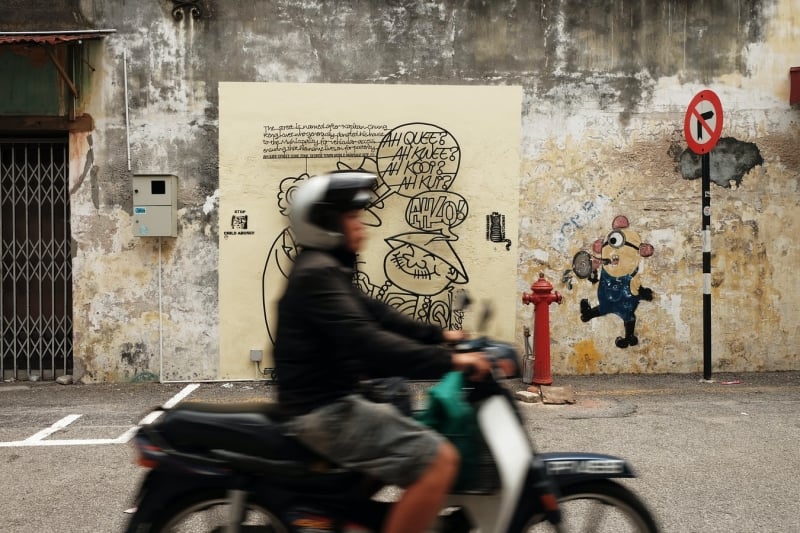 This is easily one of the most popular things to do in Penang these days.
The streets of George Town are literally filled with these interesting pieces that depict the daily life and culture of Penangites. This is one of the main reasons why there are so many more bicycles on the street on the island now than say, 10 years ago. Due to the sheer number of art murals in the city, hunting for them all is a legit day-long activity. And most likely (and for your sake of convenience), it would be ideal to rent a bike. Some hotels have rental services specifically because of this.
And just in case you DO want to visit these Penang attractions, here's a map of the locations where you can find them. Good luck.
Also read: Penang Food Guide: Best Places to Eat as Recommended by a Local
4. Embark on a culinary marathon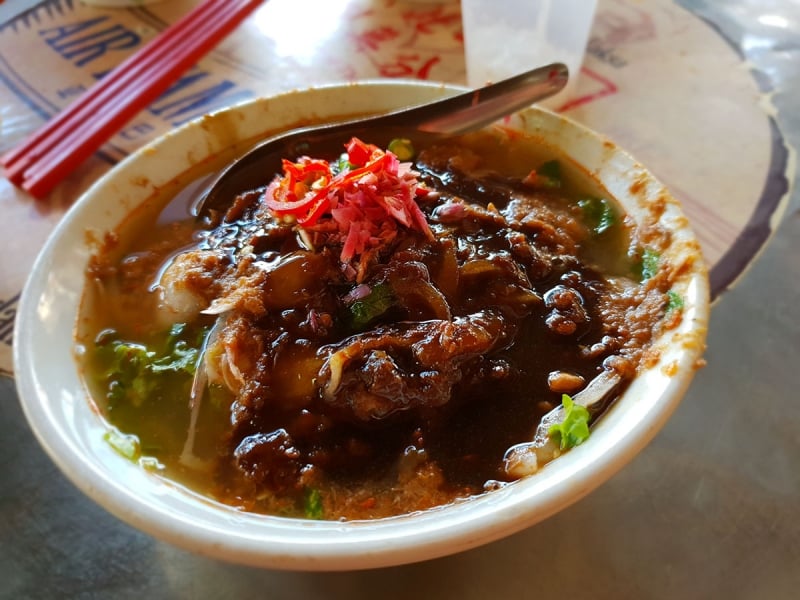 Having covered Penang's street art, I think it's only fair to start talking about Penang Street FOOD. Penang is consistently ranked as one of the best food paradises in the world and it would take a brave soul to argue against that. From hawker food staples like char koay teow to delicious broths like Assam laksa, and even to scrumptious snacks like rojak, Penang has it all. So much so that 'Penang' has become a sort of brand in Malaysia's culinary field. If you are a foodie, embarking on a culinary marathon should be on top of your must-do Penang activities.
I swear, while studying in Kuala Lumpur, I've had my fair share of "Penang Famous This And That" which I've never actually seen in Penang before! Hah! But certainly, if you don't go on a food hunt in Penang, your palette might just hate you forever. There are many food courts and hawker centres across the entire island. A good place to start would be along Gurney Drive. Be warned as it could get really crowded on certain days and seats would be at a premium.
5. Go cafe/bar hopping across the island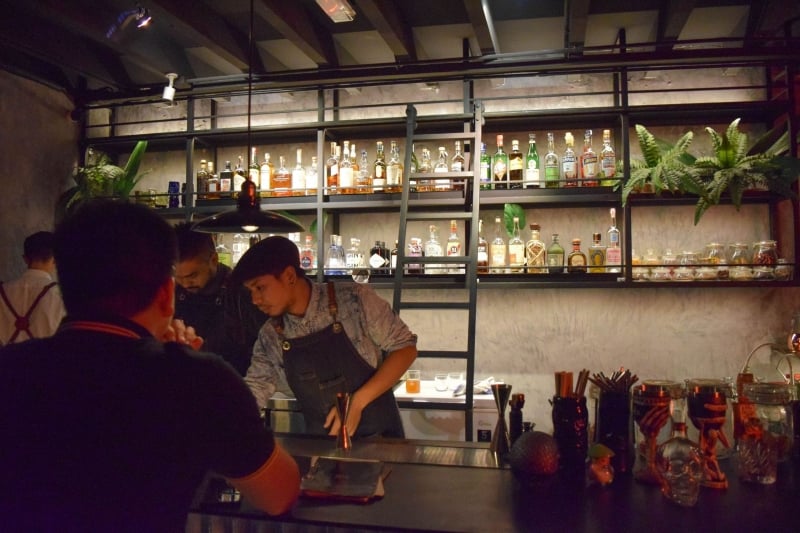 As a bustling port island city, Penang has no shortage of cosy concept cafes, classy bars and party-like-there's-no-tomorrow clubs. One of the best things to do in Penang is to go on a day-long cafe and bar hop. I personally recommend the Mug Shot Café with its great yoghurt and sandwiches AND you get to take a mug shot! I also recommend Tavern in The Park as it takes the word 'class' to a whole new level.
If you're looking for a fun night out with drinks (do it responsibly though), then head on over to Upper Penang Road to discover Penang's fun nightlife. One of my favourite bars in Penang is Out Of Nowhere, which is the OG speakeasy bar on the island. You'll have to find the secret entrance yourself but here's a clue for you: be cool. Alternatively, check out Manchu and its Insta-worthy oriental designs!
Also read: Top 8 Hidden Bars & Speakeasies to Discover in Penang
6. Hop on a trishaw for a breezy tour of George Town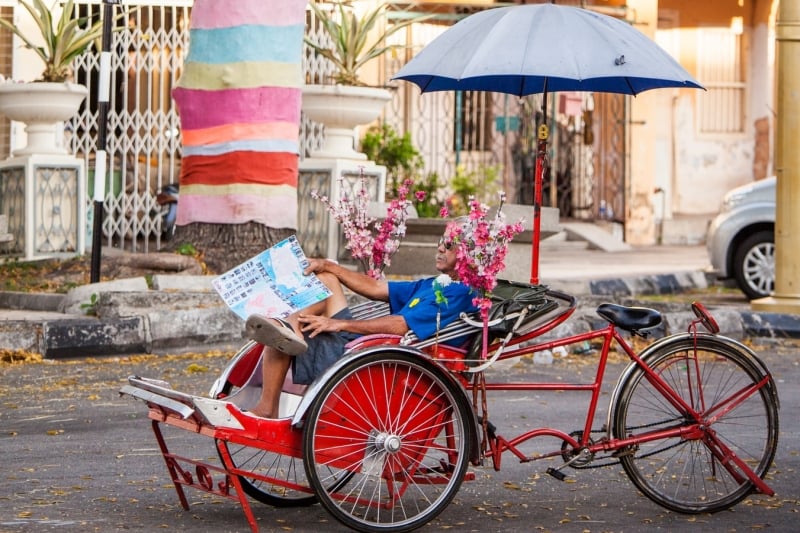 Well, in Penang, apart from cars and buses, there are bicycles and…trishaws. Though it's gotten a little bit tougher to find these three-wheeled vehicles compared to the past, you can still find a number of trishaw peddlers around the George Town area and some near the pier of the SuperStar Libra cruise ship. It's a nice and traditional way to get from point A to B in the city or simply for a breezy tour around Georgetown. It certainly is one of the most unique things to do in Penang too! (Psst, it's a great way to beat the crazy traffic in Penang).
7. Pay a visit to the famous Kek Lok Si Temple
The Kek Lok Si Temple is one of the finest and largest temple complexes within the region. It is an essential aspect of Buddhism and Chinese cultural rituals in Penang. The temple is adorned with many sculptures and carvings, and even more images of Buddha. Its architecture, with its many pagodas and archways, is even more enchanting during the Chinese New Year and Wesak Day celebrations as the temple will be covered in dazzling lights. It is also during those times when the temple is most crowded, usually by worshippers but also tourists who wish to soak in the serene atmosphere.
8. Get your feet moving and visit the waterfall hilltop temple
Moving now from a temple dedicated to Buddhism to one dedicated to Hinduism. The Arulmigu Balathandayuthapani Temple is one of the island's oldest Hindu temples built in dedication to the deity Murugan. To get to the top, you would have had to climb…wait for it…500 steps. Make it and you'll be rewarded with a spectacular 180° view of the area near Gurney and Mount Erskine. While most people associate Thaipusam with the Batu Caves, the waterfall hilltop temple in Penang is the main attraction and star of the festival within the island state.
9. Visit one of the world's largest reclining Buddha statues
In case you weren't keeping track, we've gone from a Chinese Buddhist temple, to a Hindu temple, and now we've arrived at the Chaiya Mangalaram Thai Buddhist Temple. The Siamese temple was commissioned in 1845 by Queen Victoria and it houses a 180 feet, gold-plated reclining Buddha statue, one of the (if not the) largest in the world. The temple is located on Jalan Burma and it is just a stone's throw away from Bangkok Lane (because obviously). It is truly a remarkable sight to behold and one of the top Penang attractions you shouldn't miss.
10. Pay a "visssssit" to the Snake Temple
I promise you, this is the final temple on the list. What? Penang has deep cultural roots, of course, there were bound to be more than the odd temple or two. Anyway, the Snake Temple was featured at one point on The Amazing Race and it is essentially a Buddhist temple.
The temple is filled with snakes (no prizes for he or she who guesses why it's called Snake Temple) and even though they are venomous vipers, they have had their venom extracted and for the most part, they just laze around peacefully, apparently lulled into a sense of nirvana by the smell of incense in the temple. But just in case of the odd jumpy one, visitors are still advised to not pick up the snakes for a selfie. Just don't.
11. Catch the spooks at the Penang Ghost Museum
Yep, you read that right. A museum about ghosts. Of course, understandably, you might not be looking to be scared silly on your first-ever trip to Penang, but rest assured, not all sections in the Penang Ghost Museum would give you nightmares…I think. That being said, it is indeed a one-of-a-kind attraction found only in Penang.  Visitors can take pictures with the 'exhibits' which also include detailed explanations of the various ghosts and the legends associated with them. The exhibits cover a range of ghost and creatures from various cultural and religious folklore and it's just a truly memorable experience. While the exhibits are mostly made of wax or synthetic cotton, I wouldn't touch the exhibits themselves per se…you just never know…BOO!
12. Have fun at Penang's interactive museums
For a place of its size, Penang is home to a surprising number of interactive museums! Off the top of our minds, we can easily count more than eight places to visit in Penang for museum lovers. The list includes the Wonderfood Museum, where there are replicas of over 100 types of local street food. It's mind-boggling to see how realistic these replica dishes are, and definitely fun to pose with.
The Upside Down Museum is one of the best places to visit in Penang for families. Put on your best balancing act to get the best photos of yourself hanging off things!
What makes Penang 3D Trick Art Museum special among other 3D museums is the deep Penangite vibe of the 'exhibits'. The motto of the museum is to 'rediscover Penang'. Many of the exhibits convey just that. From the island's famous clan jetties to scenes and sights deeply adored by locals, there's plenty of whacky fun to be had here!
Also read: 10 Interactive Museums in Penang to Visit on Your Next Family Outing
13. Get a blast from the past at the Pinang Peranakan Museum
The Pinang Peranakan Museum is housed in a refurbished Peranakan mansion from the 1900s. The museum houses exhibits which showcase the many tools and lifestyles of the Baba and Nyonya, prominent communities in Penang, Malacca and Singapore in the past.
It is a truly magical experience and many visitors exclaim that they feel as if they are siphoned back into the past when they step through the threshold of the mansion. The museum has even been featured multiple times in The Amazing Race and The Amazing Race: Asia. It is also the filming location of the 2008 Singaporean drama, The Little Nyonya.
For more interactive ways to discover Penang's rich history, visit Penang House of Music!
14. Surround yourself with thousands of butterflies at Entopia by Penang Butterfly Farm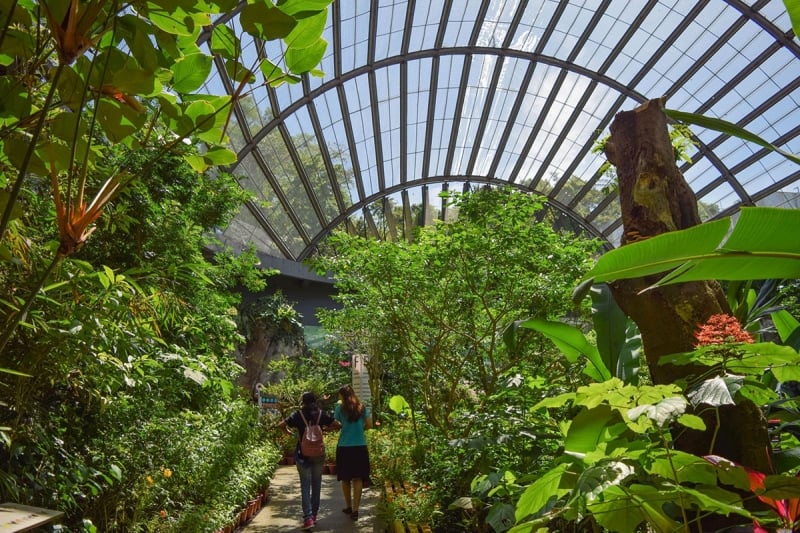 As one of Penang's most endearing tourist attractions, the Penang Butterfly Farm received plenty of awards throughout its years. However, if you haven't visited since 2016, boy, will you be in for a pleasant surprise! After extensive expansion and renovation, the Penang Butterfly Farm was turned into Entopia in 2016. Where the humble farm once stood, an impressive dome-like structure now greets visitors. Inside, over 15,000 free-flying butterflies roam in the Natureland, a living garden vivarium that also houses other invertebrates and small reptiles. It is Malaysia's largest butterfly garden and it is indeed majestic.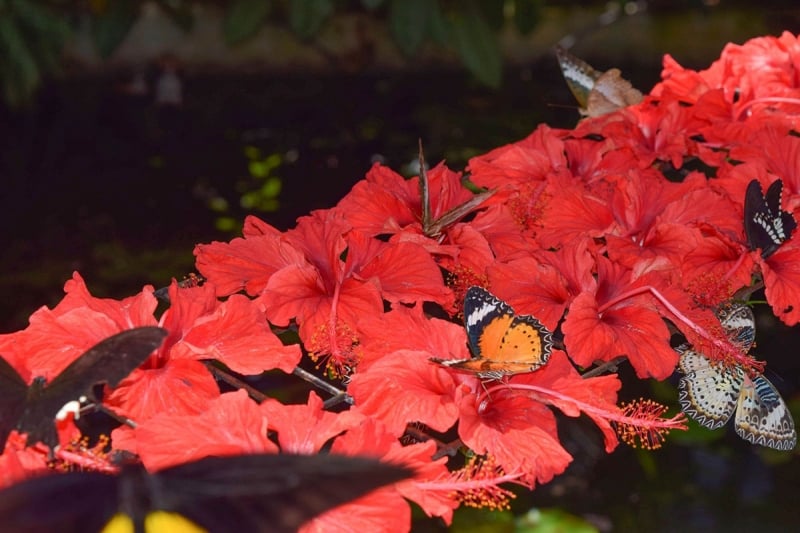 There are also multiple levels and zones in Entopia showcasing the many different faces of Mother Nature. The Breeding Ground houses countless cocoons and pupae. Hang around long enough and you might just be lucky to see a butterfly emerge from its cocoon! Before you wrap up your day at Entopia, make sure to take part in the butterfly release event which occurs daily. Make a little wish before releasing a butterfly and let it carry your wish to the winds! Believe me when I tell you that visiting Entopia is one of the more recently-popular things to do in Penang.
15. Take a train ride (or hike!) up Penang Hill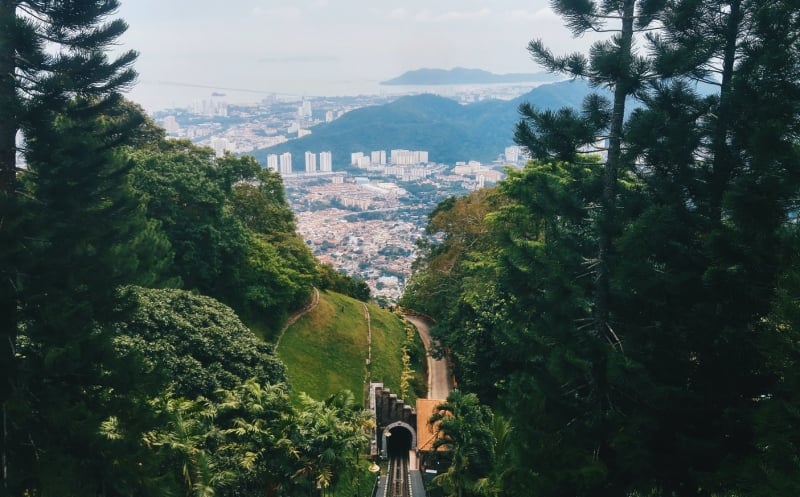 Also known as Bukit Bendera in Malay, Penang Hill is one of the top attractions in Penang and one of the coolest (the temperature is literally cooler at the top of the hill). One of the main attractions of Bukit Bendera is the funicular train ride to the top of the hill. It only takes five minutes but if you're one who fancies the embrace of nature, you may also choose to hike up the hill.
Either way, you'll be surrounded by lush greenery and minty-fresh air. The top of the hill is home to a few restaurants, a souvenir shop, a temple, a bird sanctuary and a mosque. Personally, I recommend foregoing the restaurants there. It's not that they're not good enough, it's just that the top of Penang Hill has many ideal spots for picnics, so if you have the time, definitely go for that.
16. Immerse yourself in nature at The Habitat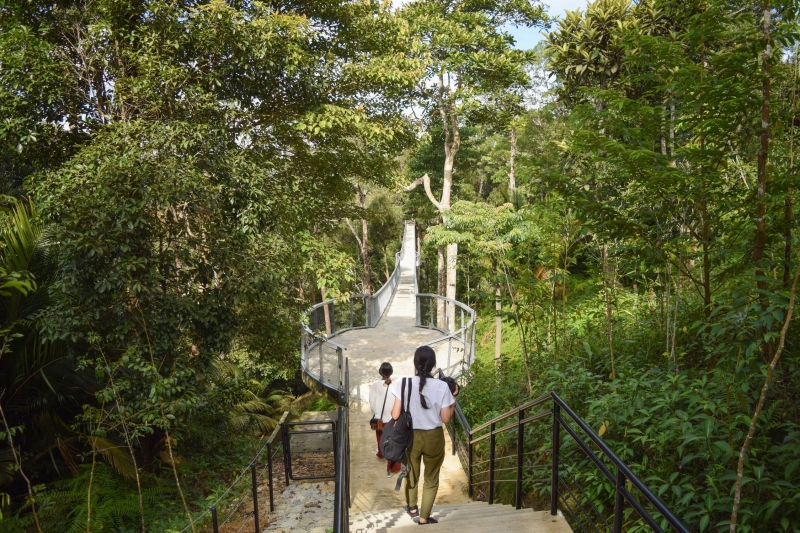 The Habitat is a natural haven located on the fringes of virgin jungle reserves. As you trek through the lush nature trails, you'll be walking in one of the oldest forests in the world. It's almost 130 million years! There are plenty of scenic areas providing jaw-dropping views, of course. If you're lucky, you might even come across some curious forest animals along the way as well.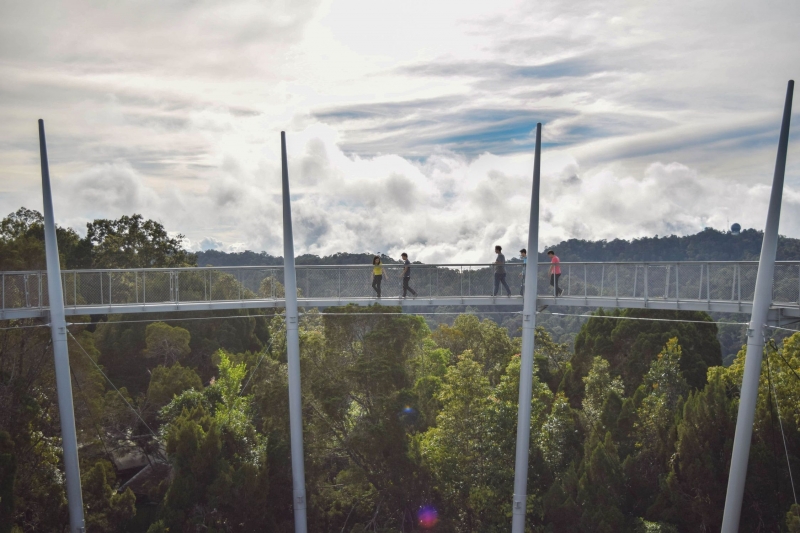 That being said, nothing is quite as impressive as the Curtis Crest Tree Top Walk. As the name suggests, you'll find yourself climbing a few flights of stairs to walk among the trees. Because the Habitat is situated at the top of Penang Hill, the Curtis Crest Tree Top Walk is the highest scenic viewing point on the entire island! A circular structure allows you to admire a 360° view of Penang. You can even join a flying fox tour and zip through the trees, providing you with a once-in-a-lifetime view! Exploring The Habitat should definitely top the list of what to do in Penang for nature lovers.
17. Escape the city at…well, ESCAPE Theme Park
ESCAPE Theme Park is probably one of the newest outdoor tourist attractions in Penang. It first opened its doors in 2012 and is still a relatively unearthed gem, even among Penangites. The theme park is near the previously-mentioned Entopia and is surrounded by lush greenery and trees. This family-friendly outdoor adventure park offers many exciting activities including tower climbing, free-falling, balance beam walking, and many more. It is also here where you can go for a ride on the world's longest water slide!
Recently, the theme park also unveiled the world's longest zip coaster to great aplomb! You can now fly through the tree tops over a 1.1km course of thrilling twists and turns!
18. Trek to your heart's content at Penang National Park
Penang National Park is… by every way of the word, the smallest national park in the world. That being said, its 2.5-hectare area contains a rich diversity of habitats. You can find beautiful lakes, wetlands, mangrove plantations, coral reefs, and even turtle nesting beaches at the Penang National Park. If you're up to the challenge, there are trekking routes here that will put your mettle to the test. Survive and you'll be rewarded with many breathtaking views of the park. You can also access some pristine beaches from the park by boat!
19. Satisfy your inner bibliophile at one of Malaysia's largest bookstores!
BookXcess Gurney Paragon is one of the largest bookstores in Malaysia and a true haven for book lovers. It occupies the entire seventh and eighth floors of Gurney Paragon Mall. Stocking works of many different genres and even vintage comic books, you could easily spend the entire day here just browsing the available titles. What's more, all the books sold here are extremely well-priced; they are cheaper than most chain retail stores. So, you might need an extra bag for your one-hour shopping trip here!
20. Admire a bird's eye view of Penang at The Top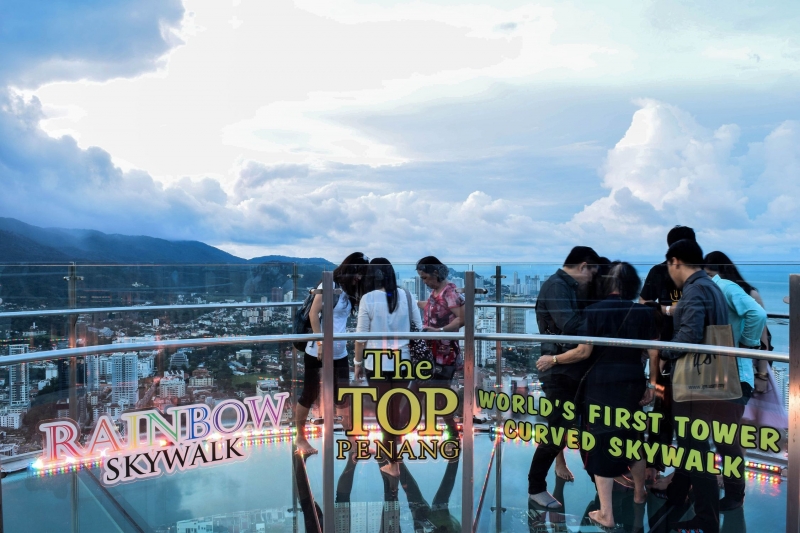 The Top is part of a project to revitalise the island's iconic Kompleks Tunku Abdul Rahman (KOMTAR) building. It is one of Penang's newest hotspots. It features plenty of quirky, interactive attractions but the Rainbow Skywalk, located at the very top, is by far the most memorable place to visit. Set on the 68th floor of Komtar, the Rainbow Skywalk gives visitors an uninterrupted view of Georgetown's skyline… if they're brave enough to step onto the glass panels protruding out of the building.
For an even more heart-pumping experience, challenge yourself on the obstacle course at The Gravityz. Located at The Top, The Gravityz is an adrenaline-pumping mini adventure course just outside the 65th floor of KOMTAR! Attached to a safety rope, you'll navigate a mini obstacle course across each corner of KOMTAR. If you brave the obstacle course, you'll be treated to an unforgettable bird's eye view of George Town!
21. Relax and unwind on Batu Ferringhi Beach
It would be a real travel sin on my part if I were to write an article about Penang and not once mention any of the numerous beaches on the island. But of course, but hard-pressed to make a pick, pick the best one. And in Penang, it would have to be Batu Ferringhi beach. There's a reason why so many top-class resorts have decided to open shop in and around the area. Its pristine sandy beaches and an array of water activities keep visitors coming back for more.
And hey, if you're not one to hop about in the sun, you too will surely be able to appreciate the idea of lazing around on a beach with an ice-cold cocktail in hand. Believe me when I say that watching the sunset over the horizon at Batu Ferringhi Beach is just one of those things you never knew you'd like until you've experienced it firsthand. And then, it becomes one of those memories which never seem to go away.
22. Hit up the best IG spots in Penang and beyond
Penang is full of swoon-worthy locations that are just perfect for that #OOTD photo on your IG feed. Whether it's the ambient sunset by the Clan Jetties, the creative photos at the aforementioned interactive museums, or the hidden gems that lay beyond the Penang Bridge, you're bound to find the perfect photo spots for your Instagram photoshoot.
Psst, here's a secret from your local guide: One of the best things to do in Penang that most people don't know about, is leaving the touristy island section of Penang, and heading to Kampung Agong on the mainland. Here, you'll be able to experience a mini-Bali surrounded by rustic paddy fields and serene vibes! You could also visit Frog Hill, the Jiuzhaigou of Malaysia, or take a boat ride to Pulau Aman!
Also read: 20 Beautiful Places in Penang to Feed Your Instagram
There are just too many things to do in Penang. In fact, I have to admit, I've not done a few of those things myself yet and I live in this beautiful city. There's no way to say it more clearly than this: The reviews are on point. Visit Penang once, and you just might never want to leave again.