When your travel goals beckon you to visit South Korea, how would you craft your itinerary? Would you seek staple attractions and call it a day? Or would you go beyond Seoul Tower and Lotte World in the hopes of discovering less frequented places? You may have heard about the must-sees in the home of unmatched kimchi and beauty essentials, but there are more underrated places that could resonate with you — where you can also beat the crowd.
For instance,  Seoul has an impressive mall culture that usually goes unnoticed by culture vultures. There are also plenty of spots where tourists can enjoy unique views while dining, as well as markets to appease practical bargain hunters. If you like the sound of that, then continue reading our South Korea travel guide for seeing a different side of the country's city life and coastal destinations.
Oh, and just so you know, the following attractions were all recommended by Singaporean travellers at the Go Get Korea itinerary crafting event held last year. Let's see what your fellow Singaporean Korea fans have handpicked for your next South Korea trip!
Shopping areas you haven't heard about
The Hyundai Seoul
Let's start this South Korea travel guide with a bang by introducing Seoul's newest and largest department store to date. The Hyundai Seoul in Yeouido is almost the same size as 13 immense football fields and basically a one-stop shop for everything. Inside it? Passageways that measure eight metres compared to the typical two to three metres you're used to! This definitely suits those who seek relaxing and less crowded places. 
Travellers will likewise love the fact that this luxurious mall teems with plants and other elements of nature to avoid the tight feeling of enclosed spaces. On the first floor, you'll find a waterfall garden that has a 12-metre drop; on the fifth floor, a 3,300-metre indoor park dubbed Sounds Forest will undoubtedly call to you. This makeshift park actually features real grass and flowers, with 30 real trees comfortably shading each bench. 
The underground level features Korea's largest food hall called "Tasty Seoul", already featuring the city's hottest barbecue joints; all in all, travellers will find 90 restaurants in the mall. As for retail therapy? Well, 30 cosmetics brands will welcome you on the first floor alone, and you'll find designer brands like Gucci and Prada all for your shopping (or window shopping) pleasure!
Mecenatpolis Mall
Everybody loves a good mall that's right beside a train station, and that's exactly what Mecenatpolis Mall is. This mall is located near Hapjeong Station and is approximately a seven-minute walk away from Exit No.9. Aside from its accessibility and convenience, what makes travellers and locals appreciate this mall is its open-air design. 
Visitors can easily get a view of the sky from many points within the mall, and there are even pools that feature animal statues, and of course, a relaxing garden area. The most striking aspect of the mall is probably the canopy of vibrant umbrellas in between buildings. An ideal environment to walk and shop, the mall offers 34 floors, seven basement levels, and more than 90 stores to discover. This gamut of stores covers local and international brands, which include HomePlus, 8 Seconds, Uniqlo, and Muji. 
What's more, locals and foreigners have attested that Mecenatpolis is a perfect place to meet up and grab a cup of coffee with friends. There's an even selection of modest and upscale restaurants or cafes suitable for all types of tourists. Take your pick from Korean, Indian, Italian, Japanese, and many more cuisines that will undoubtedly tickle your taste buds!
Also read: 12 Flower Fields in South Korea That Look Straight Out of A Storybook [Updated 2021]
Attractions that offer dining with a view
Stay Interview Cafe at Gangneung
The best places to stay in South Korea are accommodations where you can dine with a view. And not just city views, but breezy and relaxing nature views. If this is your cup of tea, then head to the Stay Interview Hotel at Gangneung. This hotel features a cosy cafe where you can have your pick of tasty desserts and refreshing beverages, from coffee and milk tea to fruit juices. The café has a blend of both hip and rustic motifs, with well-lit wooden furniture where you can read and relax while gazing at the emerald sea. 
If you'd like, you can even sit on rugs and pillows laid out on the floor for a more earthy experience. Visitors who have an affinity for plants will surely enjoy seeing the potted herbs, flowers, and shrubs all throughout the hotel. No wonder Singaporean travellers have vouched for this accommodation, it allows you to hold the wonders of nature literally at your fingertips!
Cactus Colony
This wouldn't be a South Korea travel guide without Jeju Island. You might have already heard about Jeju's beaches, caves, and fields, but how about the unsung Cactus Colony at Wollyeongri? This hidden gem is located at the west side of Jeju by the coast. The Cactus Colony is exactly what it sounds like — a sea of cactus plants and flowers surrounding the Wollyeongri Cactus Village. 
In case you're wondering why there's a whole colony of cactus in Jeju, that's because cactus is the speciality ingredient of Jeju and is found in face masks, juices, and even chocolates. Take this once-in-a-lifetime opportunity to walk amidst a cactus colony and snap some seaside photos against the unique backdrop. If you get hungry, there are cafés nearby that are convenient stops during your stroll. 
A go-to is the Sea Cave Cafe where you can order some staple cactus juices and complete rice meals. Before you set aside your cameras to take lunch, you should know that there's also a real cave within the building. Make it your mission to book the tables that have a view of the cave below!
Konkuk University's hipster neighbourhood
Konkuk University's neighbourhood is a well-established nightlife area in Seoul. Since it's more famous with the locals, you'll often encounter an army of college students hanging out here every night. This is their place to be when it comes to bar and restaurant hopping, and getting the bang for their buck with delicious street food. So, if you want to beat the crowd at Myeongdong and Itaewon, set your sights on this lively neighbourhood because its neon lights shine just as bright. 
One of the biggest and most Instagram-worthy attractions in the neighbourhood is Common Ground. Its exterior alone is striking because it's made up of 200 shipping containers, making Common Ground the largest "container shopping mall" in the world. Stores include the likes of Fila, Converse, and Vans, while the restaurants feature international cuisines like Italian, Japanese, and American. Near Common Ground is a charming minimalist cafe called Café MILD. Here, you can take a break from all that hipster energy and enjoy the relaxing white interiors while you munch on light salads, sandwiches, and seafood!
Abai Village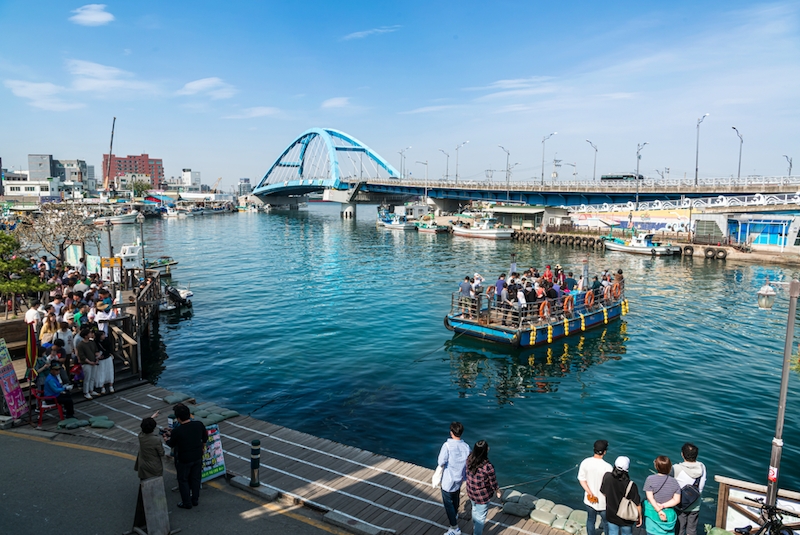 Traditionally called Cheongho-dong, Abai Village in Gangwon province is a charming village with small Korean houses lining the streets; matched with the quiet sound of the sea, the village sparks 1970s nostalgia. It's also popular for its gaetbae boat which tourists can hop on to cross to the other side of the river. True to Abai's nostalgic feel, these boats are vintage and have no engine. Hence, boatmen have to pull a cable to bring the boat to the other side. The fun part? Tourists are welcome to join in pulling the cable for a cool, old-fashioned experience!
Continue your Abai adventure by visiting the filming location of the popular K-drama Autumn in My Heart, and indulge in Abai's many drool-inducing seafood restaurants. After all, the village's main livelihood is fishing, so it's sure to offer unique and memorable recipes you haven't tried before. 
Its most popular delicacy is called Abai Sundae, which is basically a squid stuffed with clear noodles, tofu, and vegetables. Spicy food enthusiasts will also want to try Hamheung Naengmyeon. This is a staple that is defined by skinny noodles mixed in spicy red hot pepper sauce. Dare to try? You won't regret it!
Coastal and mountain attractions for a rejuvenating sightseeing experience
Yeonggeumjeong Pavilion
Complete your South Korea travel guide by adding places that can offer sightseeing experiences and picture-perfect natural sights which will trigger your friends to ask, "Where did you take that photo?"
In the province of Gangwon-do, the rocky shore of Yeonggeumjeong is the perfect spot to catch the sunrise. To make the viewing experience easier for locals and tourists, a pavilion was built upon the rocks while a long bridge connects it to the main shore. Urban legend says that those who stand on the pavilion can hear a mysterious sound similar to that of a Geomungo, a sacred musical instrument with six strings. 
It definitely makes for a curious and other-worldly experience when you take everything in — the soft breeze, sound, and smell coming from the clear sea. Accompanied by a great sunrise, this would be one for the books. 
Cheongchoho Lake
Yet another tranquil spot to witness the South Korean sunset is Cheongchoho Lake found in the centre of Sokcho city. This lagoon is connected to the East Sea and can also be viewed from downtown Sokcho. But if you actually make your way to the lake, you can enjoy walking trails, see perfectly manicured gardens, and even hop on a boat. A lot of tourists take their time enjoying the clean and green environment, as they wait to catch the golden sunset reflected on the water.
From Cheongchoho Lake, you can also visit Sokcho's eight must-sees which include Sokcho Expo Tower, Expo World, and Expo Excursion Steamer. These were all built for the 1999 Gangwon International Tourism Expo. The Expo Tower, in particular, is astounding at 240 feet and houses an observatory where tourists can get a better view of the area. The tower is in the middle of the lake and mountains, so you're sure to get a refreshing perspective of South Korea's natural wonders!
Also read: A 48-Hour Escape to the Rugged Charm of Gangwon
Daepo Port
After getting an eyeful in Sokcho City, head to Daepo Port which is in the southern part of Sokcho. This port may seem ordinary at face value, but there's actually more than a hundred years of history behind Daepo Port. It has a lasting fishing tradition, which you'll observe from the many fishing boats parked at the docks. The port brims with seafood markets and restaurants you have to try. Get a taste of its local grilled and dried fish, sashimi, speciality crab, and Korean-style seafood broths! 
This small town may not be a typical avenue for postcard-like photos, but with the overwhelming selection of market and food stalls to eat in, the port has a lot of character and potential for some impressive street photography. 
Seoraksan Mountain
Let's cap off this South Korea travel guide for the hikers and nature lovers. Seoraksan Mountain is Korea's third-highest mountain and one of its most beautiful. The surrounding area is considered the Seoraksan National Park, which is also a UNESCO World Heritage Site. Here, there are several hiking trails to follow and most are easy enough to finish in a few hours — communing with nature won't be so much of an effort! So, pack your water, and maybe an extra shirt as you prepare to encounter cliffs, waterfalls, and a total of 30 peaks, with the highest one being Daecheongbong Peak. 
Also read: 10 Most Famous UNESCO World Heritage Sites You Need to Visit in South Korea 
If you're a first-timer in Seoraksan, don't miss the two most popular hiking trails that start from Biseondae to Madeungryeong, and from Biseondae to Daecheongbong Peak. Geumganggul Cave is another must-see in the park; it's small but it's about 600 metres up the mountain, which means you're going to behold the verdant hills and mountain range from where you stand inside the tunnel of the cave. Trust us, you're going to want to capture that moment. And if you can't be bothered to hike the mountain, don't sweat. You can always book a ride on the Seorak Cable Car to witness all the nature views below. 
Seoraksan even features a temple at its slopes called Sinheungsa Temple, a Korean Buddhist temple many travellers stop by before climbing the mountain. This temple dates back to 652. Get this — you can even be part of the ongoing legacy by leaving a message or a wish on a temple roof tile. Finally, end your adventure in Cheoksan Spa, where you can indulge in a warm and organic dinner, and feel your worries drifting away in hot spring water.
Also read: 10 Cabin Retreats in South Korea for a Cosy Getaway [UPDATED 2021]
Well now, this list of attractions recommended by Singaporean travellers just goes to show how much of South Korea still needs to be talked about. If some of these places are new to you — and we're sure at least one is — make sure to spread the word to your South Korea travel buddies. You're going to have to update your itinerary!
---
Brought to you by Korea Tourism Organization.