As a seasoned traveller to Seoul, I had exhausted everything on a typical to-do list — experience nightlife at Hongdae, visit Gyeongbokgung Palace in a hanbok, and catch a K-Pop performance live. This year, I made a promise to myself to explore other destinations. Yet when the opportunity to visit Seoul on a media trip came by, I simply could not resist.
Home to a perfect mix of hipster spots, cultural and historical attractions, amazing food and soju, and friendly ajummas, Seoul has this enigmatic charm that draws me back again and again. From having a S$5 lunchbox at a traditional market (no, we're not talking about Gwangjang Market) to watching a Korean musical and riding a rickshaw, here's a list of things I've checked off on my fourth trip to the Kimchi-land!
1. Savour authentic local food at a bento-themed market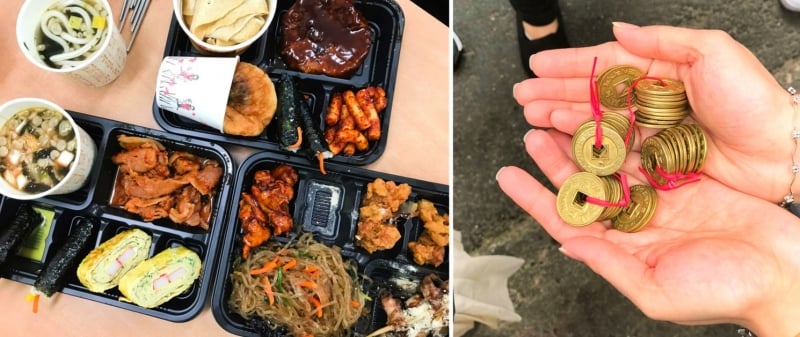 Traditional markets are a dime a dozen in Korea but Tongin Market, a 77-year-old market located near Gyeongbokgung Palace, has a special 'build-your-own Doshirak (lunch bento)' theme not found anywhere else in Korea. Also, instead of using real cash, you pay for your food and drinks using Yeopjeon, an ancient brass coin! I am truly impressed with this interesting concept that revitalised an old traditional market in Korea.
During my visit, Tongin market was pretty packed mostly with locals having their lunch. I made a beeline to the second storey of the Customer Service Center (고객만족선터) and paid a small sum of 5,000 won (~S$6) in exchange for a string of ancient brass coins and a plastic tray with multiple compartments. With that, I went off to explore the market!

Tongin Market has over 75 stores selling a wide variety of local favourites — hotteok (Korean sweet pancakes), japchae (Korean glass noodles), odeng (Korean fish cakes), sikhye (Korean rice punch) and more. The market is also known for its signature crispy, fried tteokbokki known as gireum-tteokbokki, which is a must-try! Needless to say, I was spoilt for choice.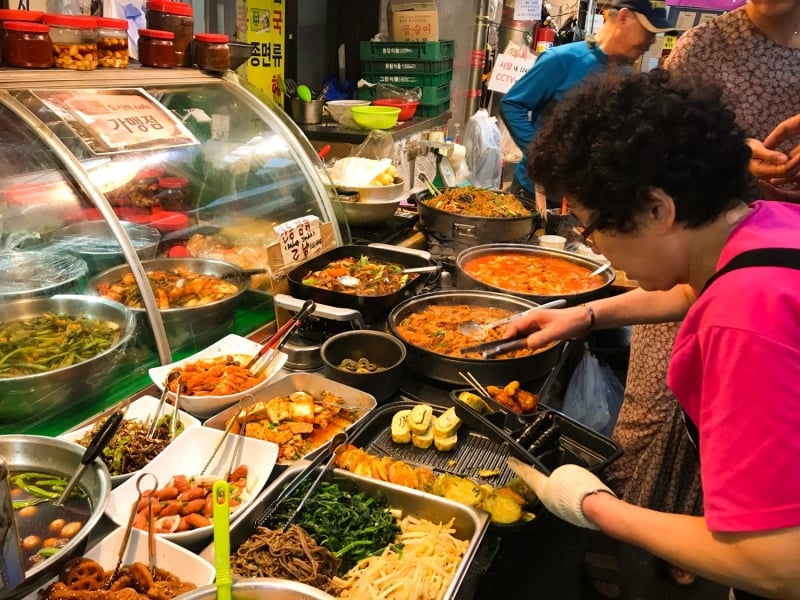 I went around different stores choosing my favourite food and paid for them using my brass coins. Albeit not ordering the rice and soup which cost two coins each, I was so full! Small yet comprehensive, Tongin Market is a good lunch place alternative compared to the touristy Gwangjang Market. Visit before the crowds pour in!
Address: 18 Jahamun-ro 15-gil, Tongin-dong, Jongno-gu, Seoul, South Korea
Directions: Gyeongbokgung Station (Seoul Subway Line 3), Exit 2. Walk straight for approx. 700m and the market will be on your left.
Take note: Not all stores participate in the dosirak cafe affiliation, so keep a lookout for a small sign that reads "dosirak café gamaengjeom".
2. Ride a rickshaw on the streets of Seochon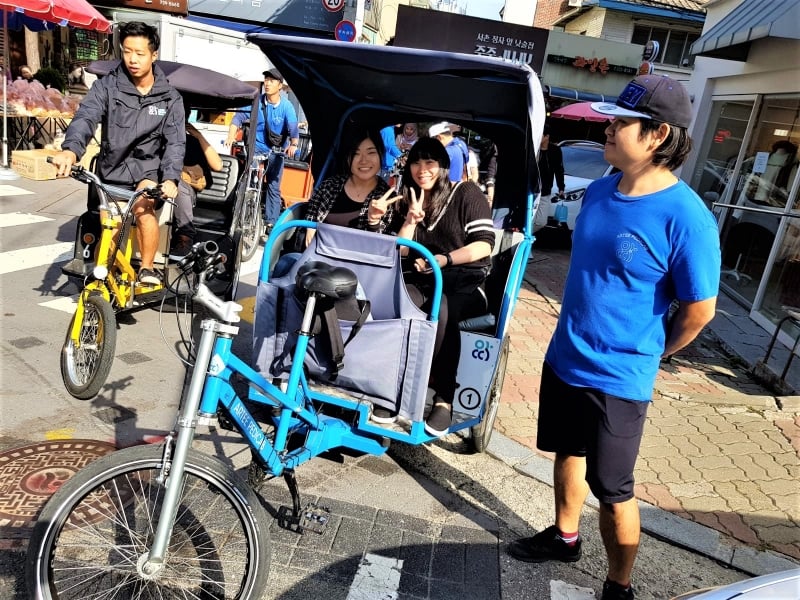 You might have explored the streets of Bangkok on a tuk-tuk but have you taken a similar rickshaw ride in Seoul?
Not known to many tourists and even locals, Artee Pedicab is a 60-min or 120-min rickshaw ride that brings you around famous attractions and secret spots in Seochon and Bukchon (think: cafes and shops hidden between narrow alleys). There are various tour courses available and some interesting places include Daelim Museum, Public Laundry Site in Wonseo-dong, and more.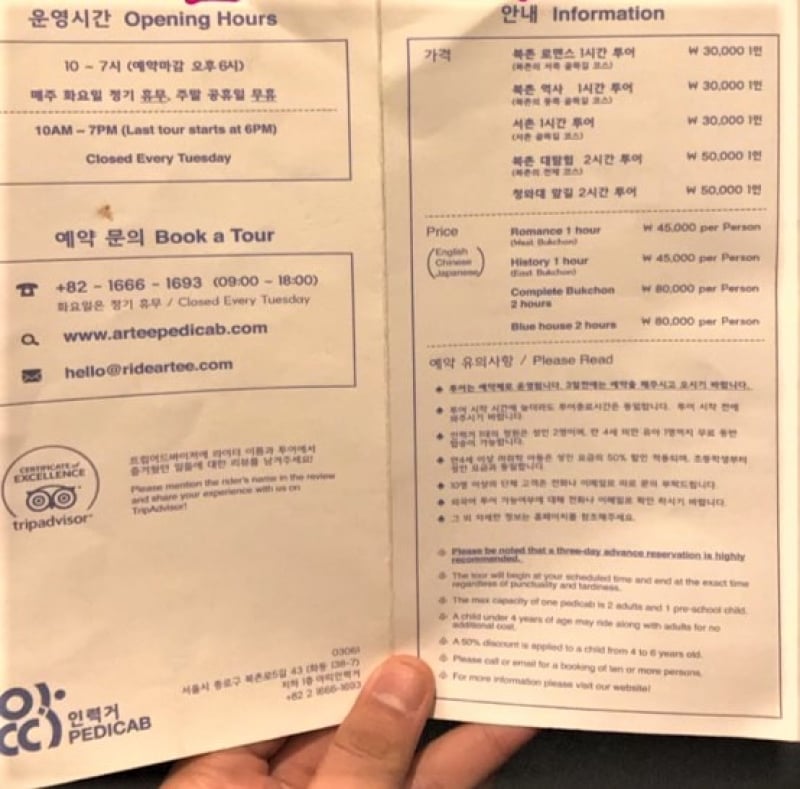 You will have your own oppa guide who will paddle through nooks and crannies while he explains the story behind the neighbourhood. The oppas are very friendly, enthusiastic, and pretty good-looking too! Even if you are not conversant in Korean, you can request for one who speaks English, Chinese or Japanese. Albeit not very fluent in English, my guide took the effort to engage with us and using my limited Korean conversational phrases, we had a hearty conversation filled with much laughter.
It was one of the most fun and unique experiences I had in Seoul and certainly a different way of experiencing the sights and sounds of Seoul – all from the back of a pedicab!
Address: 43, Bukchon-ro 5-gil, Jongno-gu, Seoul
Directions: Anguk Station (Seoul Subway Line 3), Exit 1. Walk towards Jeongdok Public Library and Artee Riders Club is located opposite of the library.
3. Watch an enthralling musical performance at Daehak-ro
Skip the mainstream Nanta Show because there are other more impressive musical performances in Korea that are worth watching! From romantic comedies at the mecca of performing arts, Daehak-ro to a historical sageuk musical at National Theater of Korea, here are three musical performances that I caught during my trip:
Finding Mr Destiny
This was hands down my favourite musical out of all three because this romantic comedy was so hilarious yet touching and heartwarming at the same time. Did you know that there is a film adaptation starring Gong Yoo and Im Soo-jung as well?
The female lead, Ji-woo, went on mission to find her first true love whom she met on a flight to India. With a twist of fate, she ended up falling in love with a private investigator, Kim Jong Wook.
Be prepared to squeal at the cringy kissing scenes and laugh your hearts out at the split personality of the extra who took on multiple roles from a club DJ to a Korean lady. He was the highlight of this entire show! Foreign visitors will be delighted to know that English, Chinese and Japanese subtitles are provided via tablet devices.
Verdict: ⭐⭐⭐⭐⭐
Only You
Only You talks about the complexities of married life in a lively, light-hearted manner. This highly energetic performance with the cast dancing to 90s Korean pop, no doubt, kept me entertained throughout the two hours! English subtitles are also provided via tablet devices, making it easier to comprehend the plot.
Verdict: ⭐⭐⭐
1446
Crowned as the musical with the best set-up, 1446 is a 2.5-hour historical musical that summarises King Sejong's 53 years of achievements and his inventions of Hangeul (the Korean alphabets) and Korean calendar during the Joseon Dynasty period. This musical is so famous in Seoul that the seats at the National Theater of Korea were completely sold out!
The best part of the show was how the musical actor perfectly portrayed the inner struggles and agony of King Sejong. The story centred around how a lonely sovereign ruler almost lost his eyesight and faced objections from his vassals, how he began hearing voices from his father and brother and almost gave up everything but fought on for the sake of his civilians. Jam-packed with impactful events about Korea's history and dramatic sound effects, 1446 is a highly-rated show that many musical go-ers had countless of praises and compliments for.
Personally, I am not a big fan of sageuk (historical dramas and plays) and I wasn't a fan of the historical plot, so it was so-so for me. But if you are a history buff, you will definitely love it!
Verdict: ⭐⭐⭐
Even if none of these musicals suits your liking, fret not, pick your favourite out of the many musicals that will be featured at the Welcome Daehak-ro Performing Arts Festival between September to October every year. This grand festival sees the gathering of musical lovers all over Korea with many popular performances exclusively available in English subtitles and special meet-and-greet with the casts. What a pity that I missed this year's opening ceremony as it was postponed due to the typhoon!
4. Visit the "Winter Sonata" filming location in Chuncheon
If you are a hardcore K-Drama enthusiast, you may have visited Namiseom Island, Winter Sonata's main filming location located in the capital of Gangwon province, Chuncheon. But did you know that besides Namiseom Island, Winter Sonata was also filmed at various attractions around Chuncheon?
Going by the moniker "City of Romance", Chuncheon is a tranquil, rural city away from the hustle and bustle of Seoul; a popular dating spot for many couples in South Korea.
Chuncheon Myeongdong Street
A less-touristy sister of Seoul's Myeongdong Street, Chuncheon's Myeongdong Street is lined with a smorgasbord of shops selling skincare, cosmetics and fast-food, as well as movie theatres and nightclubs. As it was less crowded than Seoul's Myeongdong, it made shopping a breeze! I stocked up all my skincare and makeup necessities at Etude House, Innisfree and Olive Young. The best thing part? The retail associates will not harass you throughout your shopping spree.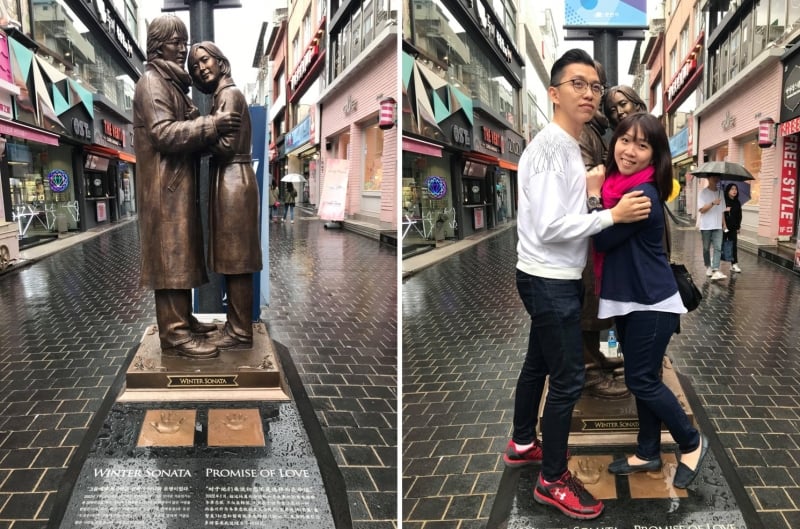 You can even find a bronze statue of the Winter Sonata couple and their handprints in the middle of Myeongdong Street. Look at how my friends imitated the couple's poses!
Chuncheon Romantic Market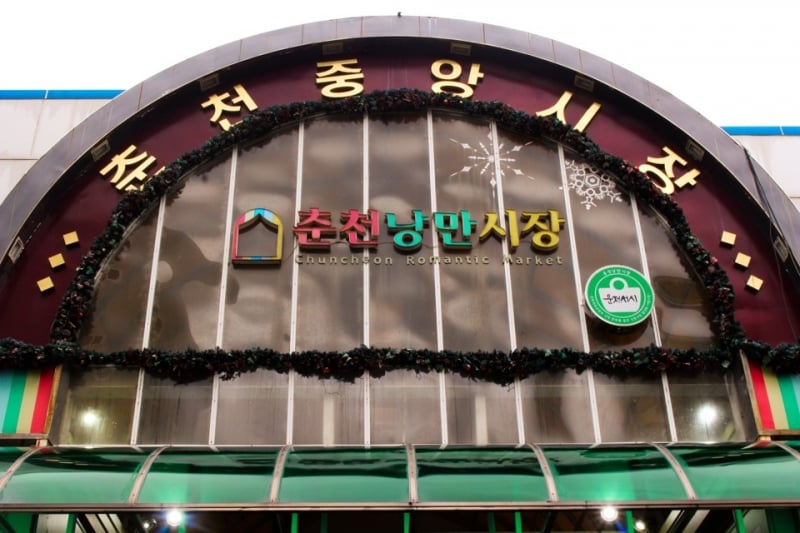 Right in front of the Winter Sonata bronze statue is Chuncheon Romantic Market, an old traditional market built in 1962 selling items ranging from cheap hanbok and middle-aged apparels to local Korean snacks and toys. Bring your parents here for some retail therapy, I bet they would love it!
Although some items were more old-fashioned, I still bought a pair of adorable socks using a 10,000 won (~S$12) coupon given by Korea Tourism Organisation. Korea Tourism Organisation regularly gives out downloadable coupons to encourage travellers to visit these markets, so hurry download them now and explore the traditional markets to get a taste of local life!
Chuncheon Dakgalbi Alley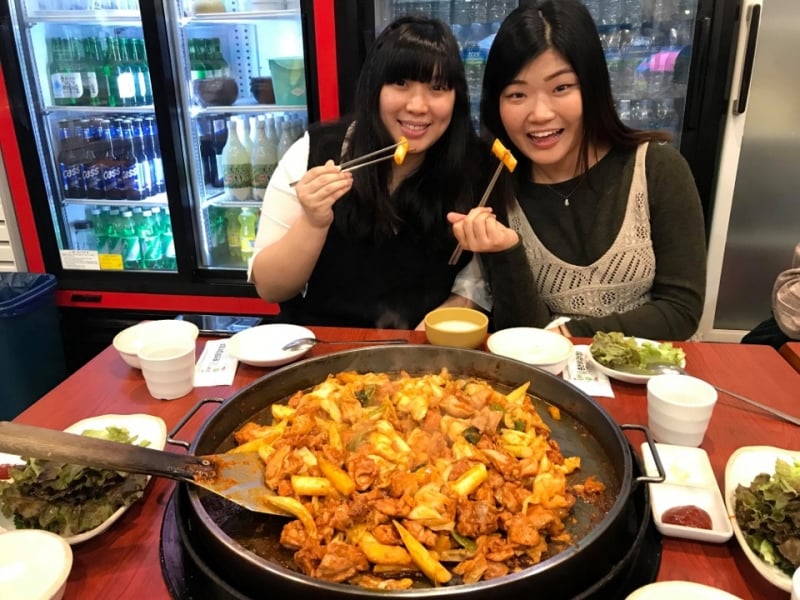 To satisfy my growling stomach, I went to Dakgalbi Alley next with the rest of my group for a scrumptious lunch. Did you know that dakgalbi, the fiery spicy stir-fried chicken actually originated from Chuncheon? That's the reason why the street was named "Dakgalbi Street"!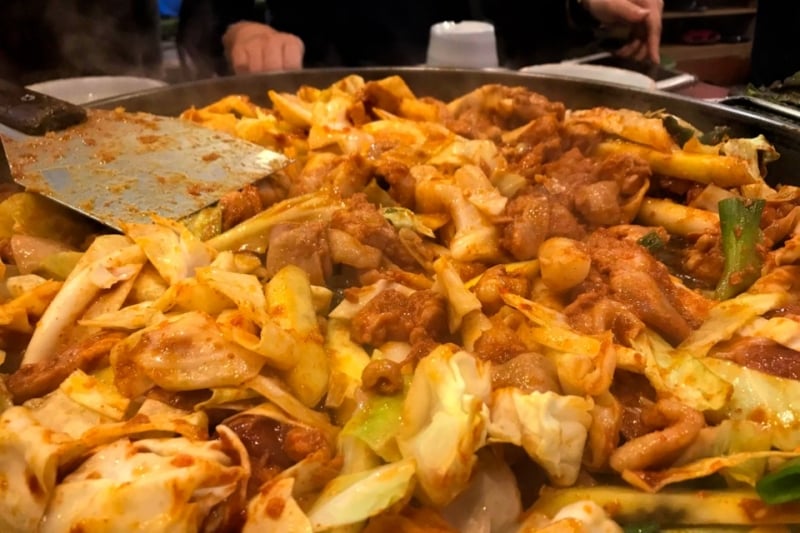 The marinated dakgalbi chicken when cooked together with cabbage, sweet potatoes, tteokbokki and gochujang sauce (fermented Korean chilli paste) was just what I needed to warm myself in the cold chilly weather. The dakgalbi was so delicious and stir-fried to the right degree of crispness and oiliness – it was probably ten times tastier than the one I tried at Yoogane! To neutralise the oiliness of the dakgalbi, you can pair it with a refreshing bowl of bibim makguksu (Spicy Buckwheat Noodle) as well!
Next time if you are in Korea, skip the quintessential Namiseom Island and explore the hidden gems of Chuncheon!
Address:
Chuncheon Myeongdong Street/Dakgalbi Alley
Joyang-dong, Chuncheon-si, Gangwon-do (강원도 춘천시 조양동)
Chuncheon Romantic Market
34, Myeongdong-gil, Chuncheon-si, Gangwon-do (강원도 춘천시 명동길 34)
Directions: Chuncheon Station, Exit 1. Walk for approx. 20 min.
5. Explore the newest foodie hotspot in Mangwon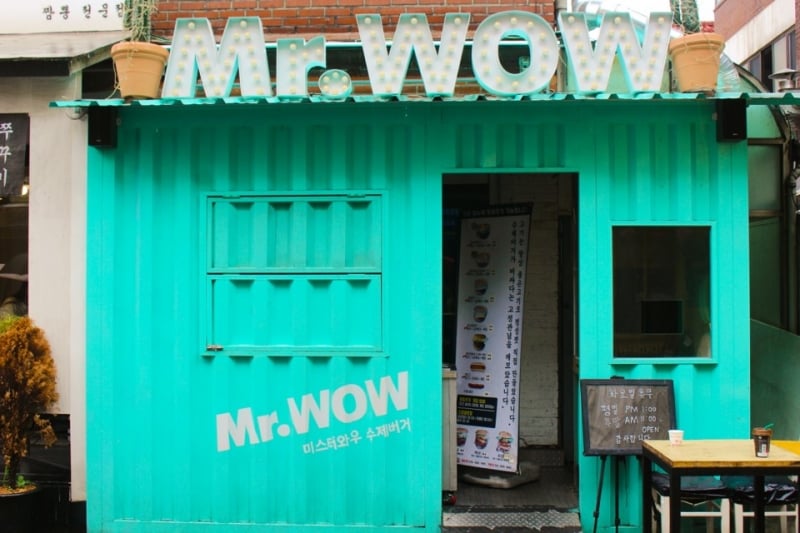 Mangwon, just a subway stop away from the bustling Hongdae district, is quickly becoming a rising hotspot for quaint, cosy cafes and trendy restaurants with Instagrammable exteriors and delicious eats. Juxtaposing modern with traditional, Mangwon also has its own traditional market nestled amongst the neighbourhood – perfect for your fix of cheap Korean street snacks.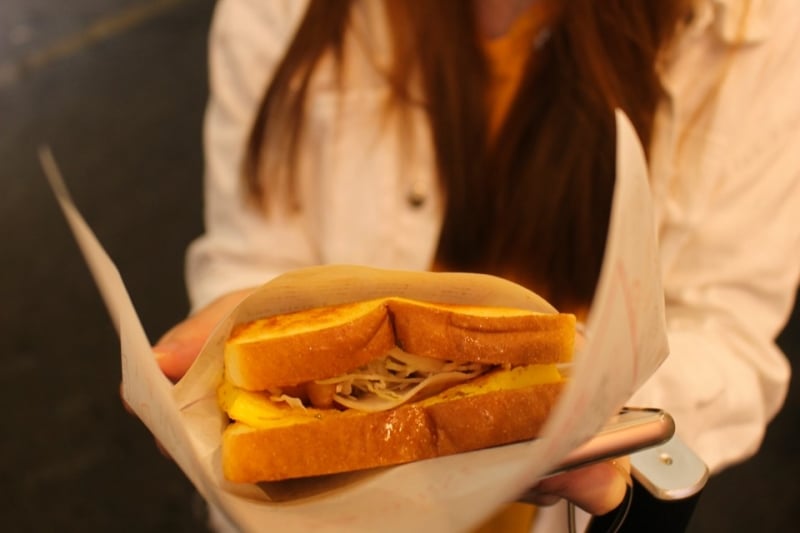 I went to Mangwon Market first with the rest of my group since we were craving for local food and it surely did not disappoint. I tried the kimchi croquette (one of the market's signature foods priced at only 500 won!), tteokbokki and the popular Isaac Toast, and they were absolutely delectable! Other well-known food to try include kalguksu (handmade noodles in soup) and dakgangjeong (sweet and sour chicken).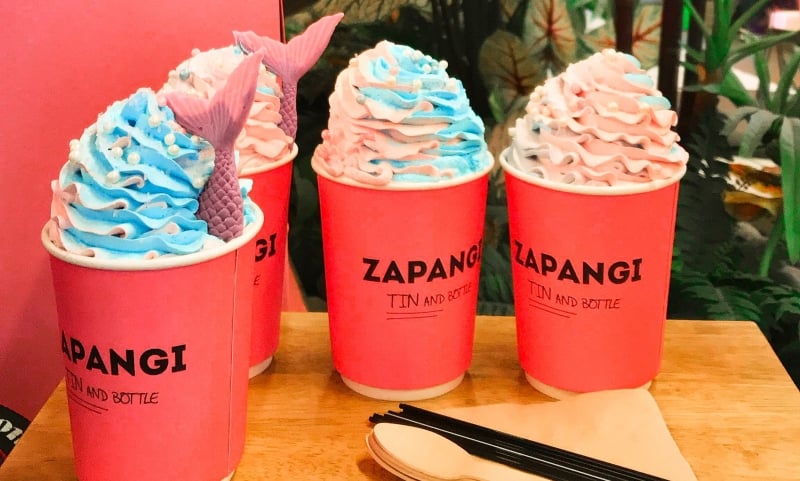 For the frequent cafe-goers, you might want to venture out of Mangwon Market and explore the hood. Aesthetically-pleasing, distinctive and colourful – the cafes and restaurants in Mangwon are truly eye-catching. Whether you chanced upon From Hanoi, a bright yellow Vietnamese pho shop featured in Korean singer, Park Jun Hyung's video or Zapangi, a cafe with a pink vending machine door selling unicorn-esque drinks, the shops in Mangwon are hidden gems waiting to be discovered.

Warning: please order the unicorn-esque drinks at Zapangi only if you can take the sweetness of 200% sugar level in your bubble tea.
Another shop that our local tour guide recommended is Busan Eomuk. I skipped the signature eomuk (fish cakes) at Mangwon Market just to save space for these fish cakes made of 100% fish. If you love the fish cakes from Samjin Amook, Singapore's only Korean fish cake store, you are bound to love these too.
Address:
Busan Eomuk 부산어묵(망원점)
376-8 Mangwon-dong, Mapo-gu, Seoul, South Korea
From Hanoi
20 Poeun-ro 8-gil, Mangwon 1(il)-dong, Mapo-gu, Seoul, South Korea
Mangwon market
486-8 Mangwon-dong, Mapo-gu, Seoul, South Korea
Directions: Take the Seoul Metropolitan Subway to Mangwon Station (망원역), Line 6. From exit 2, make a u-turn and continue walking for about 5 minutes before seeing the market's entrance to your right. Wander around the surroundings of the market and you'll find the cafes in no time.
Seoul, you have the passport to my heart! After discovering these fantastic secret things to do in this Kimchi-land, I know that there is never an Annyeong (goodbye) because I will definitely return soon.