Spring is undeniably one of the best and prettiest seasons to visit Korea. Instead of bracing the cold wind and freezing temperature this winter, why not plan ahead for a springtime trip to Korea next year?
In spring, Korea is enveloped in romance – vibrant spring flowerbeds line the streets and the city is draped in blankets of soft crimson-pink cherry blossoms. The city springs to life with a splendid line-up of spring festivals that draws in-the-know locals and travellers who flock to the country especially for the cherry blossom extravaganza. No doubt that cherry blossom is always the first to pop up in mind when one mentions spring in Korea. Little do people know that there's so much more to springtime than these fluttering pink beauties!
If you'd like to experience spring a little differently from the norm, insert Taean Tulip Festival in your travel bucket list now!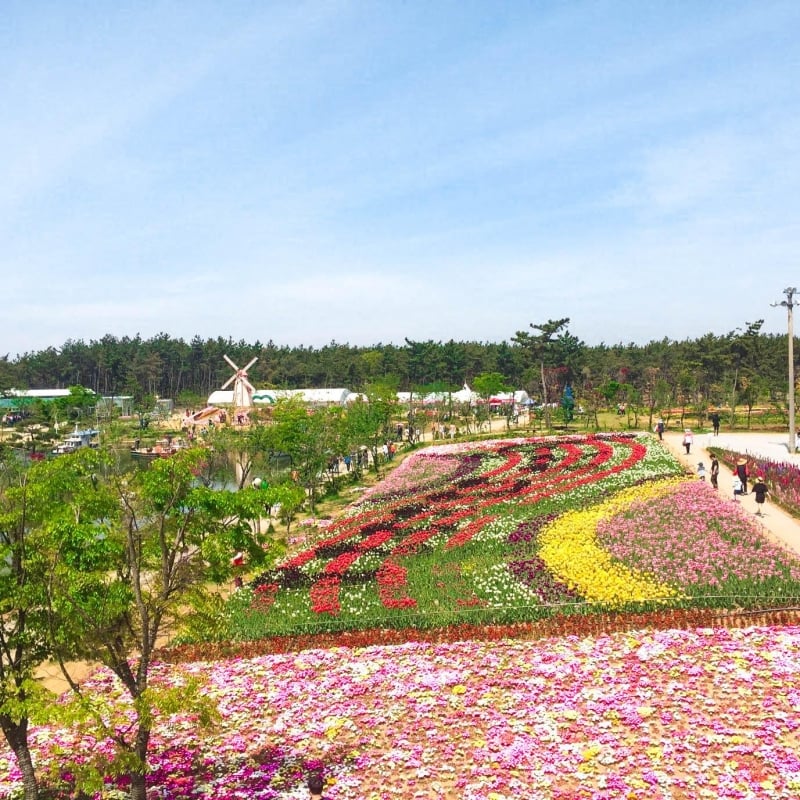 Recognised by the World Tulip Summit Society as one of the top five tulip festivals in the world, Taean Tulip Festival houses over 1.5 million tulips of 300 different species, as well as lovely spring flowers ranging from daffodils, lilies, pansies and lupinus to canola flowers.
Like, wow, it's globally known! Despite that, festival goers are mostly locals and probably only a pathetic number of visitors is made up of travellers. This lesser-known floral festival, which typically runs from mid-April to early May, is unbelievably underrated!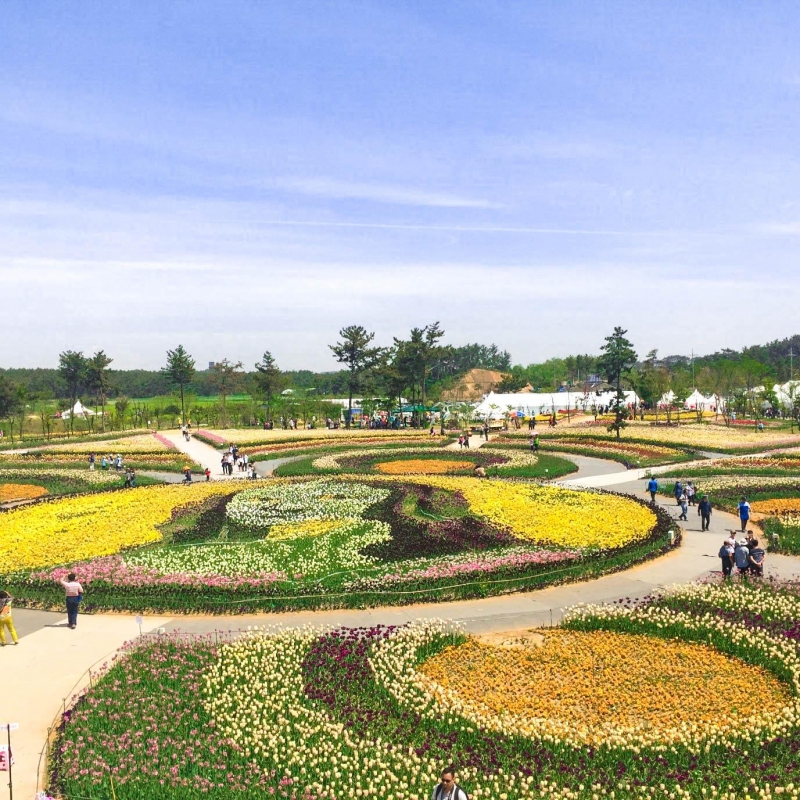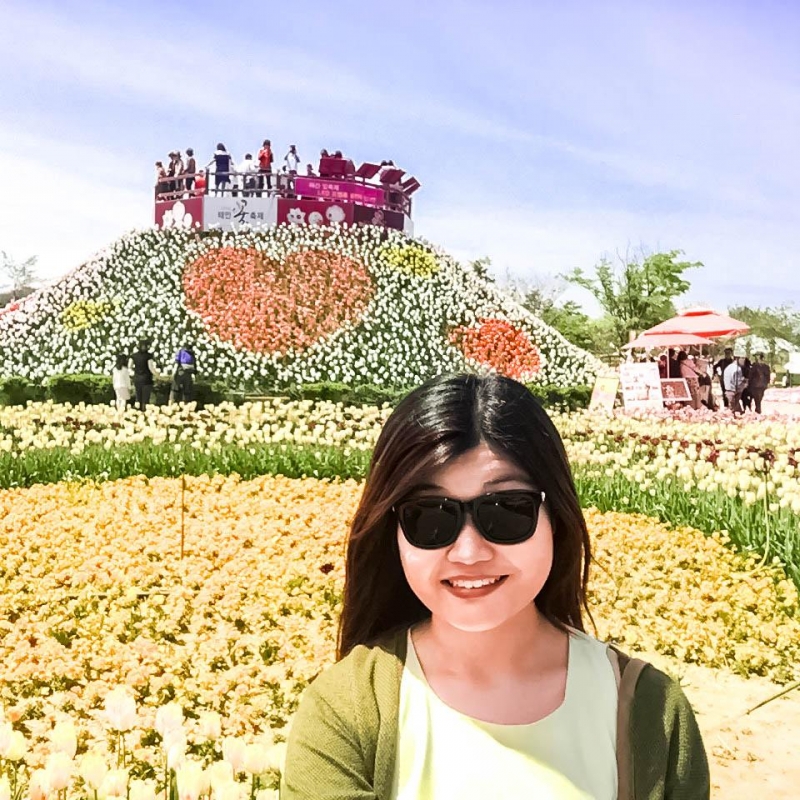 Upon entering the festival ground, the neatly yet oddly arranged tulips first caught my attention. It's as if they were deliberately planted in that manner, and I was spot on.
Taean Tulip Festival has a different theme every year and in 2016 when I was there, the theme was 'The Garden of Artists'. Aligned with this theme, the impressive team behind the festival creatively used a wide myriad of colourful tulips, together with advanced planting techniques, to form renowned figures of Mona Lisa and Marilyn Monroe. It was truly a jaw-dropping art masterpiece! Viewing from the top of the observatory deck, I stood wide-eyed with mouth agape as my eyes remained glued to the panoramic view of Mona Lisa among the sea of tulips.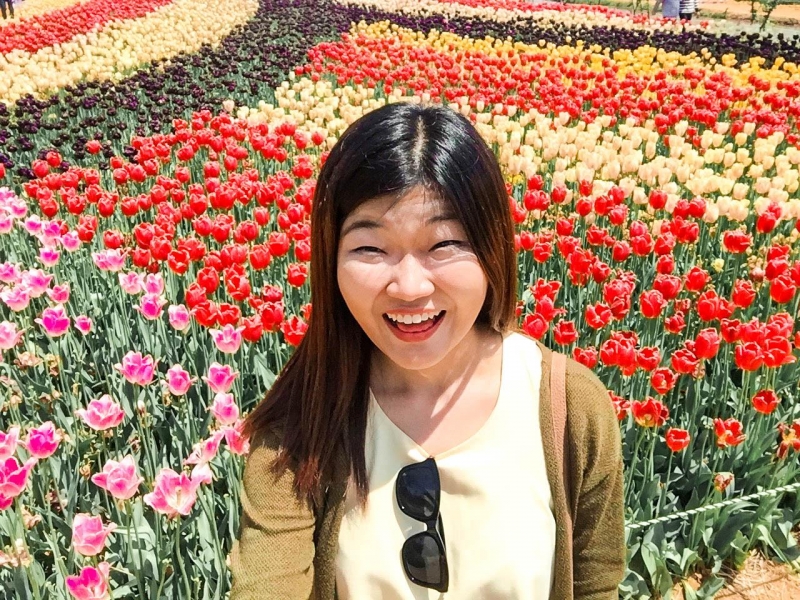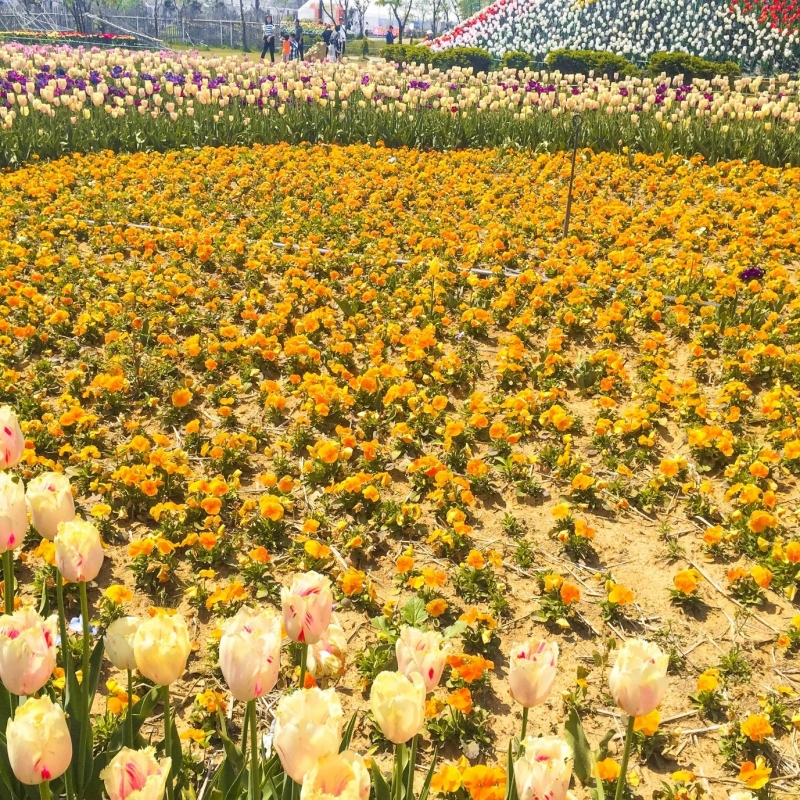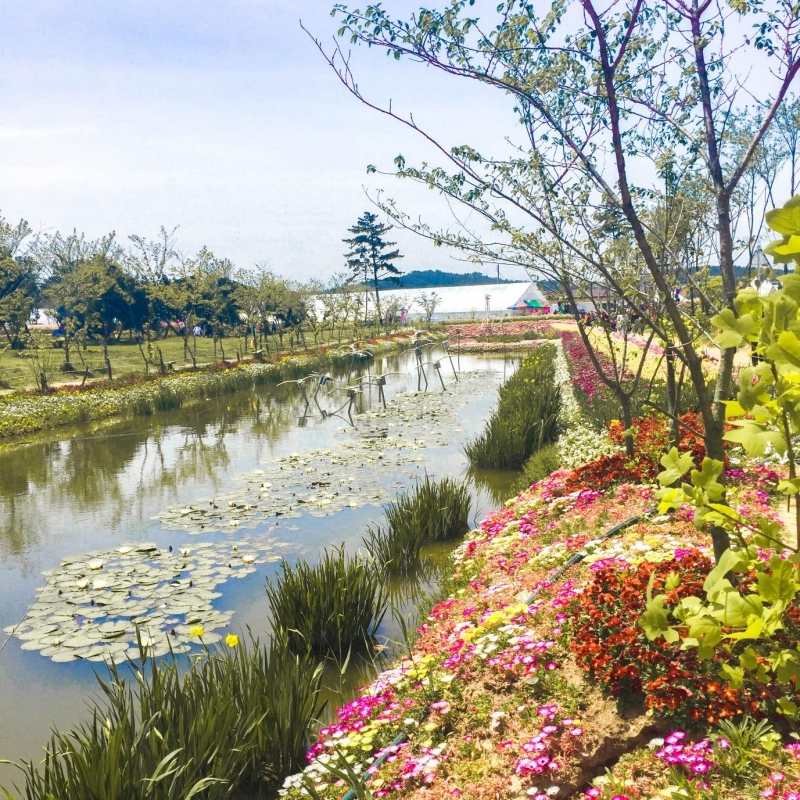 Exploring deeper, I was blown away by the picturesque display of vibrant spring blooms – from soft, tender yellow to alluring purple, the flowers were planted en masse in a smorgasbord of colours. Coupled with the subtle scent of nature and the gentle breeze that invigorated my soul instantly, the festive ground was truly a feast for the senses. No wonder people say that spring brings a smile on every face!
Besides the flourishing flowers, there were interesting replicas of world famous landmarks like the Eiffel Tower from France and a windmill from The Netherlands, as well as some quaint massive sculptures lying around the festival ground.
And all these just hint that it's time to snap some Instagram-worthy shots! Here're some photos that will provide you with a glimpse into the Taean Tulip Festival in 2016.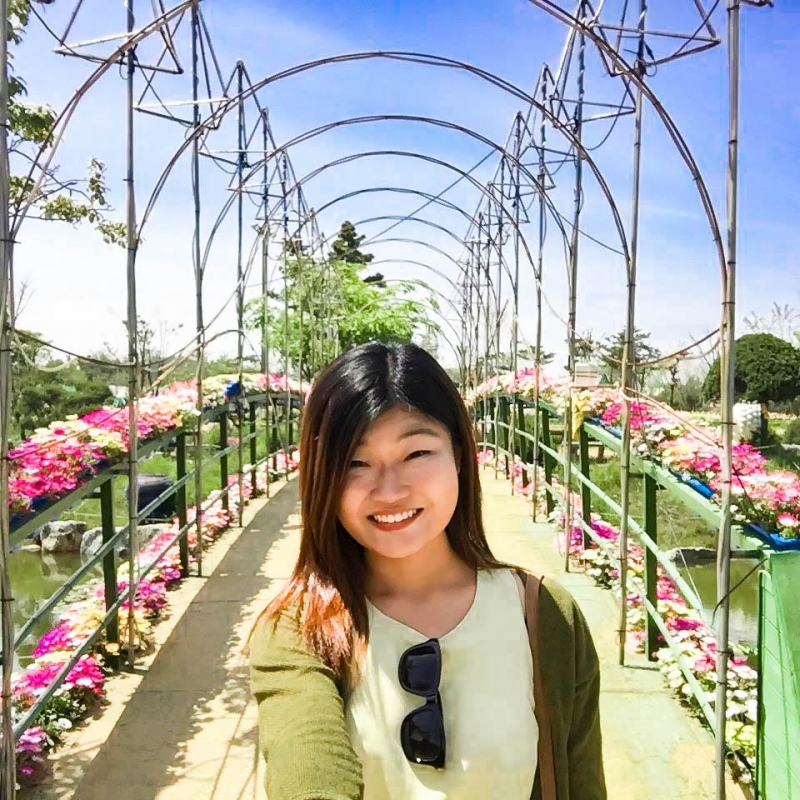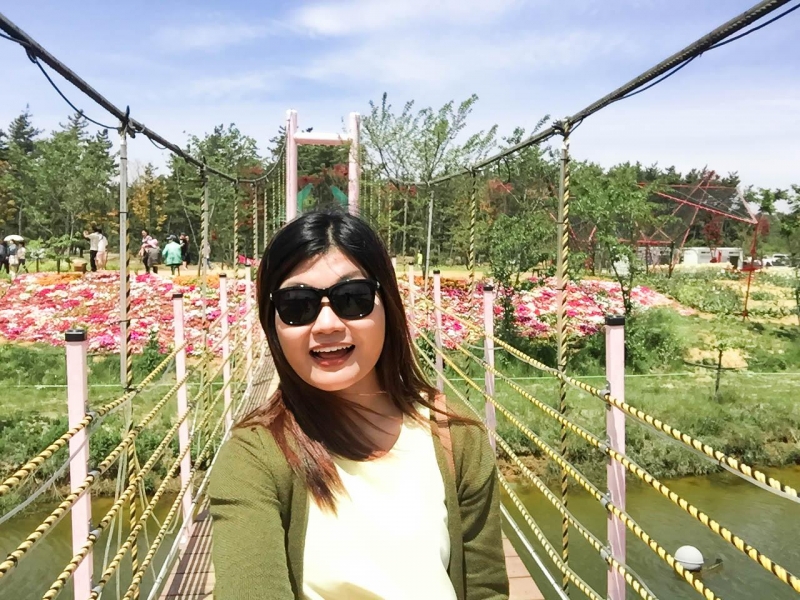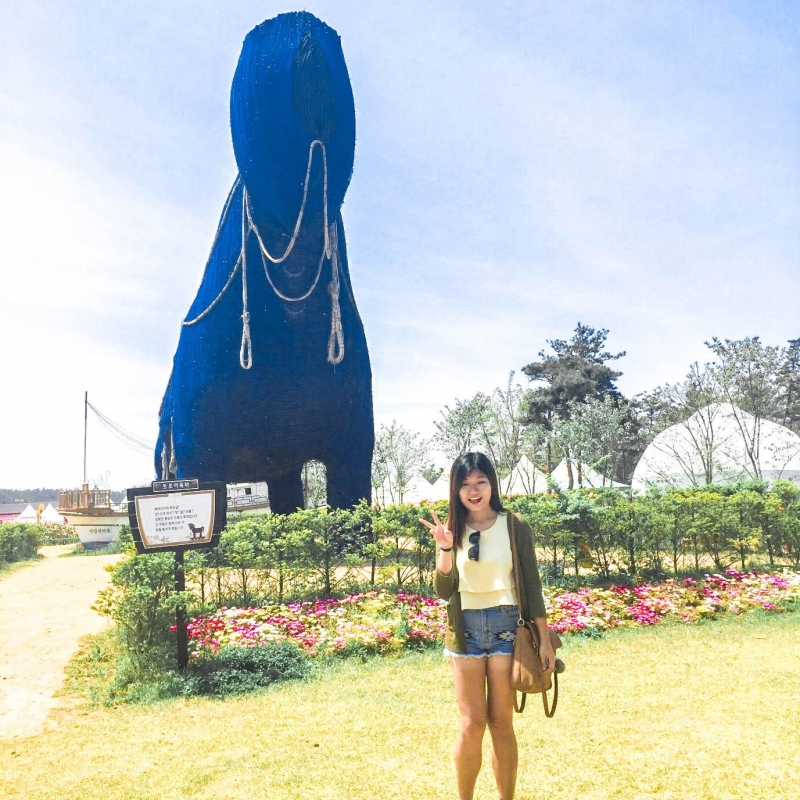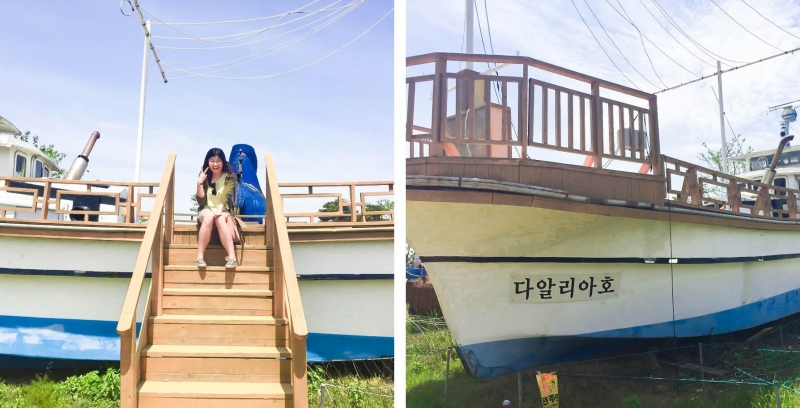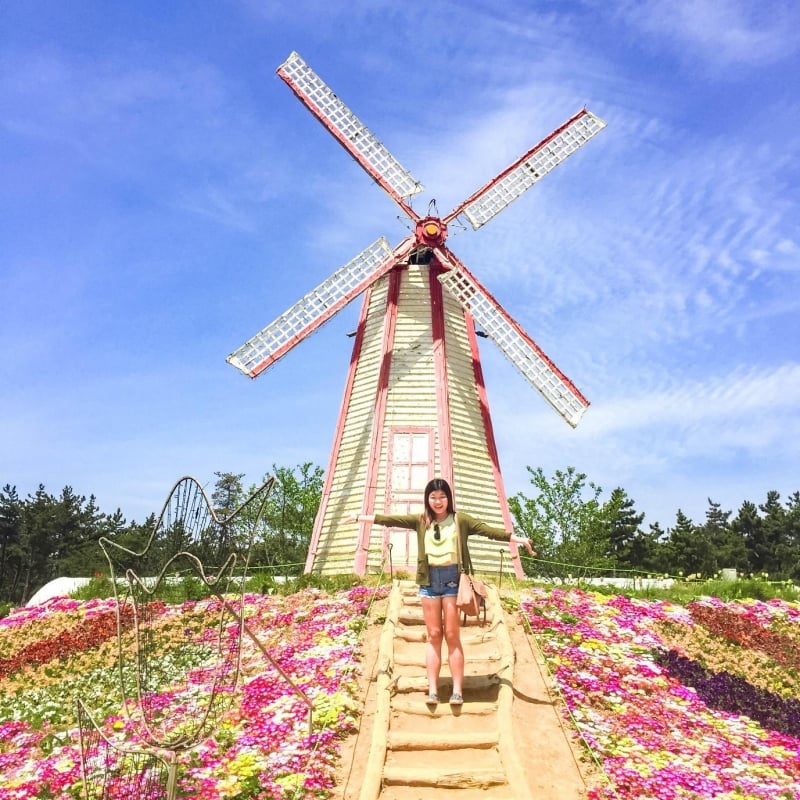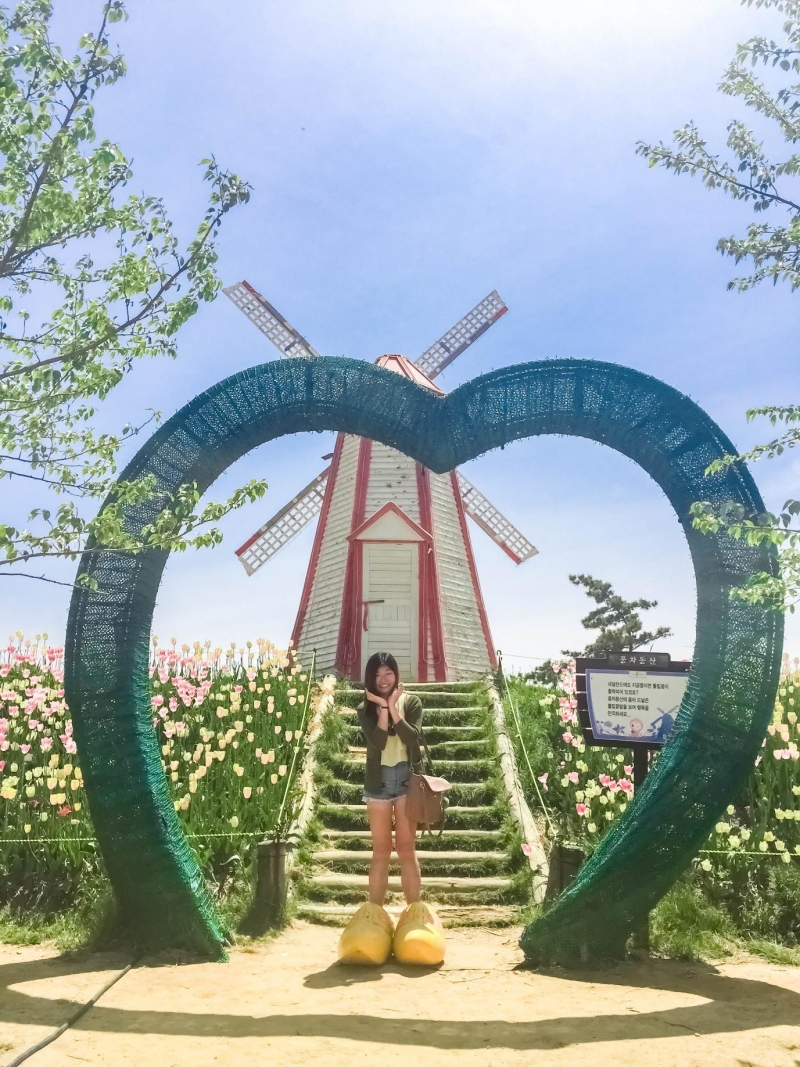 On top of that, if you'd like to beat the heat of the blazing hot sun, head to the tent that houses a minimalist indoor garden! Alongside the delicately fashioned orchid blooms, you get to appreciate the beauty of vintage armoires and old rustic farm equipment. There was also a room with orchid pots artfully arranged to form a decorative display of a heart shape.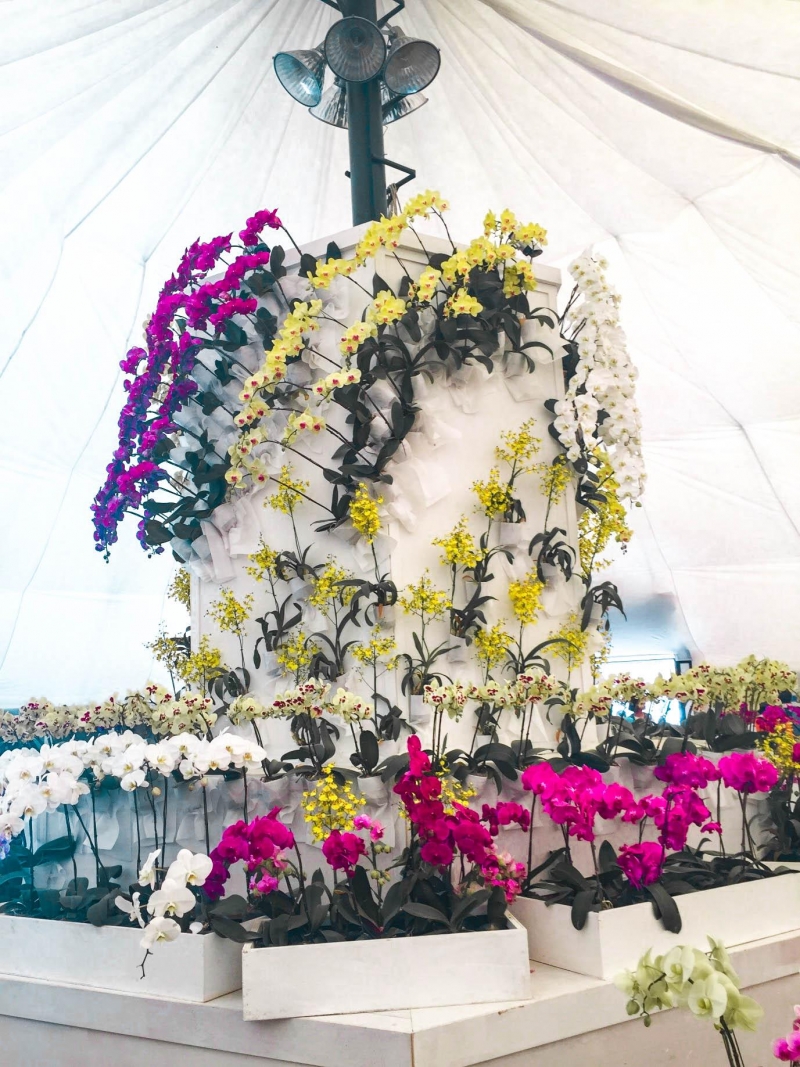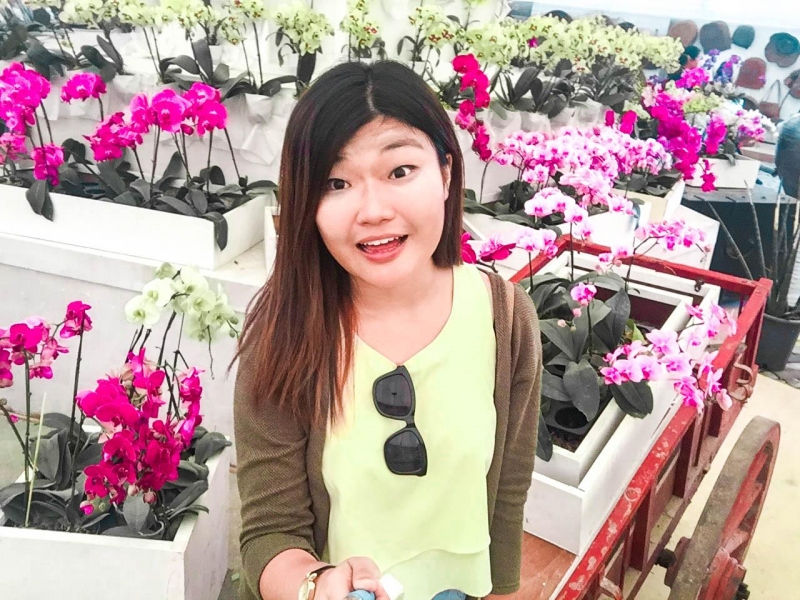 If your hunger pang is acting up, fret not. Spot a long, humongous white tent and you'll find a row of international food stalls selling many decadent treats. From Argentina's grilled-to-perfection chicken kebabs and England's deep-fried corn dogs to America's thirst-quenching coconut juice, it is the perfect (and only) go-to spot to satisfy your growling tummy! But somehow, I felt a lot of food were not what I considered representative of the country. Like who will associate America with coconut?
And if you have the time to spare, no harm checking out the other white tent for some quirky local knickknacks that might catch your eye and add to your set of random travel collection.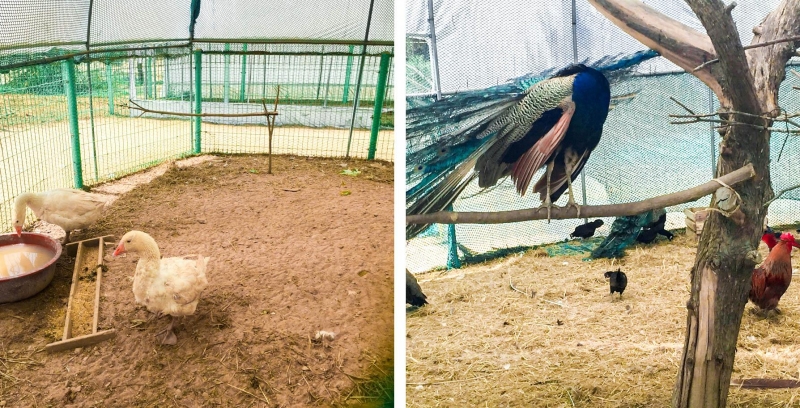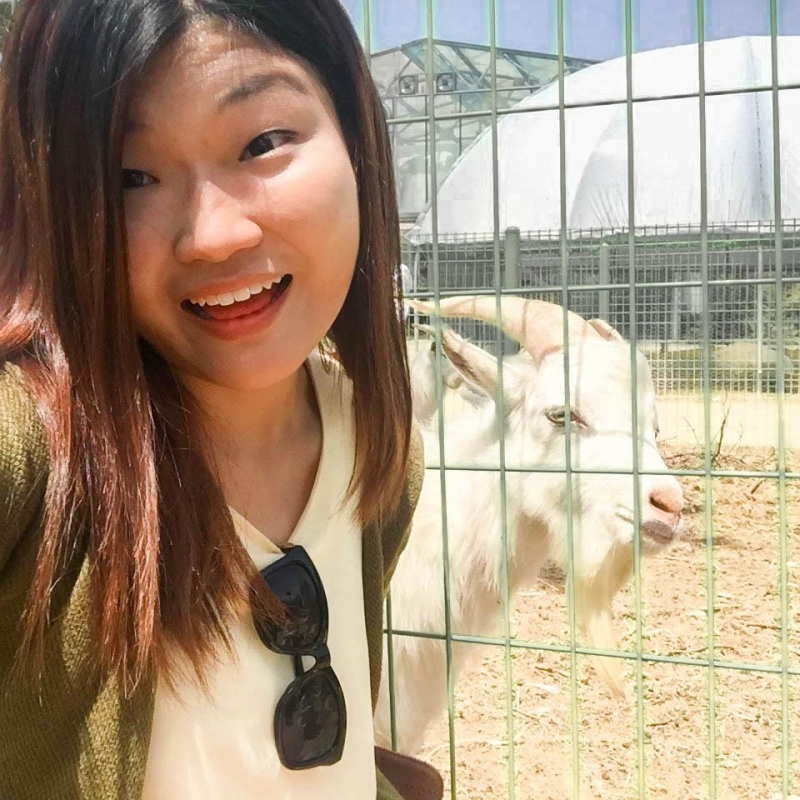 Also, it dawned on me that every festival and nature park in Korea offers a little cosy animal-viewing corner, as seen in my previous article. Of course, Taean Tulip Festival is no exception. Perfect for kids and the young at heart, the animal farm at Taean Tulip Festival houses a small menagerie filled with goats that you can feed, an aviary with plenty of magnificent peacocks, geese and roosters, as well as a rabbit barn with some of the cutest bunnies I've ever seen.
When sunset fell, six million dazzling colourful LED lights brightly lit up the tulips and illuminated the festival ground, adding a magical touch and transforming it into a captivating sight. Such a romantic ambience would certainly be a perfect setup for a not-so-typical wedding proposal!
All in all, Taean Tulip Festival was definitely an eye-opener. I absolutely had no regrets going off the beaten tracks for this awe-inspiring experience. Not to mention the bonus brownie points of being away from the bustling crowd and truly immersing in the authentic local culture. So, floral enthusiasts: If you miss the season for cherry blossoms and are looking for the next best alternative, or if you just want to soak in the serenity of springtime, you can count on Taean Tulip Festival for an enthralling springtime adventure.