As of late, Korean-inspired cafes have been trending in Singapore, catching the attention of locals and tourists alike. They're aesthetically pleasing, and promise quality food too! On top of that, there are also places in the city that remind one of travels to the Land of Morning Calm. So, here are 12 places in the city where you get to experience South Korea in Singapore — and are guaranteed to transport your senses!
Also read: Top 5 Themed Cafes in Singapore
Themed cafes and Korean restaurants in Singapore
1. Café Kreams
The fall season in Korea has always been gorgeous, and if you've always wanted to experience it yourself, head to Café Kreams. This is one of many places where you can get a taste of Korea in Singapore. Located in Maxwell Chambers, the cafe emulates the very season with its autumn-inspired elements. Autumn leaves hang from the ceiling over your head, filling the space with their fiery accents. 
On top of that, Café Kreams pays homage to Korea with its Korean storybooks, handmade lamps made from actual hanji paper and various Korean-inspired dishes. A must-try drink would be their Dalgona Latte, which may bring you back to the pre-lockdown days when you were in the kitchen recreating the TikTok-famous concoction. 
Besides coffee, this Korean-inspired cafe also serves scones and cakes if you want to grab a bite. If you don't want the drink, you can try their famous Dalgona scones instead. 
2. Joo Bar
On a slightly more "bougie" level, you can stop by Joo Bar on Tan Quee Lan St for one of many Korean restaurants in Singapore. Here, they brew authentic makgeolli (Korean rice wine) and serve it by tap for people who order their signature makgeolli drinks. While they recommend drinking makgeolli as it is, there are options to have it sweetened with honey or to have it made into a slushy drink for adults. 
At the same time, Joo Bar has a menu packed with Korean-inspired meals. These range from traditional Korean dishes with an elevated twist, and Western dishes that incorporate Korean ingredients like kimchi and gochujang (Korean red chilli paste). For those who are on Keto diets, Joo Bar has a menu section with keto-friendly offerings too!
3. Hanjip Korean Grill House
At Hanjip Korean Grill House, you can eat a meal fit for a Joseon emperor, while taking in the restaurant's luxurious black and gold interior. Though it's a relatively new restaurant (only opened in 2020), it is arguably one of the best Korean restaurants in Singapore for authentic Korean BBQ. Pair your grilled meat with a cooling glass of beer or soju or something fancier like whiskey and gin. 
While they mainly specialise in K-BBQ, Hanjip Korean Grill House also offers many other traditional dishes, like Korean pancakes, the comforting army stew (budae jigae), and cold noodles (naengmyeon). 
4. Urban Table
South Korea is known for many things, and aesthetically-pleasing minimalist cafes are one of them. In the city, this trend of pretty Korean-themed cafes in Singapore are also reflected in places like Urban Table. 
Upon entering, the cafe ambience will immediately solidify your thoughts of this location being inspired by Korean urban culture. The interior is minimalistic with metallic accents, and throughout your visit, Korean music (be it pop or R&B) is playing in the background. Urban Table as a whole has the vibes of Luft Cafe in Myeondong, so sit back and enjoy a cup of Americano coffee while you're there. 
Also read: 15 Hidden Cafes in Singapore That Are Worth the Road Trip
5. Pocha in a Forest
Another distinct part of Korean culture that is portrayed in many K-dramas would be pojangmacha, which are mobile street food tents. They are easily identifiable by the bright red tents that pop up in numerous K-drama scenes. You get to see the characters interact with each other over a bottle of soju (or two) and a comforting plate of street food on a foldable plastic table. 
What if I told you that you could experience a pojangmacha right in Singapore? Pocha In A Forest is a Korean-street food bistro in Prinsep Street that does just that. They offer a variety of Korean street food like fish cake soup and dried pollack fish, and you can wash it all down with a cold pint of beer. Grab a friend or two and experience Korea in Singapore while you're here!
6. Mylo's
Mylo's in Singapore is another Korean-inspired cafe that will take you back to your travelling days. Located right in Gardens by the Bay, the cafe is said to resemble Cafe Smeltz in Seongnam, which is a city near Seoul. 
The latter is primarily famous for its floor-to-ceiling windows that cover a huge chunk of the cafe, thus providing cafe-goers with incredible views of the leafy trees that change with every season. While the seasons do not change in Singapore, Mylo's still provides a great view of the outdoors. Enjoy this Korea-inspired place in Singapore with a cup of fresh gelato while you can!
Other locations to experience Korea in Singapore
7. Madame Tussauds Singapore
Madame Tussauds is a wax museum known for its hyper-realistic models of real-life celebrities. While they're based in London, they also do have museums in other parts of the world worldwide. Singapore, specifically, has one right on Sentosa Island.
But if you truly want to experience Korea in Singapore, stop by Madame Tussauds's K-Wave Zone. They feature various famed stars — Bae Suzy, Kim Woo-bin, Lee Minho and Seo Seung-heon — whom you can take pictures with. 
While their exhibition doesn't feature more celebrities, their backdrop does compensate for it. You can take pictures in front of hanoks (Korean traditional houses) and blooming cherry blossom trees. Either way, they will remind you of your K-dramas and you can relish being your own main character for a few hours. 
Also read: Mint Choco Soju From Korea Is Now Available in Singapore
8. Changi Bay PCN
In January 2022, the Changi Bay park connector was opened to the public. Connecting Changi Beach Park to the East Coastal Park Connector Network, the park connector is about 3.6km long. There are boardwalks and lookout points for visitors, and at the break of dawn, you'd get the prettiest views of the sunrise over the sea's horizons. 
Netizens and park-goers have claimed that you can feel Korea in Singapore here. In fact, the park connectors bore similarities to Jeju Island. The surrounding scenery in Changi Bay PCN is very reminiscent of the serene grasslands and never-ending views of the iridescent oceans that surround the island. 
Also read: 8 New Attractions in Singapore for an Immersive Experience
9. East Coast Park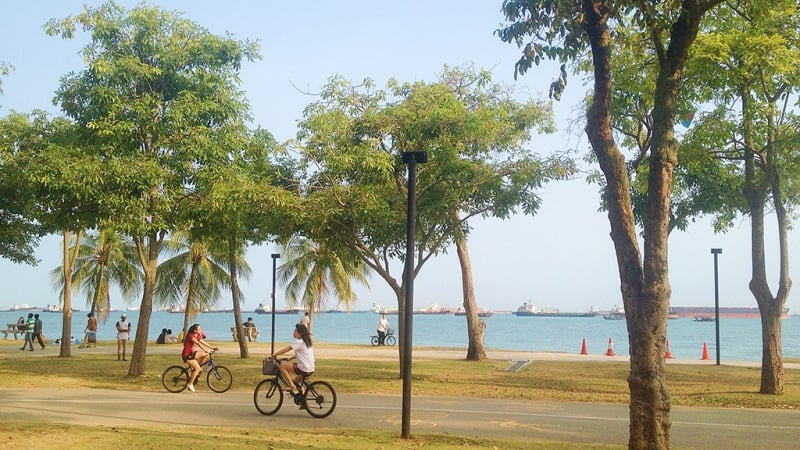 Some of you may not know this, but you can recreate a scene from Goblin in Singapore. Yes, the K-drama that caused emotional damage for its watchers. In the second episode, Gong Yoo and Kim Go-Eun's characters stumble into Quebec, Canada and explore the city together. Eventually, they end up at a park littered with fallen maple leaves and you get a heartwarming moment of the Goblin catching a maple leaf for his bride. 
Obviously in Singapore, you can't get authentic maple leaves but the fallen leaves of East Coast Park are close enough. Stop by this Korean-inspired place for pictures to have your own moment with your favourite Goblin. There are trees, a pavement road and a streetlamp, all of which give off a similar backdrop to the show. 
10. Punggol Lake
Crash Landing On You is possibly one of the most iconic K-dramas in recent years. Although I've never watched it, sources tell me that it ends at an infamous lake in Switzerland located in Obwalden. Bittersweet, isn't it?
If you want to experience the same scenery as the end of the show, you can head on to Punggol Lake in Singapore. The lake is one of a few underrated Korea-inspired places where people can recreate Se-ri and Jeong-hyeok's happy ending. Though it is not quite Switzerland, you can easily recreate the scene with a pink dress and a small bouquet. 
11. Coney Island
The green trails of Coney Island in Singapore are another Korean-inspired place you should visit. When you're here, treat yourself to a relaxing environment away from the hustle and bustle of the city. Though this island is known for its cycling tracks and obstacle courses, many have claimed that Coney Island reminds them of Jeju and Nami Island. 
You can also take a stroll through the towering trees that resemble the Gingko Tree Lane on Nami Island. Afterwards, go to the boardwalks at the Singaporean island's beaches for a similar taste of Aewol Handam Coastal Trail on Jeju-do. 
Also read: 8 Places in Singapore That Will Make You Feel Like You Are Overseas!
12. Lakeside Gardens
Likewise, with Lakeside Gardens, your Jeju Island dreams can be achieved at the lalang fields of Jurong Garden. This Korean-inspired space is similar to what you'd see at Haneul Park in Seoul. 
Visitors can come here to pretend they're in the middle of a pivotal scene, where the male love interest is confessing their true feelings for the leading lady. Haneul Park is also known for its picturesque views of the hills and horizons, and you can easily recreate that at Lakeside Gardens. 
Also read: Why Do Travellers Love South Korea? Let Us Count The Ways
There are so many other ways you can enjoy the beauty of Korean culture. Korean restaurants in Singapore would be a great way to try new food, but why not try Korean makeup and fashion? They are just as popular and accessible. 
Let's just hope this article will make you want to drop everything for a trip to South Korea right now!
---
Featured image credit: Madame Tussauds Singapore | Official Website