Leading at the forefront of its country with more than seven centuries of history, culture, and tradition, you can't help but wonder if you really need a plan when it comes to a city like Bangkok. From the bustle of its frenetic city to the peaceful serenity of its temples, this enigmatic capital will leave you wandering wide-eyed from alley to alley – even if you have just arrived with no prior research.

When it comes to Bangkok, truth is, more often than not, it is the city that will have a plan for you. Whether you're here for the food, culture, history, nightlife, or just plain shopping, it somehow manages to get the balance down to the tee. Its tangled sprawl of chaos and charm oozes a cornucopia of sights, sounds, tastes, and smells, emitting an esoteric siren that will call out to anyone looking for more than the usual travelling experience.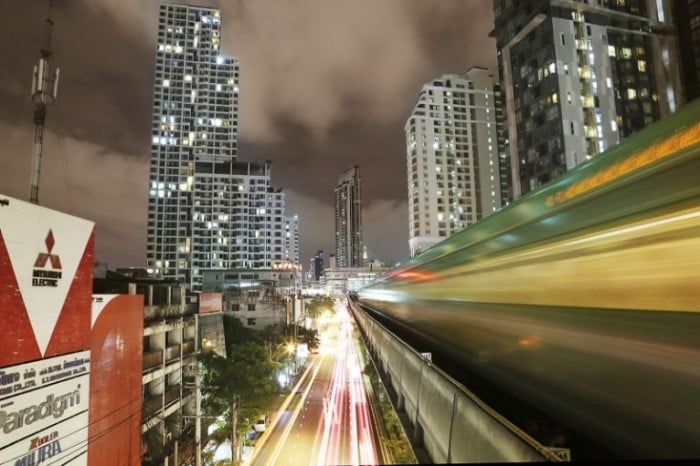 Let's single out one aspect in particular: its maze of night markets. Even on a global scale, Bangkok has earned for itself a reputation as a pulsing enclave for shopping that completely redefines the Southeast Asian experience. No longer are we just a provincial bailiwick of rice fields, disintegrating temples, and murky backwaters; today, we are all that and cosmopolitan too.
Also read: 7 Markets In Bangkok That You've Probably Never Heard About
Even if you're not an avid shopper, Bangkok's flea market culture will prove to be one heck of an anthropological ride for you. Row your way down a floating market, get lost in the confusing alleys of a hipster congregation, accidentally find yourself on the hedonistic end of some late night shopping: every market in Bangkok promises high adventure; and at the end of the day, the only question you need to ask yourself is, just what adventure are you looking for?
Leaving Chatuchak out of the picture (because seriously, who hasn't heard of Chatuchak?), navigate the following treasure troves the next time you find yourself in heart of this city. Each provides its own unique rush, and will treat you to deliciously different insights into the ultimate Bangkok way of life.
1. JJ Green – for the Upscale Bargain Hunter
Image credit: waythegentle
Where the King of Bangkok Flea Markets ends, JJ Green begins – in every sense of the word.
Located somewhere towards the end of Chatuchak, JJ Green sleepily comes to life around 6 in the evening, which is about when everything in Chatuchak begins to die down. While Chatuchak is wired, frenzied, and always bustling, JJ Green is chilled out, relaxed, and all indie-ed for your vintage needs. Expect shopfronts in the form of camper vans and car boots, hawking a plethora of items ranging from the old to the hipster new. Faux-retro artefacts, real antiques, succulents, fashion, innovative street grub, and astonishingly fab restaurants, cafes, and pubs; JJ Green is somewhat like a cleaned-up, scaled down version of Chatuchak, targeted at your upscale bargain hunter. Prices aren't exactly exorbitant, but don't expect to be able to get off much by haggling either.
Opening hours: 6pm to midnight (Fridays to Sundays only)
How to get there: Drop at Mo Chit BTS Station or Chatuchak MRT Station, walk through Chatuchak Park to Kampaeng Phet 3, turn right and walk up the street for about 200 metres until you see the big 'JJ Green' sign on your left (you won't miss it).
2. Talad Rod Fai – for the Time Traveller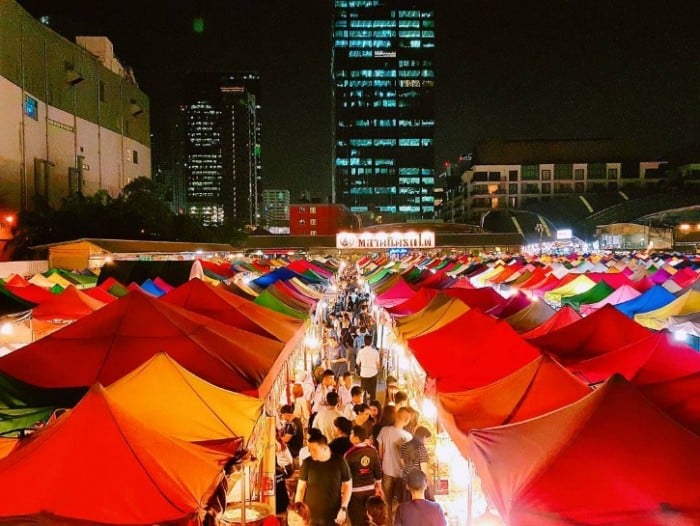 Image credit: bogyeongk
If the vintage at JJ Green's your sort of thing, then Talad Rod Fai will be right up your alley. Just like the former, many of Talad Rod Fai's vendors hawk out of car boots and camper vans, but over here, they don't just look retro, they bleed retro.
You will never find another market like Rod Fai in all of Bangkok. For one, the compounds are massive – think 2 or even 3 times the size of Chatuchak – and two, they don't just sell your typical catalogue of retro/vintage-inspired things, they actually showcase them, full-on museum style. There are warehouses whose sole purpose are to display old Corvettes and Cadillacs, gas pumps and European cash registers from the early 1900s. Rusty pinball and arcade machines, pre- and post-war artefacts, nostalgic advertising collateral, antique chandeliers and toys from the yesteryears; just when you think you've seen everything, it will only show you more.
The eclectic kitsch here is highly impressive with a solid ambience to match – many have testified that even a timespan of 3 hours won't cover half the market because of its sheer size and content. These aren't your everyday flea market/blogshop items. This is retro at its most profane. If you're born any time within the past century or so, expect this market to take you down a highly emotional walk down memory lane.
Opening hours: 5pm t0 midnight (Thursdays to Sundays only)
How to get there: Please note that there is actually a newer Rot Fai Market (also known as Rod Fai Ratchada) which is faster and more convenient to get to – if this is the one you want to get to, drop at Natural Cultural Centre MRT Station.
However, for the older, more authentic and larger-than-life experience, you're looking for Rod Fai Srinakarin. This is most likely the one that friends are referring to when you mention Rod Fai and their pupils dilate and they lose all sense of coherence in speech. For this, stop at On Nut BTS Station and then get a taxi from there. It's actually a short distance, but expect weekend traffic to set you back by at least 20-30 minutes.
3. Patpong Night Market – for the Thrill Seeker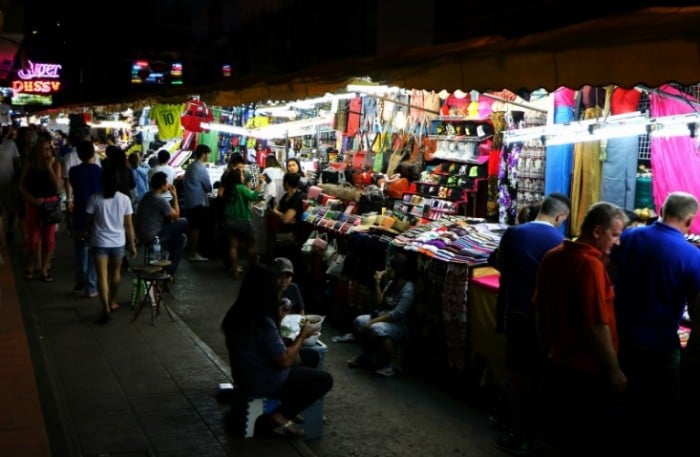 Image credit: Juan Antonio F. Segal
The oldest night market in the city is notorious for luxury brand replicas and exorbitant pricing, but it sure does provide an environment like no other.
Nestled in the heart of Bangkok's red light district, Patpong's unique selling proposition lies not in its illicit product mix, but in the illicit environment that surrounds it. It is not difficult to sneak peeks of 'males and females of the night' while shopping for a bag or a pair of flip-flops, and selected Japanese restaurants here will even be more than happy to offer some services off-menu.
There is more sex than souvenirs on sale at Patpong; and while you don't necessarily have to participate in it, it sure is a recommended rite of passage for all Bangkok tourists.
Opening hours: 6pm to midnight
How to get there: Drop at Sala Daeng BTS Station or Silom MRT Station.
4. Pak Khlong Talat Flower Market – for the Botanical Enthusiast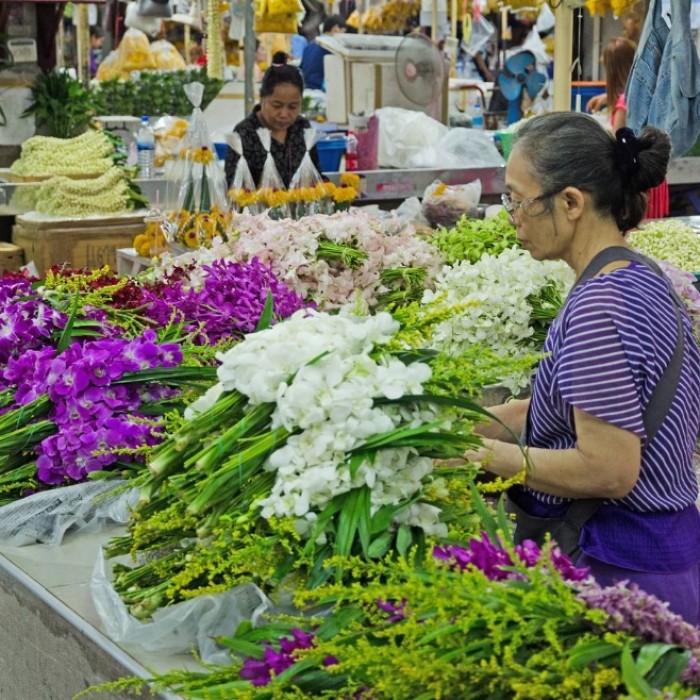 Image credit: stellaroundtheworld
Rome has its Campo dei Fiori, Amsterdam has its Bloemenmarkt, and then Bangkok has, this. Pak Khlong Talat, where the Yodpiman Flower Market sits.
Like a perpetual herald of spring, Pak Klong Talat is a 24-hour wholesale and retail fresh flower market – the 4th largest flower market in the world, at that – which serves the city's seemingly insatiable appetite for blooms. While the place runs a little sleepily during the day, its roads transform into an eclectic warren of blooms at pre-dawn, where you'll find the market at its most active and attractive.
The place is slightly cramped and chaotic, which, if you ask me, is the perfect way to get yourself lost in its sights and flowery smells. Adventurous explorers may wish to poke around in nooks and crannies to discover market stalls of wholesale meat, seafood, vegetables, and even delightfully delicious street food.
Opening hours: 24 hours
How to get there: Drop off at Saphan Taskin BTS Station, then walk over to Central (Taksin) Pier and take the Chao Phraya Express Boat to Stop #7, Rajinee. Alternatively, take the taxi or a tuk tuk.
5. Asiatique The Riverfront – for the Swanky Escapist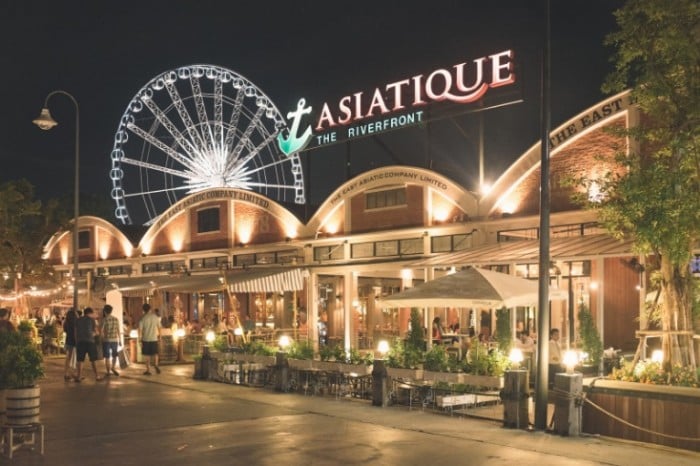 Image credit: Michael Saechang
When tradition and contemporary influences conspire, the results can be a powerful experience. Asiatique The Riverfront is the precise juxtaposition of old and new, fusing all the elements of shopping we love into one of the city's most unconventional night markets. Essentially a mall and a bazaar combined into one huge alfresco setting, Asiatique greets you with so much swank from the get-go that you can't help but wonder if you'd been dropped off in another realm. This is possibly one of the most historically and culturally unique experiences you can ever hope to get out of a night market.
Situated along the Chao Phraya River, Asiatique The Riverfront is so well thought-out that the entire project is separated into four main districts, namely, the Factory District where some 1500 small shops are sprawled across old warehouses, selling your typical fashion, handicraft, and home items; the Waterfront District, where your fancy dining choices and festive events are; the Town Square District,  which houses your independent cafes, sports bars, and outdoor spaces; and lastly, the Chareonkrung District, which is basically sort of like a less modern and cutting-edge version of the Factory District (meaning better bargains too).
Incidentally, this District is also where you'll find two of the largest draws in Bangkok: the Joe Louis Thai Puppet Theatre, and the Calypso Cabaret.
Opening hours: 5pm to midnight
How to get there: Drop off at Saphan Taskin BTS Station, then walk over to Central (Taksin) Pier for the free shuttle. Avoid taking the taxi or tuk tuk because the roads leading there suffer from chronic traffic jams.
6. ArtBox Pop-up Market – for The Millennial Hipster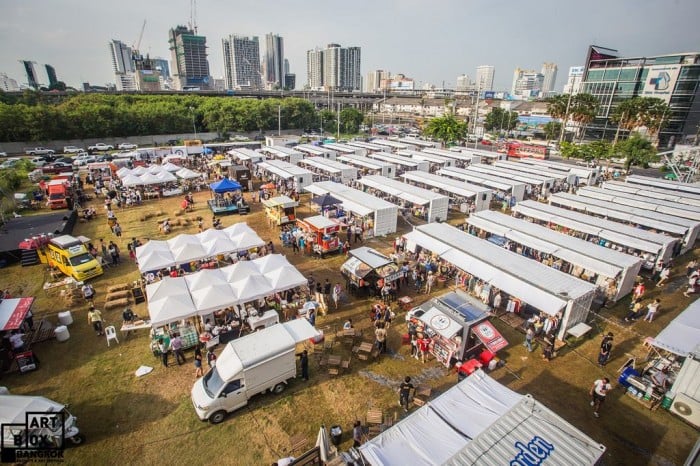 Image credit: Artboxthailand Facebook page
Containers and food trucks are all the rage in this year's hipster scene, which makes Artbox just about the hippest night market you will find in the city.
Initially launched as a one-off event, the overwhelming success of the very first Artbox has since led it to become a travelling pop-up market of sorts, moving from one location to the next in what the team promotes as, 'episodes'.
One thing that certainly sets Artbox apart from the rest is that you'll find more than the usual blogshop-esque items and kitschy souvenirs here. Instead, there is strong emphasis on local designers, vintage fashion, and gourmet food – basically, every inch the epitome of the word 'hipster' – and together with food trucks and live music, Artbox will top your list in offering true hipster culture at its most concentrated and exhilarating.
Opening hours: late afternoon t0 midnight (Fridays to Sundays only)
How to get there: Drop off at Kamphaeng Phet BTS Station (Exit 1). Location is valid only from 30th September 2016 – April 2017.
7. Damnoen Saduak Floating Market – for the Culturally Curious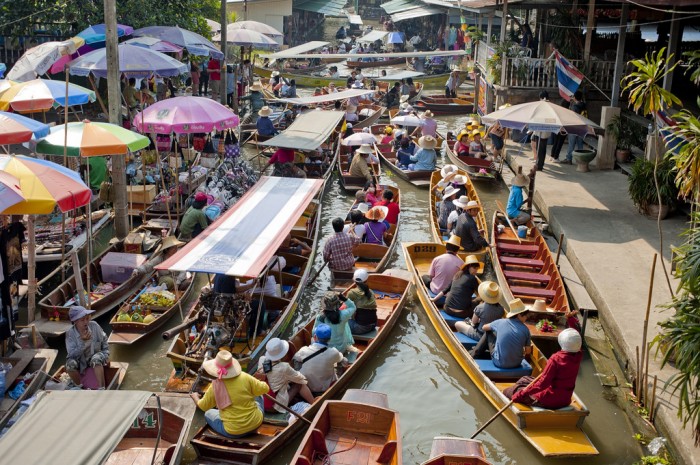 Image credit: Colin Tsoi
Word goes that this internationally renowned floating market is a huge tourist trap, but it's a trap you can't help wanting to get into.
Located around 30-40 minutes from Bangkok in the Ratchaburi province, Damnoen Saduak remains on my list of markets to visit despite the amount of flak it gets for touting and being too crowded/touristy. It is chaotic and picturesque all at once, oozing an exotic charisma unique to the Southeast Asian way of riverside life. Damnoen Saduak is wonderful for rural photo opportunities that most of your travelling friends probably overlook; but better yet, it's a wonderful insight into a past that time forgot.
Expect masses of little boats hawking crafts, fresh produce, and cooked food of every kind – this is commerce in its most primitive form and you will appreciate the travel back in time despite the disorder.
Opening hours: 8am to 10am
How to get there: Take a Public Bus from Bangkok Southern Bus Terminal to Damnoen Saduak. Bus service starts at 6am with a 40-minute interval. (Fare is about 50 Baht per trip.) The bus stop at Damnoen Saduak is about 1km away, and you will still need to hire a boat to get to there.
Alternatively, you can hire a taxi from Bangkok for a half-day trip, but that will cost you. Alot. Also, some of them may bring you to places you don't necessarily want to go (craft shops, eateries, etc.) as they may be receiving a commission from the vendors for your patronage.
If all else fails, book through a tour agency (most recommended option). Many run daily trips to this market. While this is also somewhat expensive, at least everything from thereon is worry-free.
8. Amphawa Floating Market – for the Authentic Experiencer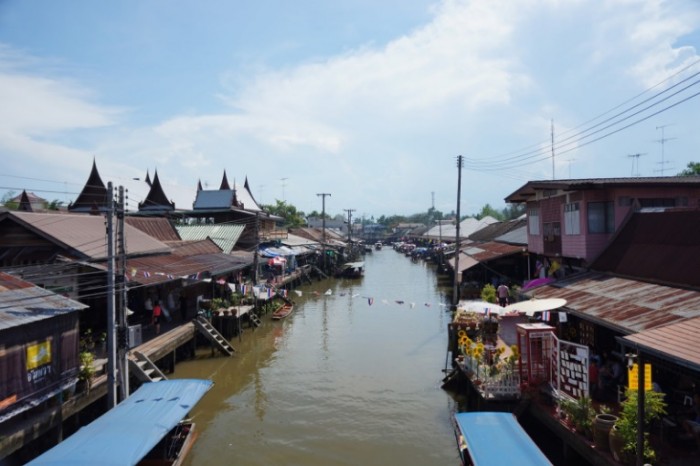 Image credit: YANG HAI
For those yet still unconvinced, try Amphawa on for size instead. This market is as different from Damnoen Saduak as night and day – literally. While Damnoen Saduak opens it waters for only a short stint in the morning, Amphawa takes on a lazier start to its days, coming to life only in the afternoon and staying that way all through to dark.
Amphawa has long been hailed as the more 'authentic' floating market between the two; the evening glow definitely makes it the more atmospheric one (don't forget to check out fireflies on a boat trip while you're at it). Located about 1.5–2hrs out of Bangkok, Amphawa is so experiential you can even turn it into a weekend getaway of sorts – there are some real lush options available and besides, trust me, the food will make you want to.
Opening hours: 2pm to 10pm (Fridays to Sundays)
How to get there: Buses run frequently from Victory Monument starting early in the morning.
Also read: 5 Must-Visit Markets in Bangkok
9. The Knack Market – for the Flower-Powered Hippie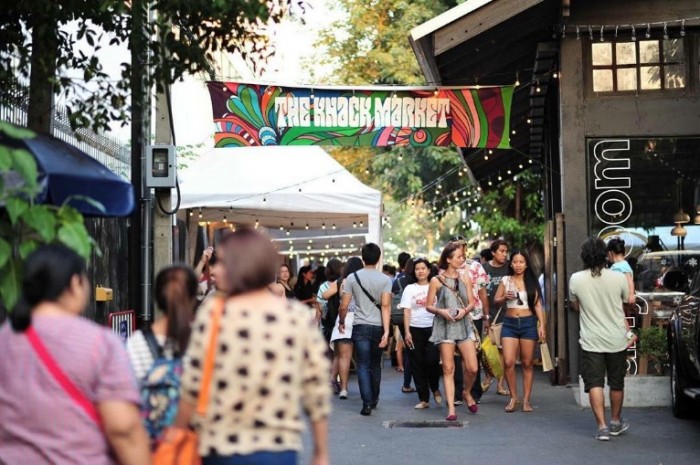 Image credit: theknackmarket
If you can't already tell, Bangkok definitely has its own fair share of flea markets; but as the saying goes, the more the merrier, and in a city of ravenous shopaholics, there is always room for one more.
Like ArtBox, The Knack Market is an experimental pop-up, except that it sticks to the same spot and runs perpetually on the last weekend of every month, instead of moving from place to place in instalments. Located at The Jam Factory complex, The Knack Market has the luxury of a lush lawn to transform into a swinging 70s-esque jumble of retro knick knacks, bohemian artisans, live music, and salivating hipster eats. More than that, this jivin' market has also garnered a reputation for being a sideline farmer's market, with vendors hawking everything from fresh herbs to meat, sauces and dips, and produce.  Psyche!
he Knack Market will prove to be one of the more inaccessible night markets to get to, but its edgy organic vibe will make it well worth the trip. It's located across the Chao Phraya River, opposite the Royal Orchid Sheraton Hotel & Towers.
Opening hours: 4pm to 9pm (last weekend of every month)
How to get there: The Knack Market is located beside Khong San Market and Millennium Hilton Hotel (use these as landmark references if you're taking the taxi or tuk tuk).
Alternatively, get off at Saphan Taskin BTS Station, then walk over to Central (Taksin) Pier where you can take the Chao Phraya Express Boat to Si Phraya Pier. There, take the ferry to Klong San Pier. Get off here and walk towards Klong San Market.