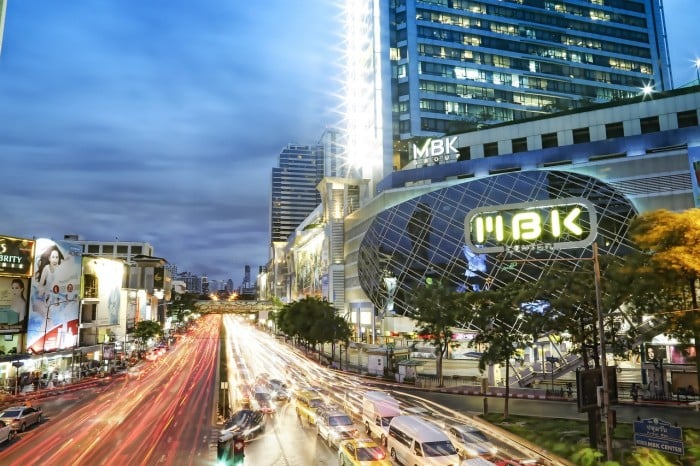 Image credit: picaidol
If you're planning a trip to Bangkok, choosing which area to stay can be a very difficult decision to make. Each area has its own perks and drawbacks, so it really depends on your priorities and interests.
In this guide, we've covered seven main areas to stay in Bangkok and give you the lowdown on their nearby attractions, things to do, access to transport, as well as their cons. These areas have been listed in order of proximity to the heart of the city centre, starting from the closest.
1. Sukhumvit
Things to do: Sukhumvit is an exclusive district stretching 18km long. It has the latest shopping malls and access to great food and exciting nightlife. It is modern, cosmopolitan, and has many malls such as Terminal 21, Emporium Shopping Mall and EmQuartier. In the evenings, you can lounge at sexy rooftop bars and party it up at the go-go bar Soi Cowboy or go clubbing in Levels Club & Lounge. If you're here to party, shop, or experience a little of everything, then Sukhumvit is a great place to stay.
Transport: The BTS Sukhumvit line runs over Sukhumvit road from east to west. The most convenient location to stay is around Asok, which is right in the centre and also close to the MRT line.  
Cons: There is a lot of walking between venues, and the traffic is terrible so make sure you stick to trains! If you're here to sight-see, cultural venues are rather far from Sukhumvit too.
2. Siam
Things to do: Siam is all about shopping, shopping, and MORE SHOPPING! You'll find yourself right smack in the middle of popular shopping malls such as Siam Center, MBK, and Siam Paragon. On top of shopping, you can also find a range of family-friendly attractions like Siam Ocean World and Kidzania. Other attractions such as Erawan Shrine, Madame Tussauds and Playhouse Theatre are also in the area.
Transport: Siam is the central BTS Skytrain station and provides easy access to the rest of the town area. Many stay in Siam just for its great location alone!
Cons: As with Sukhumvit, Siam is far from Thailand's cultural side. If you're into partying, Siam's party scene is more muted as compared to Sukhumvit.
3. Pratunam
Things to do: Pratunam has a humongous 24/7 market, Pratunam Market, and numerous wholesale malls to pick from such as The Platinum Fashion Mall or Indra Square. Once you're done shopping, get a great view of Bangkok at the 340m tall Baiyoke Tower. There is even a Baiyoke Floating Market at the 75th floor! This area is busy and teeming with a wide range of shopping and entertainment selections for all travellers. If you're an IT geek, check out Pantip Plaza IT Mall for all things electronic.
Transport: The nearest BTS stations are Chidlom and Ratchathewi, located a 15 minute walk away. You can take a boat ride on the riverside at a boat stop between Ratchadamri and Phetburi Roads. Traffic is congested here.
Cons: The area is not as snazzy as Siam and is relatively older.
4. Silom
Things to do: Silom is the Central Business District and you will see many office folks. It transform into a food haven at night and brings you the iconic, infamous nightlife of Patpong with its night market and red light districts. Everything is much more affordable here in comparison to the aforementioned locations. Silom is a great place to try everything, especially food. For something classier, there is the Dome Sky Bar.
Transport: This area is accessible by Si Lom MRT station and Sala Daeng BTS station.
Cons: Traffic is jam-packed during rush hour and the area gets crowded during night-time.
5. Chinatown
Things to do: Bangkok's Chinatown is a great budget area and is popular amongst backpackers. It is bustling and packed with stalls and shrines. Here, you can visit the world's largest gold Buddha at Wat Traimit or Chinese-style structures like Wat Mangkon Kamalawat  or China Gate. Two must-visit areas in Chinatown are Yaowarat Road, for excellent street food, and Sampang Lane, for great bargain-hunting. At night you can chill at many great bars like Soy Sauce Factory, Cho Why and Teens of Thailand.
Transport: Hua Lamphong MRT station, located a 15 minute walk away, is the closest station. It is near the Ratchawong Pier where you can board the Chao Phraya Express Boat on the river.
Cons: The place is busy and crowded! If you are here for rest and relaxation, steer clear.
6. Old City or Khaosan
Things to do: The Old City is home to Bangkok's most magnificent historical attractions. You can visit stunning temples and historical structures such as The Grand Palace or the magical Wat Arun. The Democracy Monument and Wat Ratchanadda, Loha Prasat and the Golden Mount are also nearby. Khao San Road has gained a name for itself as a backpacker's paradise with many budget sleeping options and access to bars, clubs, market stalls and travel agents. Your money goes a long way here – you can get much better accommodation here than in the city for the same price. The ambience is infectiously carefree and the party vibe is palpable.
Transport: The best way to get here using public transport is by taking a boat from the Phanfa Leelard pier. The closest BTS stations are Siam, National Stadium and Ratchathewi but these are all 5km away. From those BTS stations, you should hop on a taxi or tuk tuk, which would cost about 70 baht to Old City.
Cons: This area is not very easily accessible by public transport, as elaborated in the previous section. Also, if you're not into the party scene then you will not like staying on Khao San Road.
7. Riverside
Things to do: The origins of Bangkok lie at the Bangkok riverside. From here you can access Bangkok's famous water-taxis (Khlongs) as a form of transport or for a full day tour. The ambience is very romantic and relaxing. You will find numerous resort-style and luxury hotels here. You can visit the classy night market, Asiatique, which is nicer than your average Bangkok market scene thanks to the influence of the upscale environment here. The Riverside is also close to all the historical attractions located in the Old City.
Transport: You can choose from a number of boat transport such as the Chao Praya River Express Boat Service, which also connects to the Saphan Taksin BTS station. These boats can drop you off at important attractions along the river at pier landings.
Cons: Depending on where you stay, this location can be rather far from Saphan Taksin BTS station. The nightlife here is also quieter and since the area is more upscale, hotels are more pricey too.
Also Read: 20 Fun & Free Things to Do in Bangkok
So, there you have it. These are the best areas to stay in Bangkok. Choose wisely! Staying in the right area can make or break your holiday. But we are sure you will have fun wherever you go at the end of the day!