Wang Nam Khiao is a scenic gem located in Thailand's largest province, Nakhon Ratchasima. Here, rich green mountain ranges, lush gardens, and orchards flourish. With breathtaking natural views and quirky attractions, this peaceful mountain town has transformed into an alluring destination for travellers with all sorts of interests.
The area is known as the Switzerland of Thailand thanks to its rolling mountains, memorable views, and good quality of air. There are, however, definitely no ski slopes!
Northeastern Thailand, often referred to as Isan, is only around two and a half hours from popular Bangkok but, among the mountains and in the cleanest of air, you will find an atmosphere that is entirely unique.
Here are nine of the best things to see and do in Wang Nam Khiao:  
1. Village Farm and Winery: A lush and lovely vineyard
Village Farm and Winery is a thriving green oasis tucked alongside the mountains. Grapes aren't the only fruit that grow here, however; take your time to wander through the different orchards as well as the well-ordered rows of grapes. Don't miss the opportunity to taste some of the best wine in the country too! Other features include an onsite restaurant, with old barrels used to make the furnishings, and interesting statues scattered throughout the grounds.
2. Suan Lung Krai: A chemical-free farm
Suan Lung Krai was Wang Nam Khiao's first chemical-free farm. Local Lung Krai, endearingly referred to as "Uncle Krai", established a flourishing organic vegetable bed that follows exceptional food quality standards. Many top-tier restaurants, food factories, and hotels make use of his hygienic, fresh, and successful organic produce.
3. Pha Keb Tawan Cliff: A beautiful view point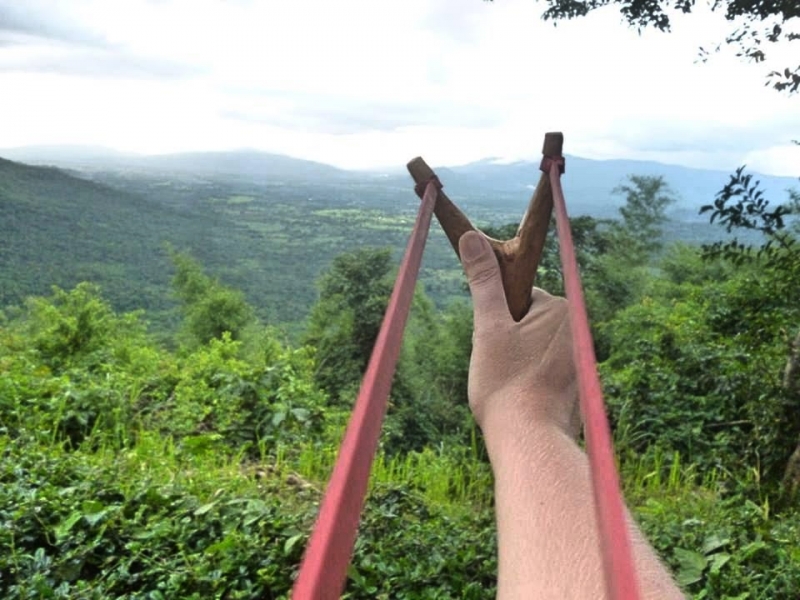 Within Thap Lan National Park, Pha Keb Tawan Cliff is a landscape lover's paradise. Travelling through the countryside and breathing in the crisp mountain air, the journey is almost as sweet as the destination. From the cliff, the views are breathtaking. Do something a bit different to the norm and catapult seeds off the cliff's edge to (hopefully!) add to the thick blanket of greenery below.
4. Flora Park: A celebration of colourful plant life
If you visit Wang Nam Khiao between December and February, you will not want to miss the magic blooming in Flora Park! Vibrant petals arranged in intricate floral displays are abundant. In combination with the famous fresh mountain air, time spent amongst the lush gardens will be nothing short of sublime. If you visit in January, the yearly Flora Fantasia Festival also takes place at this site.
5. Montana Farm: A cute countryside attraction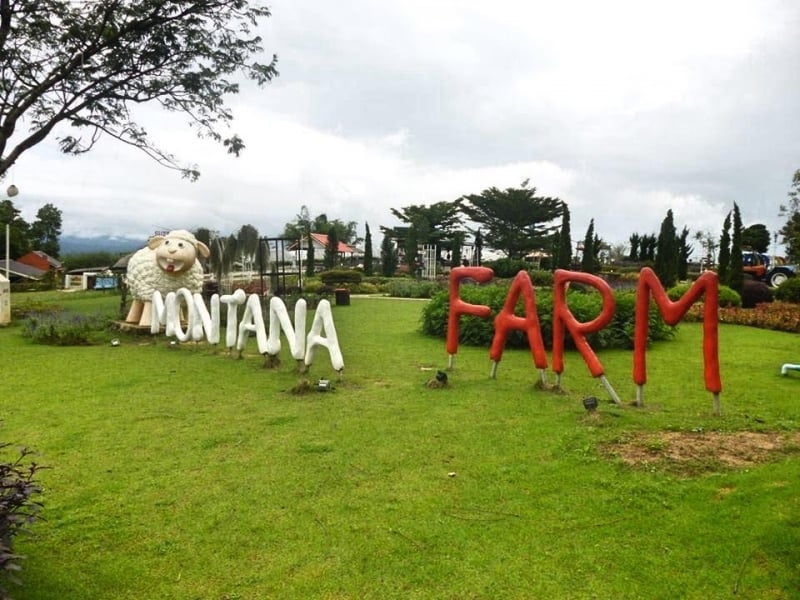 Montana Farms features a lively hub of activities to satisfy all of your rancher dreams! Stroll through the brightly coloured flower gardens and take a peek at the classically painted red barns and buildings. Get up close and personal with cuddly grazing animals such as ponies and sheep. If typical farm animals don't excite you, take your turn hand feeding exotic alpacas. Show off your aim at the shooting and archery ranges, or buckle down for some family fun with a variety of games. You can also tour the crop-growing areas, buy organic produce, and enjoy a meal at the restaurant.
6. Mister Mushroom: A charming and unusual attraction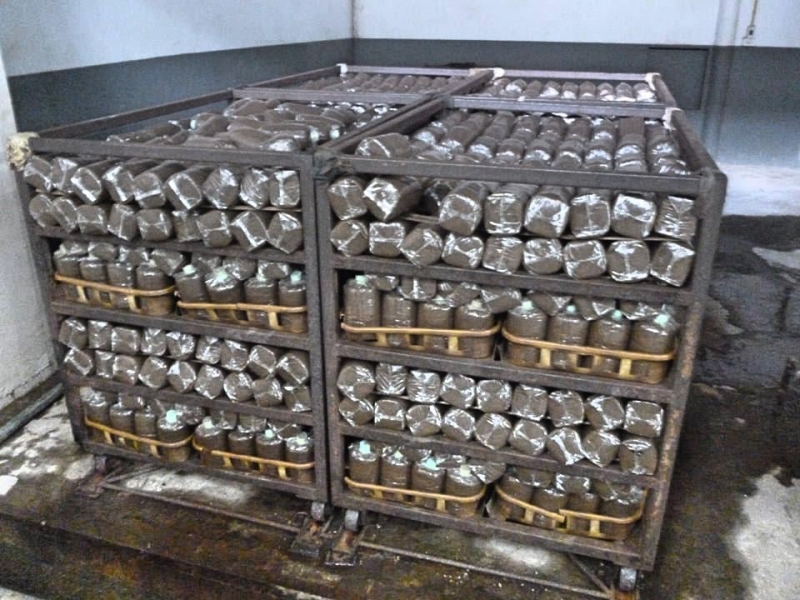 Mister Mushroom is a large mushroom farm. There are, though, many other on-site features in addition to the rows of growing fungi. Adorable statues and sculptures in all shapes, sizes, styles, and colours pay tribute to the glorious mushrooms grown, transformed, and purchased here. A stroll through the exhibition area will educate you on the history of the farm, and introduce the well-developed mushroom growing methods. There's also a restaurant serving all kinds of items made from mushrooms, and a shop where you can stock up on cooking supplies, fresh produce, and mushroom-related memorabilia.
7. Lam Phra Phloeng Reservoir: A meeting point for nature and man
With countless waterfalls, lakes, and rivers, there are many water-based attractions in Wang Nam Khiao. A relatively new, functional site is located along the Lam Phra Phloeng Reservoir. A two-kilometre stretch of paved road is dedicated solely to cyclists, joggers, and those who enjoy a lovely scenic stroll. For high-energy travellers, the path continues an additional two kilometres on a packed dirt trail and ends at the Lam Phra Phloeng Dam lookout point. Enjoy browsing colourful roadside produce stalls along the delightful trail.
8. Wat Ban Rai 2: A monument to a revered local monk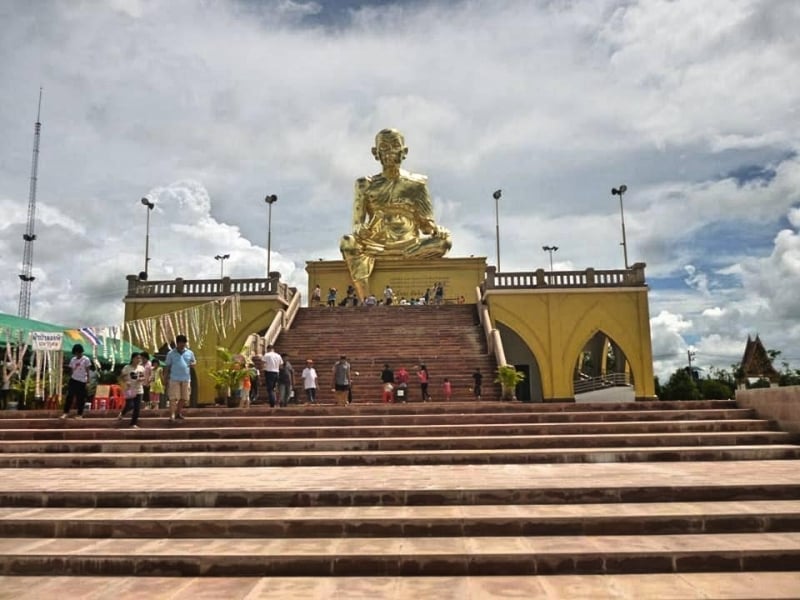 Luang Phor Khun Parisuttho was the chief monk at the popular temple of Wat Ban Rai. Many people visited the monk to seek his blessings; he was thought to have special powers to aid with healings and help people to achieve their goals. Following his death, a gigantic gleaming statue was made in his honour. The memorial site is called Wat Ban Rai 2 after his original temple.
9. Puphawari Resort: A cosy hideaway in Wang Nam Khiao
Wang Nam Khiao is renowned for its fabulous nature-based experiences. If you're planning to spend a night in the area, Puphawari Resort is the perfect place to rest your head after a long day of breathtaking views and sightseeing. The natural surroundings and quaint accommodations are a perfect match for your scenic adventures. With comfortable rooms, pretty grounds, and an inclusive breakfast, this resort will have you rested and recharged for another day of sightseeing in the gorgeous countryside.
Enjoy long walks in the countryside, take an eco-tour of Khao Phuluang Forest, visit waterfalls, follow hiking trails, and spot an abundance of nature in Thap Lan National Park, dine at local street stands, and have lots of fun in Wang Nam Khiao.